There's a reason blues are always in trend – their timeless beauty and seemingly endless possibilities in our living spaces make them THE most popular colors to use in pretty much any home.
Unlike SW whites and blacks from SW, blues offer you tremendous opportunities for your living environment: From lighter to darker, blues range from calming, cool or airy, to bold, intense and energetic.
Yes! Blues have got it all, making them truly versatile and purposeful for whatever you need in your life.
Thankfully, Sherwin Williams provides a wide array of choices! There is NOT just one called "Blue".
You might think that being a primary color blue could be less confusing…
But, let me tell you, Sherwin Williams blues have got many stories to tell.
And since there are countless swatches of them, you are quite likely to bang your head against the wall! (Just kidding – it is absolutely fun searching for the best blue)
It's actually a good thing that this collection conveys far more thoughts than you would expect.
And I am here to spill all those beans!
Let's get on this beautiful journey towards blues, observe what the SW collection truly offers, and how to choose the best one to make your makeover absolutely reveal-worthy.
Blue – The Color of Trust and Loyalty
Have you heard of that quote? Just like grays – blues are absolutely endless!
Let's see what makes up the many different versions of blues.
Tints, Tones, and Shades
Before you are ready to pick that particular blue paint, let's discuss that it comes in a variety of tones, tints, and shades.
'Tones' are basically the results formed by adding gray to a blue paint color!
In this case, if you add more grays to blues, a tone of blue will be produced that consists of more depth and substance.
This gives us a whole new collection of colors, and Sherwin-Williams has done a wonderful job providing us with blue-gray paint colors for all of today's home decor styles.
'Tints' on the other hand are the amalgamation of white with a blue paint color.
So, in this case, if you add whites to an existing blue paint, it will produce lighter-toned blues that are more soothing and subtle to the humans.
Whereas 'Shades' are the results formed by adding black to a blue paint color.
In this case, if you add blacks to blues, it will produce a darker result that is more bold and daring. (Something like electric and royal blues)!
And of course, the less black there is the lighter the shade is. You get the point!
Well, this is also directly proportionate to…
Using Light Reflectance Values to Find Your Way Around Blue Country
Light Reflectance Values helps in determining how light or dark the paint color is. (And you can easily find this value at the back of the paint swatch)
And just in case if I already haven't advised you to do so – remember to examine different shades of blues in different lighting conditions to determine their true difference (This is a secret recipe for knowing the true worth of paint colors).
It is likely to find a blue that has an LRV around 60-70 (lighter) and an LRV around 10-20 (darker).
So, it really is quite diverse and also versatile!
Well, you would also be surprised to know that Sherwin Williams has formulated various paints that seamlessly complement these beautiful blues!
Blues Can Kick Away your Monday Blues
Blues are a must-try color in our living spaces!
And since they come in such a wide variety, you have ample options to choose from.
Let's say you struggling with a small-sized apartment – well, no problem! Tune in to the cool-toned pastel blue color to solve your issue (SW North Star)
Or, on the other hand, if you have a Hollywood glam style and would love to choose the tinted jewels and gold and a majestic chandelier – well, simply choose a navy blue (darker shade) to define luxury in your spaces (SW Naval or SW Anchors Aweigh)!
Want to get a cool vibe in your home? Choose a cool-toned icy blue! (SW Topsail)
Want to feel cozier in the living room – choose bold blues! (SW Pool house is great or you can check out other top blue colors to use in living rooms).
And we are always blessed with artificial light to create a desired mood in the rooms.
Yay! You see – blues have got all the solutions!
Now let's see how to best incorporate and where!
Best Places to Use Sherwin Williams Blue Paint Colors?
Sherwin Williams Blues are specially crafted to be used anywhere in homes.
However, you must analyze the compass directions and the sizes of your homes before picking a specific blue paint color.
In the case of north and south-facing room, the blue paints may appear even more crisp and cool whereas on the west and east-facing rooms, it will appear much warm and cozy!
So, try to avoid cool-toned blues like SW North Star and SW Topsail in north-facing rooms as it will further add a cool vibe – which could be uncomfortable!
Although, these colors are great to make a small-sized space seem larger.
Adding a bold blue in these rooms would be preferable!
Secondly, blues make a great match in east and west-facing rooms – so I don't see an issue there.
Best Sherwin Williams Blue Paint Colors
Now comes one of the most awaited topics to talk about! Isn't this what you're waiting for?
So, here I will be discussing some of the popular blue paint colors that are also quite creative to be used in the interior design industry.
5 Most Popular
Sherwin Williams Naval:
Sherwin Williams Naval is a beautiful navy-blue paint color that exhibits a sophisticated and elegant look in your homes.
With an LRV of 4, this is one of the darkest tones of blues – just in case you prefer a bold and daring backdrop.
I recommend this paint in Glam, Contemporary, and Ultra-Modern homes with larger spaces and higher ceilings.
You can pair it with beautiful gold jewel tones, mustard, and whites for a luxurious touch and maybe Sakura pink and whites for an eclectic touch!
Here is my complete guide on SW Naval. You can also check out my rundown on another similar color called Charcoal Blue from Sherwin-Williams.
Also, make sure you understand the associated RGB and HEX Values that are as follows:
Red = 47
Green = 61
Blue = 76
HEX Value = #2f3d4c
Sherwin Williams Rain:
The color is as soothing as its name!
This beautiful true blue paint color feels extremely calm and tranquilizing at the same time.
However, this paint has the magic to be used in most of the interior design styles – mainly coastal!
With an LRV of 49, you are quite likely to use it in smaller as well as mid-sized spaces!
Just in case if you have a kid's room and a nursery in your home, this color will make a great accent wall!
It is now time to look through the color details and specifications to know more about it!
Red = 171
Green = 190
Blue = 191
HEX Value = #abbebf
Take a deeper look and learn more about the captivating SW Rain!
Sherwin Williams Morning Fog:
I wouldn't call this a true blue – rather this Sherwin Williams color is a perfect blend of blue and gray!
With an LRV of 42, this color falls on the mid-end of the scale – which means neither too dark and nor too light!
So, you can include it in rooms either facing the east or the west due to the cool tone seamlessly neutralizing with the incoming warmer rays!
Interior design styles such as coastal, contemporary, modern, and Scandinavian can incorporate this paint as an accent or a base!
Check out my complete review of Morning Fog here.
I recommend understanding the associated RGB and HEX Values to know more about the color specification!
Red = 168
Green = 174
Blue = 177
HEX Value = #a8aeb1
Sherwin Williams Krypton:
A blue that reminds me of an evening sky!
Isn't it simply pretty?
Well, Sherwin Williams Krypton is a soothing blue paint color to enrich your homes with utmost serenity and peace.
With an LRV of 52, this gray-blue paint color can be used in almost and every interior design style and in absolutely any space.
However, try to avoid in north-facing rooms as they may feel overly uncomfortable during the winter months.
You can learn more about SW Krypton in my review of this color.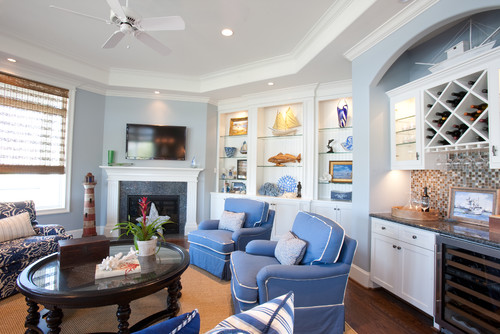 Here are the important associated RGB and HEX Values that you must know!
Red = 184
Green = 192
Blue = 195
HEX Value = #b8c0c3
Sherwin Williams Watery:
A blue-green substitute, Sherwin Williams Watery perfectly mimics the existence of water in the Bahamas!
It's pure, refreshing, and extremely delightful when used in homes as an accent.
So, I recommend especially for the nurseries and kids' rooms and play areas to incorporate this color in amalgamation with pinks!
You can use this paint in Coastal, Cape Cod, and Caribbean interior design styles! (Here you can use the paint as a base as well).
To learn more, check out my SW Watery paint color guide.
Find the associated RGB and HEX Values as follows to know more about the beautiful color's specification:
Red = 180
Green = 204
Blue = 201
HEX Value = #b4ccc9
TIP: You can order stick-on wall samples for any of the above colors. It's the most convenient way and truly helps you choose the color(s) that look best in your OWN space. Order at Samplize now!
5 Next Most Popular
Sherwin Williams Tradewind:
Absolutely one of my favorites, Sherwin Williams Tradewind is a cool-toned blue that feels utmost magical when used in homes.
So, if you reside in a tropical region – this color is a great recommendation.
With an LRV of 61, this color can also help make your space look airy, light, and comparatively larger!
Learn more about SW Tradewind blue here.
Sherwin Williams North Star:
Not a pure blue but a blend of gray and blue, Sherwin Williams North Star is quite light and pretty.
They play big chameleons – so they tend to change their appearances depending upon the incoming natural light.
But you can think of this as a slightly cozier blue, and why it made our list of favorite warm blue paint colors!
With an LRV of 62, this paint definitely makes a great alternative to make your homes appear larger and cooler.
I love this one and have a review of it here! And if you like this one, you should definitely check out SW Jubilee as well.
Sherwin Williams Topsail:
A blue in pastel – this color is the most different of them all! It reflects chilly vibes and appears extremely light when used on walls.
They have an LRV of 75 – making them almost an off-white collection and a great neutral for homes.
See my guide on SW Topsail blue color here.
Sherwin Williams Sleepy Blue:
A great alternative for meditation and kids' rooms, Sherwin Williams Sleepy Blue tends to add a creative yet soothing vibe to your homes.
They make a great option for Coastal and even Mediterranean-styled homes.
And since their LRV is 58, they tend to fall on the lighter end of the scale – mainly, can also be used to brighten up the interiors!
To find out more, check out my full guide on SW Sleepy Blue here.
Sherwin Williams Storm Cloud:
Mimicking the blue skies of the storm, this darker-toned blue amalgamates the blues with purples to create a perfect bold backdrop accent!
With an LRV of 23, this color plays a major role in Contemporary and Modern Interior Design styles!
For all the bachelors – this might be a perfect color for your accent wall.
I put together a guide on SW Storm Cloud here.
***Make sure to test out any of these amazing colors with a sample you can put up right in your home. Pick up samples now!
My Personal Favorites
Sherwin Williams Wall Street:
This blue-gray enthusiastic paint is one of my absolute favorites.
It gives a silver lining to your rooms with its bold and authentic backdrop.
See my full guide on this one here.
Sherwin Williams Quicksilver:
Opposing the bold character of Sherwin Williams Storm Cloud is this pastel Quicksilver that proves to be a great neutral in homes.
Sherwin Williams Indigo Batik:
This beautiful indigo-blue paint color perfectly adds luxury and sophistication to your homes.
The reason why I love this color is due to its pure creative appearance.
Want to learn more? Check out my article on SW Indigo Batik blue now! Or check out the similar SW Sea Serpent, a slightly less bold version.
Finally, I'll mentioned another lesser known blue that I must mention here: SW Waterloo – it reminds me of deep ocean waters, mesmerizing and eye-catching for sure.
One last honorable mention has to be SW Smoky Blue – I like this one for its true and neutral blue beauty. Check it out if you like something more bold but not quite as deep and strong as Indigo Batik.
Grab some samples of these colors to see how they'll look in your own living environment. Order real paint, peel-and-stick samples!
Inspiration and Examples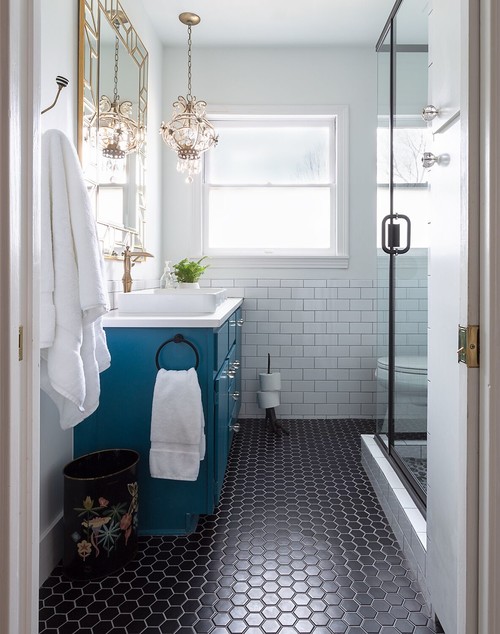 Sherwin Williams Great Falls is a beautiful blue paint color that looks eye-catchy when used on the cabinetry systems.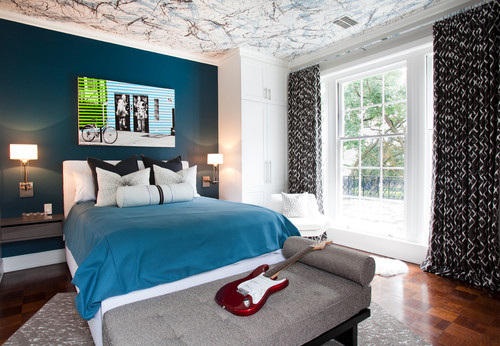 This contemporary style kids bedroom displays the use of the beautiful SW Oceanside on the accent wall.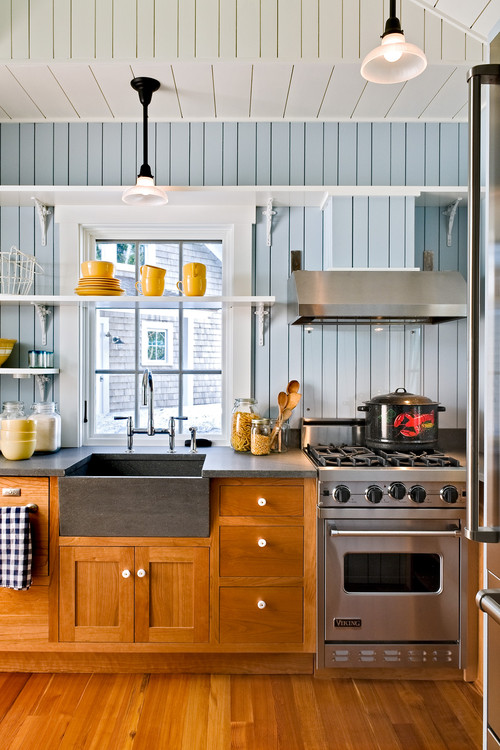 Soothing and tranquilizing, SW Topsail looks absolutely beautiful in this beach-style kitchen.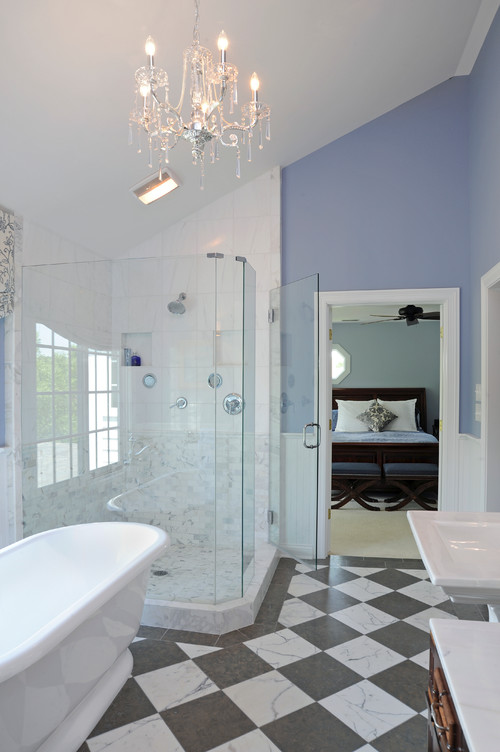 Sherwin Williams Aleutian perfectly complements the whites in this traditional bathroom.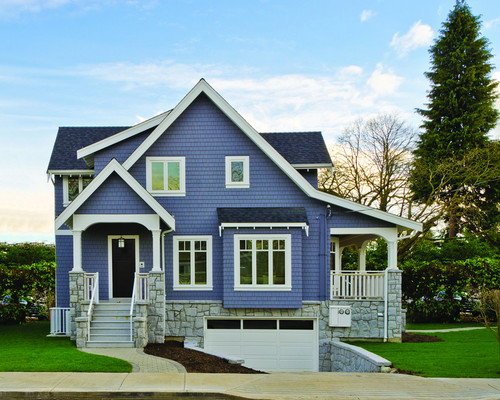 The traditional styled exterior sidings display the use of Sherwin Williams Luxe Blue.
How would you like to come up to this? You can't help but feel cheery and alive!
SW Blues: From Comforting to Active
Now that we have discussed the major aspects and types of Sherwin-Williams blue, do you feel confident in incorporating any one of them in your homes?
Well, I would say these are natural and comforting! So, whether it is the hallways or the exteriors, bedrooms, or the living room – blues speak for themselves at each and every point!
You just have to give them an opportunity!
Also, let me tell you, blues can align to almost any and every neutral color.
So, without a thought – pick up your favorite blue now and don't forget to let me know your thoughts in the comments below!