Amongst the most different types of blues – there is a particular shade that defines the true hue – which is bold as well as authentic at the same time!
Let me introduce you to Sherwin Williams Salty Dog – a trendsetting blue that is definitely eye-catchy and at the same time, worthy of admiration.
So, this is a neutral blue paint color with a stark dark tone that makes a great fit for all blue paint color lovers.
Since this paint color is extremely dark, you should expect them to use in rooms with bigger sizes to maintain utmost balance and scale in your room.
The peaceful spa-inspired retreat below highlights the use of SW Salty Dog in the transitional study room.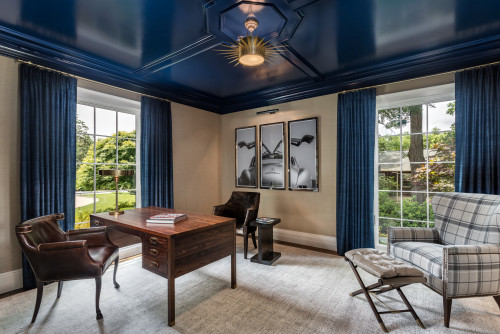 Well, this paint color is definitely very creative – so it is time for you to get excited about the unlimited ways to incorporate this timeless beauty in your homes.
Don't worry!
I will help you in figuring out the how, where, and when about this paint color.
Because trust me, this color does have some restrictions that need to be taken care of. You wouldn't want to mess up with your homes, right?
So, sit back and relax! I promise – in no time, you will be an expert!
Sherwin Williams Salty Dog Details and Specifications
Before you choose a paint color for your home, it is important to understand the underlying theories and basics.
You know why? Well, because that is what will help you understand where and when to use the paint color – and also, most importantly, if you should or shouldn't use the paint color.
So, first and foremost, knowing the theory behind the light reflectance values or LRV's is important.
Light reflectance value is basically the value that will help you determine how light or dark the paint color is.
And the LRV for Salty Dog is 5, which means it is extremely dark paint color.
(Remember, the lesser the value, the darker the paint color)
Oh, if you want to just try Salty Dog so you'll know just how it'll look, you can easily with a peel-and-stick sample from Samplize. Order some samples now!
Secondly, it is important to understand the RGB and HEX Values of the paint color which are as follows.
Red = 35
Green = 64
Blue = 88
HEX Value = #234058
Now that we have read through the technical information about the paint color, let's jump on to the practical aspects of it!
Are you excited?
How Does this Color Feel in a Space?
This rich blue color is used on the accent wall above, which makes a great backdrop in this dining space.
Sherwin Williams Salty Dog feels absolutely pure and luxe in a space. It is an extremely bold paint color which is bound to give your homes a luxurious and over-the-top feel.
If used in the correct amounts, this paint color will give a bold statement to your room. If you plan to use it in larger amounts, make sure to pair it opposite the best paint colors or neutrals or else you could also use this paint color as an accent.
I would highly recommend this paint color in the southern states of Arizona, Texas, Louisiana, and Florida where the temperatures are hot and dry or humid and you want to add a touch of cool vibes in your home.
Even though this paint color is quite saturated, you could still use it in the most creative ways – whether to prefer the color in upholstery, walls, or even decorative accents.
Hence, long story short, if you love bold and eye-catchy colors – using SD would be a great way to add a feel of charisma to your space.
How Does Light Affect the Color?
Light is an important consideration when it comes to choosing a paint color.
Like I mentioned, the light reflectance value of the paint color is 5 that clearly defines that only a certain percentage of natural or artificial light is reflected away – making it a dark paint color.
Since most of the light is absorbed – it is important to experience the real-time paint swatches in different light conditions to see how the paint color looks.
With little or no light, this paint color appears almost black whereas with excessive lighting conditions, it may appear a little lighter.
As I already mentioned, do yourself a favor and get some wall samples to test out this color and any others.
The stick-on kind are a no-brainer from Samplize, and will give you some answers ahead of time. Get yours now!
What are the Best Coordinating Colors?
Yes, I promised you a perfect color coordination palette – and this is the time to reveal it!
Considering the saturation, darkness or lightness, and undertones of the paint color – the best possible opposites would be warm yellows, oranges, golden-tints, warm pastels, and off-whites.
If you like a monochromatic palette, I would recommend incorporating the following paint colors –
Scanda SW 6529
Revel Blue SW 6530
Indigo SW 6531
On the other hand, if you like a contrasting color palette, I would recommend the following paint colors –
Torchlight SW 6374
Gardenia SW 6665
Monorail Silver SW 7663
In the case of trims, moldings, and ceilings – I would recommend using SW Pure White or SW High Reflectance White for a creamy or crisp backdrop.
Sherwin Williams Salty Dog Vs Similar Colors
Are you looking for a perfect alternative to Salty Dog?
Well, let me tell you, there are no two colors that are exactly the same – however, a little alteration should be fine.
The two most similar colors on the swatches are SW 9176 Dress Blues and SW 6244 Naval.
For even accurate comparisons, I would recommend buying real-time swatches and samples of this paint color from the nearest store.
Salty Dog Vs Dress Blues
Sharing the same light reflectance value, Dress Blue is comparatively a darker neutral paint color sharing the most similarities with SD.
The pure luxury exhibited could be well observed on the walls of this paint color. Even though they look pretty similar, the latter tends to grab the most of blues as compared to the former.
Buy some wall samples of each of these colors to easily compare them right in your home.
Salty Dog Vs Naval
SW Naval could be defined as deep enriching blue with a pure navy texture. I absolutely love the looks and feels of this paint color!
If you are looking for a more sophisticated and elegant appearance, this color would make a great choice – check out my full review on it here!
For accurate results, you can also compare the color swatches as screens could be deceiving sometimes.
Find more amazing SW Blues in my guide here!
See how these colors compare real time with stick-on wall samples from Samplize.
Where to Use Salty Dog in Homes?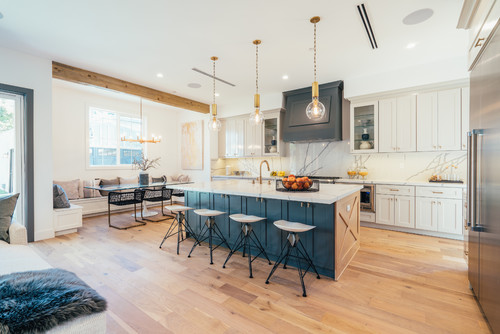 The modern cape cod kitchen above accentuates SD on the range hood and the cabinets
Sherwin Williams Salty Dog is not really an easy color to work with. It is important to understand the natural conditions of the surroundings and then applying the paint color.
So far, I recommend my clients to use this paint color in homes that have either a Grandmillenial interior design style or even Hollywood Glam, similarly other interior design styles could be mid-century modern, coastal, as well as modern!
This paint color is a great option for the bedrooms, living and family rooms, hallways, exteriors as well as kitchens.
Let's discuss how you could incorporate the paint colors into these specific rooms.
Salty Dog in Living Room

SW Salty Dog looks priceless when paired with whites and greys in a transitional style living room like the photo above.
If you want your living room to feel luxurious, grand, and elegant – using salty dog would be one of the best possible ways.
Make sure to pair it with goldens (if you want a glam style) or else pastels and neutrals if you want a subtle yet sophisticated appearance.
Just in case if you are completely renovating the home interiors – choosing walnut-shaded hardwood floors would make a great option.
Secondly, you can also incorporate this paint color in the hallways while blending it with whites and off-whites or even wooden textures.
Using in Kitchens
Tammy from Pink Pepperment Design shows off Salty Dog painted on the kitchen cabinets
Kitchens are where you spend most of your daytime.
Do you feel blue is your color and your kitchen really needs it?
If yes – then try to blend whites with this paint color either on the cabinets or the walls. You could also mix and match the chrome hardware and golden pull handles in your kitchen.
If you have a bigger kitchen, try to incorporate lighter grays on either the lower or the upper cabinet.
Salty Dog in Bedrooms
Unless you are craving for a luxurious modern style, I would recommend painting only one of your walls in Salty Dog – and probably the accent headboard wall.
If you have a humongous-sized bedroom, I recommend painting all the walls in SD and choosing neutrals, greys, and off-white fabrics for your upholstery.
Using on Exteriors
Painting the exterior door in SW Salty Dog is going to give a perfect creative look to your home exteriors
This dark paint color will look lighter when used on the exterior walls. So, don't worry if you are concerned about the brightness of the paint color.
Remember to pair up this paint color with white or grey trims, moldings, and door and window frames. Secondly, if you are a big fan of natural stone – go ahead and use it for wainscotting!
You Should Order Samples of Salty Dog
Let's face it, good paint isn't cheap. While painting is a relatively inexpensive, good bang-for-your-buck project, picking colors can be hard. You don't want to buy a whole can of something until you know for sure.
So together with the info here, you can literally ""see"" what this color will look like in your home before you commit.
Getting a peel-and-stick sample from Samplize is the best thing since paint rollers!
If you don't know yet, you can order a 12″" x 12″" square sample with the real paint color on it. Stick it on your wall multiple times and in multiple places to find out exactly if the color is for you.
I am sure you are a master of this paint color by now. Are you?
Do let me know in the comments below about your doubts and questions as I would love to answer them all! Also, don't forget to share your experiences with this paint color.