It's not a cliché but an actual subtle blue that is definitely worthy of admiration – Sherwin Williams North Star!
It is personally one of my favorites as the crisp and cool effect of the color is definitely bound to take your Monday Blues away.
If you are planning to use this paint for your new or existing home, I would definitely recommend you go for it!
However, other than the aesthetical beauty and serenity that the color exhibits, there are definitely many factors associated with this color that would want you to want this color even more.
But, BEWARE! Pairing it up with a color not appropriate can result in an absolute blunder!
And nobody can afford to make that mistake in their home – Right?
So, before you actually finalize on using this color, consider these basic theories behind the color that would further help you in deciding if this is REALLY the blue you are looking for.
I promise – in no time, you'll be an expert!
Sherwin Williams North Star SW 6246 Color Details and Specifications
North Star pairs up best with hardwood floors and stark white frames
One of the basic color theories is linked back to the concept of tints, tones, and shades. Yes, there are hundreds of blues out there. But how do we decide the best one?
You need to answer these few questions:
Light shaded or Dark Shaded? Warm, Cool or Neutral?
Well, yes! If you are new to the color theory, it's surprising to see the deep explanations behind each color.
Talking about North Star, it looks more like a grey, but is eventually a BLUE!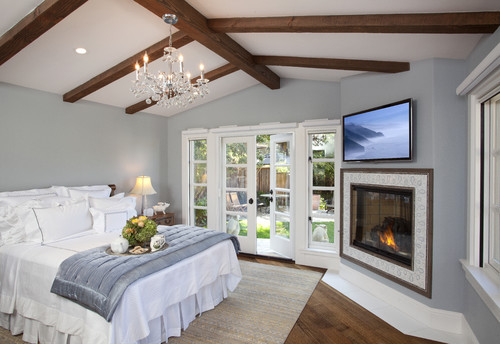 North Star is a light-shaded blue with a tinge of crispness and a grey feel to it.
Falling on the lighter end of the scale, the color proves to be an ideal solution for the north-facing rooms.
On the contrary to Bold Midnight Blues, this color is an absolute definition of calm, peace, and tranquility.
Let's have a look at some of the specifications of this color that are quite vital to know:
First and foremost, the most important – Light Reflectance Value (LRV) of the color helps you decide if the color is going to reflect away the light or absorb it!
The greater the value – the lighter the color is, and so, the more light will be reflected.
In this case, the LRV of North Star is 62.
Which absolutely makes it more aligned towards the lighter end of the scale, i.e. not dark or too light!
Now, using this information, you exactly know where to use the color!
Oh, if you want to just try North Star you can do so easily with a peel-and-stick sample from Samplize. Order some samples now!
Another important factor to consider are the RGB Values and HEX Values which are as follows:
Red = 202, Green = 208, Blue = 210
HEX Value = #cad0d2
How Does North Star Feel in a Space?
Once you start applying the paint, you would be surprised to see the clean and crisp effect of this paint color on the walls.
Well, if you are residing in one of the southern states or if it is a tropical or warm climate typically throughout the year, there is nothing better than subtle blues to soothe your mind.
I would highly recommend using this color for your bedroom walls, bathrooms, kitchens, living and family rooms and even exteriors.
Long story short, this color has the ability to outshine almost anywhere and everywhere!
The cool-toned soft texture helps in brightening up the room interiors.
And due to these properties, the color proves to be an ideal solution to make small spaces look larger.
This color also has a modern appeal to it:
I highly recommend painting your walls in North Star if you have a contemporary, modern, or even a minimalist setting.
And for all your coastal vibe lovers, your beach house craves a blue like North Star!
Whether it's painting the walls or placing a huge blue rug or adding up a 'cozy' factor with throw pillows, North Star will definitely prove to amaze you!
How Does Light Affect North Star?
Rachel from Small-town Idaho Life shows off North Star in natural lighting
Surprisingly, depending on the daytime or the night, this color may absolutely exhibit a different finish look.
So, I would highly recommend visiting the nearest store to buy swatches or paint samples!
Well, in the daytime, North Star appears to be this light, cool blue-grey color with immense brightness.
However, during the night under the influence of artificial lighting – this color may appear to be comparatively darker-shaded with grey highlights!
With the direct sunlight hitting the interior wall, this color seems brighter and lighter!
So, remember to use the appropriate light temperature and warmth to enjoy the most of this color.
I personally would recommend cool whites or warm whites for a dramatic experience in the night!
To truly see what your home's environment and lighting will do here, try out a real paint sample. It takes out the guess work!
What are the Coordinating Colors for North Star?
Sherwin Williams North Star is predominantly a gray paint color with a tinge of blue to it. Yes, just like those blue-grays that we have been discussing!
Choosing coordinating colors for this color category can be quite a challenge for obvious reasons.
First and foremost, they are big-time chameleons and can either reflect a tinge of blue or gray (depending upon the lighting conditions).
So, the coordinating colors might have to be very specific.
In general, you can best pair with the hues of clean whites, off-whites, darker grays, midnight or cobalt blues, beige, and blush pink.
In terms of metallic accents, you can either choose satin brass for a rich and luxe look or even textures of wood for a modern farmhouse and rustic look.
The most subtle is matte black which will never disappoint you.
Here are the following two color palette suggestions – monochromatic and coordinating (cool and warm)!
Monochromatic Color Palette
The complementary colors for the monochromatic palette are as follows –
This is an ideal color palette for coastal, modern, and contemporary design styles. Of course, when you add a clean white to it!
You can further break the monotony and add shades of satin brass or matte black to the lighting fixtures, artwork frames, and furniture frames.
In this palette, allow black to play fundamental on the window frames.
Contrasting Cool Color Palette
The complementary colors for the contrasting palette are as follows (cool) –
SW 7005 Pure White
SW 9178 In The Navy
SW 9161 Dustblu
A cool color palette embraces the use of cooler hues such as crisp whites, soft blues, navy blues, and clean grays.
I highly recommend that you mix and merge the above-mentioned colors in the form of wall paints, accent wall, furniture fabrics, and decorative accents to create a cohesive appeal.
Along with this, you must choose satin brass or matte black to go with it.
Contrasting Warm Color Palette
The complementary colors for the contrasting palette are as follows (warm) –
This warm color palette balances the crispness of the cool color to make the home feel extra welcoming and inviting.
You must choose matte black for the lighting fixtures and artwork frames. Satin brass would be a big no here!
And this is the time to understand the theory behind pairing up the best-suited colors!
When specifying North Star, the best-suited color for trims and moldings are SW High Reflective White or SW Pure White!
Because your wall color needs to protrude out.
However, if you are wondering about accents and bases while adding pops of colors, the most suited colors for North Star are:
SW Dover White – see my Dover White review here!
SW Bee's Wax
SW Quicksilver
Of course, creativity matters and that's when you incorporate all the elements of the room to exhibit cohesiveness.
Sherwin Williams North Star SW 6246 Vs. Similar Colors
There are a couple of other Blue-greys that you could consider. After all, we are never satisfied with just one option in our minds.
So, here I enlist a few similar colors that could be considered.
SW North Star Vs. SW Misty
With an LRV of 64, the two colors are almost equally bright with quite a similar tone.
However, if carefully observed, Misty is a more neutral-toned cool blue-grey finish.
With immense natural lighting, this color typically seems to be more of gray!
Compare these two color with a stick-on wall sample to see what looks best in your unique space.
SW North Star Vs. Dew Drop
A subtle blue from the Emerald Collection!
Sharing quite a few similarities with North Star, this color is inevitably much brighter!
Even though the color may look blue in natural light, it may sometimes exhibit a tinge of greenish effect as well.
Do yourself a favor and grab some stick-on sample sheets of these two colors and see what looks best in your home.
Coordinating Decor
The cool and crisp paint color can best complement the modern farmhouse, contemporary, and modern design styles.
So, ideally, you must choose the complementary items like ample glass, modern wood, and chic metallic textures to go with it.
Don't worry, I am going to dive deeper into this shortly.
From furniture to decorative accessories and materials – I am going to pick the best ones for you that will perfectly vibe with SW North Star.
So, let's have a look!
Here are the links to the flooring that works well with SW North Star –
Here are the links to the furniture that works well with SW North Star –
Here are the links to the decorative accents that works well with SW North Star –
Where to Use Sherwin Williams SW 6246 in Your Home?
That's quite an intriguing question!
I would say, anywhere you want – as far as the basic color theory and principles are being followed!
However, if you are confused about where exactly could you use it, let us discuss some of the design recommendations and spaces that are made for SW North Star.
North Star in Kitchens
Give the blues, your kitchen has been craving for!
According to the latest trends, this shade of Blue is being considered as the most sophisticated and elegant!
Homeowners across the world are absolutely loving these blues in their kitchens which makes it an ideal solution!
Paint your kitchen walls in North Star, cabinets, and trim in bright white and countertop coupled with black marble and observe the subtle magic in your kitchen!
However, remember to be careful around using other colors – North Star doesn't blend in well with brighter hues or warmer tones!
North Star in Living Rooms
If you are looking for a cozy environment in the living room, I am afraid to say – North Star is not well complementing.
Due to its cool and calming effect, it is more inclined towards relieving stress than providing warmth and coziness!
However, if you have a contemporary style living room, there is nothing better than white sheer curtains or blinds and black or white exposed brick texture around the fireplace.
White cabinetry too is good to go!
North Star in Bedrooms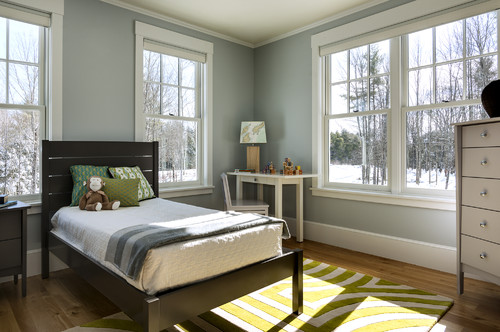 Choosing a color palette for the bedroom could be subjective.
Depending on your personality and lifestyle, if North Star persists, would be one of the calming and best color solutions for your bedroom.
North Star on Exteriors
North Star on the exteriors are absolutely soothing and relaxing.
Your home exteriors are bound to look even brighter if you paint them in North Star.
How to Best Sample This Color?
Here's my favorite tip when it comes to testing out a color like North Star – go and order a peel-and-stick sample from Samplize.
This little company has nailed down the best way to sample colors much more easily. Simply stick on a 12″ x 12″ square instead of having to get a small can of actual wet paint on your walls.
For a few bucks you get a big enough sized sample to evaluate anywhere you want to "try" on a paint color and any possible coordinating hues you like.
It's temporary, so move it around and test location and lighting options.
The Transformative Light Blue-Gray
Exhibiting a touch of gray in addition to a core of light blue, North Star like many others from the SW blue/gray collection has subtle magic to it that will transform your home into a beachside coastal vibe.
I would highly recommend painting the moldings, trims along with door and window frames in bright white to get the most out of this color. Good luck!
FAQs
Is Sherwin Williams North Star warm or cool?
Sherwin Williams North Star is definitely a cool-toned paint color with a touch of blue and gray to it.
What undertones does North Star have?
SW North Star has deep blue-gray undertones! Depending upon the lighting conditions, the color may sometimes have a gray undertone and sometimes blue!
Sherwin Williams North Star vs Krypton, which should I choose?
It all depends upon where you plan to use it! If you have ample incoming light, choose SW Krypton else pick SW North Star. The latter paint color definitely has more depth!