Have you ever wondered how to use both the timeless grays and calm blues at the same time?
Well, let's find your answer as move from generic blues and grays to more of a blend!
And that my friend would be called the "Dusty Blues" or simply, blue-grays that are truly the best of both worlds!
So, let me introduce you to another popular category – Sherwin Williams Blue-Gray paint colors that are mainly cool-toned and have very deep blue or gray undertones in either of the shades.
Of course, it is a given that some of them align more towards the blues and some towards the grays!
But a definite given is the crisp and cool appearance that we have all come to absolutely adore.
It's no wonder that this category has become immensely popular in the interior design industry!
More and more homeowners want to paint their prized living spaces with 'cool gray paint colors from Sherwin Williams' with a slight blue undertone in them.
Well yes, just like dusty pinks – these dusty blues have made a lot of headlines in recent times…and they're still going strong.
So, if you too are excited to find out more about this icy yet gentle color category – keep reading to get acquainted with some intriguing insights!
SW Blue-Grays – The Trend Indeed
Blue-grays play a double role on your walls and living spaces.
With respect to your local environment, they tend to appear bluish as well as grayish – which offers you a major advantage!
There are quite a few interior design styles that incorporate tons of blue-grays in their color schemes.
For example, Scandinavian, Minimalist, and some of the Modern Contemporary styles love to play with this category!
And you know the best part – you will never be disappointed by this cool-toned theme.
(As long as you're careful when picking the best complementary shades and palettes).
They are contemporary and beautiful with enormous flexibility – so, most of the time, they tend to pair up with almost any neutral to achieve a cohesive look.
Generally, these color are in and of themselves a tone of pure blue or gray paint.
The only way to differentiate them is the depth of their undertones or the reflectivity values. Kind of crazy!
Let's discuss further to dig deeper into these mesmerizing colors.
Undertones and Light Reflectance Values – Specifications You Must Know
LRV or Light Reflectance Values helps in determining how light or dark the paint color is.
And just in case you are wondering where that is, well, you can easily find this value at the back of the paint swatch.
So, in the case of blue-grays, you are quite likely to find paints falling in the category of lighter to medium shades.
Truly, some of them are even lighter neutrals, pastels, and a major part of the white and off-white collection.
So, some of the lighter blue grays falls somewhere between 75-80 and the darker ones are somewhere between 5-10!
Overall, they majorly play a lighter role (neutrals and bases) in a palette.
There is a range of blue-gray paints that you can choose from – depending upon the interior design style and the sizes of your spaces.
If you plan on using them in extremely small spaces – I would advise you absolutely move forward!
What's really awesome about Sherwin Williams is they've carefully formulated various paints that seamlessly complement these beautiful blues and grays.
Bluish Grays or Grayish Blues: The Never-Ending Confusion
Many of my E-Design clients have asked about the true difference between these two terminologies – grayish blues and blueish grays!
Well, is there really a difference between the two?
I must say – yes!
And actually, the concept is pretty simple – if we add tinges of gray in blue paint color, the result is a pure grayish blue paint color.
It will align more towards the blues than the grays! However, still being a dusty hue.
Some of the noteworthy examples are SW 6219 Rain and SW 6251 Outerspace.
On the other hand, bluish grays are majorly gray paint colors that have a tinge of blue in them!
And of course, it is a given that they align more towards the grays than blues!
But still have an eye for blue – that can be observed under certain lighting conditions!
Some of the noteworthy bluish-gray paint examples are SW 7072 Online and SW 6255 Morning Fog.
Blue-Grays: Do's and Don'ts
Blue grays are comparatively easier to deal with.
However, the only point of concern is the hue you actually want to surround your space with!
Is it blue or gray?
So, this is where you have to be extra careful in differentiating between the two typologies while selecting a particular tone of blue-gray!
For example, I highly recommend this category for warmer and tropical regions – as they generally make your space feel calm, cooler, relaxed and also enlarged!
Moreover, when specifying in certain rooms – using them in north-facing rooms will further exhibit a cooler vibe as compared to the east or west-facing rooms!
Also, keep a note of the function of the room! Do you use it usually in the mornings or the evenings?
Based on that should you specify the best blue-gray paint colors?
Not forgetting, keep reading ahead to know some more secrets!
Best Places to Use Sherwin Williams Blue-Gray Paint Colors?
Sherwin Williams Blue Gray paint colors can be used anywhere in your home!
Whether it is the kitchens, study rooms, bedrooms, play areas, dining and living rooms, hallways, and the exteriors – remember, this paint will never disappoint you.
If you are wondering where to specifically use these paints, I recommend you first analyze the incoming natural light and the view through the windows.
A lighter-toned blue-gray paint can be used in east and west-facing rooms that are also smaller in size!
If you end up spending most of the time in the north and south-facing rooms, I recommend you avoid this color as it might feel too cold and unwelcoming!
Best Sherwin Williams Blue-Gray Paint Colors
Now comes one of the most awaited topics to talk about! Isn't this what you're waiting for?
So, here I will be discussing some of the popular blue-gray paint colors that can be incorporated into your home.
5 Most Popular
Sherwin Williams North Star:
Sherwin Williams North Star is a lighter blue-gray paint color that tends to exhibit a perfect icy yet welcoming appearance.
Aligning more towards the blues, the grays in this paint are also quite intriguing.
With an LRV of 62, this paint surely falls on the lighter end of the scale! (It looks, even more, light when used in a room with excessive natural light)
I recommend this paint in Scandinavian, Modern, and even Contemporary styled homes.
You can pair it with beautiful off-whites, darker grays, deeper blues, bright mustards, and crisp whites.
Also, wooden textures play well with this paint.
Check out my full review of SW North Star here.
Don't forget to check out the associated RGB and HEX Values that are as follows:
Red = 202
Green = 208
Blue = 210
HEX Value = #cad0d2
Sherwin Williams Online:
A perfect blue in gray!
With an LRV of 45, this color falls on the mid-end of the scale and has appealing deep blue undertones – giving it a bold and authentic look!
So, I recommend you use it in rooms either facing the east or the west due to the utter cool-tone seamlessly neutralizing with the incoming warmer rays!
Furthermore, for interior design styles such as Glam, contemporary, modern, and Farmhouse – this paint is good to go for the accent walls!
I recommend understanding the associated RGB and HEX Values to know more about the color specification!
Red = 176
Green = 181
Blue = 181
HEX Value = #b0b5b5
Sherwin Williams Storm Cloud:
Sherwin Williams is a pretty grayish-blue paint color that aligns more towards the blues than the grays!
It is charming yet intriguing – with a perfect 'trendy' touch that most of the homeowners are nowadays looking for!
With an LRV of 23, this blue paint falls on the darker end of the scale – hence, use it only as an accent in your space.
This color would simply look great in the transitional, contemporary, as well as coastal and modern interior design style!
I cover this color in-depth here if you want to learn all there is about it!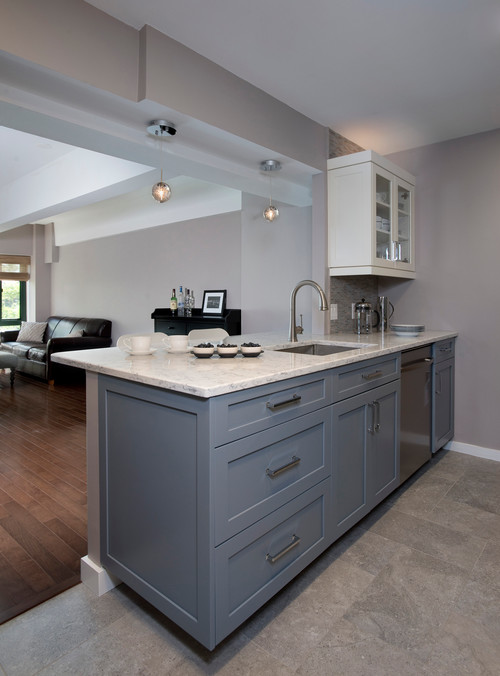 Here, you can look through the color details and specifications to learn more about it!
Red = 122
Green = 132
Blue = 141
HEX Value = #7a848d
Sherwin Williams Misty:
Sherwin Williams Misty is a lighter-toned gray-blue paint color that feels absolutely calm and relaxed!
So, just in case if you have meditation rooms as well – this paint is pretty much good to go!
With an LRV of 64, this quiet paint falls on the lighter end of the scale – hence, can be used as bases and neutrals!
Moreover, you can also use it in the small-sized spaces for them to look comparatively larger and brighter!
Find the associated RGB and HEX Values as follows to know more about the calm color's specification:
Red = 205
Green = 210
Blue = 210
HEX Value = #cdd2d2
Sherwin Williams Morning Fog:
Sherwin Williams Morning Fog is beautiful gray paint color with deep blue undertones – making a sort of harmonious connection between the two.
With an LRV of 42, this paint falls on the mid to darker end of the scale – and can be absolutely used as an accent!
In larger spaces, you can also use this paint on all the walls and pair it with crisp whites to create a perfect contrast.
I examine this ever-popular color here – check it out to find out more.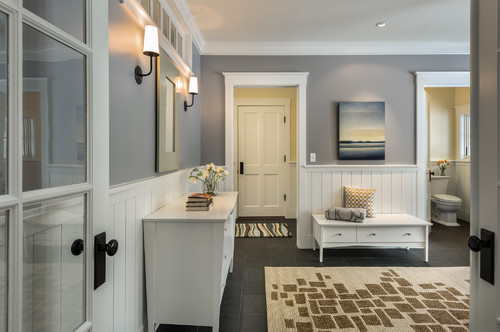 Here are the important associated RGB and HEX Values to help you see where the color falls.
Red = 168
Green = 174
Blue = 177
HEX Value = #a8aeb1
TIP: You can order stick-on wall samples for any of the above colors. It's the most convenient way and truly helps you choose the color(s) that look best in your OWN space. Order at Samplize now!
5 Next Most Popular
Sherwin Williams Icy:
Sherwin Williams icy is a dusty blue paint with deep gray undertones and tinges of purple!
Even though the gray in it is not quite dominant, it may still feel muted in certain lighting conditions!
With an LRV of 56, this paint falls on the mid to lighter end – thus, can also be used in smaller-sized rooms!
However, note that it may feel very cool and uninviting in the north-facing rooms!
Sherwin Williams Upward:
Sherwin Williams Upward is yet another blue paint color with deep gray undertones!
It exhibits peaceful vibes – hence, you can absolutely use it in rooms that don't even have a lot of natural light entering in.
With an LRV of 57, this paint falls on the mid to lighter end of the scale.
In certain cases, you can also detect a tone of purple in it! And especially if you have warmer tones around.
Find out tons more in my SW Upward review here!
Sherwin Williams Krypton:
If you are looking to add a bold and darker touch to your space, this blue gray is probably one of the best options!
Sherwin Williams Krypton is a grayish blue paint that has an LRV of 52 – making your room feel more depth and substance!
Want to learn more? I have a full article on SW Krypton here!
Sherwin Williams Outerspace:
Sherwin Williams Outerspace is a very dark version of blue gray paint that can be used in your home.
It has an LRV of 12, thus can definitely be used in north-facing rooms as accent walls!
In the south and west-facing rooms, this paint is bound to look lighter as it will get washed away!
Find out more about SW Outerspace in my guide or check out SW Gray's Harbor which is also quite similar but less bold.
Sherwin Williams Let it Rain:
Another Beautiful blue-gray from the Sherwin Williams collection, this color looks quite authentic and deepened!
Not so tranquilizing – but definitely something to give your room a bold identity and character!
It has an LRV of 34, this paint makes a great option in large hallways and accent walls in bedrooms and living rooms.
***Make sure to test out any of these amazing colors with a sample you can put up right in your home. Pick up samples now!
My Personal Favorites
Sherwin Williams Software:
This darker gray-blue bold paint is one of my absolute favorites.
It looks extremely stunning on the walls while giving a nice modern touch!
Sherwin Williams Olympus White:
This lighter-toned blue-gray paint is one of my favorites!
I usually end up recommending this paint to most of my E-Design clients – whenever they want a neutral, lighter-toned blue-gray paint that also makes your space look larger!
I really love Olympus White, and wrote a complete review on it!
Sherwin Williams Granite Peak:
On the contrary, SW Granite Peak is a dark-toned blue-gray paint that is absolutely one of my favorites!
Since this is not so popular paint – I love it simply more!
Finally, one other I'll mention is Sherwin-Williams Reflection SW 7661. If you like a comfy, cool blue-gray this one is a must-see!
Grab some samples of these colors to see how they'll look in your environment. Order real paint, peel-and-stick samples!
Inspiration and Examples
Have a look at this beautiful SW Olympus White in contrast with whites!
Isn't it so bliss?
A blend of one of the best blue-grays – you can also create a contrast as creative as this!
SW Upward in this bedroom feels absolutely light and airy!
Try it if you want your room to look larger!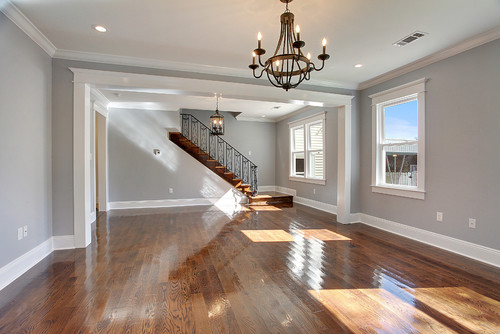 A perfect blue in gray – this beautiful SW Lazy Gray look absolutely stunning!
Sherwin Williams Gibraltar is a bold blue-gray shade to make your space look compact.
Do you want to use it too?
Conclusion
Now that we have discussed the major aspects and types of blue-grays, do you feel confident in incorporating any one of them in your homes?
Whether it is the hallways or the exteriors, bedrooms, or the living room – blue-gray speak for themselves at each and every point!
You just have to give them an opportunity! So, without a thought – pick up your favorite blue-gray now and don't forget to let me know your thoughts in the comments below!