Unlike other cool neutrals, this particular tone has a slight spark to make your space feel delightful and homey!
Yes! Undoubtedly, it adds a crisp and cool effect – but at the same time, exhibits a welcoming vibe.
So, what makes this hue so unique?
Well, Sherwin Williams Reflection is a cool-toned color with deep blue undertones!
And since it is extremely light, it can be used to create an illusion of a larger and airier space.
And that's not all…
It also retains the deep hue, even when direct sunlight hits the walls!
Moreover, this color is bound to transform your home into a soothing and peaceful haven.
I can assure you that this color will never disappoint you!
And the versatility of this color will simply assure that this color can be used absolutely anywhere.
But before we jump into further details – let's discuss if you should really use this paint in your home or not!
Or if this is the hue you've been dreaming about in your home!
Well, it all depends upon your personal preference and interior design style!
So, without a delay, let's discuss what this cool off-white and blue-gray color have to offer!
Sherwin Williams Reflection SW 7661 Details and Specifications
Each color comes with its own theories, specifications, and schemes!
If you are new here, let me tell you – there are quite some facts and scientific terms that you would want to acquaint yourself with.
(Before choosing a paint color for your home)
It's important to analyze these values and then determine where, when, and how to use these paints!
So, first and foremost, one of the most important terms that I usually observe getting ignored is Light Reflectance Values or (LRV)!
Every color has an associated Light Reflectance Value!
For Reflection, the LRV is 66!
Which falls on the lighter to medium end of the scale – majorly, on the lighter!
Remember, the higher the value, the lighter the paint color is!
And vice versa!
And since this color has deep cool blue undertones – it will further tend to look lighter. (Yes, that's another trick)
Want to try this color out without having to paint your wall? Use some nifty peel-and-stick samples: Pick one up now from Samplize!
Moving ahead, let's discuss the RGB and HEX Values of the color.
Red = 211
Green = 213
Blue = 211
HEX Value = #d3d5d3
Now that I am concluding, I promise not to bore you with these scientific details anymore.
Let's talk about the practical aspects of this popular off-white paint color.
How Does This Color Feel in Space?
Sherwin Williams Reflection tends to reflect utter coolness in your space.
Too much of this color can exhibit discomfort in a way to make you feel cold – so, you can add a touch of warmer tones to completely balance the look.
With deep blue undertones, it refines the look in the most gorgeous ways!
And apart from making your home look spacious, this color plays with your mind in the most humble and subtle ways.
And that's why – it proves graceful over and over again.
Apart from this, you will never be disappointed if you plan to use it as a neutral or even a base!
How Does Light Affect the Color?
Light – whether natural or artificial – has an ample role to play here!
So, you need to first analyze the amount of incoming natural light.
Whether or not your space receives light, this color will always tend to brighten the look.
And moreover, you would be surprised to know that this color may appear different in different rooms facing different compass directions.
For instance, this tone of off-white will appear cooler and bluish in the north-facing rooms as opposed to slightly warmer in the south-facing rooms.
I wouldn't recommend using this color in the north rooms as it can feel quite unwelcoming!
Here, you can also use warm whites to perfectly neutralize the saturation!
As I already mentioned, do yourself a favor and get some wall samples to test out this color and any others.
The stick-on kind are a no-brainer from Samplize, and will give you some answers ahead of time. Get yours now!
What are the Best Coordinating Colors?
Creating color palettes can be quite a fun task to do.
So, it's crucial for you to choose the best complementary colors in order to define a palette that looks subtle and eye-catchy!
In general, this color can look flabbergasting with darker blues, bronze, browns, taupes, and greiges!
And other than that, you have a wide plethora of color opportunities and options to pair with!
However, you have to be careful as to what vibe you need in your space for a perfect color combination.
So, I am going to enlist the two most popular color schemes here – monochromatic and contrasting.
Monochromes are generally great for modern, minimalist, coastal, and contemporary setbacks.
So, here are a few of the colors I would recommend for a monochromatic palette!
SW 7662 Evening Shadow
SW 7663 Monorail Silver
SW 7664 Steely Gray
On the other hand, here are a few of the colors I would recommend for a contrasting color palette!
SW 9180 Aged White
SW 9183 Dark Clove
SW 0017 Calico
For your ceilings, trims, and moldings – SW Extra White or SW Pure White will help protrude a true hue of SW Reflection.
SW Reflection Vs Similar Colors
Although you must know that even though these following colors look similar, they might still differ in the undertones or reflectivity!
So, one of the closely related colors are SW 6253 Olympus White and BM Graytint!
Let's see how all of them differ.
Reflection Vs Olympus White
At first appearance, these two hues appear absolutely the same – but when you look through a bigger picture, there is a major difference in the undertones.
With an LRV of 68, this color is absolutely light and can be used to make your home feel cool and calm. See more on this in my Olympus White review.
The major difference is the undertones – the former has dominantly gray whereas the latter has dominantly blue!
Buy some wall samples of each of these colors to easily compare them right in your home.
Reflection Vs Graytint
These two share more similarities than the former!
Yes, this one has more gray undertones and feels totally cool and crisp. With an LRV of 70.29 – this color is the lightest of them all!
You can pair them with darker grays and yellow – well, something like Pantone Ultimate Gray collection!
See how these colors compare real time with stick-on wall samples from Samplize.
Where to Use Reflection?
This beautiful neutral gray color is a must recommend for your home.
The soothing and subtle backdrop makes a great statement in modern Farmhouse, Traditional, Transitional, Modern, and Contemporary setbacks.
So, whether it is the walls, exterior doors, laundry rooms, or the kitchen cabinets – this color is quite good to go for your home!
Let's have a look at where and how to incorporate this paint color in your home.
Reflection in Living and Dining Rooms
If you have a smaller casual or formal living space – this color is a great way to embark on liveliness.
However, it is even better if you reside in a warmer state since this color will exhibit cooler vibes!
You can further add bold blues and grays on the accent wall, a golden tinted or matte black chandelier, and ample sheer white and gray curtains.
Lastly, in the case of renovation, hardwood floors and wooden paneling is good to go!
Using in Bedrooms
Using SW Reflection in the bedrooms is something to look forward to – if you crave a cool effect!
You can either paint all the walls in this specific color or choose to use it on the accent wall (or the headboard wall).
That depends upon the size of your room!
Further, try pairing this paint color with brown, greiges, and blues, and certain tones of warm grays on decorative accents.
Lastly, for a cozier vibe – add shag, faux, or fur rugs for a welcoming experience.
Reflection in Kitchens and Baths
Painting the kitchen cabinets and walls in SW Reflection will result in a clean and refined look.
I believe the best way to make use of this color is by painting the cabinets in this specific color. And the backdrop is in bold gray!
Else, you can let the backdrop wall be in this color and observe how beautifully the color shines.
Furthermore, you can use brass or matte black pull handles with a white-veined marble countertop and glossy backsplash tiles.
The same is true in bathrooms, when it comes to cabinet painting. Wow, just wow.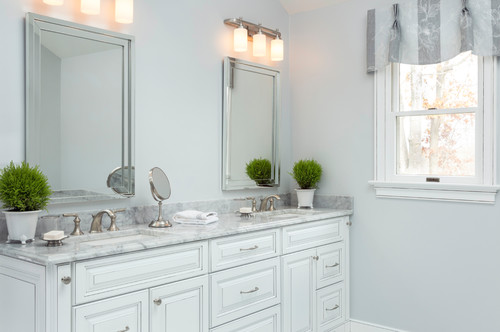 Using on Exteriors
Especially for the Craftsman, Mid-Century Modern, and Contemporary homes, this paint on the exteriors is bound to add a perfect vibe.
You can play with black roof tiles and bold gray or black for the trims and moldings, door and window frames. For a contrast, you can even add red on the entry door for a focal touch!
Furthermore, if you have porches and columns – either choose gray or black paint or natural stone wainscotting.
You Should Order Samples of Reflection
Let's face it, good paint isn't cheap. While painting is a relatively inexpensive, good bang-for-your-buck project, picking colors can be hard.
You don't want to buy a whole can of something until you know for sure.
So together with the info here, you can literally "see" what this color will look like in your home before you commit.
Getting a peel-and-stick sample from Samplize is the best thing since paint rollers!
If you don't know yet, you can order a 9″ x 14.75″ sample with the real paint color on it. Stick it on your wall multiple times and in multiple places to find out exactly if the color is for you.
So, how do you want to use this color in your homes? Interiors or Exteriors?
Now that you have a bit more knowledge– are you stoked to start painting your home in Reflection?
Be sure to check out other Sherwin-Williams blue gray paints if you want to learn even more about what's available.
Should there be any questions or thoughts, let us know in the comments below!