It goes without saying that we find whites everywhere in our lives – whether in your home's color palette or in your wardrobe!
And when it comes to paint, you know what the true beauty is?
Well, whites are not only classic, they are truly a must-have!
From tons of pops of colors used in space, the category of 'whites' is what breaks the monotony and adds an undistracted background.
So, let me introduce you to a white paint that is true to its hue and is far away from any judgments!
And from a wide array of Sherwin Williams Whites that we discussed; this is also one of the most popular ones.
You would be surprised to know that the psychology of white is even more mesmerizing.
Symbolic of purity and innocence, this color gives your home a grounded feel as well as setting the stage for attractive aesthetics!
And especially when it comes to Sherwin Williams Pure White, this color definitely plays a key role in creating illusions, adding character and depth to your spaces, and most importantly, making you feel calm and relaxed!
I can almost guarantee you'll end up using this color in your home if the above sounds good to you.
So, are you excited to find out more?
I'm ready to spill the beans here, so let's get started!
Sherwin Williams Pure White SW 7005 Details and Specifications
There are tons of SW whites out there!
If you are wondering how to figure out the best one for your home – I say, you read this section very carefully.
So, every color has a story to tell – and that story majorly differs between each color.
I always say, before picking paint for your home – it's crucial that you first study the paint, its specifications, and what makes it unique!
To make it easier for you, here are a few terms that you have to consider.
First and foremost, look at the back of your paint swatches to determine the Light Reflectance Values or the LRV's of the paint color.
This value helps in determining how light or dark the paint is on a numerical scale.
Remember, the greater the value – the lighter the paint and vice versa!
So, the LRV of Sherwin Williams Pure White is 84.
And that means it's an extremely light-toned paint color.
(After all, it comes from the White and Off-White Collection).
If you want to see how Pure White will look in your unique environment, I highly suggest ordering a peel-and-stick paint sample from Samplize here!
Secondly, other important associated aspects are the RGB and HEX Values that further tell us what the color is made of.
Red = 237
Green = 236
Blue = 230
HEX Value = #edece6
Now, let's get started with the practical aspects of Sherwin-Williams Pure White.
How Does this Color Feel in a Space?
Pure White feels absolutely light, refreshing, clean, crisp, and airy!
If you have read through my previous paint color reviews, you would observe that I always recommend SW Pure White for the ceilings and trims!
And that is true – SW Pure White is truly the best creamy white paint color for the ceilings, trims, and moldings!
Since it has a true hue, it tends to play a great background role by letting the surrounding bolder colors stand out!
When talking about climates, especially for the warm and tropical states – this color is absolutely good to go!
It will help create a cool and tranquilizing aura that will make you feel calmer after a long hard-working day!
Moreover, you can also incorporate this paint in extremely smaller spaces to make them look larger as they have an ultra-high reflectivity.
How Does Light Affect the Color?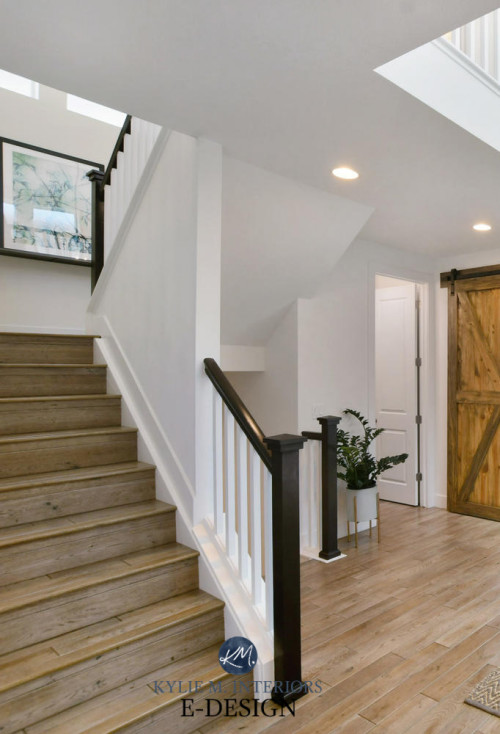 Natural as well as artificial light plays a big-big role in this paint color.
Well, frankly – the white collection is majorly affected by light due to their high reflectivity!
In this case, ample natural light will tend to make your space look larger and brighter!
You can use this paint in smaller as well as larger spaces!
Smaller spaces with no natural light (spaces like laundry rooms and bathrooms) play great in Sherwin Williams Pure White!
I also recommend using this paint in any direction! (Another plus point, yay)
I wonder if this color even has any drawbacks.
As I already mentioned, do yourself a favor and get some wall samples to test out this color and any others.
The stick-on kind are a no-brainer from Samplize, and will give you some answers ahead of time. Get yours now!
What are the Best Coordinating Colors?
As we discussed, just how important it is to analyze the paint is it to choose the best complementary colors.
Remember, if you mess up with these palettes and schemes – you end up messing with your home.
And you don't want that, right?
Hence, I will recommend a few options that you could consider pairing up with this white paint.
First and foremost, you could either choose from a contrasting or a monochromatic color palette – depending upon your interior design style.
In the case of contrasts, you are free to literally pick any hue – mustards, olive greens, darker blues, tans, taupes, and pinks!
Well, you name it – and you can have it!
So, check out these few colors I would recommend for a monochromatic palette!
SW 9165 Gossamer Veil (find out more in my review of GV here)
SW 7668 March Wind
SW 7018 Dovetail
On the other hand, here are a few of the colors I would recommend for a contrasting color palette!
SW 9136 Lullaby
SW 9141 Waterloo
SW 6297 Rose Embroidery
Now, here is a twist – use the same SW Pure White on the walls and the ceilings and trims at the same time!
SW Pure White Vs Similar Colors
Sherwin Williams offers tons of other off-white and white paints – however, there may still be some variants that set all of them apart from each other.
To name a few, the two most similar-looking color options are SW 7004 Snowbound and SW 6203 Spare White.
Pure White Vs Snowbound
With an LRV of 83, this white paint color shares almost similar reflectivity values but differs majorly in undertones and depths.
It's a true white paint color with very slightly warmer undertones.
Find out more about Snowbound in my review here.
However, you can absolutely use it on the walls but try avoiding the ceilings and trims!
They might look very similar on the screen, but the biggest secret is to order samples of the color and then assess the brightness and tones in the environment you're painting in. Pick up peel-and-stick samples now from Samplize!
Pure White Vs Spare White
SW Spare White is a white paint color with slightly cooler undertones. You can use this color if you want a crisper backdrop!
It has an LRV of 77 – making it not as light-toned as the SW Pure White.
Buy some wall samples of each of these colors to easily compare them right in your home.
Where to Use Pure White?
SW Pure White is so timeless and flexible that you can practically use it anywhere in your home, offices, and even garages, etc.!
Not particularly aligning to a certain style – Sherwin Williams Pure White is a great recommendation for Scandinavian, Modern, Contemporary, and Mid-Century Modern Interior design style.
Try avoiding in Country, Farmhouse, and Bohemian styles as they crave a warmer appeal!
However, regardless of that, this color can be used on ceilings and trims for any style.
Let's see where and how to incorporate this beautiful white color in your home.
Pure White in Living and Dining Rooms
It is time to feel timeless and relaxed in a living room with walls painted in SW Pure White.
Your space is quite likely to feel airy, bright, and enlarged with this paint!
You can either use a bold accent wall or simply paint all the walls in SW Pure White for a timeless experience.
I further recommend using hardwood floors, black metal furniture, and probably bold-colored suede or velvet accent chairs and a couch!
Remember to incorporate tons of wooden textures here for a refined palette!
Using in Bedroom and Bathrooms
Bedrooms and bathrooms are spaces where this paint definitely leaves a great impression.
You can either choose to paint all the walls in this or simply choose the focal wall or the headboard wall in bolder paint and the rest of the walls in SW Pure White.
Pair with white, beige, and gray upholstery and place a few mirror pieces to further make your bedroom look larger and brighter!
Moreover, to create a cohesive touch, you can also continue this hue in the bathrooms and pair some authentic brass or nickel light fixtures to go!
Pure White in Kitchens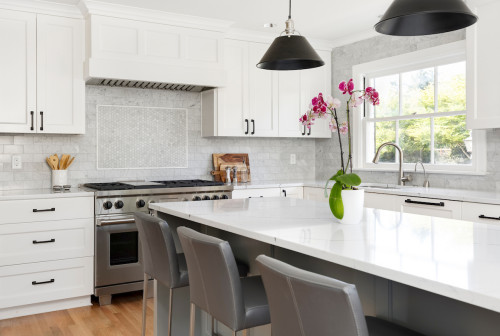 So, if you have a minimalist style or you regularly follow simplicity and practicality in design – you can incorporate this paint on the cabinets as well as the backdrop walls!
Further, make your palette eye-catchy by incorporating metal tints of brass and gold to add depth and character!
Using on Exteriors
Especially for Cape Cod, Caribbean, Mid-Century Modern, Coastal, and Craftsman styles, this color is a great option for your exterior walls.
You can either pair it with black or grey accents through trims, moldings, and door and window frames.
You can also use natural stone wainscotting for the patio columns and surroundings!
How to Best Sample This Color?
When it comes to colors like Pure White, which can show in many different ways, you should definitely order a peel-and-stick sample from Samplize.
These folks came up with a genius way to sample real pain without having to go to the store, pick up a can, then paint it on.
For not much money you get a good sized square to put up anywhere in your house where you want to "try" on a paint color along with any possible coordinating hues you like. Love this!
So, how do you want to use this color in your home? Interiors or Exteriors?
Now that you have all the secrets – are you excited about painting your home in Pure White?
Should there be any questions or thoughts, let me know in the comments below!