Colors have proven to play a strong communication role in a space that speaks to its purpose, value, and personality.
We humans, are likely to get affected by the psychology of color as it no doubt impacts our minds and body.
Yes – that's true!
So, the choosing a paint color for your interior space is an important step towards contributing to your overall balanced state of mind.
What's more is colors trigger emotions while defining a style to it.
One such color that does this so brilliantly, and that I absolutely adore, is Snowbound by Sherwin Williams.
(And no, it doesn't really resemble snow but we'll get into that below!).
What "Color" is Snowbound?
Snowbound belongs to an off-white series that is highly popular among many homeowners.
The crispness of the color makes it a good option for a neutral palette collection.
This color defines the concept of greige – grey and beige merged.
However, if you have a close-up, you have to wonder if Snowbound is actually a cooler or a warmer shade?
Don't worry! We all have been there when looking at colors like this.
Although, it might seem a warmer hue at your first glance, the truth is – it really is a cool shade.
The Effects of Light
Used in an updated kitchen, you can see how Snowbound looks crisp. Who says off-white appears muddy?
Snowbound truly has magic to it! The look and feel of it is highly dependent on the amount of light bouncing off the surface it's painted on.
This color is very sensitive to natural light if you have a lot of windows in your home.
If you start applying Snowbound as your wall color, you will observe how crisply the shade takes over as a cooler tone – again dependent on the light!
In a bright kitchen such as above, you can see it appears much brighter than when looking at the swatch.
One GREAT way to test a paint color before you buy it is to order a sample from Samplize. You can pick one up for Snowbound!
LRV is an important term in color psychology that indicates the percentage of light reflected from a surface.
Ranging from 0 to 100, 100 being the brightest and 0 black – Snowbound proudly enjoys the value of 83.
Let's talk about Sherwin Williams Snowbound color statistics.
R=237; G=234; B=229
HEX Value= #edeae5
Due to a good reflectance value of the color, it plays a strong game in the neutrals collection.
When used opposite bright accents, this shade proves to be a very subtle backdrop!
This illustration will help you identify the exact look of the color.
How to Use Snowbound in Your Space
When choosing a palette for your space, it is highly recommended to consider each and every aspect of your room!
Don't just look at a paint sample and quickly say – "I like it, maybe I should use this"!
Each element of your room counts. Consider your furniture, flooring, window treatments, rugs, artwork, and all the possible décor items when picking up the paint color.
When it comes to Snowbound as a color for your home, let's discuss a few places it will work best and which hues best complement the color.
First, a secret:
While designing a space, it is important to consider the aspects of choosing a neutral to avoid attention, an accent which is the highlight and a base that is dominant and dependent on the other two.
Snowbound vs Similar Colors
When you get confused about which colors to pick up as all of them seem 'so similar', I recommend putting the swatches together and examine their tones.
It is very common to mistake them with one another. I get it!
Let's talk about a few color confusions that homeowners are regularly dealing with.
1. Snowbound vs Alabaster
Even though they seem to share similarities, when put together – you can see the difference.
See how placing the colors with each other can solve your problems. These two examples are more about the undertones than the brightness.
Snowbound is comparatively a cooler toned color whereas the Alabaster is warm-toned. It's slight but you can see and feel the difference!
Check out my full guide on SW Alabaster here.
Order a wall-stick sample of Alabaster here to try this color on for size.
2. SW Snowbound vs BM Pure White
Pure White from Benjamin Moore Collection is often confused with Sherwin Williams Snowbound.
However, they don't look similar at all!
Pure White has its inclination towards cooler gray tones instead of the more greige Snowbound. Snowbound will always feel to be much warmer.
Order a wall-stick sample of Pure White here to test how it looks in your home vs SW Snowbound.
Additionally, Snowbound shares similarities with a number of other colors:
Torque White (SW 7003), Eider White (SW 7014), Incredible White (SW 7028), First Star (SW 7646), Big Chill (SW 7648), and Pure White (SW 7005) are noteworthy samples.
Snowbound's Effects in Your Home
Jana Raie from On South Drive uses Snowbound throughout her home. (Unfortunately her site is down but she really pulled it off well!)
Using contrasting tiles with a sleek Snowbound cover will make your cabinet or trim/molding outshine. For example, the kitchen sample above.
Considering the flexible use of the color Snowbound, here are some ways it affects our minds.
First and foremost, Snowbound when used in a bedroom, will give an absolute luxe and cozy feeling to it.
The same of course is true, if you make it part of your living room palette.
If you have a smaller space for any function in your home, try using Snowbound due to its excellent LRV values.
It will make your room look spacious and bright!
Meanwhile, to get-out-of-the-regular-box in the kitchen, you could try playing with pop shades in contrast with subtle Snowbound.
There is no doubt it will not look amazing!
It is a better option to continue the greige theme if you have throughout the house, but when looking for a dark and daring mood for your space, Snowbound wouldn't really make a great option there.
Using a darker greige tone like SW Mega Greige might help.
Highly recommended for furniture as well as bathrooms, this color will never tend to disappoint you unless you prefer to choose it wisely.
So, it is important to regard the theme of your house when choosing a palette!
Also, before choosing a palette, it is important for you to consider the live swatches and physical samples of the colors as the screen colors can differ sometimes.
Best Snowbound Coordinating Colors
Playing with Sherwin Williams Snowbound can be quite fun!
After all, this off-white paint has such versatile characteristics that it can easily mold into any color palette – whether warm, cool, bold, bright, or simply minimalistic.
However, don't forget to experiment with the undertones of this color since that can be a challenge sometimes.
Don't worry! I am going to elaborate on the two different types of color palettes for you – monochromatic and contrasting (warm and cool)!
Contrasting Color Palette
So, here are a few of the paint colors I would recommend for a contrasting palette (cool)!
This was a cool color palette that will readily make your space feel crisp, chilly and yet not so chilly, and soothing!
You must use matte black lighting fixtures to go with this palette for a cohesive appeal.
Definitely don't shy from white marble, brown wooden furniture, and navy blue accents on pillows and artwork.
Warmer Color Palette
Now here's another palette that falls slightly on the warmer end of the scale –
This warmer Snowbound palette is rather more eye-catchy and contrasting!
Consider using satin brass or oil rubbed bronze fixtures to go with this palette. Even polished chrome will make a wonderful statement!
Monochrome Color Palette
Lastly, if you like the minimal and modern feel of monochromes, here's a palette just for you –
SW 7022 Alpaca – see my review here!
SW 7023 Requisite Gray
SW 7024 Functional Gray
This monochromatic palette would adore the use of matte black fixtures that tend to protrude and rather make quite an eye-catchy statement.
You could consider white or beige Italian marble to pair along with dark-toned granite on the countertops.
For your ceilings, trims, and moldings – SW Extra White or SW Pure White in itself makes a great option!
Coordinating Decor
Generally, Snowbound can be best paired with metallic textures like satin brass, copper, polished chrome, powder-coated black, and polished brass.
Here are a few decorative accessories that compliment SW Snowbound really well –
On the other hand, it may also perfectly pair with wooden textures like Mahogany and Walnut – especially on the furniture frames or existing architectural elements like exposed beams.
Here are some furniture options I'd highly recommend to go with SW Snowbound –
With Sherwin Williams Snowbound, you can best pair medium to darker sage greens, midnight blues, soft baby blues, darker beiges, rusts, medium to darker grays, and blacks.
Here are my recommended flooring options that compliment SW Snowbound beautifully:
You could use any of them depending on the interior design scheme and your personal preference.
Where to Paint with Snowbound
Mostly used as a neutral, Snowbound is great for walls, trims and even ceilings in some cases.
Here is a tip!
To select where to choose the Snowbound in your home, use the following special guidelines.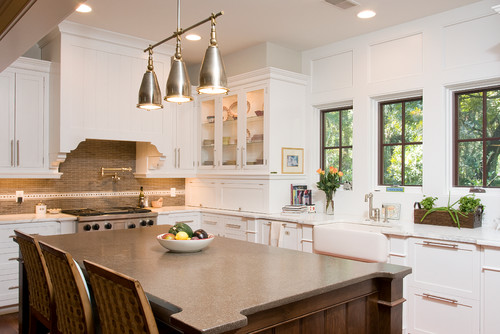 If the palette in your home is inclined towards cooler grey tones with bright white accents on walls and tiles, try choosing Snowbound for the trims, molding, and cabinets.
Whereas…
If your palette is inclined more towards warmer hues with warm greys, and your furnishings are creamier, then consider going for SW 7008 – Alabaster paint color for accents or trims and cabinets.
Snowbound in Kitchens
Snowbound is bound to look amazing in your kitchen – especially if you crave a fresh and bright vibe in this space.
You can choose to use this color on the upper as well as lower cabinets – with an amalgamation of wooden textures on the floating shelves and island cabinetry.
For the pull handles and knobs, consider matte black fixtures that will further refine the palette.
Snowbound in Bedrooms
View this post on Instagram

In the bedrooms, this color can totally play a warm and welcoming factor.
It brightens the space and even makes it appear larger!
If you like the idea of accent walls, choose darker paint colors like SW Naval or SW Mount Etna on the headboard wall.
Snowbound in Hallways
View this post on Instagram
Sherwin Williams Snowbound can play a wonderful role in the hallways and can be used as a base color throughout your home.
Try and you'll know the ultimate freshness it brings to your space!
Using on Exteriors
Exterior facades use Snowbound as the main color. You could often use that with darker shaded colors on moldings, trims and even for window treatments.
I definitely recommend this color for outdoors due to how it plays with natural lighting. Farmhouse Style homes very often use Snowbound for exteriors.
Check out my list of the most popular Sherwin Williams exterior paint colors!
A house in Birmingham, AL showcases Snowbound on the exterior sides and support posts.
Other places:
Snowbound is a great choice for painting shiplap or wainscoting!
Snowbound is an easy-going color.
It doesn't restrict itself to be used in a specific corner of your home depending on the functionality, but instead leaves a wide array of options to be implemented in any corner of your homes.
Do you have a minimalistic style? Or maybe modern and transitional?
To go with your clean and crisp styled interiors, Snowbound could be the one.
Snowbound is an ideal white to be used for a timeless look. You may never have to worry about the style of the color fading away an being "out of trend" in the future.
It's homey but can also works easily to be elegant and sophisticated!
Ranging from your bedrooms to the living room, family room to kitchens – Snowbound has proven itself to be an immaculate color option throughout the house.
An Easy Way to Sample This Color!
Instead of picking up a small can, or worse, an entire gallon can, to "test" out Snowbound, you can order a peel-and-stick sample of it from Samplize.
The company is genius – they provide a 12″ x 12″ stick-on square you can put up anywhere in your home to try out a paint color.
For a few bucks, it's definitely worth the small investment so you can see what the color will do in YOUR unique space, with your own lights and shadows.
Practical, Timeless and Glam All in One
The lush and smooth feel of a Sherwin-Williams' Snowbound paint color knows no bounds!
It will not just make your space look clean and bright but will also add the 'glam' factor to it.
Grab some paint samples and check out more to see how this timeless color is great for spaces as bright as Scandinavian homes and as free-spirited as Bohemian.
FAQs
What are the undertones of Snowbound?
Sherwin Williams Snowbound has a tiny touch of light gray or warm gray (greige) to it!
If you observe in various lighting conditions, it may appear slightly on the warmer end of the scale but overall, if you pair the color with a tru white paint, specks of cool gray will be seen.
Is Sherwin Williams Snowbound too white?
Sherwin Williams Snowbound is an off-white paint color that reflects a tinge of greige in various lighting conditions.
It's neither too white like SW High Reflectance White nor too off-white or creamy like SW Alabaster!
What color trim goes with Snowbound walls?
You must either use SW Pure White or SW High Reflectance White on the trims, ceilings, and moldings with this paint color.
Is Sherwin Williams Snowbound warm or cool?
Sherwin Williams Snowbound is definitely a soft, warm white paint color but it can definitely play chameleon under certain lighting conditions.
In the south or west-facing rooms, this color may reflect a warm and creamy touch whereas in the north-facing rooms, this color will reflect an icy touch!
What gray does Sherwin Williams Snowbound look good with?
Sherwin Williams Snowbound will best complement the warm gray or greige paint colors like SW Agreeable Gray and SW Repose Gray.