It's a given that you'll need some kind of "white" or off-white paint every time you're planning a home update or redesign.
Well, white is definitely one of the most important and popular categories.
Whether it's your trims and moldings or door and window frames – whites come with a full bag of tremendous opportunities.
Also, they have the potential to reflect the true hue and saturation of your adjacent accent color. This is important!
So, here's what I have for you today…
Let me introduce you to Sherwin Williams Eider White!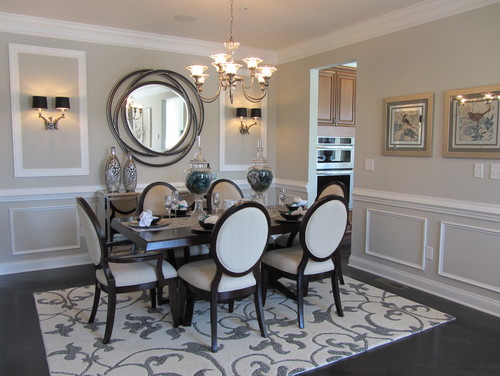 Just like any other white – this color is pure, calm, beautiful, and relaxing. And, it will do a wonderful job at playing a great base or neutral in your home.
But let me tell you – using this color might have some challenges!
(Let's say it can be a bit tricky to use correctly)
This off-white is not clear cut like SW Pure White (a true white), nor SW Alabaster (warm and creamy).
Rather it's an off-white with undertones aligning towards grays. You might sense a coolness about it as a result, but in reality it might actually look warmer in certain environmental conditions.
So, if you compare a swatch of SW High Reflectance White with SW Eider White, you're quite likely to detect a grayish undertone.
But remember, it's a gray that is not too cool as well.
Don't worry, we're going to dig in and unravel all there is to know about this color so you can decide if and how it can best work for you.
Let's go!
Sherwin Williams Eider White SW 7014 Details and Specifications
We'll start with some basic technical info so you can see a bit more where this hue comes from.
Every color comes with its own theories, specifications, and schemes!
If you are new here, let me tell you – there are quite some facts and scientific terms that you would want to acquaint yourself with. (Before choosing a paint color for your home)
It's important to analyze these values and then determine where, when, and how to use these paints!
So, first and foremost, one of the most important terms that I usually observe getting ignored is Light Reflectance Values (LRV)!
Every color has an associated Light Reflectance Value!
For Eider White, the LRV is 73!
Which is undeniably light!
Remember, the higher the value, the lighter the paint color is!
And vice versa!
This is almost neither too cool nor too warm off-white with gray undertones.
And don't be disappointed if you detect a pinkish undertone sometimes!
Oh, if you want to just try Elder White so you'll know just how it'll look, you can easily with a peel-and-stick sample from Samplize. Order some samples now!
Moving ahead, let's discuss the RGB and HEX Values of the color.
Red = 226
Green = 222
Blue = 216
HEX Value = #e2ded8
Now with all that, I promise not to bore you with these scientific details anymore.
Let's talk about the practical aspects of this tricky off-white color.
How Does This Color Feel in Space?
Sherwin Williams Eider White will make your space look calm, relaxed, spacious, and utterly smooth and serene.
Whether it's a small-sized bedroom or a large living room – this color has the potential to play stunning in all of these spaces.
Apart from this, you will never be disappointed if you plan to use it as a neutral, base, or even an accent.
So, in case you want to achieve a spacious appearance – Sherwin Williams Eider White would be a smart decision.
I wouldn't restrict you from using this paint in different compass directions – so, feel free to incorporate it in north, south, east, or west!
However, you must know that it will appear slightly altered!
How Does Light Affect the Color?
It is true that light (natural or artificial) highlights the actual saturation and shade of color!
The more natural or artificial light entering the home – the brighter your space will be (regardless of the LRV of the wall paint)!
Hence, in the case of SW Eider White, more light means a lighter appearance of the color.
With excessive natural light in the room, this color will even tend to wash out the gray undertones!
On the other hand, in a room with little natural light, it may feel flat.
Nevertheless, you can always play with artificial light in the form of pendant lights and wall sconces!
Here, you can also use warm whites to perfectly neutralize the saturation!
To truly see what your home's environment and lighting will do here, try out a real paint sample. It takes out the guess work!
What are the Best Coordinating Colors?
Creating color palettes can be quite a fun task to do. (And that is one reason I love to color consult and E-Design)
So, it's crucial for you to choose the best complementary colors in order to define a palette that looks eye-catchy and seamless.
So, whites are apparently quite easier to deal with!
They don't really restrict you much. (Of course, undertones can be quite a question sometimes)!
But other than that, you have a wide plethora of color opportunities and options to pair with!
However, you have to be careful as to what vibe you need in your space for a perfect color combination.
So, I am going to enlist the two most popular color schemes here – monochromatic and contrasting.
Monochromes are generally great for modern and contemporary setbacks.
On the other hand, Eclectic, Mid-Century Modern, and Farmhouse play well with contrasts.
Hence, in this case, you can pair this particular white with browns, taupes, and greiges for a transition and traditional backdrop.
Else blues, yellows, and reds for something contrasting, Mid-Century, and Eclectic!
So, here are a few of the colors I would recommend for a monochromatic palette!
SW 7016 Mindful Gray
SW 7017 Dorian Gray
On the other hand, here are a few of the colors I would recommend for a contrasting color palette!
SW 7665 Wall Street
SW 6009 Imagine
SW 6120 Believable Buff
For your ceilings, trims, and moldings – SW Extra White or SW Pure White will help protrude a true hue of SW Eider White.
SW Eider White Vs Similar Colors
This is one of the hardest questions.
There are so many colors that resemble Eider White that I myself get caught up in confusion most of the time.
Although you must know that even though they look similar, they still might differ in the undertones or reflectivity!
It's generally best to pair these off-whites with true white paints to detect the actual difference.
So, one of the closely related colors are SW Incredible White and SW Toque White!
Let's see how all of them differ.
Eider White Vs Incredible White
There ain't a lot of differences here!
Sherwin Williams Incredible White is an off-white paint that has warm gray undertones.
It has an LRV of 74 – and feels absolutely creamy and welcoming!
You can definitely consider it in your home.
Order a wall-stick sample of Incredible White here to help you compare colors in your own space.
Eider White Vs Toque White
Another similar alternative, Sherwin Williams Toque White is greatly inclined towards warmer grays and browns in certain cases – see more on this paint color here.
With an LRV of 76, this off-white neutral makes a great bold statement for bases and neutrals.
However, it may feel slightly pinkish in some cases.
Do yourself a favor and grab some stick-on sample sheets of these two colors and see what looks best in your home.
Where to Use Eider White?
This color is a great specification for Modern Farmhouse, Rustic, Industrial, and Modern setbacks.
With its deep gray undertones – it will rather add an extremely charming vibe.
Whether it is the trims, kitchen cabinets, or the walls – this paint, if used carefully, can do wonders!
Let's see where and how to incorporate it in your home.
Eider White in Living and Dining Rooms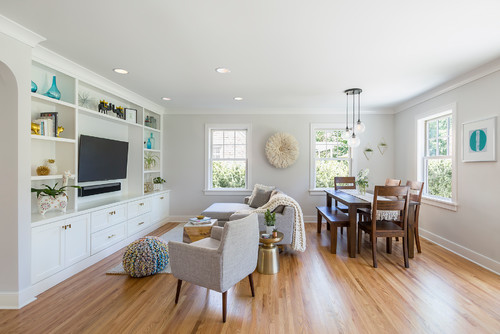 Pair it with wooden textures and see the magic for yourself!
So, yes, you can absolutely use this color in your living and dining room as far as you pair with the best opposites.
Mainly, you have the option to choose something rustic like the exposed wood and exposed bricks or even something more sophisticated like linen or cotton upholstery and metal frames.
Choose an accent wall to add depth and character to your common space!
Using in Bedrooms
Like I say, bedrooms are the most personal spaces you have!
If you prefer an airier and coastal-like bedroom – this color will help create a perfect illusion!
You can use distressed style brown furniture frames or walnut polished furniture!
To create harmony, make sure your upholstery is contrasting – mainly, blues, mauves, patterned linens, or even velvet!
Eider White in Kitchens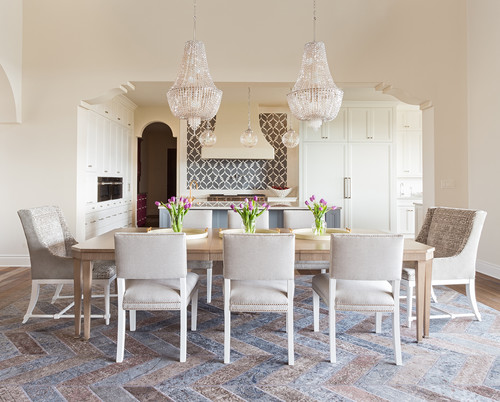 Painting the kitchen cabinets and walls in SW Eider White will result in an overall spacious experience.
I believe the best way to make use of this color is by painting the cabinets in this specific color.
You can let the backdrop wall in true whites and observe how beautifully the color shines.
Furthermore, you can use brass or chrome-finished pull handles with white-veined marble countertop and glossy backsplash tiles.
Using on Exteriors
Especially for the Ranch-style and Mediterranean homes, this paint on the exteriors is bound to add a perfect vibe.
You can play with Spanish interlocking tiles on the roof and crisp white paint for the trims and moldings, door and window frames.
Furthermore, if you have porches and columns – either choose greige, gray, or beige paint or natural stone wainscotting.
Great Paint Sample Tip!
Here's my favorite tip when it comes to testing out a color like Elder White – go and order a peel-and-stick sample from Samplize.
These guys figured out a great way to sample colors much more easily. Simply stick it up instead of having to get a small can of actual wet paint.
For a few bucks you get a nice sized square to throw up temporarily anywhere you want to "try" on a paint color and any possible coordinating hues you like. Too cool!
So, how do you want to use this color in your homes? Interiors or Exteriors?
Now that you have all the secrets – are you excited about painting your home in Eider White?
Should there be any questions or thoughts, let us know in the comments below!