One of the most popular color categories – Off-whites, are bespoke, versatile, timeless, and play such an important role in a home's color decor.
After all, they tend to add a great base and subtle statement, so you can flaunt off those fancy blues, greens, and even gray accents.
And that's what makes these whites essential for every color palette.
However, when diving deeper, these whites have a wide array of types and undertones.
Yes, trust me – the list is endless.
Well, whites are either neutral (no undertones), cool (blue, green, pink, purple undertones), or warm (yellow, red, orange undertones).
Here, Sherwin Williams Toque White is comparatively a warm-toned white paint color with a slightly creamish and soft look.
Well, I would say, it's a perfect balance! (Neither too warm like SW Dover White (learn more here) or SW Creamy (learn more here) nor too cool like SW Big Chill (learn more here) or SW First Star (learn more here).
Hence, making a versatile option if you don't want to incline to a particular color saturation in your home.
So, how excited are you to have a tinge of SW Toque White in your space?
Well, this color review will help you make informed decisions – throughout the timeline of decorating your home!
So, let's get started!
Sherwin Williams Toque White SW 7003 Details and Specifications
You see – there's a major difference between cool whites, warm whites, and neutral whites.
And color details and specifications are what will help you differentiate them all!
After all, this is what reveals the true characteristics of that particular paint color.
So, if you are new here, let me tell you – there are quite some facts and scientific terms that you would want to acquaint yourself with. (Before choosing a paint color for your home)
It's important to analyze these values and then determine where, when, and how to use these paints!
So, first and foremost, one of the most important terms that I usually observe getting ignored is Light Reflectance Values (LRV)!
Every color has an associated Light Reflectance Value!
For Sherwin Williams Toque White, the LRV is 76!
Which falls on the lighter end of the scale! Yes, you can use it as a neutral or base!
Remember, the greater the value, the lighter the paint color is!
And vice versa!
A pro tip: If you're ever confused about the color saturation – try experimenting the palette in various lighting conditions and against a true white hue to determine its undertones.
Now, if you want to try out Toque White on your walls ahead of time, you can easily with a peel-and-stick square from Samplize. Give them a try now!
Moving ahead, let's discuss the RGB and HEX Values of the color.
Red = 231
Green = 226
Blue = 218
HEX Value = #e7e2da
Now that I am concluding, I promise not to bore you with these scientific details anymore.
Let's talk about the practical aspects of this off-white paint color.
How Does This Color Feel in a Space?
Sherwin Williams Toque White is a beautiful off-white neutral paint color that feels utmost calm, pleasing, and satisfying when used on the walls.
It's quite likely that this paint will make you feel bored or will go out of trend!
Yes – it's bound to exhibit a sense of safety, security, and also welcomeness.
And since it doesn't align to a particular color temperature dominantly, you are free to use it in any space, any climatic condition, and any interior design style.
However, you might have to be slightly careful when pairing color palettes.
Other than that, this paint color will also make your space appear larger, enhanced, and airier!
You can use it in smaller rooms as well!
How Does Light Affect the Color?
Light – whether natural or artificial will always have an impact on this paint color.
First and foremost, in a room full of natural light, this paint color is bound to feel extra lively, bright, and airy.
Secondly, it will also make the undertones stand out.
However, in such a case, you also have to be extra careful with the compass directions of the windows and view to the outdoors.
For instance, if you have a window facing the back lawn – this off-white paint may slightly exhibit a green undertone (only in some lighting conditions).
Other than that, you can use this room in any of those directions since it doesn't strictly stick to a saturation!
Lastly, you can always use artificial warm white or white lighting in the form of wall sconces and pendant lights to create a welcoming appeal.
Want to see what Toque White looks like in your own living space? Pick up a wall sample now from Samplize!
What are the Best Coordinating Colors?
SW Toque White is quite fun and easy to deal with.
This warm off-white color is versatile and can be used in either very warm palettes or semi-cool palettes.
Furthermore, SW Toque White can be best paired with beiges, whites (creamy and crisp), steely blues, and lighter blues.
Regarding metallic accents, I like the feel of matte black or chrome.
So, I am going to enlist the two most popular color schemes here – monochromatic and contrasting.
So, here are a few of the colors I would recommend for a monochromatic palette!
On the other hand, here are a few of the colors I would recommend for a contrasting color palette!
For your ceilings, trims, and moldings – you can use SW Toque White itself!
SW Toque White Vs Similar Colors
Although you must know that even though these following colors look similar, they might still differ in the undertones or reflectivity!
So, one of the closely related colors is SW 7028 Incredible White and BM 2107-70 Cloudy Gray.
Let's see how all of them differ.
Toque White Vs Incredible White
Another creamy and soft off-white paint, Sherwin Williams Incredible White is a light, airy, and feminine white paint which is equally neutral and cool.
With an LRV of 74 – this paint has similar light reflectivity values.
Furthermore, this paint color can make your space feel warm, welcoming, and balanced – hence, proving to be a great alternative!
Order a stick-on sample of Toque White and Incredible White to see what works best in your home.
Toque White Vs Cloudy Gray
Benjamin Moore Cloudy Gray is a pretty off-white paint color with deep pink and brown undertones.
With an LRV of 79.32 – this is comparatively more light, airy, and breathable.
Furthermore, you can best pair it with shades of pink, brown, and beige!
Since digital screens can be deceiving, I highly suggest you get some actual samples of these two colors from Samplize. Buy here!
Where to Use Toque White?
Sherwin Williams Toque White is a subtle white paint that can be used in any corner of your home.
Especially in the interior design styles like transitional, Shabby Chic, contemporary, and modern farmhouse – this paint color is quite good to go!
So, let's have a look at how to best incorporate this color in your home!
Toque White in Living and Dining Rooms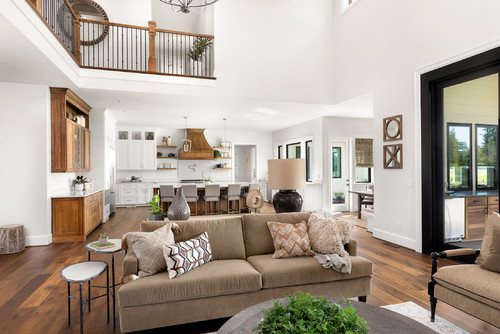 You can absolutely use this beautiful off-white shade in your living and dining room.
Especially if it's smaller in size, you can best use this paint on all the walls of your space.
Furthermore, you can even consider adding a darker shade of taupe or blue on the accent wall!
For the furniture, I highly recommend using beiges and off-whites on the fabrics and further adding tinges of wood (mahogany and walnut) on the media unit, built-in shelves, railings, and brick molds.
Do you have a fireplace? If yes, then add luxe beige-toned marble to clad with it!
Using in Bedrooms
You can definitely consider a paint color like SW Toque White on all the walls of your bedroom.
Especially for a traditional or bohemian style, you can make the most use of this paint to achieve a fun-loving vibe.
Furthermore, try adding shades of blue, green or pink as an accent on your throw pillows, artwork, and a large area rug.
Toque White in Kitchens
One of the best places to use SW Toque White is on the kitchen cabinets.
Yes, this combo is versatile and will never go out of trend!
Let the backdrop wall shine bright in subtle creamy off-whites and the door and window frames in clean and crisp whites.
Furthermore, add a gold-tinted pull handle or knob to add a statement of luxe and sophistication.
Lastly, for the backsplash, choose a contrasting pattern that stands out and make your kitchen appear extra eye-catching and interesting.
Using on Exteriors
Whether you have a traditional style or Craftsman, Mid-Century Modern, Ranch, or transitional – Sherwin Williams Toque White makes an astounding and timeless statement.
You can paint the shiplap walls in this color and choose to paint the trims and moldings in SW Peppercorn or vice versa.
And this color works wonderfully with exposed red brick or natural stone.
Do you want to make your home exteriors look even more interesting? Well, add sage greens, mustard, black, or teal blue on the front door to make it stand out.
How to Best Sample This Color?
Here's my favorite tip when it comes to testing out a color like Toque White – go and order a peel-and-stick sample from Samplize.
This little company has nailed down the best way to sample colors much more easily. Simply stick on a 12″" x 12″" square instead of having to get a small can of actual wet paint on your walls.
For a few bucks you get a big enough sized sample to evaluate anywhere you want to ""try"" on a paint color and any possible coordinating hues you like.
It's temporary, so move it around and test location and lighting options.
So, how do you want to use this color in your homes? Interiors or Exteriors?
Now you see, SW Toque White has much more to offer! And you will never even regret it.
Should there be any questions or thoughts, let us know in the comments below!