It's time to dream of a starry night!
So, how do you perceive it to be like? Is it something glittery? Or is it cool and crisp?
Well, today, let me introduce you to a paint color that is next in line to be one of the best cool whites on the swatch.
Sherwin Williams First Star is a light and cool gray paint color with deep blue undertones.
Although this color is more like gray, you can easily detect a slight blue undertone in several lighting and spacing conditions.
So, when you tend to admire the cooler tones from SW rather than the warmer, this color is quite a great recommendation.
And since it's quite light and versatile, it's comparatively easier to incorporate and pair with other complementary colors.
Moreover, it plays one for all – whether used in the kitchens, dining, patio, or even the exteriors.
So, do you want to know what this paint color has to offer?
Well, it's simply beyond imagination!
In this color review, I'll share just where and how to incorporate this color, and the best opposite colors you can pair it with.
Sherwin Williams First Star SW 7646 Details and Specifications
When choosing a paint color, the first task is to analyze the underlying details and specifications associated with a paint color.
And let me tell you, this is one aspect that homeowners tend to ignore.
So, what is it that differs this particular hue from the other cool grays?
Well, it's the undertones and reflectivity.
So, first and foremost, one of the most important terms that I usually observe getting ignored is Light Reflectance Values or (LRV)!
Every color has an associated Light Reflectance Value.
For Sherwin Williams First Star, the LRV is 69!
Which falls on the lighter end of the scale – but not very light to almost look like a true white.
(Place it against a swatch of SW High Reflective White and you would know)
Remember, the higher the value, the lighter the paint color is!
And vice versa!
And since this color has deep cool blue undertones – it will further tend to look lighter. (Yes, that's another trick)
If you're not quite sure how this color will work in your home, you should definitely try it on for size by ordering a peel-and-stick sample from Samplize.
Moving ahead, let's discuss the RGB and HEX Values of the color.
Red = 218
Green = 217
Blue = 212
HEX Value = #dad9d4
Now that I am concluding, I promise not to bore you with these scientific details anymore.
Let's talk about the practical aspects of this hidden cool gray paint color.
How Does This Color Feel in a Space?
Sherwin Williams First Star brings your space an inch closer to the coast!
And do you know why?
Well, because of the deep cool gray and blue undertones, this color exhibits a sense of tranquility and calmness in the space.
Moreover, this color will make your room appear larger, spacious, and airy while pushing the walls away!
And apart from making your home look spacious, this color plays with your mind in the most humble and subtle ways.
Even though this color has a tinge of a stark and modern feel to it – it adds up to a perfect amount of crispness that doesn't feel too cold.
How Does Light Affect the Color?
Light plays a tremendous role here!
Yes, it does make your space feel lighter and brighter, but it also tends to alter the undertones in certain circumstances.
And that's why this color looks different in different rooms.
In the north-facing rooms, the underlying blue undertones are prominent, whereas in the south-facing rooms, it will look slightly grayish.
But there's something for sure that this color would never disappoint you!
Apart from this, the paint hue can slightly deflect based on the surrounding views and existing structural elements in the room.
One way to help find out how this color looks in your home is to buy some temporary wall samples and put them up wherever you want to paint. You can get these easily from Samplize.
What are the Best Coordinating Colors?
Creating color palettes and schemes is something I absolutely love!
So, it's crucial for you to choose the best complementary colors in order to define a palette that looks stunning.
In general, this color can work extremely well with darker navy blues, sage greens, darker cool grays, and crisp whites.
However, you have to be careful as to what vibe you need in your space for a perfect color combination.
So, I am going to enlist the two most popular color schemes here – monochromatic and contrasting.
Monochromes are generally great for modern, minimalist, coastal, and contemporary setbacks.
So, here are a few of the colors I would recommend for a monochromatic palette!
SW 7657 Tinsmith
SW 7659 Gris
SW 7660 Earl Grey
On the other hand, here are a few of the colors I would recommend for a contrasting color palette!
For your ceilings, trims, and moldings – SW Extra White or SW Pure White will help protrude a true hue of SW First Star.
SW First Star Vs Similar Colors
Although you must know that even though these following colors look similar, they might still differ in the undertones or reflectivity!
So, one of the closely related colors is SW 7647 Crushed Ice and BM 2108-70 Lacey Pearl!
Let's see how all of them differ.
First Star Vs Crushed Ice
Even though both of these fall on the cool end of the scale, SW Crushed Ice is somehow cooler than the former.
Crushed Ice has an LRV of 66, which makes a great base in medium-sized rooms.
So, if you want to touch upon extreme cool undertones, SW First Star is to be considered else Crushed Ice too makes a great option.
Of course, since it has slightly warmer undertones, comparatively.
To see how these look in your home, get some large peel and stick samples and try on your walls with different lighting sources.
First Star Vs Lacey Pearl
Both the grays play equally timeless and versatile.
So, you don't have to be stringent around them, but if you're looking for a slightly feminine touch, Sherwin Williams Lacey Pearl it is!
Even though you can detect slightly warmer undertones (warm gray) underneath, but majorly, this hue falls on the cool end of the scale.
With an LRV of 79.23, this color is the lightest of them all.
To truly experience and compare these colors in real-time be sure to buy some stick-on samples and test them in your home.
Where to Use First Star?
Sherwin Williams First Star can be used anywhere in your home – whether it is the living room, dining room, kitchen, or the exteriors.
This light-toned hue defines utmost simplicity and sophistication – and that makes a great reason why it must be considered.
So, if you have a modern, minimalist, contemporary, coastal, Scandinavian, or transitional-styled home – this hue is good to go!
Let's see where and how to incorporate it!
First Star in Living and Dining Rooms
Sherwin Williams First Star is a deep cool gray paint that can be used on the walls of your living space.
However, to add a sense of depth and character to your room, you must choose a darker-colored accent wall.
And that accent could either be bold gray, blue, or green!
In addition, add white sheer curtains (or even bold gray room darkening curtains), a couple of blue or green throw pillows, and several patterns to go on your decorative accents.
This color can also be used on the wall paneling when pairing opposite darker colors.
Using in Bedrooms
A cool gray tone will exhibit cold vibes. So, be cautious when using this paint color in the bedrooms!
And especially if you have a north-facing room, you have to be extra careful.
Furthermore, try pairing this color with bolder tones and several warmer textures on the cushions, blankets, and table lamp shades.
Yes! You can always balance it to create a flabbergasting effect.
Lastly, for a cozier vibe – add shag, faux, or fur rugs for a welcoming experience.
First Star in Kitchens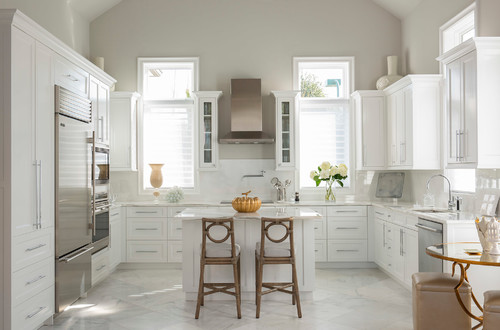 To make your kitchen appear larger and enhanced, you must use this paint on either the cabinets or the backdrop wall.
Personally, I feel this color makes a great statement in the coastal kitchens – but moreover, you can always add medallion runners to further add a sense of visual interest.
When talking details, use matte black pull handles, industrial pendant lighting, and black and white patterned backsplash tiles to complete your palette.
You can also infuse color by adding interesting hues to the crockery, dinnerware, and display items.
Using on Exteriors
Especially for the Craftsman, Mid-Century Modern, and Contemporary homes, this paint on the exteriors is bound to add a stunning vibe.
You can play with black roof tiles and bold gray or black for the trims and moldings, door and window frames.
For a contrast, you can even add deep blue on the entry door for a focal touch!
Furthermore, if you have porches and columns – either choose gray or black paint or natural stone wainscotting.
Best Way to Try Out This Color?
I have to share one of my favorite tips when testing out colors like First Star – go and order a peel-and-stick sample from Samplize.
This company has an amazing way to sample colors super conveniently with real paint.
Simply stick up a temporary square sample of it and avoid the whole paint and roller mess (at least until you're ready!).
For a small amount of money you get a giant "sticker" you can place up in the space you're painting. You can also try out coordinating colors as well. It's great!
So, how do you want to use this color in your home? Interiors or Exteriors? Doors or walls?
Now that you have all the secrets – are you excited about painting your home in First Star?
Should there be any questions or thoughts, let us know in the comments below!