With so many tremendous gray paint options by Sherwin Williams, which one are you to choose? That is one of the most asked questions I'm asked by homeowners and builders.
At the bottom of it all, gray paints have a broad horizon. Way too broad to make the decision-making process easy.
But I promise, the effort will pay off.
And note that there is no one solution for all here. A 'gray' may typically appear warm, cool, or mainly neutral, which can give you both plenty of directions to go while also narrowing down your choices.
And believe it or not – some grays don't even appear like grays! Confusing, right?
Don't worry! You don't have to play the guessing game when choosing from the many Sherwin-William grays available to find the best possible option for your home.
Instead, I have rounded up a few 'best grays' that could make the cut and transform your space the way you want.
The SW Gray Paint Color Landscape and Why It's SO Good
But before I jump on to those, let's discuss what grays truly have to offer and are made of!
Grays are basically produced by either white and black using certain amounts (lighter or darker) or blending equal amounts of yellow, magenta, and cyan.
This color is one of the most timeless and flexible as it can be used for almost any and every interior design style.
Its subtleness makes it a great base and neutral for homes (mostly if they are lighter in tones)!
And what's great is that Sherwin-Williams has formulated many of its colors to work with its gray colors families.
This is good news when you're choosing a complimentary palette for your projects that incorporate some type of gray.
So, let's read ahead to dive deeper into this absolute beauty – 'gray'!
Solving the Mysteries of SW Gray Colors
Grays are one of the most mysterious colors! Are they cool? Warm? Or true grays?
Well! Before you plan to pick a gray for your space, it is essential to know that this subtle paint comes in a variety of tones, tints, and shades.
Making Gray More Gray Through Tone
SW Gray tones are basically created by adding pure gray to any paint. This could be any true color!
In this case, if you add more gray to any existing gray shades, the result will obviously appear more gray. This tends to lend more depth and substance to painted surfaces.
You can see in the examples below how each labeled color is some form of "gray tone", made in part by adding gray to the base.
Lighter Grays Through Tinting
"Tints" on the other hand are the amalgamation of white with a pure color. So, in this case, if you add white to an existing gray paint, it will of course produce lighter or "tinted" grays.
When painting with tinted grays, they come across as more subtle and help to add a soothing quality to the spaces they cover overall.
Check out the calming effects of these SW grays (especially the blue-gray and green-grays), when they are tinted.
Darker Grays Simply Have More Black
Now with "Shades" we're talking about adding black to an existing pure color.
In this case, if you add blacks to grays, it will produce a darker result that is more bold and daring. You could think of these shades as the "darker SW grays".
See how shaded swatches below move the gray into more dominating shades.
All of the above information is directly linked with a given color's LRV or the Light Reflectance Value that help in determining how light or dark the gray paint is.
Here are a few examples on how different grays from Sherwin-Williams exist along a chart of LRV values from 1-100.
See, color psychology is not even that difficult, right?
Those Powerful Undertones: Cool Vs. Warm Vs. Neutral
Well, I still have some more information to disclose. And it's very important!
The second aspect that you must consider when choosing grays from Sherwin-Williams are the undertones that determine if a gray is cool, warm, or true neutral!
It also determines which other Sherwin-Williams paint the gray color will work well with to enhance your overall space.
An undertone mix also dictates how well the gray will work in your home depending on what other colors you have going on with flooring, furniture, cabinets and any major accessories that have color.
Check out my list of the best SW warm grays and best SW cool grays to see the differences even more.
Oh, and did I mention light? Read below where I get into that and gray undertones!
Here's an example:
When cool colors such as blue, purple, and green are blended with the grays, a cool-toned gray is produced.
Essentially, your gray will have one of these undertones in its DNA now, and it can (will) change the entire game when you're painting.
In this case, the blue, purple make your space feel crisp and cool. This is great when you want to focus and be alert.
Check out Sherwin-Williams' most popular blue-gray colors!
Whereas on the other hand, when red, yellow, orange, and browns are blended with grays, a warm-toned gray is produced.
This helps to make your space look warm and welcoming. It's more for relaxing.
True gray paint colors pretty much don't have any undertones and feel pure gray in any and every light condition.
Best Places to Use SW Gray Colors?
I recommend using the cool-toned grays in west or east-facing rooms, whereas the warm-toned grays in either south or north-facing rooms.
Remember, natural lighting conditions have a role to play on the colors.
'True Grays' can be used in any of your rooms – hence, they hold a major advantage – but let me tell you, always examine these paint swatches in different lighting conditions to be rest assured!
Darker shades of gray are quite a trend in interior design in the present era! Heard of Urbane Bronze? Yes! That is what I am talking about.
Best Sherwin-Williams Gray Paint Colors
Now comes the most awaited topic – the most popular colors and one of my favorites! I know you have been waiting for this, right?
So, let's get started! I am going to first list the most popular grays by Sherwin Williams!
5 Most Popular
Sherwin Williams Agreeable Gray:

A perfect warm gray, Sherwin Williams Agreeable Gray is a creamy gray that appears brown and beige in certain lighting conditions.
This is quite likely to be confused with beiges (see my fave list of these for SW here) – but the fact is that it is a gray!
With an LRV of 60, this paint can be used on your walls to feel more cozy, comfortable, and welcoming!
Also, the associated RGB and HEX Values are as follows:
Red = 209
Green = 203
Blue = 193
HEX Value = #d1cbc1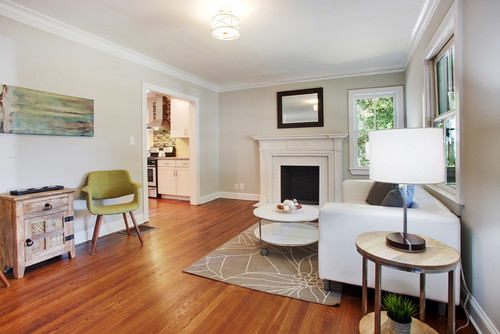 This paint is a good solution for especially Farmhouse Style, Country, Traditional, and Transitional-styled homes.
Check out my full review of Agreeable Gray here!
I personally love the look and feel of this on walls because it exhibits a perfect refined yet authentic look.
Some say this one has a tint of greige – is that true? Well, I believe so!
Sherwin Williams Repose Gray:

A neutral gray, SW Repose Gray is a mid to lighter shade that makes a space look characteristic with soothing depths.
You can read all about it here!
With an LRV of 58, this one falls on the lighter end of the scale – and trust me, you don't have to be careful when you plan to use this color.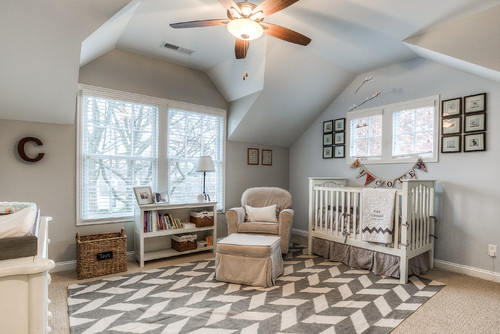 It may feel 'light and airy' if used tremendously in a small space. Let's discuss what this is truly made of – mainly the RGB and HEX Values!
Red = 204
Green = 201
Blue = 192
HEX Value = #ccc9c0
Contemporary-styled spaces majorly incorporate this because of its inclination towards the true hue!
Sherwin Williams Light French Gray:

It almost feels like concrete, this true gray paint color is absolutely minimalist and modern.
With an LRV of 53, this paint falls on the mid-tone of the scale – mainly, neither too-dark and nor too light.
Let's read through the associated RGB and HEX Values:
Red = 194
Green = 192
Blue = 187
HEX Value = #c2c0bb
I recommend using this as an accent in your spaces.
Moreover, if you plan to use monochromatic tones, this is possibly one of the best paints to choose.
It may feel sleek and crisp if used in spaces – hence, I recommend incorporating it in the west or east-facing rooms.
You can check out my full rundown of SW Light French Gray here.
Sherwin Williams Mindful Gray:

SW Mindful Gray is comparatively darker with an LRV of 48.
It appears more bold while adding a sense of depth to your space. Undoubtedly, this is a warmer shade of gray with deep brown undertones.
It may also feel like a taupe – yes! Trust me, in certain lighting conditions, this acts like a chameleon!
Let's read through the associated RGB and HEX Values:
Red = 188
Green = 183
Blue = 173
HEX Value = #bcb7ad
This paint is a great option for traditional and country-styled homes. Used correctly, it brings a lot of warmth to your space.
However, remember to be careful around using them in small spaces as it may feel overwhelming if used tremendously!
Sherwin Williams Anew Gray:

Let's read through the associated RGB and HEX Values:
Red = 191
Green = 182
Blue = 170
HEX Value = #bfb6aa
One of the most confusing, SW Anew Gray aligns more towards the browns and beiges, rather than grays. Yep!
However, it truly has a tint of gray – as a matter of fact.
With an LRV of 47, this paint falls on the darker to mid-side of the scale – thus, adding more authenticity to your spaces.
In some lighting conditions, it even feels reddish-brown (more like organic neutrals).
I recommend incorporating this paint in traditional and Spanish-styled Caribbean and Tropical homes.
Especially for the exteriors, this one is good to go!
TIP: You can order stick-on wall samples for any of the above colors. It's the most convenient way and truly helps you choose the color(s) that look best in your OWN space. Order at Samplize now!
5 Next Most Popular
Sherwin Williams Comfort Gray:
A green-gray paint, SW Comfort Gray truly feels comfortable, natural, and airy when used in homes.
Even though it has an LRV of 54, it may still feel organic and beautiful at all times due to the green undertone.
You can check out my full guide on Comfort Gray here to find out more!
So, if you are wondering whether it is a recommended paint for your homes or not – I would say go ahead and order the first paint sample!
Sherwin Williams Amazing Gray:

A gray with deep taupe undertones, SW Amazing Gray looks truly amazing when used strategically on your home's walls.
With an LRV of 47, it's one of those warm grays that falls more on the darker end of the scale while exhibiting a true bold and authentic character.
Highly recommended for traditional and French Country-styled homes.
Sherwin Williams Dorian Gray:

SW Dorian Gray feels 'weighted upon' if used in larger amounts in small spaces.
Because of this, I recommend using it as an accent in your living or the family rooms, next to plenty of contrasting white trim.
Plus, with an LRV of 39, it is definitely proven that you have to be very careful around using this in homes.
Sherwin Williams Big Chill:

A lighter-toned gray, this cool-toned paint (i.e. a dominant blue undertone) is bound to add a chilly vibe to your homes.
With an LRV of 62, this airy neutral feels extremely enthusiastic and enlightening in spaces.
So, I recommend incorporating this in all the warm and tropical areas to further feel cool and relaxed at all times!
Get my complete info on this color!
Sherwin Williams Colonnade Gray:

Inclining towards the warmer end of the scale, this beautiful and timeless paint be one of the most popular options among homeowners.
It feels gray and beige at the same time – well, altering its appearances as the incoming natural light differs. Read my full review of CG here!
With an LRV of 53, this color would absolutely feel warm and welcoming when used to compliment a wood floor or neutral carpeting.
***Make sure to test out any of these amazing colors with a sample you can put up right in your home. Pick up samples now!
My Personal Favorites
Sherwin Williams Rock Candy:

One of my absolute favorites, SW Rock Candy is a great fit for neutrals and bases in your spaces.
With a crisp and clean texture, cool grays like this have the ability to make your spaces look airier and larger.
Read more on my SW Rock Candy rundown here!
Sherwin Williams Morning Fog:

A gray inclining towards blues, SW Morning Fog can be easily confused with blues.
But let me tell you, it is a blue-gray!
This one definitely has its own story, which you can read all about in my article on this color here!
Sherwin Williams Worldly Gray:

A warm-toned gray, there have been a few times I have recommended this – and trust me, never regretted.
Its warm touch help makes your spaces look cozier and inviting.
Sherwin Williams Lazy Gray:

A cool-toned gray, blues when blend with grays create a perfectly cool and crisp environment.
I recommend all the warmer states to maximize this in the indoors as much as possible.
Find out more about SW Lazy Gray here in my full review.
Sherwin Williams Popular Gray:

So it's not the most popular Sherwin-Williams gray paint, but SW Popular Gray has a nice brown and beige undertone to make your spaces look and feel enclosed and cozier.
However, it may feel overwhelming when used excessively!
Learn more about Popular Gray here.
Grab some samples of these colors to see how they'll look in your own living environment. Order real paint, peel-and-stick samples!
Inspiration Time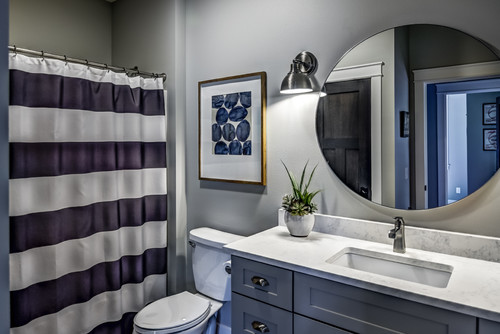 Gray paint in a bathroom can be extremely soothing.
Why not introduce blues to further flaunt off your color palette?
The color used on the cabinets above is quite similar to SW Web Gray, one of my favorite darker and more bolder grays.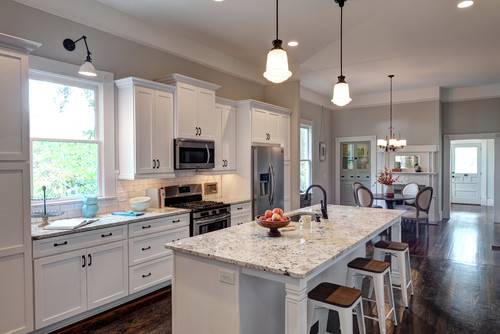 Gray kitchens are one of the most trendiest!
How about this traditional-styled kitchen deeply immersed in Repose Gray and whites?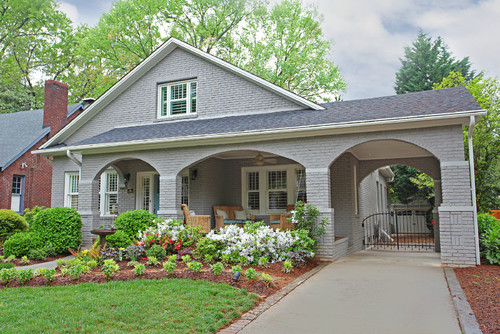 How can we forget the exteriors, right? I love how SW Amazing Gray makes this home stand out, working beautifully with the landscaped yard.
Well, grays are absolutely timeless and prove to be a great option for the home exteriors!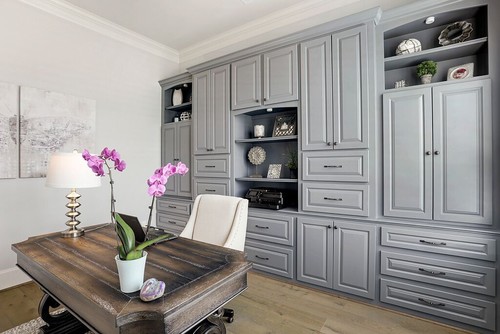 Check out these gray cabinets using SW Foggy Day! Who knew gray could be so pretty.
I am sure painting your cabinets in gray is going to add a bold and yet a sophisticated touch to your spaces including dens, kitchens, garages and more.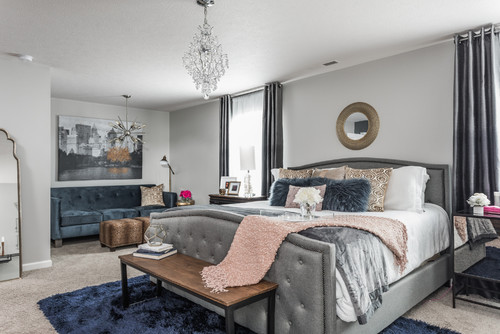 Gray bedrooms are the most soothing.
Check out the transitional bedroom in the above photo that features the utmost use of grays (SW Repose Gray), blues, pinks, and whites.
My Final Thoughts
Now that we have discussed the major aspects and looked at the best Sherwin-Williams grays, do you feel confident in incorporating any one of them in your home?
All in all, I would say grays are timeless! Whether it is the laundry room or exteriors, bedrooms, or the fireplace – grays speak for themselves at each and every point. You just have to give them an opportunity!
Also, let me tell you, grays can align to almost any and every color. Just name it, and you can have it!
So, go pick up your favorite gray now in a variety of paint sizes for your projects big and small, and don't forget to let me know your thoughts on any of the best SW paint colors in the comments below!