Gone are the days when beiges were old and boring!
From 'ban the beige' to 'love the beige' – homeowners across the world are still preferring to incorporate more beiges in their homes.
Especially as of late, they are simply loving the concept of soothing monochromes and subtle nude tones in their bedrooms and living rooms.
And not to forget – the master – Sherwin Williams offers a wide array of beiges that differ in undertones as well as reflectivity.
Unlike the black and white paints, it is a given that beiges are definitely easier to understand and differentiate.
Even though grays are making headlines – but undoubtedly, beiges, greiges, and tans are continuing to be 'in'!
So, Beige is mainly a neutral paint with deep pale to yellow and sometimes warm grayish undertones.
Depending upon the reflectivity, these beiges could vary from very light to almost very dark and bold.
You should expect the beiges to fall on the warmer end of the scale – due to the yellow, red, orange, or brown existing undertones.
And Sherwin Williams definitely provides immense beige options that is quite likely to get you confused.
But don't worry!
I am here to guide you away through the different kinds of beiges and how to pick the best one for your homes.
So, let's get on board the journey to Sherwin Williams Beiges.
Time to Love the Beige
Beiges are usually the pale versions of browns, tans, yellows, and reds!
Definitely extremely warm, right?
Especially for the interior design styles such as traditional, transitional, French Country, Modern Farmhouse, Minimalist, and Bohemian – the beiges are the king of versatility.
So, when it comes to Sherwin Williams Beige, you have tremendous options to choose from the lighter or the darker, the one with yellow undertones or the brown, and simply the one that makes your space look larger or smaller!
But from these ample options, which one to really choose?
So, first and foremost…
Consider the Tints, Tones, and Shades
Different versions of beiges can be experienced through their tints, tones, and shades. Ever heard of these technical terms and wondered what they are?
Well, I will make it simpler for you.
'Tints' are basically the amalgamation of whites with your beige paint colors – making it further lighter!
'Tones' are produced when grays are mixed with beiges – mainly making the end result in a product of greiges.
And lastly, 'Shades' is when you add portions of black to the beige – further deepening and making the color look bold.
And just so you know, this theory is majorly dependent upon –
Light Reflectance Values – The Number One Step Towards Choosing a Beige
So, this is something I have been emphasizing all my Color Consulting years…
Light Reflectance Values help in determining how light or dark the paint color is – which, therefore, will help in making informed decisions!
Sherwin Williams provides one of the easiest ways to figure the value out – just simply turn around your paint swatch.
Diving deeper into SW Beiges, you are quite likely to find a couple of them with reflectivity values as low as 40-50 (darker) and as higher as 65-75 (lighter).
Yes! They are diverse and versatile.
Well, you would also be surprised to know that Sherwin Williams has formulated various paints that beautifully complement these timeless beiges.
Another major point of concern with beiges is that…
Beiges are Chameleons
Yes! That's true.
SW Beiges and SW Grays are big-time chameleons.
They tend to alter their appearances every now and then – depending upon the incoming natural light, compass directions of your room, and local environmental conditions.
It is quite likely for you to observe the same beige tone looking 'grayish' in north-facing rooms and similarly 'warm' and 'cozy' in west0facing rooms.
So, remember to be very careful around using these paints – and it would be wise to examine the paint samples in different conditions to determine the true hue.
Furthermore, you can also play with the artificial lighting!
Let's say, you want a cozy backdrop – then prefer to choose warm white lighting in the wall sconces and pendant lights.
Or, for a crisp backdrop – choose LED cool white lighting, maybe?
Don't worry! Keep reading to find out more about the biggest and most beautiful chameleons in the Sherwin Williams palette!
Best Places to Use Sherwin Williams Beige Paint Colors?
Sherwin Williams' beige paint colors are absolutely sophisticated and elegant!
So, regardless of their types – you can incorporate them in bedrooms, dining rooms, family rooms, living rooms, hallways, laundry rooms, mudrooms, garages, kitchens, as well as exteriors.
Even though there is a definite charm that these colors are specifically allocated for interior design styles that include warmer touches, they prove to be absolutely timeless.
So, talking compass directions, determine the incoming natural light in your room you intend to use the color in.
If it is west or east-facing room, then be careful with the beiges as they may appear too warm which might be uncomfortable in summer months.
Else it is a plus point especially for north and south-facing rooms as they may neutralize the whole mood and appearance.
Beiges also add a feeling of luxury and royalty into homes – try that and let me know!
And last but not the least, I recommend considering the LRVs and sizes of your rooms to truly pick the best possible option.
Best Sherwin Williams Beige Paint Colors
Now comes one of the most awaited topics to talk about!
Sherwin Williams offers tremendous beige options, and it is quite confusing which one to choose and which one to not!
So, let me proceed with the popular ones and then my absolute personal favorites.
5 Most Popular
Sherwin Williams Accessible Beige:
One of the most popular, Sherwin Williams Accessible Beige is a beautiful beige paint color that feels quite airy yet bold at the same time – sometimes subtle gray as well!
With an LRV of 58, this color falls on the mid to lighter end of the scale – hence, you can incorporate it in mid to larger-sized spaces to truly feel the authenticity of the color.
I recommend this elegant beige in traditional, transitional, Country, and Farmhouse style homes – and particularly as a base paint!
You can further pair this with tons of wooden textures through railings and furniture frames.
Trust me, this color is the least beige you can choose from (with very few golden touches)!
Check out my full review of Accessible Beige!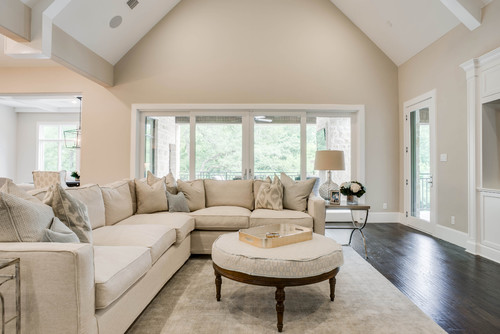 Here are some other color specifications you must get acquainted with.
Red = 209
Green = 199
Blue = 184
HEX Value = #d1c7b8
Sherwin Williams Kilim Beige:
Sherwin Williams Kilim Beige is quite a popular beige paint that has deep orange and yellow undertones.
Unlike SW Accessible Beige, this one seems like a true beige in almost and every natural lighting condition.
Although you are also quite likely to feel that warm peach tone specifically in east and west-facing rooms.
And that is why I recommend choosing this color for the north-facing rooms!
Try pairing it with either walnut wooden tones and textures or the striking white paints and finishes.
Kilim Beige has an LRV of 57 – making it a great option for mid-sized spaces!
Find out more about Kilim Beige in my review here.
As usual, it is important to understand the associated RGB and HEX Values that are as follows:
Red = 215
Green = 197
Blue = 174
HEX Value = #d7c5ae
Sherwin Williams Wool Skein:
Wool Skein is a beautiful beige and tan that is extremely soft, light, and airy.
Unlike Kilim Beige, this paint doesn't reflect any orange, red, or pink undertones – hence, a plus point in case you want a neutral beige.
With an LRV of 63, this paint is definitely a mind-blowing option for smaller-sized rooms (another plus point)!
So, you may want to use this paint in almost any and every room – because it is versatile and beautiful and doesn't involve a lot of restrictions.
When pairing, you can choose deep blues, grays, and even use tremendous glass and wood with this.
Be sure to check out my full review of SW Wool Skein beige!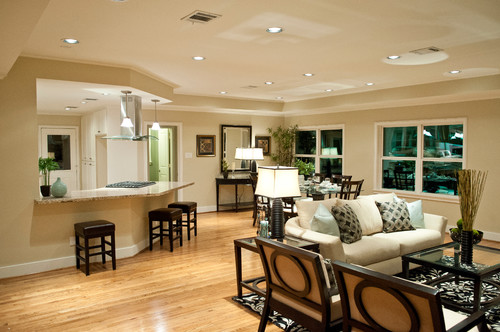 It is now time to look through the color details and specifications to know more about it!
Red = 217
Green = 207
Blue = 186
HEX Value = #d9cfba
Sherwin Williams Balanced Beige:
Sherwin Williams Balanced Beige is a perfect blend of SW Accessible Beige and tones of grays.
At first glance, it may appear quite different – but the fact is that it is truly a beige paint color that is not so beige!
It tends to alter its appearances under certain lighting conditions – mainly gray in the north-facing rooms and beige in the west-facing rooms.
To get the full scoop, check out my guide on SW Balanced Beige here.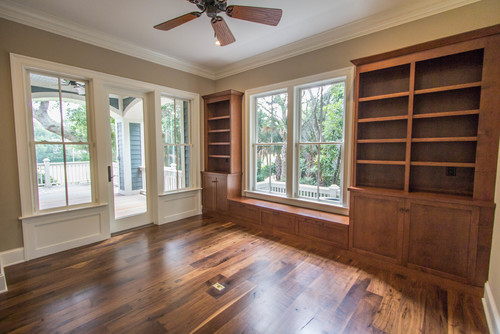 With an LRV of 46 – this color somehow falls on the darker end of the scale!
Here enlisted are the important associated RGB and HEX Values that you must know!
Red = 192
Green = 178
Blue = 162
HEX Value = #c0b2a2
Sherwin Williams Natural Linen:
The lightest of them all, Sherwin Williams Natural Linen is a light beige paint with deep yellow undertones.
It is not as subtle as SW Wool Skein and not as bold as SW Balanced Beige – rather a perfect amalgamation.
So, you can absolutely incorporate this beige paint in your homes and pair it with matte black exposed metal and even tons of wooden textures.
But know that this color is majorly dependent upon incoming natural light.
This paint has an LRV of 66 – so you can even incorporate it as bases and in some cases, accents.
I recommend understanding the associated RGB and HEX Values to know more about the color specification!
Red = 223
Green = 211
Blue = 195
HEX Value = #dfd3c3
TIP: You can order stick-on wall samples for any of the above colors. It's the most convenient way and truly helps you choose the color(s) that look best in your OWN space. Order at Samplize now!
5 Next Most Popular
Sherwin Williams Universal Khaki:
An example of a very dark-toned beige, Universal Khaki is quite a bold paint color with greater anticipated depths.
Since the LRV is 40, you should use this paint in larger-sized rooms – and also with greater ceiling heights.
Grab some more knowledge on this color here.
Remember to use it only as accents!
Sherwin Williams Double Latte:
The reason why darker beiges are hard to deal with is that they can make your space feel 'weighted' and that is why I recommend analyzing the incoming natural light and sizes of the space.
SW Double Latte is one such example that has an LRV of 28 – making it extremely dark.
It has deep orange undertones – hence, incorporate in spaces that are larger and use only as accents!
Sherwin Williams Barcelona Beige:
If you want to choose a beige that is a true neutral – then you might want to look through SW Barcelona Beige.
No matter what time of the day it is – this paint will never act as a chameleon and disappoint you!
However, it is dark and deep – with an LRV of 47! So, consider in larger spaces, maybe?
Sherwin Williams Utterly Beige:
SW Utterly Beige is a pretty beige paint color with deep orange and brown undertones.
With an LRV of 39, this color is definitely a great option for larger spaces with higher ceilings.
It may even appear red and pink in the west and east-facing rooms.
Sherwin Williams Nomadic Desert:
Another beauty from Sherwin Williams beige palette, Nomadic Desert is a pretty mid-toned paint color that looks characteristic and bold when used on the walls.
You can definitely use it with softer whites and deeper blues.
***Make sure to test out any of these amazing colors with a sample you can put up right in your home. Pick up samples now!
My Personal Favorites
Sherwin Williams Agreeable Gray:
Are you wondering why would I mention gray paint here?
Well, that is because it is a blend of beige and gray both.
I absolutely love how this paint alters its appearances – so, you get the best of both worlds. Read more in my full guide here.
Sherwin Williams Sand Dollar:
A lighter tone of beige, the reason why I love this color is because it looks so calm, cozy, and serene at all times.
And you can even paint all your bedroom walls in this color!
Sherwin Williams Macadamia:
A blend of tan and beige, this beautiful warm-toned color is absolutely soft and enchanting.
So, whether it is the living room you want to paint in a warm beige or the kitchen – don't hold back from using this paint!
Check out my full guide on SW Macadamia here!
Grab some samples of these colors to see how they'll look in your own living environment. Order real paint, peel-and-stick samples!
Inspiration and Examples
Have a look at this Sherwin Williams Balanced Beige that appears airy and extremely beautiful on the bedroom walls.
What an amazing canvas!
SW Accessible Beige is a great option for Farmhouse and Country-styled homes.
I love how the rough and exposed beams work so well with this shade.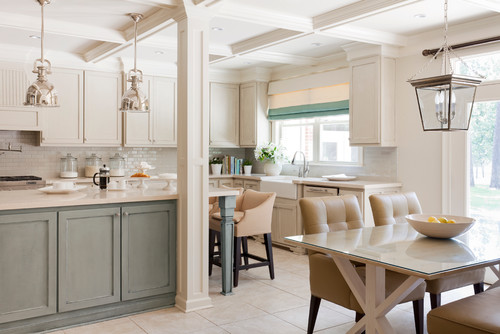 The pretty transitional kitchen reflects the use of beautiful beige, SW Wool Skein.
Now that's how you do cozy farmhouse!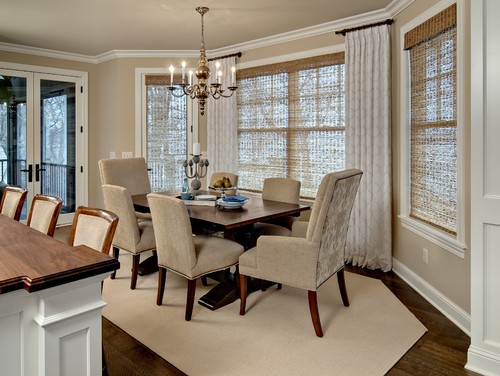 SW Macadamia looks absolutely stunning in this dining room that also receives ample natural light.
It's formal while maintain a truly inviting feel.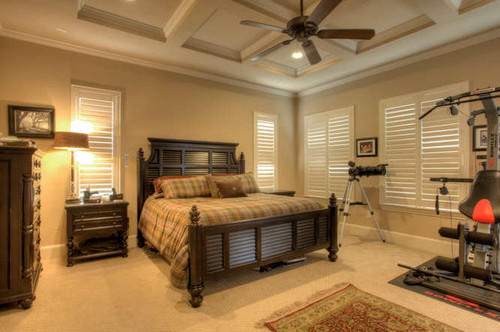 The effect of artificial and natural light can be truly reflected in this bedroom with SW Nomadic Desert walls.
Conclusion
Now that we have discussed the major aspects and types of beiges, do you feel confident in incorporating any one of them in your homes?
Well, I would say beiges are elegant and traditional!
And if you're also a fan of Benjamin Moore paints, you'll have to check out my list of best BM beige paint colors!
No matter where you use these; in the hallways or the exteriors, bedrooms, or the living room – beiges speak for themselves in every space.
So, without a thought – pick up your favorite beige now and don't forget to let me know your thoughts in the comments below!