Beiges are versatile. Beiges are calm. Beiges are timeless.
Whether or not you have a defined style, beiges can always make a great option. A decision you'll love for years to come.
So, let's oppose the 'ban the beige' and rather embrace the 'admire the beige' trend!
Many homeowners across the world love the look and feel of beiges. When done right they don't need to have that yesterday look or feel too monotonous in your space.
Plus, this category is a safe option to have at home that brings a creamy, calm, and soothing feel.
However, let me tell you, when choosing the best Benjamin Moore beige paint color for your home – there are various aspects to consider!
There are multiple undertones to deal with, a range of light reflectance values, and numerous appearances in the final result.
Yes, my friend these beiges can be challenging!
And apart from the above-mentioned aspects, you also need to consider the size of your room, your interior design style, the existing architectural and structural elements, and the compass direction of the space you're painting.
But here's the good news:
After analyzing it all, you can narrow down the best beige to use in your project!
Don't worry! I have got it covered for you.
This color guideline on BM beiges will help you determine the do's and don'ts for this color, along with various examples to take inspiration from.
I have also handpicked some of my favorite Benjamin Moore beige paint colors for you!
So, let's get started.
A Guideline to Beige and Its Family
Beiges are warm and creamy paint colors that have an inclination toward brown, red, yellow, pink, or orange undertones.
Surrounded by the warm color family, any beige will always make your home feel cozy, calm, warm, and welcoming.
And not just confined to beiges, their extended family consists of a few other famous and trendy color categories.
To name a few, let's discuss in brief about the relatives: taupes, greiges, and tans!
Even though these color categories are cousins to each other, they still hold a few key differences.
For instance, taupes are warmer paint colors with hints of deep gray, brown, red and violet in their undertones.
They're comparatively darker and stronger than beiges and you must be very careful with them.
Secondly, greiges are a blend of grays and beiges that can bring out either dominance depending on lighting conditions.
When you compare greiges with beiges, you're quite likely to detect a warmer touch in the beiges than greiges.
Lastly, tans are the pale versions of browns that have a deep brownish yellow undertone.
Generally, beiges are lighter and brighter with a very pale and soft touch! Whereas the tans are comparatively darker and heavier paint colors.
You see, there are considerable differences among them all!
The Ultimate Beige Categories
Benjamin Moore is well-known or their wide array of beige color categories.
There's no one specific kind of beige to choose from – rather a long and endless list of beiges to cast your eyes on!
Mainly, some are light and some are dark.
On the other hand, some have orange, red, pink, yellow, tan, or brown undertones.
Some beiges stay true to their undertones and have a perfect neutral look in most situations, while others can waver depending on light and viewing angles.
Here are a few prime examples of the dominant undertones:
BM Brookline Beige is a kind of beige with deep tan undertones.
Yes, it's comparatively darker and bolder.
BM Grant Beige feels neutral and is true to its undertones.
Of course, the reason why this paint color is so famous!
BM Almond Bisque is a beige with deep and dominant yellow undertones.
Especially when you plan to use this color on the west or south-facing rooms, the yellow undertone undeniably becomes the focus.
Another beige from the BM category is Lambskin (BM CC-340).
You're quite likely to detect a slightly pink undertone here!
Yes, compare it with a true white paint swatch and you'd know.
And lastly, another beige that holds an orange undertone is BM Shaker Beige.
Sometimes, it can even incline to pink undertones.
Now you see – picking that perfect beige isn't as easy as it seems! You truly have to consider the undertones and examine them in various lighting conditions.
Beiges in Interior and Exterior Design Styles
Believe it or not, most interior design styles embrace the look and feel of beiges.
The category is so versatile and seamless that it can very easily blend with the surrounding panorama.
Interior design styles like modern farmhouse, transitional, traditional, minimalist, modern, industrial, rustic, and bohemian love and admire the feel of beiges on the walls or the accessories.
This creamy color category plays a great neutral or base in any of the above-mentioned design styles.
On exteriors, this color category makes a great option for the colder regions.
If you want to make your home feel cozy and welcoming – beige exterior walls are something to have an eye on!
For exterior design styles like coastal, ranch, farmhouse, transitional, tudor, country retreat, industrial, and minimalist – beige on the outside proves to be quite timeless and authentic.
However, remember to pair with the perfect neutrals and accents to feel the true beauty of beiges.
Consider the Tints, Tones, and Shades
Well, ever heard of those terms before?
Most likely you have! But they are often misused, so let me acquaint you with these specifications in the color psychology industry.
'Tints' are basically the amalgamation of whites with your beige paint colors – making it further brighter and lighter!
'Tones' are produced when grays are mixed with beiges in this case – mainly making the end result in a product of greige – see my list of these here! It's a big-time chameleon.
And lastly, 'Shades' is when you add portions of black to the beige – further darkening and making the color look deep and bold.
Best Places to Use Benjamin Moore Beige Paint Colors
Beige is such a versatile paint color that it can be used in any corner of your home.
Whether it's the kitchen cabinets, backdrop walls, living room (warm beige works really well in living rooms!) or family room walls, bedroom focal wall, exteriors, built-in cabinetry, nursery, or furniture frames – beiges will always prove to be versatile.
Additionally, you can also consider beiges for the mudrooms and laundry rooms.
However, try and avoid the use of beiges in your bathrooms.
And, with regard to compass directions, determine the incoming natural light in your room you intend to use the beige color in.
If it is a west or south-facing room, then be careful with the beiges as they may appear too warm which might be uncomfortable in the summer months.
Else it is a plus point, especially for north and east-facing rooms as they may neutralize the vibe and contradict the cool incoming rays.
Beiges also add a feeling of luxury and royalty into homes – try that and let me know!
And last but not the least, I recommend considering the LRVs and sizes of your rooms to truly pick the best possible option.
Best Benjamin Moore Beige Paint Colors
Now comes one of the most interesting topics to talk about!
Here are some of my handpicked best Benjamin Moore beige paint colors to choose from.
BM offers tremendous beige options, and it's a bit confusing which one to choose and which one to not!
Let's start with the popular ones and then I'll share my absolute personal favorites.
5 Most Popular
Benjamin Moore Grant Beige:
Grant beige is a mid-toned beige paint color that feels quite timeless and historic.
This is one reason why this neutral beige is one of the most popular and admired by the homeowners.
It has an LRV of 56.65 – making it fall on the lighter end of the scale.
Remember, with more light, this paint color is bound to feel lighter.
See my full review on BM Grant Beige!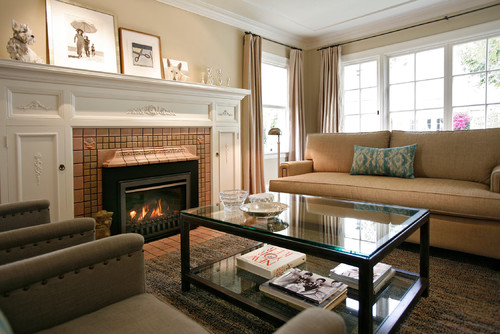 I highly recommend using this paint color in transitional, traditional, modern farmhouse, and industrial interior design styles.
You must pair this paint color with wooden textures and exposed rustic browns.
Here are some other color specifications you must get acquainted with!
Red = 203
Green = 196
Blue = 177
HEX Value = CBC4B1
Benjamin Moore Shaker Beige:
Not a specific beige but this mid-toned tan paint color shares a ton of characteristics with the beige color category.
With an LRV of 54.61 – this beige paint color falls on the lighter end of the scale – and sometimes can feel almost goldenish!
This paint color must not be used on all the walls…
Especially in a very small room or a room facing the south or west compass directions.
See my full review on BM Shaker Beige!
View this post on Instagram
Try incorporating this paint color with creamy whites, browns, blues, and darker sage greens.
As usual, it is important to understand the associated RGB and HEX Values that are as follows:
Red = 207
Green = 193
Blue = 168
HEX Value = #CFC1A8
Benjamin Moore Navajo White:
BM Navajo White is a warm white paint color with deep beige and yellow undertones.
With an LRV of 79.88 – this lighter beige paint can be used to create an illusion of an airier space.
And especially in the west or south-facing rooms, this color can showcase a deep yellow undertone.
I'll also add that I highly recommend pairing this color with creamy whites, matte black furniture frames, tan leather, and ample glass.
Check out my full review of BM Navajo White here!
View this post on Instagram
You can consider using this paint color for transitional and traditional interior design styles.
It is now time to look through the color details and specifications to know more about it!
Red = 236
Green = 229
Blue = 212
HEX Value = #ECE5D4
Benjamin Moore Bleeker Beige:
One of the warmest medium-toned beiges, BM Bleeker Beige is all set to make your room feel cozy and warm.
It has an LRV of 51.66 – so, it's quite balanced while falling on the medium side of the scale.
You must use this color in a space that's large enough to accommodate the depth of the paint color.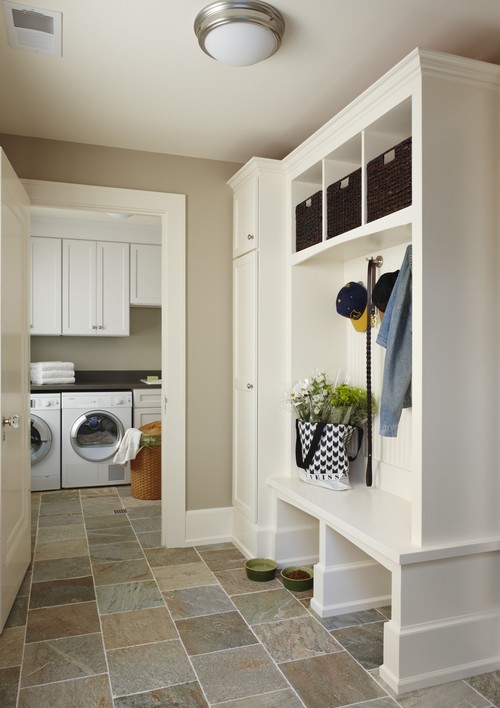 Especially for interior design styles like Japandi, contemporary, and traditional – this particular shade of beige works the best.
Here enlisted are the important associated RGB and HEX Values that you must know!
Red = 201
Green = 189
Blue = 167
HEX Value = #CBBFA9
Benjamin Moore Pashmina:
Even though it's typically a greige paint color, it almost appears like a beige!
And believe me, this is one of the warmest to adore and admire!
It leans towards the beiges and has a very little tinge of gray in it.
The LRV of Benjamin Moore Pashmina is 44.2 – it's the darkest of them all!
This sophisticated neutral has a blend of gray and beige that can easily enlighten any room.
See my full review of BM Pashmina here!
As mentioned, this color is bound to feel extra warm and cozy, comfortable and calm when used in a space.
I recommend understanding the associated RGB and HEX Values to know more about the color specification!
Red = 188
Green = 178
Blue = 162
HEX Value = #BCB2A2
TIP: You can order stick-on wall samples for any of the above colors. It's the most convenient way and truly helps you choose the color(s) that look best in your OWN space. Order at Samplize now!
5 Next Popular
Benjamin Moore Manchester Tan:
BM Manchester Tan is about a sense of warmth, coziness, and serenity!
It appears almost like yellowish-golden in various lighting conditions – but with a muted and subdued feel.
With an LRV of 64.41 – it feels quite light and airy. So, you can definitely consider this paint color in larger rooms with higher ceilings.
I cover this color in-depth – see my full guide here!
Benjamin Moore Bennington Beige:
This beige paint color is slightly warmer than BM Grant Beige but without a goldenish look.
Of course, like the name suggests, this color is going to throw a little gray undertone in specific lighting conditions. (But the gray is not dominant at all)
It has an LRV of 46 which can positively give some depth and character to the room.
This color can also flaunt a little green undertone – knowingly or unknowingly.
Benjamin Moore Natural Cream:
This paint color would offer both the benefits – warm as well as cool. Let's say, it's one of my favorite greiges that offers the best of both worlds.
It has an LRV of 64.78 – thus, quite light enough to make your home feel lively and happy.
Lastly, you can best use this paint color creamy whites and wooden textures.
Benjamin Moore Clay Beige:
Mimicking the perfect and warm shades of sand, Benjamin Moore Clay Beige is all about creating a cozy atmosphere into the home.
It has an LRV of 61.61 – thus, quite much on the lighter side to calm and soothe you.
This versatile color may look perfect with dark oak textures, some faux fur, and ample indoor plants to go.
Benjamin Moore Stone House:
This orange-tinted beige is all set to remind you of the deserts and an authentic Moroccan feel.
With an LRV of 49.42 – this color is medium-toned but somehow looks heavy on the walls.
Sometimes, it may even flaunt a slightly reddish undertone.
***Make sure to test out any of these amazing colors with a sample you can put up right in your home. Pick up samples now!
5 Hand Picked Favorites
Benjamin Moore Muslin:
Falling on the neutral end of the scale, BM Muslin is a great fit for painting all the walls of your room.
It captures the effortless charm of organic materials and definitely creates a warm appeal.
With an LRV of 66.54 – it definitely plays calm and warm!
Benjamin Moore Alexandria Beige:
Quite dramatic and deep, BM Alexandra Beige is darker in shade and can perfectly pair with your whites and creamy hues.
When observed in various lighting conditions, this dark-toned beige can reflect brown or bronze undertones.
Yes, it only has an LRV of 29.03!
Benjamin Moore Soft Beige:
A perfect warm beige to neutralize any home, this color is something to have on your north-facing bedrooms.
It will calm you, soothe you, and make your room a haven for you!
Although, you must not ignore the yellow and peach undertones that may protrude.
Benjamin Moore Barely Beige:
More on the muted and subdued side, BM Barely Beige will enlighten your home and make it feel lighter.
It has an LRV of 71.32 to give your space a perfect depth and drama.
Benjamin Moore Tapestry Beige:
This particular beige is a form of greige with deep hidden gray and beige undertones. It may slightly appear warm or cool based on the lighter directions.
If you don't want too much warmth but adore the feel of beiges, this color is something to look forward to!
Grab some samples of these colors to see how they'll look in your own living environment. Order real paint, peel-and-stick samples!
Inspiration and Examples
This warm white almost appears like a lighter beige to give the walls a perfectly warm and cozy look!
Blissful, right?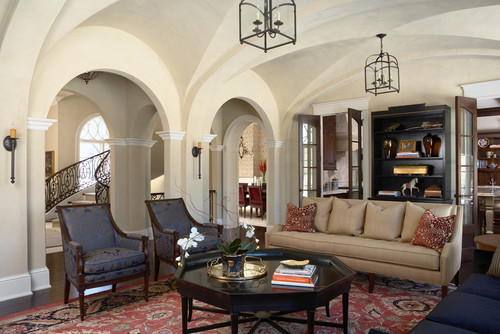 BM Putnam Ivory looks calm, characteristic, and soothing on the walls of your living room.
So, if you have an open concept plan to play with – this is one beige to have an eye on!
Want an earthy look with the help of beiges?
Well, this color will equally embark a sense of coziness and warmth.
View this post on Instagram
Beige kitchens will always look sophisticated and classy!
Just ensure to add ample whites and black accents to it for a timeless look.
View this post on Instagram
Clean and crisp, choose a lighter-toned beige for a relaxed look in your family room!
Summing It Up
You see – Benjamin Moore beiges are pretty and subtle! You would want more and more of it!
Now that we have discussed the major aspects and types of beiges, do you feel confident in incorporating any one of them in your home?
Well, I would say beiges are elegant and traditional!
And whether it's the hallways, bedrooms, the living room or exteriors – beiges will never disappoint you.
So, without a thought – pick up your favorite Benjamin Moore beige paint color now and don't forget to let me know your thoughts in the comments below!