Greige paint colors are definitely making the headlines, and especially when it's Sherwin Williams Amazing Gray.
This warm, neutral paint color has a perfect blend of beige and gray to offer the best of both Worlds.
It's neither too cool like gray nor too warm like beige, but with subtle mild and calm, WARM undertones taking off the color.
Yes, if you compare this swatch with SW Accessible Beige and SW Light French Gray – you'll easily see the difference.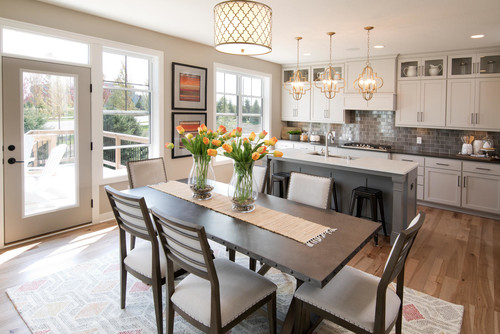 Well, the best part about gray paint colors like this is the absolute chameleons they are – and of course this one of the most challenging characteristics, right?
They lean into different undertones at different times of the day in different directions.
Well, I'm not going to disclose all of that at just yet!
Let's first jump into what this color truly is and has to offer.
This color has immense depth to it – which is why it'll always play a great accent and base but can never be used on all the common walls of your home.
I'll tell you why, later!
In this color review, I'm going to reveal all the secrets associated with SW Amazing Gray that might be helpful for your next home renovation project.
So, let's get started!
Sherwin Williams Amazing Gray SW 7044 Details and Specifications
Every paint color has associated color details and specifications.
And it's truly a must to know what they are – otherwise, you might end up making incorrect decisions in your home.
Especially with a wide array of formulated Sherwin Williams' greige paint colors – here's the time to know what the color beholds.
Just when you want to choose a paint color for your home, you must read through the underlying values and theories to truly understand the hue.
So, first and foremost, let me introduce you to the concept of Light Reflectance Values or the LRVs that determine how light or dark the paint color is.
You can easily find that value at the back of the Sherwin Williams paint swatch!
Here, in this case, the LRV of Sherwin Williams Amazing Gray is 47.
And that means it falls on the medium to the darker end of the scale!
(The lesser the value, the darker the paint)
Not too dark but not too light either! Well, it's important to give this color adequate light, otherwise it might feel flat and dingy.
Secondly, other important associated terms are the RGB and the HEX Values.
Red = 190
Green = 181
Blue = 169
Oh, if you want to just try Amazing Gray so you'll know just how it'll look, you can easily with a peel-and-stick sample from Samplize. Order some samples now!
HEX Value = #beb5a9
Now that is enough with the technical and scientific information, let's get started with the practical aspects of this greige Sherwin Williams paint.
How Does This Color Feel in a Space?
View this post on Instagram
Sherwin Williams Amazing Gray is encountered to make you feel calm, warm, creamy, and poised.
This color has the tendency to look dull and flat in a room with little light and is smaller in size.
So, always allow ample light to enter the space and utterly revive the freshness of this paint color.
It's a versatile color so most of the time, expect SW Amazing Gray to pair with any existing hardwood floors, wooden rustic beams, and warmer stone or marble.
This color plays a wonderful BASE on the walls and ACCENT on the cabinets. Long story short, you can use this color on the built-in shelves to add focus.
Meanwhile, avoid it on all the walls since it can make your space look dull. Especially with little light!
Other than that, this color will make a wonderful statement in the colder regions where it can warm up the interior spaces.
How Does Light Affect the Color?
Light and paint colors go hand-in-hand!
Whether natural or artificial – this color can play really differently when used in different corners of your home.
And a major concern is the compass directions in the house!
So, always make use of the compass directions of the windows to determine the type and saturation of natural light entering the room.
For instance, in the north-facing windows, expect the incoming light to be slightly cool and gray.
So, SW Amazing Gray can lean slightly on the 'gray' end of the scale.
On the other hand, in the south-facing rooms, SW Amazing Gray can appear much softer and creamy.
Yes, the 'beige' in this color is what will protrude!
If you don't get the opportunity to play with natural light, let artificial lighting do the work for you.
In the case of wall sconces, pendant lights, and chandeliers – choose warm white or cool white depending upon the activities and function of the room.
To truly see what your home's environment and lighting will do here, try out a real paint sample. It takes out the guess work!
What are the Best Coordinating Colors?
Creating color palettes is one of the best! After all, isn't this what you're looking for the best paint colors for?
Always remember to carefully pick the colors so you don't mess up the palette of your home.
In this case, Sherwin Williams Amazing Gray can be best paired with deep blues, creamy off-whites, darker taupes and greige, lighter grays, rust, and sage greens.
In terms of metallic accents, choose matte black, oil-rubbed bronze, antique brass, or even nickel.
So, I am going to enlist the two most popular color schemes here – monochromatic and contrasting.
You could use any of them depending on the interior design scheme and your personal preference.
So, here are a few of the colors I would recommend for a monochromatic palette!
On the other hand, here are a few of the colors I would recommend for a contrasting color palette!
For the ceiling, trims, and moldings – I highly recommend that you choose SW Pure White for a creamier and more subtle look.
SW Amazing Gray Vs Similar Colors
There are other available greige paint colors that share similarities with this true one!
Two colors that are closely related are SW 7030 Anew Gray and BM 984 Stone Hearth.
Let's see how they differ.
Amazing Gray Vs Anew Gray
Sherwin Williams Anew Gray is another very similar greige paint color that's just slightly creamier than the former color.
Although, when looking through the bigger picture, there isn't much difference!
Just like SW Amazing Gray, SW Anew Gray has an LRV of 47 – that can be equally deep and bold.
You must pair it with SW Pure White on the ceiling and trims for a subtle look.
Order a wall-stick sample of Anew Gray here to help you compare colors in your own space.
Amazing Gray Vs Stone Hearth
Benjamin Moore Stone Hearth is a greige color that's slightly warmer with a dominant yellow undertone.
In comparison, SW Amazing Gray is slightly more subtle and muted.
With an LRV of 48.45 – this later color can equally be used on the cabinets as well as the walls.
Be careful when you use this paint color in the south-facing rooms.
Do yourself a favor and grab some stick-on sample sheets of these two colors and see what looks best in your home.
Where to Use Amazing Gray?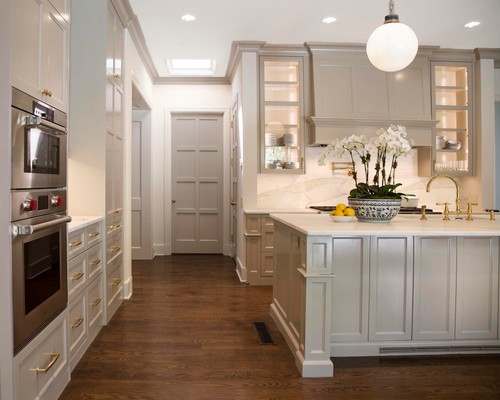 Sherwin Williams Amazing Gray has been my top recommendation for modern farmhouse, transitional, traditional, and modern interior design styles.
Apart from the walls, you can use this paint color on the cabinets, focal furniture, entryway doors, shutters, and also exterior walls.
Let's see where and how to incorporate it into your home.
Amazing Gray in Living and Dining Rooms
View this post on Instagram
Amazing Gray is a great color to be used in the living and dining rooms – especially when they're enclosed.
In an open concept plan, you can avoid this color on all the walls especially if there's low ceiling height, lesser incoming natural light, or a smaller size of room.
This color can pair wonderfully with wainscotting to further add depth to the living and dining space.
If you have a fireplace wall, you can either choose crisp white paint or even neutral rustic stone to surround the surface.
Let the furniture be off-white, tan, and beige with a contrast of blue.
Using in Bedrooms
Especially if you have a larger bedroom (master bedroom), this color would appear phenomenal when used on all the walls.
Pair with creamy white on the ceiling and trims for a better result.
You must choose metallic textures like oil-rubbed bronze or matte black on the lighting fixtures and furniture frames.
Medium to dark hardwood floors would work the best!
Amazing Gray in Kitchens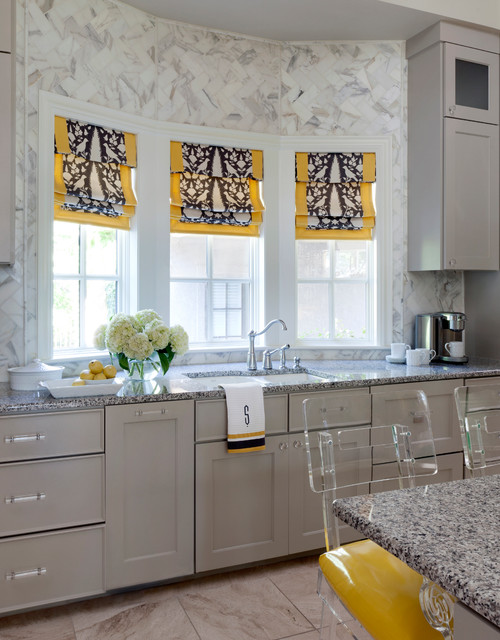 In the kitchens, I highly recommend this paint color on the cabinets! It will exhibit a creamy, modern, and warm vibe in the space.
You must pair it with a creamy white color on the trims, moldings, and ceiling like SW Pure White.
For the hardware, you must choose matte black, oil-rubbed bronze, or antique brass. Avoid chrome finish!
Using on Exteriors
Especially for the traditional, Victorian, Industrial, and ranch-style homes, this paint on the exteriors is bound to add a timeless appeal.
Greige can look much lighter and beige/gray outdoors depending upon the compass directions.
You can play with Spanish rust red or gray interlocking tiles on the roof and crisp white paint for the trims and moldings, door and window frames.
And, if you have porches and columns – either choose beige, taupe, tan, or warm gray paint and natural stone wainscotting.
For the entryway door, choose SW Charcoal Blue or SW Naval.
The Best Way to Sample Amazing Gray
I used to ""try"" out paint like every other designer: Buying several small cans of various colors, pouring them each into small trays and rolling them onto different sections of a wall.
I haven't done this in some time now, ever since Samplize came up with their awesome way of sticking up a temporary sample that's true to the color. I just order a peel-and-stick sample and let the next phase of the color selection process begin. It's so easy.
I love these 12″" x 12″" squares because I can move them around and see what happens in different lighting and what dialogue they'll have with the other colors in a client's home.
You can order yours now for Amazing Gray and any others you're considering – they even have a coupon for first-time buyers!
So, how do you want to use this color in your homes? Interiors or Exteriors?
Now that you know quite a bit more now – are you "amazed" and ready to start painting your home in Amazing Gray?
Should there be any questions or thoughts, let us know in the comments below!