Browns are classy and fabulous!
Since we don't generally discuss the browns these days – today, let's get hands-on with this bold and organic, earthy paint color.
Well, you can very closely relate this paint to the modern, farmhouse, and contemporary interior design styles.
Unlike the blacks and grays, this color has a deep warm texture.
Warm enough to make your walls look welcoming and engaging!
So, are you excited to find out what this color has for you? Let's discuss this in detail.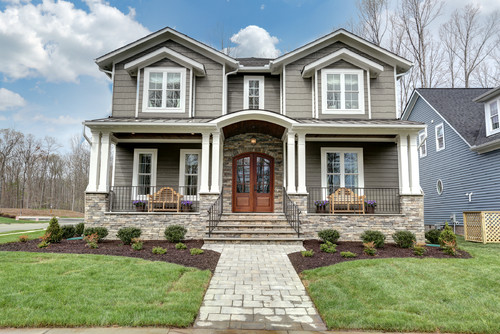 Sherwin Williams Porpoise is a medium-dark shade of brown that very closely relates to the tones of nature.
Yes, it's not necessary that green is the only hue that mimics nature. Rather, this particular tone truly symbolizes the hues of earth and mud (or even life forms such as…well, the porpoise).
It can perfectly complement with many other natural hues and metallic tones.
And, since this color falls on the warmer end of the scale – you can use it in colder regions and states to imbibe a creamy and minimalist vibe.
But before we dive deeper into this particular color, let me get you acquainted with the whereabouts and how bouts of this color.
Sherwin Williams Porpoise SW 7047 Details and Specifications
Each color comes with its own theories, specifications, and schemes!
If you are new here, let me tell you – there are quite some facts and scientific terms that you would want to acquaint yourself with.
(Before choosing a paint color for your home)
It's important to analyze these values and then determine where, when, and how to use these paints!
So, first and foremost, one of the most important terms that I usually observe getting ignored is Light Reflectance Values or (LRV)!
Every color has an associated Light Reflectance Value!
For Sherwin Williams Porpoise, the LRV is 13!
Which falls on the darker to medium end of the scale – majorly, on the darker!
Remember, the lesser the value, the darker the paint color is!
And vice versa!
And since this color has deep warm brown undertones – it will further tend to look darker and creamier.
(Yes, that's another trick to make your walls look enclosed)
Want to try this color out without having to paint your wall? Use some nifty peel-and-stick samples: Pick one up now from Samplize!
Moving ahead, let's discuss the RGB and HEX Values of the color.
Red = 107
Green = 100
Blue = 91
HEX Value = #6b645b
Now that I am concluding, I promise not to bore you with these scientific details anymore.
Let's talk about the practical aspects of this popular brown paint color.
How Does This Color Feel in a Space?
Sherwin Williams Porpoise is undeniably going to make your home appear warmer and welcoming.
Using the color as accents will further impart a sense of beauty and identity to the room.
This color will further add a refined and sophisticated look to the walls – hence, just in case if you want to add character to your home, this paint is the right way to do it.
Moreover, this paint will make the walls come closer to exhibit a smaller and confined appearance.
Too much of this color on the walls will truly disappoint you! So, you must beware.
How Does Light Affect the Color?
Light has a major role to play here.
Whether there's ample natural or artificial light – this color is bound to shine flawlessly.
So, this paint will exhibit a warm goldish look when struck against natural light (especially the south and west).
In the north-facing rooms, this color will appear slightly grayish-black.
I recommend trying this paint swatch in various compass directions and rooms to truly feel the true hue of the paint.
(This way, you won't have any surprises and shocks by the time you're done painting)
Lastly, you always have the opportunity to let the artificial lighting in the form of warm whites and warm yellows play a fun factor.
As I already mentioned, do yourself a favor and get some wall samples to test out this color and any others.
The stick-on kind are a no-brainer from Samplize, and will give you some answers ahead of time. Get yours now!
What are the Best Coordinating Colors?
Creating color palettes can be quite a fun task to do.
So, it's crucial for you to choose the best complementary colors in order to define a palette that looks subtle and eye-catchy!
In general, this color can look flabbergasting with mustards, off-whites and creamy whites, lighter beiges, tans, lighter greiges, and yellows.
Yes, you can mix and match them all to create a unique palette.
However, you have to be careful as to what vibe you need in your space for a perfect color combination.
So, I am going to enlist the two most popular color schemes here – monochromatic and contrasting.
Monochromes are generally great for modern, minimalist, and contemporary setbacks.
With this brown color, you must pick monochromatic tones. (the best option to pick)
In terms of metallic accents, bronze, brass, and gold is something to look forward to.
So, here are a few of the colors I would recommend for a monochromatic palette!
SW 7045 Intellectual Gray
SW 7044 Amazing Gray
On the other hand, here are a few of the colors I would recommend for a contrasting color palette!
SW 6243 Distance
SW 7044 Amazing Gray
For your ceilings, trims, and moldings – SW Extra White or SW Pure White will help protrude a true hue of SW Porpoise.
SW Porpoise Vs Similar Colors
Although you must know that even though these following colors look similar, they might still differ in the undertones or reflectivity!
So, one of the closely related colors is SW 6202 Cast Iron and BM Deep Creek!
Let's see how all of them differ.
Porpoise Vs Cast Iron
These two colors share just little similarities but majorly, many differences.
Yes – let's discuss the undertones here.
The latter paint has deep green undertones unlike the former that has deep brown undertones.
Note that you can best pair it with creamy whites, lighter beiges, and lighter sage greens.
Buy some wall samples of each of these colors to easily compare them right in your home.
Porpoise Vs Deep Creek
These two colors share a ton of similarities.
Deep brown undertones help this color exhibit a modern and farmhouse appeal.
This paint has an LRV of 13.01 – equally darker and deeper!
I highly recommend choosing lighter wood textures with this paint color on board!
See how these colors compare real time with stick-on wall samples from Samplize.
Where to Use Porpoise?
Sherwin Williams Porpoise is a paint color to be used in most of the interior design styles – of course, due to the versatility and timelessness.
You can use this paint color for traditional, transitional, farmhouse, French Country, and modern interior design styles.
Yes, and it's generally best to use this paint for accent walls but let's see how and where to incorporate it in your home.
Porpoise in Living and Dining Rooms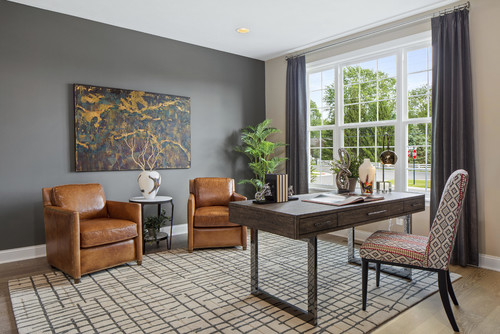 Why not?
Well, there have been a couple of times I have recommended this paint color on the focal walls of your living and dining room.
Don't paint on all the walls unless you have a large and majestic living space.
Furthermore, you can always pick creamy whites for the adjacent walls.
Lastly, ensure to add brass or golden tints, off-white fabrics, and ample indoor plants to go!
Also, in case you're looking for built-in cabinetry – don't hold back from this paint.
Using in Bedrooms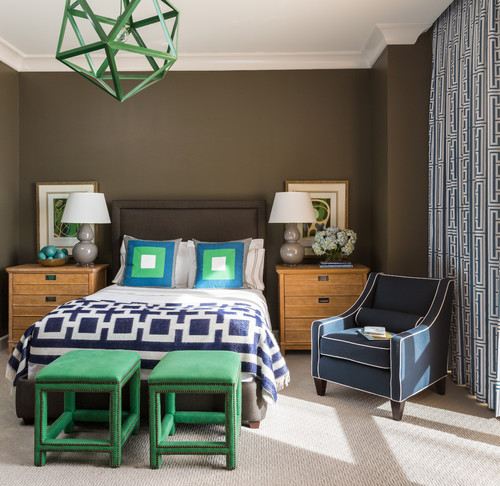 When choosing paint colors for your bedroom, you can pick an earthy tone like SW Porpoise.
It tends to add an organic vibe – while perfectly defining a palette to your bedroom.
You can also choose to paint the headboard wall in this paint and further add SW Shoji White on the adjacent walls.
In the case of brick cladding for your fireplace – I highly recommend travertine stone or white exposed brick.
Lastly, for a cozier vibe – add shag, faux, or fur rugs for a welcoming experience.
Even for contrast, you must pick colors of the same family.
Porpoise in Kitchens
One of the best and creative ways to have this color in the kitchens is on the cabinets.
Yes, if you have the style and size for it – why not let that paint splash a sense of crispness in your kitchens?
Moreover, with this tone, you must always pick off-white on the backdrop wall with beige backsplash tiles and brass hardware.
Lastly, install hardwood floors for a woody and farmhouse look!
Using on Exteriors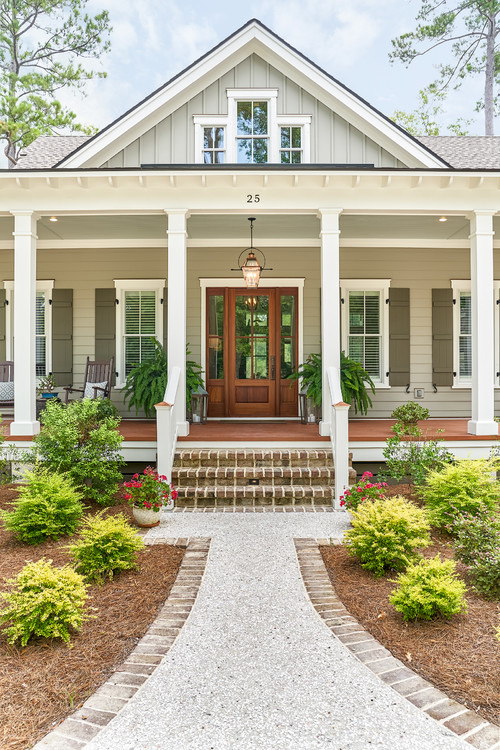 Especially for the Craftsman, Mid-Century Modern, and Contemporary homes, this paint on the exteriors is bound to add an enthusiastic vibe.
This color plays amazingly well with the red brick and wooden accents.
For a contrast, you can even add cherry red or burnt yellow on the entry door for a focal touch!
Furthermore, if you have porches and columns – either choose gray or black paint or natural stone wainscotting.
I highly recommend this paint on the trims as well.
An Easy Way to Sample This Color!
Instead of picking up a small can, or worse, an entire gallon can, to "test" out Porpoise, you can order a peel-and-stick sample of it from Samplize.
The company is genius – they provide a 12″ x 12″ stick-on square you can put up anywhere in your home to try out a paint color.
For a few bucks, it's definitely worth the small investment so you can see what the color will do in YOUR unique space, with your own lights and shadows.
So, does this color review bring an inch closer to making the final decision?
If you want to incorporate this earthy tone – go ahead and coat a fresh one!
And enjoy the elegance it introduces to your home!