I have some history and chemistry with Sherwin-Williams Shoji White!
And let me tell you, I have recommended this paint to my clients a couple of times – and so far, they have all absolutely loved it!
But before I break down what this color has to offer – I recommend having a look at my recent E-Design Color Consultation with Sherwin Williams Shoji White.
My client was looking for a neutral warm off-white that doesn't feel too dark, nor does it incline towards a particular undertone.
And voila!
After trying endless swatches and off-white paint coats on the walls, SW Shoji White is what we finalized on!
And what makes this color win the race?
Well, Sherwin Williams Shoji White is a light-toned, off-white neutral with deep warm undertones.
It's creamy and clean – and doesn't incline to blue, pink, green, or red!
Hence, makes an ideal option if you're planning to choose a true neutral for your home.
Moreover, this color will make you feel homely, lively, and utterly warm and composed.
Yes – I promise that you'll never be disappointed as far as your requirements allow you so.
So, without any delay, let's see what this undeniably soothing paint color has to offer!
Sherwin Williams Shoji White SW 7042 Details and Specifications
You must always think twice before choosing a paint color for your home.
Since it's not just about the aesthetics – there are a couple of other considerations to take care of.
Yes! A color has a lot to speak and convey.
And mainly through undertones, reflectivity, and how it is composed of.
So, making it easier for you – here's a little guideline!
First and foremost, one of the most important terms that I usually observe getting ignored is Light Reflectance Values (LRV)!
Every color has an associated Light Reflectance Value!
For Sherwin Williams Shoji White, the LRV is 74!
And that means that the color falls on the lighter end of the scale – no doubt it falls under the off-white category.
Remember, the higher the value, the lighter the paint color is!
And vice versa!
Another tip: If you want to easily try out Shoji White to see how it will show, you can with a peel-and-stick sample from Samplize. Pick up your samples here!
Moving ahead, let's discuss the RGB and HEX Values of the color.
(This determines how the paint color is composed of)
Red = 230
Green = 223
Blue = 211
HEX Value = #e6dfd3
Now that I am concluding, I promise not to bore you with these scientific details anymore.
Let's talk about the practical aspects of this popular beige paint color.
How Does This Color Feel in a Space?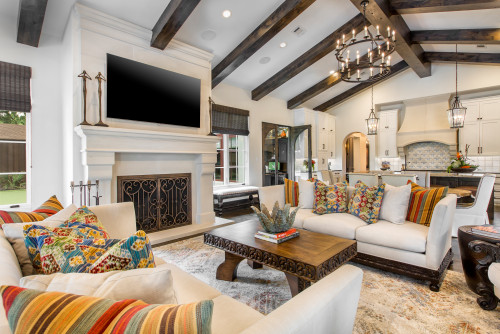 Sherwin Williams Shoji White will make your room feel warm, calm, composed, quiet, and extremely welcoming.
So, if you want to transform your home into a blissful haven – this color is a must to try.
Moreover, don't worry – since the natural light wouldn't wash away the undertones of the paint color. And that's what makes this off-white even more preferable.
You can simply use it anywhere and everywhere and feel relaxed!
Lastly, note that this color would make a great statement as neutral or even base.
In short, you can either choose to paint all the walls in this color or pair it with a darker hue (with LRV below 10) to feel the true beauty.
Don't hold back from using this paint in a smaller-sized room!
How Does Light Affect the Color?
Ample incoming light will further make your room appear lighter and enhanced.
Of course, due to the fact that this paint has a high reflectivity value – it's further bound to add a lively touch.
Another advantage that this color holds is that you can absolutely use it for all the compass directions.
And especially north-facing! (Since this paint will collaborate with cold and crisp light – it will definitely look balanced)
Even in the west or south-facing rooms – this color wouldn't appear too warm.
Nevertheless, you can always play with artificial light in the form of pendant lights and wall sconces!
Here, you can also use warm whites to perfectly neutralize the saturation!
I'll have to say again, the absolutely coolest way to check a color like this out in your home is with a wall sample from Samplize. Buy yours here.
What are the Best Coordinating Colors?
My favorite part of the discussion!
Choosing color schemes and palettes is one of the most interesting things to do.
You get to play with multiple hues and their tints, tones, and shades.
But in general, SW Shoji White pairs beautifully with creamy whites (warm), browns or bronze, saturated blues, and deeper greens.
In terms of metallic accents, you can choose matte black, brushed brass, or even chrome and nickel.
So, I am going to enlist the two most popular color schemes here – monochromatic and contrasting.
Monochromes are generally great for modern and contemporary setbacks.
On the other hand, Eclectic, Mid-Century Modern, and Farmhouse play well with contrasts.
So, here are a few of the colors I would recommend for a monochromatic palette!
SW 7043 Worldly Gray
SW 7044 Amazing Gray
SW 7045 Intellectual Gray
On the other hand, here are a few of the colors I would recommend for a contrasting color palette!
For your ceilings, trims, and moldings – SW Extra White or SW Pure White will help protrude a true hue of SW Accessible Beige.
SW Shoji White Vs Similar Colors
Although you must know that even though these following colors look similar, they might still differ in the undertones or reflectivity!
So, one of the closely related colors are SW 7010 White Duck and BM Cedar Key!
Let's see how all of them differ.
Shoji White Vs White Duck
Another beautiful paint from the off-white collection, Sherwin Williams White Duck feels equally warm and neutral.
With an LRV of 74 – these two paint colors share reflectivity values as well.
Although you must note that the latter feels a little dull and compressed than the former that is comparatively brighter!
Order stick-on samples of Shoji White and White Duck here to help you compare these colors in your own living spaces.
Shoji White Vs Gray Mist
Tons and tons of differences – if closely observed!
So, Benjamin Moore Gray Mist is a warm and neutral gray paint that feels comparatively dull when used in a room with the absence of natural light.
It has an LRV of 73.96 – making almost a clear cut in the lighter paint category.
Try out the looks of these colors in your own home with a some temporary wall samples. You can find them here!
Where to Use Shoji White?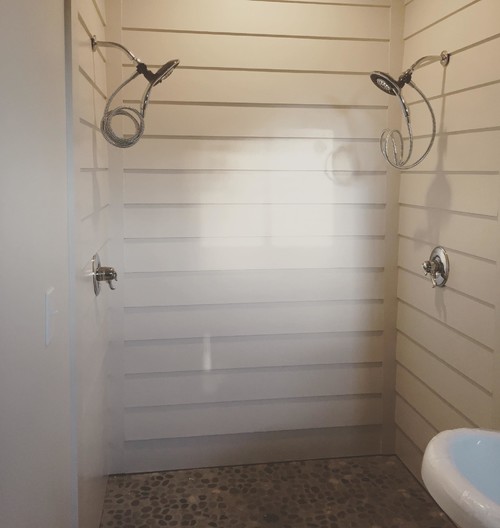 Sherwin Williams Shoji White will look fabulous when used in a home that craves warm and cozy appeal.
Whether it's transitional, traditional, modern Farmhouse, or bohemian interior design style – this paint hue will make a great statement.
So, let's have a look at where and how to incorporate this paint color in your home.
Shoji White in Living and Dining Rooms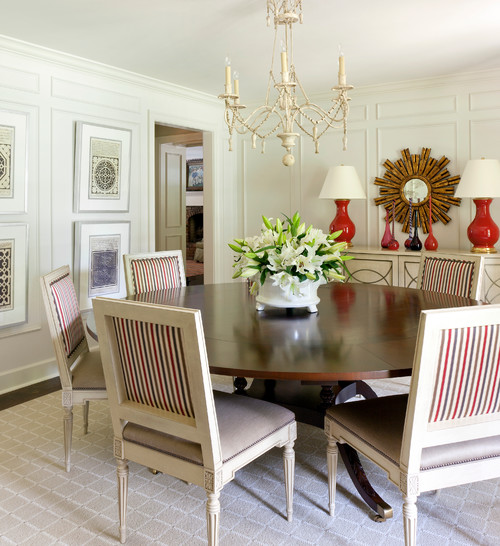 Absolutely yes!
I recommended SW Shoji White for my E-Design client's living room.
And trust me – it appeared so soothing and soft!
So, you can absolutely paint all the walls in this color and add a sense of contrast through your decorative accents – such as rugs, curtains, and throw pillows.
On the other hand, if you want a transitional, monochromatic style – use various shades of the same color on your furniture and accents.
Wooden textures would definitely complement – so, you needn't give that a second thought.
In terms of metal accents, choose matte black.
Using in Bedrooms
Who doesn't want a calm and serene bedroom, right?
Well, you can have this warm neutral in your bedroom and feel utmost delightful and peaceful.
If the room size is small, choose to paint all the walls in this – else, pick a dark contrast for the headboard wall.
Furthermore, choose off-white linen upholstery and tinges of beige or gray for runners, rug, table lamps, and curtains.
Lastly, for a cozier vibe – add shag, faux, or fur rugs for a welcoming experience.
Shoji White in Kitchens
Painting the kitchen cabinets and walls in SW Shoji White will result in an overall warm and welcoming experience.
I believe the best way to make use of this color is by painting the cabinets in this specific color.
You can let the backdrop wall in true whites and observe how beautifully the color shines.
To add a sense of contrast, you can even pick a deep blue or gray for the lower cabinets.
Furthermore, you can use brass or chrome-finished pull handles with white-veined marble countertop and glossy backsplash tiles.
Using on Exteriors
This color is quite timeless – hence, you can use it for most of the exterior design styles.
If not on the focal wall – you can always choose this paint for trims, moldings, and door or window frames.
This color pairs beautifully with SW Urbane Bronze on the exteriors – so keep a note if you want a modern appeal.
Furthermore, if you have porches and columns – either choose greige, gray, or beige paint or natural stone wainscotting.
What's the Best Way to Sample This Color?
So now my favorite tip when it comes to testing out a versatile color like Shoji White – go and order a peel-and-stick sample from Samplize.
They've created an awesome way to sample colors with real paint, but no mess. Simply stick on your paint sample instead of having to get a test can of actual wet paint.
For only a few dollars you get a good sized square to throw up temporarily anywhere you want to "try" on your color, other similar colors, and any possible coordinating hues you like. It's great!
Now that you have all this knowledge – are you pumped to begin painting your home in Shoji White?
This paint doesn't have a lot of restrictions and rules – so, you're pretty good to go either way!
Well, I would love to know your thoughts – comment below!