There is no doubt an endless list of greens on the swatches of top manufactures like Benjamin-Moore.
Some are sage greens, some are olive greens, some are teal greens, and some minty greens – but there's one particular type that should definitely include.
Yes, let me take you to the world of pine greens.
They're not exactly greens or true greens – but rather have a touch of deep blue in them.
So, diving deeper into the details – Benjamin Moore Narragansett Green is a beautiful bold green with blue undertones.
It feels quite rich and luxe – and at the same time, makes a great exotic paint color on the palette.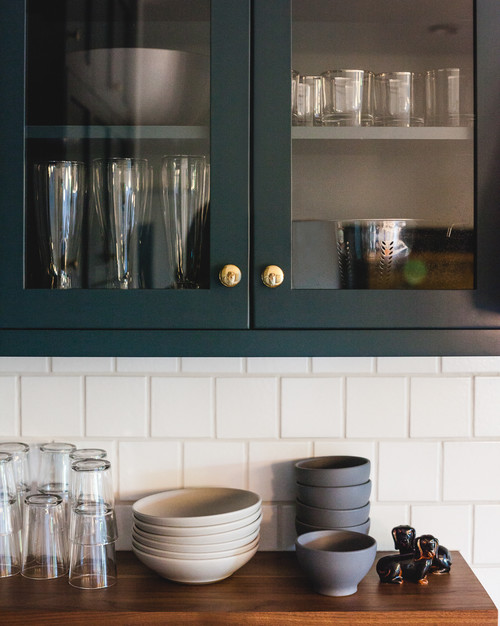 Yes – you can find a lot of this paint color inspiration in those themed restaurants and bars!
Nevertheless, even homes are now adoring and incorporating this majestic paint color.
So, let me tell you – it's an amazing paint color to have at home. However, it comes with a baggage of restrictions and repercussions.
I know that this hue is quite dark and dreamy – and that's why you have to be a little more cautious when using it in your home.
Without a delay – let's get on board this beautiful journey to the gorgeous, exotic green.
Benjamin Moore Narragansett Green HC-157 Details and Specifications
Earlier in the article, we discussed a couple of green color categories.
Some might differ majorly depending upon the aesthetics whereas some might not!
So, do you know how to figure out the exact difference between all the greens on the swatch?
Well, in that case, let me introduce you to the concept of color details and specifications.
Trust me, most of the homeowners tend to ignore this aspect – but it shouldn't!
So, when choosing a paint color – you must understand the underlying theories and facts that are related to each one of them
So, first and foremost, let me introduce you to the concept of Light Reflectance Values or the LRV's that determine how light or dark the paint color is.
You can easily find that value at the end of your Benjamin Moore paint swatch or even the website!
Here, in this case, the LRV of Benjamin Moore Narragansett is 7.37.
And that means it falls on the darker end of the scale – very dark!
(Remember, lesser the value, darker the paint – on a scale of 1-100)
One GREAT way to test a paint color to see what it'll do in your own home, is to order a sample from Samplize. You can pick one up for Narragansett Green!
Secondly, other important associated terms are the RGB and the HEX Values.
Red = 81
Green = 93
Blue = 97
HEX Value = #515D61
Since we have discussed the technical and scientific information, let's get started with the practical aspects of this exotic green Benjamin Moore paint.
How Does This Color Feel in a Space?
Benjamin Moore Narragansett Green feels quite crisp, luxurious, majestic, rich, and dramatic when used on the walls.
Since it's quite a dark paint color – it tends to complete the palette of your room while exhibiting a sense of identity.
So, if you have a style that embraces deep hues on the accent walls and everything glam – this could be the color for you.
Moreover, this color doesn't generally align with dominant cool or warm vibes. Hence, can be used to achieve a sense of balance and hierarchy.
Whether you have a larger-sized bedroom or a medium-sized living room, don't hold back from this color if you truly embrace a unique experience.
Even in small-sized rooms, this color isn't a bad option if you plan to use it on the accent wall)
How Does Light Affect the Color?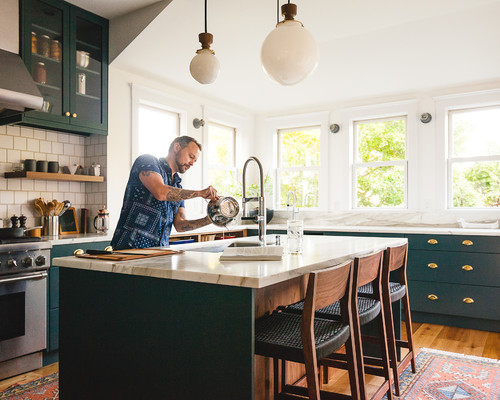 Light has the potential to make or break your space.
And especially if you have a bold and dark paint color on board – you must have ample natural light flourishing in.
Moreover, this color doesn't generally alter its appearances based on the compass directions – so you're quite good to go.
Sometimes in the north-facing rooms the color appears slightly bluish than green.
But make sure that there's ample light in the room – else, the room will appear quite dark and dingy.
If you want to really see how this color will play in your space and with other colors, get some wall samples from Samplize.
What are the Best Coordinating Colors?
It's important that you pair Benjamin Moore Narragansett Green cohesively and creatively to know its utmost powers.
And that is why you have to be careful when choosing complementary color schemes!
You can best pair this green paint with true whites (in the case of trims etc), yellows, lighter grays, and lighter greens.
You can also incorporate any of the metallic tints as accents here – like gold and brass.
Furthermore, you can either choose from a monochromatic or a contrasting color palette – depending upon the interior design style and your preference.
So, here are a few of the colors I would recommend for a monochromatic palette!
HC-160 Knoxville Gray
HC-163 Duxbury Gray
HC-165 Boothbay Gray
On the other hand, here are a few of the colors I would recommend for a contrasting color palette!
CW-370 Sweeney Yellow
OC-52 Gray Owl
1613 Silent Night
For your ceilings, trims, and moldings – you can use BM Chantilly Lace as it is a true white paint and will further protrude the original adjacent hue.
BM Narragansett Green Vs Similar Colors
This generic blue-green paint tends to share tons of similarities with darker teals (BM Aegean Teal for example), blues with green undertones, and vice versa.
Whether it's the undertones or reflectivity – BM Narragansett Green can be compared to a couple of other BM and SW hues.
So, let's discuss the major ones – BM 2050-10 Salamander and SW 7625 Mount Etna.
And see how they all differ.
Narragansett Green Vs Salamander
With an LRV of 5.72 – this paint is a touch darker and can be best paired with mustards, light grays, and greens, i.e. many of the neutrals.
Also, note that this color might feel bold at some points – if there's a lack of natural light.
Order a wall-stick sample of Narragansett Green here to try this color on for size.
Narragansett Green Vs Navy Masterpiece
This is almost a trick question if you ask to compare these two. Why?
Because they are the same color! In Benjamin Moore, fashion they often mix up the same formula, then create two (or even more sometimes!), color names and numbers for them.
In this case, Navy Masterpiece is the second name, with a personalized number of 1652. You'll find it in the BM Classics collection.
Narragansett Green Vs Mount Etna
Another beautiful paint color from the blue-green collection, this is something to look forward to.
This blue has deep green undertones – with an LRV of 6 that feels comparatively darker and bolder.
Yes, it's the darkest of them all.
It's best to pair this color with golden and ivory – as accents.
Grab samples of these two colors here to see how the color will look in your living spaces.
Where to Use Narragansett Green?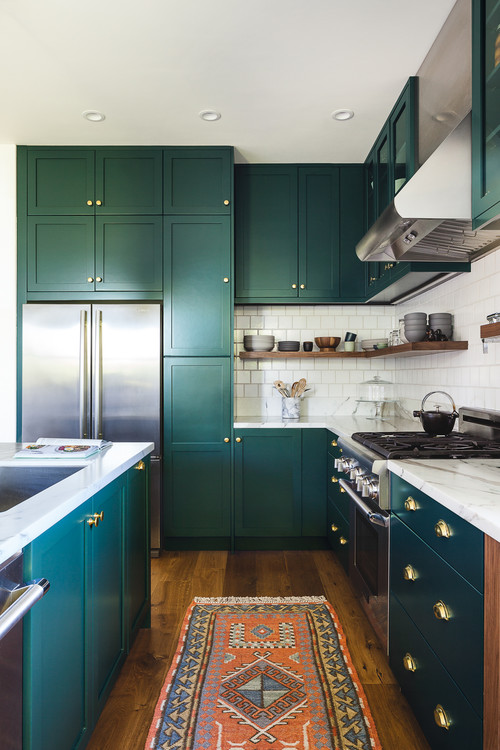 You can use this paint color in every corner of your home!
Whether it's the interior walls or exterior, console tables, kitchen cabinets, or even decorative materials like tiles and countertop – you can introduce a tinge of this color without any issue.
Moreover, this color makes a great statement in the Eclectic, Glam, Victorian, and Contemporary interior design styles.
Let's see where and how to incorporate this green paint color in your home.
Narragansett Green in Living and Dining Rooms
Yes, yes, and yes.
You can choose to paint an accent wall in this color and further add immense whites on the sides for a clean and crisp look.
You can also add golden or brass accents on the furniture legs, lighting fixtures, and decorative accessories like candle stands and vases.
Adding white or gray sheer curtains to further complete the contrasting palette.
Lastly, don't hold back from using ample metals and glass as focal materials.
Using in Bedrooms
You can use this color in your bedrooms – as far as you have an Eclectic and Maximalist style.
Don't hold back from styling and over-styling your bedroom with golden-frame mirrors and artwork, canvas, glass-topped nightstands, and shag or fur rugs.
As a total contrast, you can even add rattan, wicker, jute, and cane on the decorative accents and furniture.
For curtains – ensure to stay low-key with white or gray linens.
Narragansett Green in Kitchens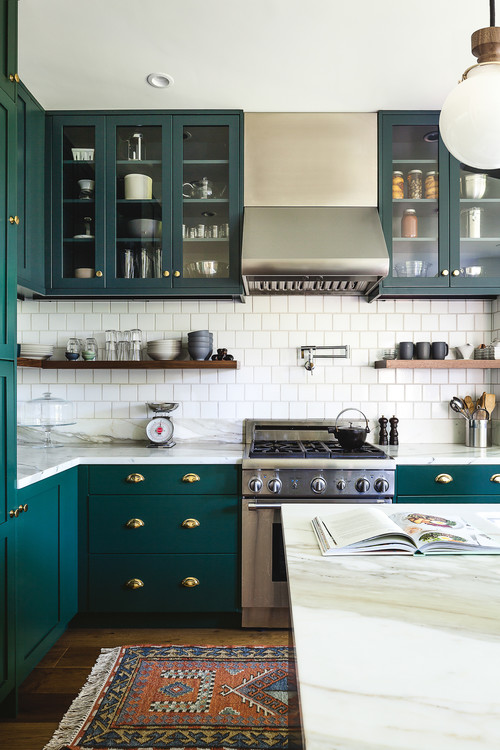 This is one of the best places to have this pretty blue-green paint color.
Yes – on the cabinets!
If you want to add an artistic touch to your kitchen – do consider painting this color on the cabinets.
Trust me, you can never be disappointed.
Moreover, you can add brass or golden pull handles, white marble countertop, and gray backsplash tiles.
For pendant lights or wall sconces – do consider brass or gold itself.
Using on Exteriors
This color can be quite tricky when used on the exterior walls.
Since it appears quite dark – you must carefully pick the adjacent hues and accent materials.
Generally, it's better to pick creamy or crisp whites.
And when it comes to materials – you can pick exposed red brick – which would look phenomenal.
Yes – you can very beautifully pair it with creamy whites on the trims, door, and window frames.
Further, I highly recommend incorporating tints of beige or whites as an accent on either the shutters or focal walls.
Lastly, don't hold back from using natural stone wainscotting (in a warmer base)!
How to Best Sample This Color?
When it comes to colors like Narragansett Green, which can show in many different ways, you should definitely order a peel-and-stick sample from Samplize.
These folks came up with a genius way to sample real pain without having to go to the store, pick up a can, then paint it on.
For not much money you get a good sized square to put up anywhere in your house where you want to "try" on a paint color along with any possible coordinating hues you like. Love this!
So, did this color review bring you an inch closer to this paint?
Do you want to use it in your home? Exteriors or interiors? Walls or cabinets.
Well, I would love to know your thoughts! Do let me know in the comments below!