Teal is a beautiful cyan-green color that heavily takes inspiration from the waters of the ocean and coastal sea areas.
It's quite likely that you'll get it confused with cyan or blue-green – but in reality, teal is a deeper version. It's a deep blue-green color that is comparable to turquoise and cyan but is darker than both.
It's no doubt we are commonly in awe of the surreal colors of the water in places like the Bahamas or Maldives!
Well, that is a face of teal or cyan – which are in fact very closely related to one another.
Teal is a perfect blend of blue and green all together – but brings with it lower reflectivity and greater depths.
So how is teal created specifically?
Well, you simply have to mix cyan with a green base and further deepen them using portions of black and gray.
Also, let me tell you – this color is quite a trend, lately!
It feels great to our eyes and makes a dashing statement in when used in our homes and commercial decor.
If you try to locate teal on the color wheel – you will find it somewhere between the cyan and greens as it drifts away from the blues.
So, are you excited to find out what the color teal can offer you as a color lover, whether you're an artist, art lover, or budding interior decorator?
It is personally my favorite color – and I am sure by the end of this article, will be yours as well!
Whether it's about the technical information or realistically incorporating a teal color in your home – let's get on board our little journey!
What Color Is Teal? The Color of Tropical Waters…
Let's first discuss the basic specifications and details of this color category.
Remember, every category is associated with certain underlying theories and facts that make it equally unique and distinctive.
So, there is something that distinguishes teal from aquamarine and aquamarine from cyan.
Whether it's the undertones or the certain RGB values that describe what the color is composed of, there are certain terminologies to check out.
Also note, light reflectance values can differ for each typology and face a give color has.
Pantone Code= 17-4919 TCX Teal
Cyan= 100%
Magenta= 0%
Yellow= 0%
Black= 49.8%
Red= 0%
Green= 50.2%
Blue= 50.2%
HEX Code= #008080
Teal is a color that you will very commonly find in nature – as we all know with coast lines where the phytoplankton (algae) in the shoreline waters there help to absorb red and blue hues and scatter a lot of greenish hues.
There are some that incline more towards aqua, some to a deeper cyan, and some to a blue and greens mix. Whew!
These above-mentioned percentages will help you in the classification of the color and how it is truly made.
Additionally, it is a saturated, cool-toned color – so you really get the best of both worlds!
The Two Faces of Teal – Restfulness and Optimism
Very frankly – there are not just two faces of teal – rather, a handful of them that can be different depending on light reflectivity values.
Further, these faces can be categorized as the tints, tones, and shades of that particular color.
Like I already mentioned about the variety, you must know that teal has a wide array of appearances – depending upon the undertones and reflectivity.
'Tones' are basically the results formed by adding gray to a teal paint color! The result is a more muted and subtle shade – well, a darker version of sage green!
'Tints' on the other hand are the amalgamation of white with a teal paint color. The result is something like sea blue which is quite light.
Whereas 'Shades' are the results formed by adding some black to a teal paint color. The result is quite dark – something like emerald or bottle green!
Diving deeper into these details and these faces – the color teal is best known for these two major tones as follows.
Teal Blue…
A shade of teal that inclines more towards the blues than the cyans or greens. It is quite stark and noteworthy!
Even though it is a very humble teal blue – you are quite likely to feel tranquilized and relaxed with the presence of this particular color!
You can best pair it with browns, red-browns, and burgundy (more on this below).
Teal Green…
On the other hand, teal green is a tone that inclines more towards the greens than blues.
This is somehow a very stark and deeper version of teal – defining utmost sophistication, distinctiveness, and boldness!
It doesn't appear very saturated or bright – so you can best pair it with reds or even yellows!
Similar Colors
Now that we have discussed the two notable faces of this beauty teal – let's get talking with the similar colors that closely relate to it!
And can be considered as 'teals'!
So, the first of them is pine green. It is a bright blue-green color that feels very energetic and eye-catchy! It plays a great accent or focus!
On the other hand, aquamarine is a similar color to teal that is quite light and cyan-like! Remember to use it minimally only on the decor accessories.
Next in the line is Robin Egg Blue that feels quite stark and saturated – hence, a teal that balances the presence of blue and green but a major incline towards cyan!
Lastly, outerspace is a teal green that has very minimal blue or cyan! It varies in reflectivity so you can always use this with a tinge of yellow and lighter greens!
Coordinating Colors
Once you mess up with coordinating colors – you mess up with your space!
And you don't want to do that, right?
So, here I am going to spill some beans – or should I say, color palette beans!
Well, regardless of any of the faces of teal – the best complementary colors are red, yellow, and burgundy!
Furthermore, you can always add neutrals like off-whites, whites, and beiges to further complete your palette!
In terms of accent, teals are in themselves a big player – but just in case, yellows and reds will best make use of this color.
A Promoter of Freedom, Faith, and Shyness
Teal is a color that blends the relaxing aspects of blue with the renewing properties of green.
It's a reviving and energizing color that also stands for open communication and clarity of mind.
Teal is shy, objective, earnest, and commanding, among other qualities. The color is also welcoming, supportive, and rational in a more positive tone.
It is a well-intentioned but reserved hue in general.
Teal is a reserved, intuitive, and possibly introspective color; it is unique, offering a sense of freedom without seeking too much attention if possible.
It is an unusual color, and individuals who like it love things that are a little out of the ordinary (in general of course!).
Teal is also a cautious color that isn't rash and avoids needless risks.
Teal History: From Common to Popular
The word 'teal' gets its name from a bird (Eurasian Teal – a member of the duck family) that has this color on its head along with a distinct spot on his wing feathers.
Similarly is the Common Teal duck, where the color refers to the stripe that runs around the eyes and up to the top of the head.
The color was given the name teal, which was first used in the English language in 1917.
Teal was a popular uniform color for numerous sports teams in the United States during the 1990s.
Our topic color is also one of the original 16 HTML Web Colors, which were created in the late 1980s.
Teal's popularity in branding skyrocketed in the 1990s, with the color appearing in everything from throwaway cups to company logos.
The Memphis Group, a significant postmodernist design, and architecture movement popularized it. Teal became even more of a design classic as a result of this.
Teal All Around the World
Teal is a famous color in popular culture for recreating the dreamy landscapes of tropical lagoons and lush jungles.
Teal conjures up visions of exotic paradise that come as associations in the mind all at once.
In contrast to red, which can cause an elevation in blood pressure, all colors closer to the blue end of the spectrum have a relaxing impact on the human body.
As previously stated, TEAL is an acronym for the forerunner of Air New Zealand, who used teal as their characteristic hue on not only planes but also promotional materials and airline bags.
When New Zealanders say "teal green," they're probably referring to the color of the airline rather than the color of the bird.
The official color of Kochi Metro, the rapid transit system that serves Kochi, India, is teal.
In our modern culture, most of us have observed the teal colored ribbons, bracelets, and fashion, which helps promote awareness to Ovarian cancers and disorders such as PTSD and OCD.
Using Teal In Home Décor
Isn't this something you have been waiting for?
Well, the emotions are likewise!
So, firstly, I would highly recommend this paint on the accent walls, your accent furniture pieces, and could even be on your accessories such as throw pillows and vases or urns!
Try avoiding painting a lot of your walls in this color – for extra discomfort and boldness in your space.
However, if your space is quite large and grandeur – you might be able to use teal on all the walls!
I highly recommend the eclectic maximalism and interior design styles like Hollywood Glam and Grandmillenial to incorporate this unique tone.
If you are looking for real-time examples from the famous paint manufacturers – I am going to enlist two examples from Sherwin Williams and Benjamin Moore!
Really Teal by Sherwin Williams and Aegean Teal by Benjamin Moore are notable examples.
And you would be surprised to know that BM Aegean Teal has been awarded the color of the year 2021!
However, know that there may be some notable differences here as well.
For instance, Sherwin Williams Really Teal feels quite hot, saturated, and warm – a perfect teal to be only used as accents.
On the other hand, Benjamin Moore Aegean Teal is totally a reverse!
It is more like a soothing blend of teal with gray that can be used as an accent or otherwise!
(Don't worry – you can paint all the walls in this versatile color)
The reason why I mentioned the two types is to solely acquaint you with 'two' sides of this color!
Using Teal Colors on Walls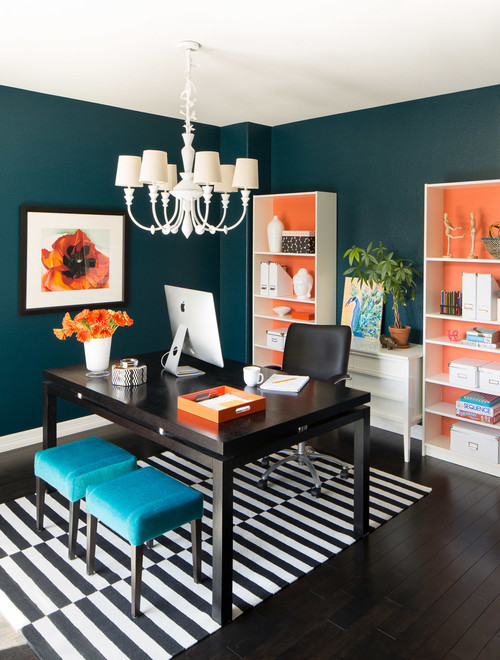 It is not completely a no-no to painting teal on all the walls!
Well, you can absolutely do it if you prefer a more daring and bold backdrop.
You can very seamlessly pair it with crisp whites, some wooden textures, burnt oranges, and some intriguing patterns.
Stick to dark shades and trust me – you will love it!
Also, another way to best incorporate teal in your room is by simply using it as an accent!
Have a look at this Mediterranean-style bedroom that flaunts off teal as an accent!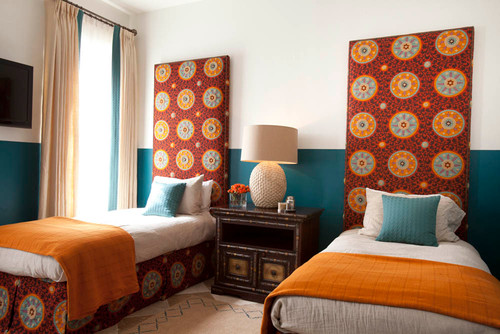 You see, burnt oranges go great with teal, right?
Teal on Furniture – Bespoke and Distinctive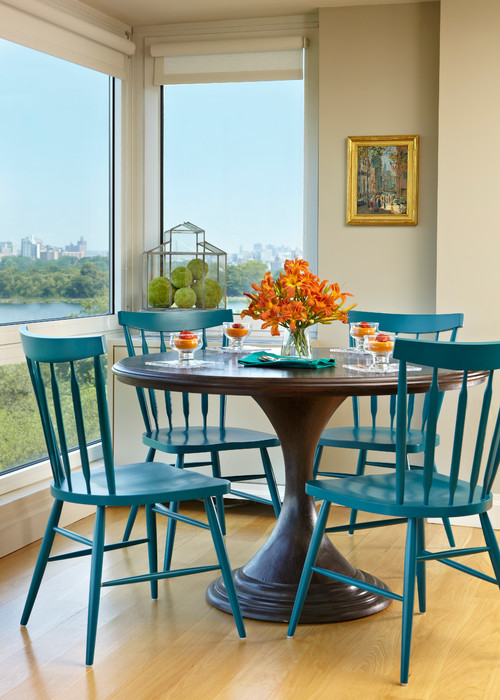 If teal makes an unwelcoming eye-catchy and bold statement on the walls – you can let them be in neutral colors and paint the furniture in teal.
Trust me, you will not be disappointed.
You can definitely use it on the couch, chairs, console tables, and even accent chairs.
Check out my full guide on SW Really Teal here to find out the full scoop on this paint color!
Incline towards a contemporary design? Have a look at how I used a tone of teal for one of my E-Design Contemporary Living Room and blended that with cooler grays and whites!
Not necessarily for Eclectic, but a focal piece of the teal couch will complement your contemporary and modern interior design as well!
You can incorporate this glam-style teal couch into your living spaces. See more info here!
Teal on Cabinets – Home Offices and Kitchens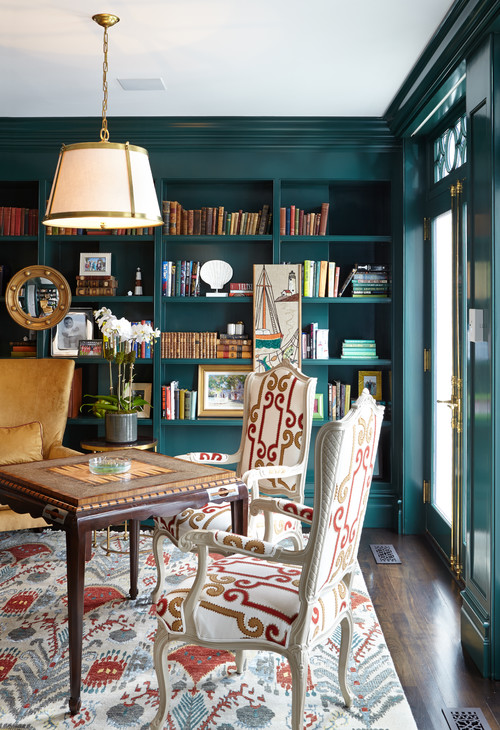 I would definitely like to add a new section here – CABINETS!
I personally believe that this color looks even better on the cabinets of your home office, kitchens, and even living rooms!
If you like pops of hues popping out – you can use this paint as an accent on your cabinetry systems!
Have a look at this beautiful kitchen as well.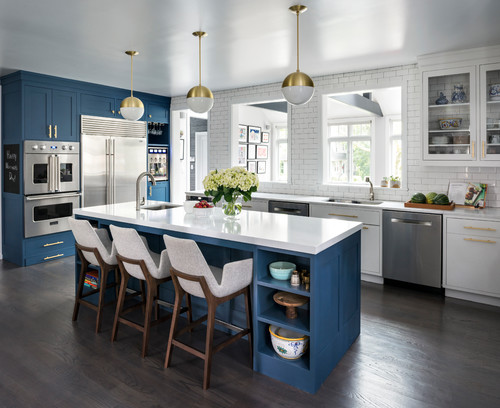 Teal on Accessories – Details That Matter
It is time to have an eye for detail!
Remember, a space is not just confined to walls, furniture, and focal woodwork like the cabinets and built-in shelves (even though they play dominant)!
But you can also add teal character to your room through accessories such as curtains, artwork, rugs, vases, and throw pillows.
Let's check out some of these pieces that would make a lovely teal accent in your home.
A perfect blend of teal and sea blue – this piece of an indoor and outdoor area rug is bound to make a great focal point – without even too much attention!
You can use it in your living rooms, bedrooms, or even hallways!
Another classic way to add teal on those neutral walls is through these eye-catchy curtains that play remarkable!
You can even use it in the kids' rooms and play areas.
Lastly, if you prefer to have neutral-toned furniture like the grays and beiges – one of the best ways to throw a pop of color is through this teal!
You can always play with upholstery here – whether cotton, linen, leather, suede, or velvet! Check out the pillow above here.
Summing Up the Color Teal
Remember, teals will always remind you of freshness and relaxation (unless you choose a tone that is highly saturated)!
But at the same time, it looks immensely beautiful and noteworthy!
Trust me – you try it and will believe it!
So, are you excited to incorporate a touch of teal in your home?
Maybe kitchen cabinets, backsplash, or the bedroom focal walls?
Whether it is the accent wall or that particular built-in shelve – now that you know what color teal is don't shy away from using this exciting hue.
I would love to know your thoughts on this article, comment below!