There's no doubt you've seen or heard about the precious emerald gemstone in your lifetime.
Emerald is more than just an amazing color; it's a form of crystal found on Earth's crust.
And that's where this color emerged from!
Asking what color is emerald can be answered initially when you think of magnificent necklaces and stones found in cocktail rings and majestic bracelets.
Following along the lines of brighter tones of blue-green amalgamated, this hue is a picture of beauty and splendor.
However, it's not only restricted to that but also ranges towards slight yellow and blue tones in certain cases.
But majorly dominating are the greens that range from lighter to darker tones.
It goes without saying that this bluish green color has been trending for decades… even now!
You'll see natural emeralds in jewelry of course, but also clothing, furniture, paint, accent pieces and more.
This color is synonymous with soothing and subtle!
How is the emerald made when it comes to paints and dyes?
In simple terms, it's merely a blend of blue and yellow pigments.
There's not an exact ratio here because of the range of this color, but if you add more blues – the result will be quite darker in hue.
Are you starting to get the general vibe of this color?
Locating this color somewhere on the color wheel – you are quite likely to find shades of sea green and bottle green surrounding this color.
So, are you excited to find out what the vivid shade of green emerald has for you?
Trust me, it has tons and tons for you!
I'll discuss the basic definition of this hue, with a focus on the various types of emerald greens in our world.
Then we'll talk about what to pair emerald with and what paints you might like to try in your own home.
Next I'll cover emerald's intriguing background as color rich in history and culture.
Finally, we'll dive in to how you can best use this striking color in your home decor, from furnishings and accents to artwork.
So, let's get on with our journey to the emeralds!
What Color is Emerald? The Color of Regeneration
Let's first discuss the basic specifications and details of this color category!
Remember, every category is associated with certain underlying theories and facts that make it equally unique and distinctive!
After all, there should be something that differentiates the emerald greens with bottle greens, sage greens, and olive greens, right?
Whether it is the undertones or the certain RGB values that describe what the color is composed of, here are certain terminologies to look upon!
Also note, light reflectance values can differ for each typology and face!
Pantone Code= Pantone 2256 C
Cyan= 60%
Magenta= 0%
Yellow= 40%
Black= 22%
Red= 31.4%
Green= 78.4%
Blue= 47.1%
HEX Code= #50C878
Emerald defines the utmost classic greens in the gemstone. Although, you must know that some of them incline towards the darker tones and some to the lighter!
These above-mentioned percentages will help you in the classification of the color category and how it is truly made and composed!
Moreover, it is a bright, saturated, sleek, cool-toned color – and you can absolutely feel the most luxurious with this color on board.
Five Faces of Emerald – Magnanimous and Dynamic
You would be surprised to know that emeralds have quite a few faces depending upon the undertones and reflectivity – even saturation.
Furthermore, these faces can be categorized as the tints, tones, and shades of that particular color.
Like I already mentioned about the variety, you must know that the class of emeralds have a wide array of appearances.
'Tones' are basically the results formed by adding gray to an emerald green paint color! The result is a more muted and subtle shade – well, a darker version of saturated green!
'Tints' on the other hand are the amalgamation of white with an emerald green color. The result is something like sea green which is quite lighter in tone.
Whereas 'Shades' are the results formed by adding some black to an emerald paint color. The result is quite dark – something almost black and a very dark tone of green.
Looking at nature itself, we can see in the photo below of Colombian emeralds the entire range of this color across the raw stones.
Diving deeper into these details and these magnanimous faces – this beautiful refreshing color is best known for these five major tones as follows.
Paris Green
The saturated and pure tone of green – this beautiful shade is quite likely to make you feel energized.
However, you have to be extra careful with using it too much around your space – as it may end up causing discomfort.
Using it in very little amounts would be recommended!
Emerald Sterling
Even brighter than Paris Green, this particular face is quite a saturated one.
Trust me, you wouldn't want to use a lot of it in your home!
However, tones of this hue in the outdoor spaces wouldn't be a bad option.
Plastic Emerald
Reminding me of nature's hues, Plastic Emerald is a face of a true green color that is neither too bold nor too saturated.
It generally mimics the plants and their leaves in the most happening ways.
Although it is green, it still feels very warm and bright.
Emerald Green
Now, this is a classic tone of real emeralds – extremely luxurious and yet muted!
You can best pair this tone of color with goldens, nickel, and even brass in certain cases.
Emerald Stone
Now, this is something to absolutely make the most use of!
Inclining more towards the blues than yellows, this tone, in particular, can be very well linked with the shades of teal!
Hence, quite eye-catchy, eclectic, and timeless!
Similar Colors
Now that we have discussed the five notable faces of this magnanimous color Emerald – let's get talking with the similar colors that closely relate to them!
So, the first of them is Fern (something like medium Sea Green).
This tone of emerald is quite transparent and opaque. It feels lighter and if you want to pair it with something, think mainly of bold blues and whites.
On the other hand, Tropical Rainforest is a similar color that in reality would remind you of 'forest' greens.
It clearly mimics mango trees and fig plants!
Next in the line is Pine Green that can be easily compared with the color teals and aquas!
They are totally muted and subtle and not very saturated!
Lastly, Screamin green is a saturated true green found in authentic emerald stones.
Try avoiding too much of this color in your home!
Coordinating Colors
The specific color options and palettes may vary from tone to tone – however, I am going to enlist a couple of hues that will definitely compliment the emeralds.
Trust me, if you are planning to use this color – you might want to read this section very carefully!
So, in general, emerald greens would look great with certain tones of yellows – lemon and mustard, lighter grays, whites, and sometimes lighter blues.
In terms of metal accents, you might want to consider bronze, gold, and even brass!
Emerald's Positive Cues from Nature
Emerald, like the color green in general, represents a sense of plenty, prosperity, and growth in all parts of life, whether it's in nature, business, or within ourselves.
Emerald Green is the color of love, expansiveness, rejuvenation, and stability, and it is the color of our heart energy.
Emerald is a symbol of renewal and health, and its potent properties aid in grounding, rejuvenating, and revitalizing our brains.
Its hues represent harmony and help our ability to achieve a balance of good emotions in our brains and hearts.
It restores depleted energy, infusing vigor and enthusiasm, and strengthens our ability to love unconditionally, in ourselves and others.
Green tones encourage generosity and the positive sensations that come from giving.
You probably identify Emerald Green as the color of luck, freshness, and rejuvenation, given its strong links with nature and the environment.
From Chemicals to Artistic Colors
Copper(II)-acetoarsenite is one chemical compound that gives Emerald Green its color.
It was invented by Russ and Sattler in Schweinfurt, Germany, around the turn of the nineteenth century, and commercially accessible in 1814.
The purpose of Emerald Green's formulation was to improve on Scheele's Green, which tended to blacken when exposed to sulfides.
This was especially problematic for fine artists when using other sulfur-containing colors, such as cadmium yellow.
In order to limit deterioration, artists would try to isolate the Emerald Green using varnish, minimizing contact with other colors.
The chemical formula behind Emerald Green's stunning hue contains arsenic, making the pigment extremely hazardous.
Cobalt Green, on the other hand, had expanded in popularity and availability by the turn of the century, steeling some of the show from Emerald Green.
The Beauty of Emerald in Our World
The magnificent green color of emerald has earned it a revered reputation among cultures all over the world.
Cleopatra used high-quality emeralds to beautify herself and her palace, as well as to give as gifts to foreign dignitaries.
You can just imagine receiving a green gemstone and adoring the giver instantly.
She most certainly intended for this generosity to be a show of riches and power.
Medicinal emeralds were used by Arab, Hindu, and Spanish physicians in the past to treat poison, infection, and dysentery.
Many ancient Indian tales describe mysterious and legendary cities of great richness, with walls or entire temples constructed of emeralds and other precious stones.
Images of plentiful plants with leaves dripping with emeralds and rubies implied that those who were fortunate and virtuous enough to reach these cities would be rewarded with heavenly gems.
Today, you'll find this color used intentionally in company branding, sports logos and product designs.
More famous emerald green logos are that of Starbucks Coffee, Land Rover, Heineken, and much more.
And there's no shortage of popularity if using green stones in rings – emerald engagement rings are a major draw for brides-to-be.
Logo courtesy of 1000logos.net
One of the winningest professional basketball teams in the world, the Boston Celtics use this growth and prosperity carrying green in their logo. (It's funny that Seattle, dubbed as the "Emerald City" doesn't use this color for it's major sports teams!).
Furthermore, the Monsteratt National Soccer Team and the Irish Rugby team wear an emerald green kit.
Logo courtesy of 1000logos.net
Gaining in huge popularly during the past couple of decades, Amazon's Whole Food uses this color to denote fresh products that are of the highest quality.
Logo courtesy of 1000logos.net
The high-end car manufacturer Land Rover uses the company's motto "Above and Beyond".
You can see how Emerald Green shouts this clearly in their corporate emblem above.
Using Emerald in Home Decor
Well, here comes one of the best topics to talk about!
You're probably excited to find out how to how best incorporate emerald greens into home decor?
Well, I am equally excited to share some insights here!
I wouldn't say all – but certain tones of emerald can be used on your accent walls.
(For instance, pine green would be a great option – but try avoiding Screamin' green or equivalent)
For walls, it can be slightly tricky and challenging since this tone of green can feel quite uncomfortable to the eyes.
If you ask me – where to best incorporate emerald greens in the home?
Undoubtedly, I would say – the accessories such as side and accent tables, coffee table tops, table lamp and floor lamp bases, and some shades on furniture upholstery and throw cushions.
Best for interior design styles such as Eclectic, Parisian, and even contemporary in certain cases.
If you are looking for real-time examples from famous paint manufacturers – I am going to enlist two examples from Sherwin Williams and Benjamin Moore!
SW 6467 Kendal Green by Sherwin Williams and 2039-20 Emerald Isle by Benjamin Moore are notable examples.
However, know that there may be some notable differences here as well.
For instance, Sherwin Williams Kendal Green is a muted emerald tone that would simply look great when paired with opposite creamy whites.
Or should I say, it is a tint of Forest green that can perfectly offer the best of both worlds.
If you're curious, you can see my review of the most popular SW Greens!
On the other hand, Benjamin Moore Emerald Isle is totally a saturated one!
Don't think of using too much of this color in your space. It will feel unpleasant to your eyes for sure!
The reason why I mentioned the two types is to solely acquaint you with 'two' sides of this beautiful color!
Emerald on Walls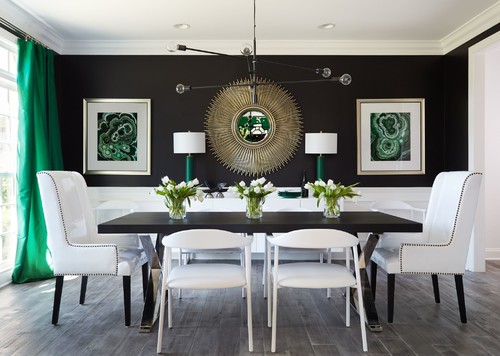 I wouldn't recommend painting all your walls in Emerald!
However, just in case if you prefer a tinge – try painting an accent wall of this hue.
To maintain a sense of balance, you should always pair this color with clean and crisp whites and off-white linens while making sure there is ample natural light!
Furthermore, you can always add tinges of golden and brass accents in the form of wall decor and other accessories.
Have a look at this transitional-style dining room that reflects the perfect hues of majestic emeralds!
Emerald on Focal Furniture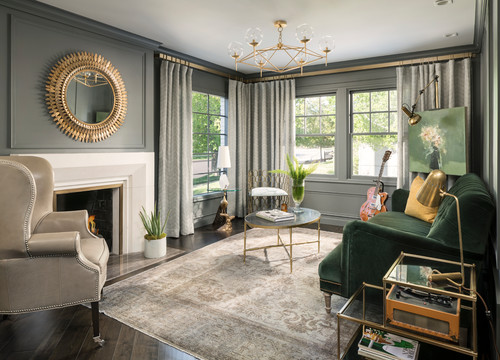 It is definitely worth adding a tone or two of the color emerald on your focal furniture!
Whether it is that couch, accent chairs, table, or coffee table – don't hold back from using this color on that spot.
For example, have a look at this glam emerald-hued piece of couch that creates focal interest while defining the color palette of the space.
Another interesting backdrop is this emerald monochromatic seating!
Isn't this absolute bliss and luxe?
Emerald on Tiles and Backsplash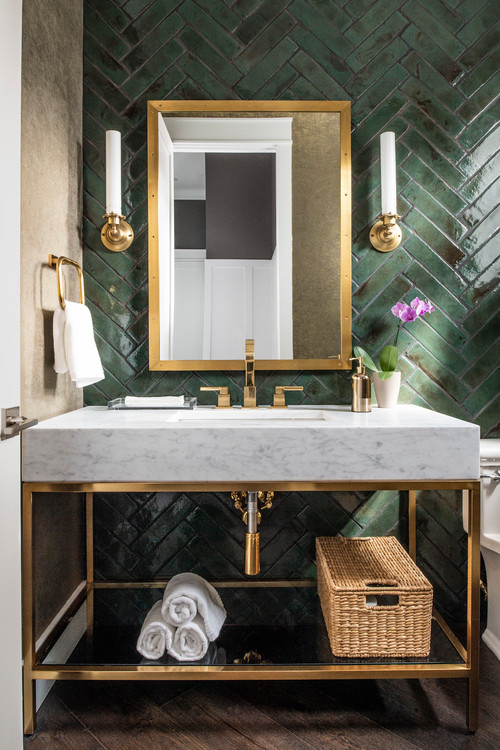 Totally eye-catchy and eclectic!
Fusing elegance, luxury, and creativity – this backsplash tile pattern in herringbone style flaunts off as a great statement.
When paired with white marble, golden metals, and dark hardwood floors – it proves to be one of the best palettes ever formed.
Emerald on Accessories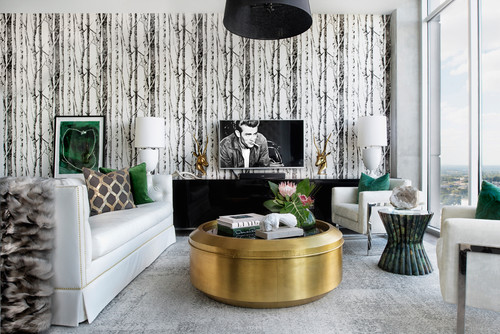 Like mentioned before, emerald on accessories is a great recommendation!
It doesn't make your space look unwelcoming, saturated, and dull! Rather, when used in little amounts (on throw pillows and artworks) – you can best achieve both worlds.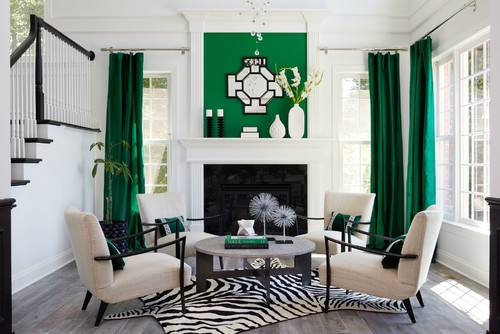 These ceiling-to-floor length curtains look absolutely stunning with white background.
Let's check out some of these pieces that would make a lovely emerald accent in your home.
One of the best ways to incorporate emerald is by placing a large area rug that forms a bold color base of your space.
Whether it is the hallway runners, or kitchen mats – don't hold back from using an emerald rug!
Throw pillows like this one define the accents of your space.
So, why not choose a velvet emerald throw pillow, right?
Another great way to play with emeralds in your space is by placing a large artwork like this that picks hues from surroundings to create a seamless experience.
Summing it Up
Emeralds are not some random green colors that mimic nature – rather they are a blend of a little luxe and sheen that speak the characteristics of the gemstone.
So, I recommend using it on your accessories to attain the most of its beauty.
And remember, not every tone of an emerald should be used on walls – so, beware!
Other than that, did this color excite you?
Well, I would love to see how you plan to use emeralds in your home. So, do let me know your thoughts in the comments below!