As misleading as the name may be, Sherwin Williams Modern Gray is a warmer-toned gray (or taupe) that has gained momentum in the home decor industry.
Opposing the concept of grays, this hue is specifically a delightful one – with majorly reds and oranges reigning the undertones.
Not too dark nor too light, this color plays a great chameleon!
You know – just like Sherwin Williams Agreeable Gray and a couple of other taupes and greiges.
Trust me – you'll want to be very careful around this paint – all the time!
And especially when it comes to natural light and functionality. (We will discuss this later!)
But apart from that, this truly is a beautiful paint color that majorly aligns towards the warmer sides than the cooler.
No wonder that it is clearly a warmer gray paint color.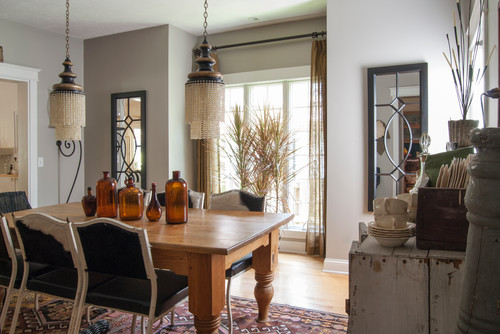 However, let me tell you something for sure – this tricky color will never disappoint you!
You might be confused about what to pair it with and how to best incorporate Modern Gray in the home.
But don't worry – my color review here has you covered!
So, get comfy, and let's get started.
Sherwin Williams Modern Gray SW 7632 Details and Specifications
Before you start choosing paint colors for your home, it is important to read through some of the underlying facts and theories behind the paint color.
Each color has a story to tell – and let me tell you, that story is absolutely UNIQUE!
Do you want to know why SW Modern Gray is so tricky to use at home? Well, this section is going to unveil that.
Starting with one of the most important aspects – Light Reflectance Values or the LRV's.
This value helps in determining how light or dark the paint color is (which later helps us in deciding where to use the paint color).
Yes, it is all interconnected!
So, the LRV of Modern Gray is 62.
This means it's a pretty medium to lighter-toned paint color and can be used as a potential base and a neutral in an almost any sized room.
What I like to do is sample Modern Gray under different lights where I'm going to use it. I use Samplize stick-on samples. Get some samples now!
Secondly, consider the RGB and HEX Values of the paint color that defines what the color is truly composed of.
Red = 214
Green = 206
Blue = 195
HEX Value = #d6cec3
In the case of trims and moldings – you must use SW Pure White or SW High Reflectance White to protrude the true undertones of this color!
Now, let's read on to learn more about the practical aspects of the paint color.
How Does This Color Feel in Space?
Sherwin Williams Modern Gray is bound to make you feel an extra level of comfortable and cozy!
Of course, due to the warmer undertones – it will feel creamier and at the same time, quite unexpectedly warm and uninviting.
So, if you want to avoid that – it is crucial that you analyze the size of your space while observing the incoming natural light.
Mainly in the south and west-facing rooms, this color is quite likely to feel warm – well, almost like beige and deeper tan!
On the other hand, in the north-facing rooms – the same hue will appear with its natural undertone without feeling too cool!
This color doesn't even look washed off! So, you're quite good to go!
How Does Light Affect the Color?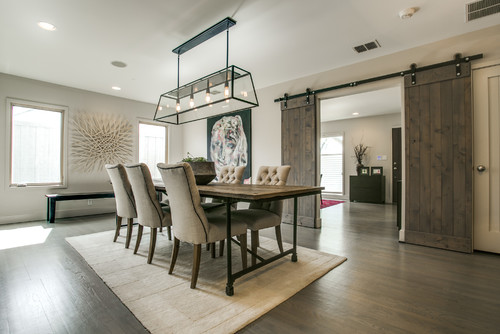 It is a given that natural or artificial light will enhance your space and make it look larger than it already is.
I recommend using this paint in colder regions since it will exhibit a cozier vibe throughout the home!
Apart from that, even in rooms with almost little or no natural light – this color will still appear lighter!
And don't forget – you can always make use of artificial lighting in any case!
As I mentioned before, you can try out this color with real paint, (but without the mess) using stick-on samples from Samplize.
What are the Best Coordinating Colors?
Now comes one of the best topics to talk about – color palettes and schemes.
And that is how you can best flaunt off this paint color!
You can only find the true charm of the color if you place it opposite the best complementary colors.
Long story short, creating an eye-catchy color palette is primary.
You could either choose from a monochromatic or a contrasting color scheme – depending on the interior design style and your personal color preference.
Here is a list of colors for a contrasting scheme that you might want to have your eyes on!
SW 7004 Snowbound
SW 6023 Insightful Rose
SW 9174 Moth Wing
On the other hand, for a monochromatic scheme – refer to the following paint colors!
SW 7633 Taupe Tone
Choose monochromatic if you have a modern, or a minimalistic approach towards interior design.
Modern Gray Vs Similar Colors
Looking for alternatives is necessary if you are not completely satisfied with a paint color.
However, note that they may either differ in undertones or reflectivity.
So, here I am going to mention the two Sherwin Williams paint colors that share the most similarities with Modern Gray are SW 9165 Gossamer Veil and SW 6071 Popular Gray.
Regardless of the tints, textures, and shades – these colors can be claimed to look alike in specific natural conditions.
Modern Gray Vs Gossamer Veil
Clearly, SW Gossamer Veil lacks the red undertones of the former paint color.
Even though it is quite a creamy and warm tone – it may still fall on the balanced end (thus, neither too cool nor too warm).
With an LRV of 62, this color equally feels lighter! And you can even use it in the south and west-facing rooms without having to worry about looking too warm.
Check my Gossamer Veil guide to learn more about this color!
If you want to test the subtle differences in your house, get some wall samples of each here.
Modern Gray Vs Popular Gray
This neutral color shares immense similarities with SW Modern Gray!
The only difference is the slight reflectivity!
With an LRV of 61 – this one is comparatively darker than the other.
See my guide on Popular Gray to learn more about this color!
Where to Use Modern Gray?
Sherwin Williams Modern Gray has the potential to be used everywhere in your home!
Whether it is the hallways, dining, casual living and formal living, kitchens, bedrooms and exteriors – it is quite good to go!
I often end up recommending this paint color in homes of all kinds – whether it is a sleek and crisp style like modern, minimalist, contemporary, and Scandinavian, or a maximalist like Bohemian, Country, and Modern Farmhouse.
So, regardless of the design style – you could freely use it in your homes. (Due to timelessness, of course)!
Let's discuss how and where to use this paint color in your home.
Modern Gray in Living Rooms and Hallways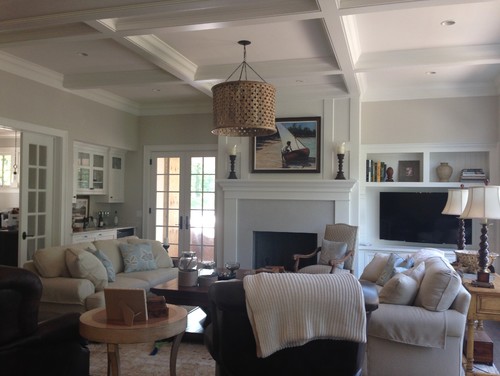 Since Modern Gray majorly aligns towards the warmer tones – you must pair it with clean whites, some cooler and muted tones, and metals to create a balanced look.
You can paint all the walls in this specific color – as a neutral and base!
You can also choose wooden furniture with light beige upholstery and white sheer curtains to further facilitate the look.
Using in Bedrooms
Why not?
If you particularly like this shade – you can go ahead and use it.
However, I recommend avoiding it in bedrooms with too much sunlight as it may cause your space to heat up quite fast.
Apart from that, you can always pair it with cooler tones and some glass and chrome-finished metals for a refined look.
Choose lighter upholstery to further brighten the feel of your space.
Moreover, in the case of a headboard, choose wooden frames to create a cohesive look.
Modern Gray in Kitchens
Kitchens are the heart of every home.
So, if your kitchen is small and congested – you can use Modern Gray to make it look larger and spacious.
Choose white veined marble countertop, white backsplash, and chrome or matte black-finish pull handles and fixtures.
Secondly, you could either paint the cabinets in this paint color and leave the backdrop wall in pure white or choose to go vice versa!
Using on Exteriors
It is quite likely for you to spot a home with Modern Gray exteriors as you drive through the suburbs.
Modern Gray on the exterior walls is a very popular option amongst the homeowners these days – due to the classic and timeless appearance.
You can best pair it with dark brown or beige shades and use it for trims, moldings, and door and window frames.
Don't forget to choose natural stone wainscotting for the porch columns!
How to Best Sample This Color?
I need to share my favorite tip for testing out a color like Modern Gray – go over and order a peel-and-stick sample from Samplize.
These folks are nifty because they figured out a convenient way for us to sample colors way more easily. Just stick up a temporary square sample and forget the small jar of actual wet paint.
For only a few dollars you'll receive a perfect sized square you can stick up temporarily anywhere you want to "try" on a paint color and any possible coordinating hues you like. It's the best!
So, with all the above info, are you ready to give SW Modern Gray a go in your home decor?
Should there be any questions or thoughts, let us know in the comments below!