Relatively new in the books, Sherwin Williams Gossamer Veil is a warm gray paint color that tends to flourish a space with its utmost timelessness and sophistication.
It has a nice and warm creamy touch – thus, making your spaces extremely inviting and welcoming.
So, if you are planning to use this clean paint color in your home, try to choose rooms that are either north-facing or south-facing as the warmth of this paint can neutralize with the incoming natural light.
I personally would love to recommend this color sometime to my clients – but so far, I have experienced how it truly feels in a space and what to consider when choosing this paint for your projects.
This is another chameleon paint – yes, it sometimes appears greige, sometimes gray, and sometimes even beige – well, it all depends on the falling sunshine and the incoming natural light (trust me, there is a whole theory out there)!
But before we get into those details, let's talk about what the color truly has to offer, how it would fit in your home, and what are the best complementary color palettes and color schemes.
Trust me, in no time – you'll be an expert!
So, let's get started.
Sherwin Williams Gossamer Veil SW 9165 Details and Specifications
The color specification is the number one step towards choosing a paint color. Because this is the information that will help you understand if you truly are looking for this specific color or not.
I have observed many homeowners ignoring this aspect – and later regretting it! And I wouldn't want you to do that.
So, read carefully to know more about the hidden scientific knowledge about the color.
First and foremost, it is important to understand the concept of Light Reflectance Values or the LRV's that help in determining how light or dark the paint color is.
In this case, the LRV of Gossamer Veil is 62. And that means the paint falls on the lighter end of the scale – as the greater the value, the lighter the paint.
(Also if you are wondering where to find the value, well, simply look at the back of the paint swatch)!
Want to try this color out without having to paint your wall? Use some nifty peel-and-stick samples: Pick one up now from Samplize!
Secondly, other important associated terminologies are the RGB and HEX Values that further tell us what the color is made of.
Red = 211
Green = 206
Blue = 196
HEX Value = #d3cec4
Now that we have discussed enough about the technical and scientific information, let's get started with the practical aspects of this neutral Sherwin Williams paint.
How Does this Color Feel in a Space?
SW Gossamer Veil feels pure, pious, warm, welcoming, and extremely cozy when used in a space. Trust me, it is bound to add a positive vibe that will make your guests feel more comfortable.
I would recommend northern or colder regions to accommodate this color as a base or neutral in their homes. And you know why?
Well, because of their warm undertones!
Moreover, this color makes a great solution for spaces that are smaller in size as it tends to push away the walls in creating an illusion of a larger space.
Thus – a space-saving hack! But also, keep in mind to use it singularly in that case!
How Does Light Affect the Color?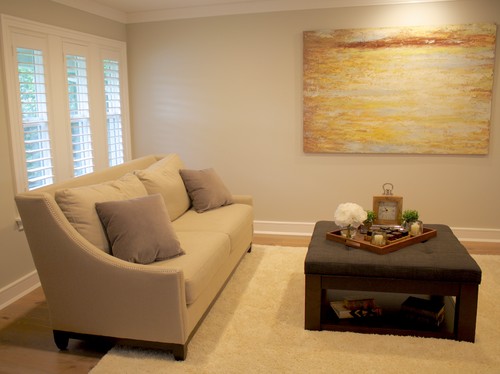 Here comes another major aspect in choosing paint color for your interiors – light reflectance!
So, before you pick a paint, just look around and observe the incoming natural light in your space – whether it is too less or too much – your color solely depends on this criteria.
So, in this case, I would recommend choosing this paint for rooms that receive little or even mid-sized natural light. (Observe the sizes of your windows and how effective they play)
Moreover, know that in the absence of light, this space will feel much darker than it is (but not too dark as it is a highly reflective color).
In the end, don't forget that artificial lighting too exists to create a desired aura in your space.
Like I said, the best way to see this color in action before you paint is to buy some paint samples you can easily stick on your wall. It'll definitely give you some clarity if you're unsure!
What are the Best Coordinating Colors?
One of the most challenging and yet very exciting – choosing color schemes and color palettes.
Now that we have the basic information about the undertones, light reflectivity, and the feel of the color – it makes it easier to choose the best colors to pair with.
In my opinion, you could pair it with plums, grays, navy blues, off-whites, and blacks.
You could either choose from a contrasting or a monochromatic color palette. Depending on the interior design style – you get to choose what you want!
Well, here are a few of the colors I would recommend for a monochromatic palette!
SW 7654 Lattice
SW 7659 Gris
SW 7660 Earl Grey
On the other hand, here are a few of the colors I would recommend for a contrasting color palette!
SW 6282 Mauve Finery
SW 6284 Plum Dandy
There's something extra soothing about combining with mauve colors, and the options are endless.
For your ceilings, trims, and moldings – I would recommend using SW Pure White to further achieve a creamier look or else if you want a crisp look, choose SW High Reflectance White.
SW Gossamer Veil Vs Similar Colors
This color doesn't have a lot of similar-looking options because of its distinct character. However, I am going to list down two options that are hereby closely related!
One of them is the most popular paint color – SW 7029 Agreeable Gray and the second one is SW 7632 Modern Gray. Let's see how the three of them differ.
Gossamer Veil Vs Agreeable Gray
A perfect warm neutral for your interiors, SW Agreeable Gray could make a great alternative. With an LRV of 60, this paint definitely can be used in smaller spaces.
And since the color is extremely popular, you can easily find ample of inspirations that you could consider for your home. However, the only difference being the undertones – the latter is a pure gray with warm undertones that slightly align towards the browns.
Get a stick-on sample square of Agreeable Gray to test in your home.
Gossamer Veil Vs Modern Gray
A gray with deep red undertones that are also quite visible, this neutral is a rather a bold one. Although it shares the LRV similarities with GV, it tends to appear more 'weighted' and 'solid'!
For even accurate results, I recommend buying real-time swatches and paint samples to determine the true hue or you can also place it against a white sheet of paper!
They might look very similar on the screen, but the biggest secret is to order samples of the color and then assess the brightness and tones in the environment you're painting in. Pick up peel-and-stick samples now from Samplize!
Where to Use Gossamer Veil in Homes?
This neutral color makes a great option as a neutral and base in your bedrooms, bathrooms, laundry rooms, living and family rooms, as well as kitchens and exteriors.
Talking about the interior design style, I would recommend this paint in Scandinavian homes, Modern Farmhouse homes, and Bohemian backdrops.
Let's see how to specifically use this paint in your spaces.
Gossamer Veil in Living and Dining Rooms
Absolutely yes!
If you are looking to add a cozy touch to your living as well as dining rooms, I would definitely recommend using this paint.
Its warm undertones will add a welcoming aura to your common spaces. Moreover, you can always add neutral upholstery and as I said – plum and purple accents through throw blankets, accent pillows, and rugs.
Just in case if you have a fireplace – try to use stark white or off-white around it!
Using in Bedrooms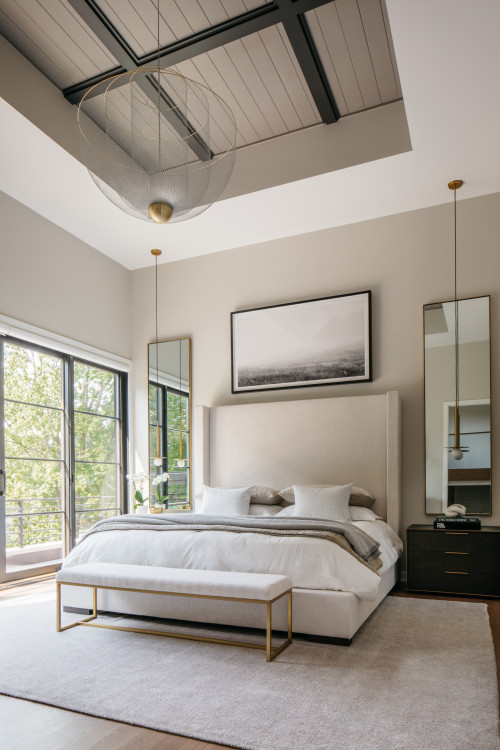 A bedroom deserves to be soothing and cozy. So, if your interior design style is such – you can absolutely use this paint as far as you pair it with bolder and saturated hues to refine your palette.
Use gray blackout curtains and accents to add a depth to this room.
In case you have a TV Console and dresser, make sure to choose white paint or a similar finish for this surface.
Gossamer Veil in Kitchens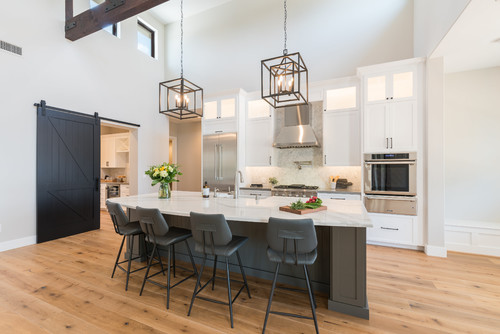 A great option for smaller-sized and soothing kitchens.
Well, personally I love bold shades in the kitchen – but if you prefer muted tones like these – you can absolutely incorporate this color.
Try to pair it with chrome finish fixtures and pull handles while using lighter-toned backsplash tiles.
Using on Exteriors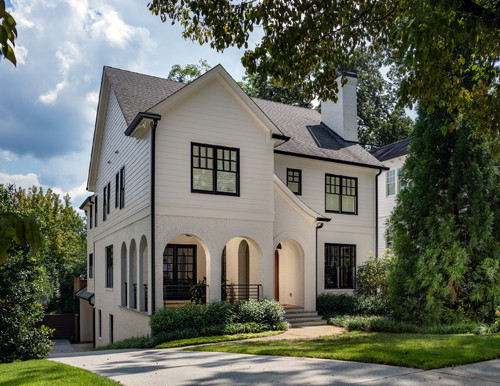 I would recommend this color in Cape Cod or Farmhouse style homes – so, if you have one of those styles, do use it for your homes!
You can definitely pair it with either charcoal blacks or steely grays on the trims, moldings, and door and window frames.
An Easy Way to Sample This Color!

Instead of picking up a small can, or worse, an entire gallon can, to "test" out Gossamer Veil, you can order a peel-and-stick sample of it from Samplize.

The company is genius – they provide a 12″ x 12″ stick-on square you can put up anywhere in your home to try out a paint color.

For a few bucks, it's definitely worth the small investment so you can see what the color will do in YOUR unique space, with your own lights and shadows.
So, how do you want to use this color in your home? Interiors or Exteriors?
Now that you have all the secrets – are you excited about painting your home in Gossamer Veil? Should there be any questions or thoughts, let us know in the comments below!