Pastels are timeless! Pastels are beautiful! Who doesn't like pastels, right?
Well, one such pretty example is Sherwin Williams City Loft that is a light-toned paint color with deep red-pink undertones.
So, if you're looking forward to adding a feminine touch in your space – choosing City Loft with a blush, rose, or pink base or accent would be a great move to make!
It's a soft hue that also exhibits extreme warmth and a cozy vibe.
Well, this is absolutely ONE of my favorites – and I constantly recommend this one to all those who have an admiration for soothing subtle paint colors.
But how do you know which pastel to use out of a million pastels out there in the market?
The answer is simple! Study the undertones and the textures.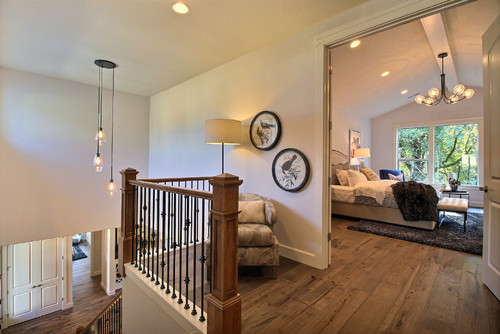 Also, since this CL is extremely light, you have to be careful about using them in specific areas in your home.
You also need to be careful about how, where, and when to use these types of colors!
This color review will help you figure out the answers to all those questions stated above.
So, let's get it started!
Sherwin Williams City Loft SW 7631 Details and Specifications
First and foremost, it's important to analyze the basics of this shade. Remember, each color is different and there are no two colors that are exactly the same.
Well, color specifications and theories are important to consider.
Before choosing a paint color, it's important to read through some of the theories and values linked with the color.
So, one of the most important terminologies is the Light Reflectance Value or the LRV's. It's basically the value that determines how light or dark the color is.
So, the LRV of City Loft is 70.
And that means CL falls on the lighter end of the scale. (Remember, the greater the value, the lighter the paint color)
Other associated terms are the RGB and HEX Values that are as follows:
Red = 223
Green = 218
Blue = 209
HEX Value = #dfdad1
Another tip:
If you want to easily try out City Loft to see how it will show, you can with a peel-and-stick sample from Samplize. Pick up your samples here!
Now enough with the technical and scientific information, let's get started with the practical aspects of this beautiful pastel.
How Does this Color Feel in a Space?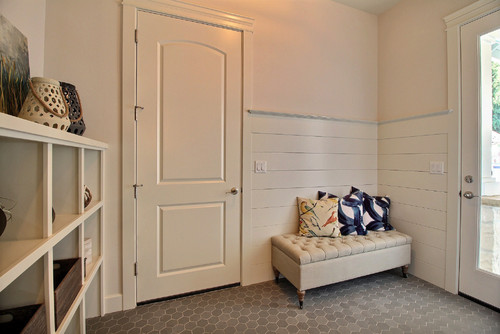 This color feels absolutely light, warm, and inviting when used in a space.
Due to the high reflectivity of the paint color, it tends to absorb only a little natural light while reflecting the most of it – making the color extremely light.
This color also plays the magic of making a space look larger by pushing away the walls.
So, if you're stuck in a city apartment, this color is a great way to make your space look enhanced.
I often recommend to clients that they can use this paint color if they're situated in either colder regions or areas with temperate climates.
How Does Light Affect the Color?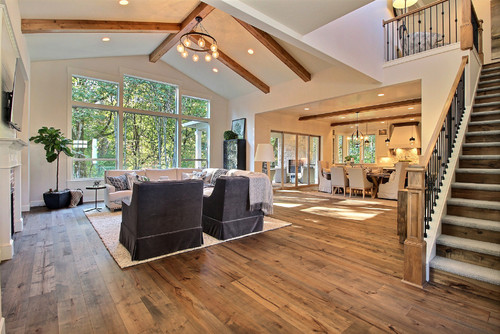 Light tends to make a paint color look brighter and lighter.
So, in the case of pastels like Sherwin Williams City Loft – the paint is bound to look even more lighter in the case of excessive natural light.
Whereas on the other hand, in the absence of light, this one wouldn't go too dark or dull!
So, right here is a bonus point!
I would recommend using this in either the north-facing rooms or the east-facing rooms as far as you pair it with cooler tones to balance the saturation.
If you want to create a specific mood, you can always add artificial lighting in the form of warm-whites and warm-yellows!
To truly see what your home's environment and lighting will do here, try out a real paint sample. It takes out the guess work!
What are the Best Coordinating Colors?
Now that you're confident about using this specific paint color in your home, it's important to pair it with the best opposites.
Well, color schemes are extremely important. Because trust me, if you mess that up – you end up messing your home!
With a pastel-like City Loft, the best possible options to pair are browns, taupes, beiges, blues, and deep grays.
You could either choose from a monochromatic or a contrasting color palette.
Let's see what makes the best match!
So, here are a few of the colors I would recommend for a monochromatic palette!
SW 7043 Worldly Gray
SW 7044 Amazing Gray
SW 7045 Intellectual Gray
On the other hand, for a contrasting color palette, I would recommend the following paint colors that you could incorporate:
SW 7036 Accessible Beige
SW 7053 Adaptive Shade
SW 7674 Peppercorn – see my full Peppercorn review here
For your ceilings, trims, and moldings – I recommend using SW Pure White to further achieve a creamier look or else if you want a crisp look, choose SW High Reflectance White.
SW City Loft Vs Similar Colors
Before I disclose the two closest paint colors, let me tell you, no two colors are exactly the same.
They may either differ in the undertones or the lightness and reflectivity of the paint.
So, the two most similar colors are SW 7570 Egret White and SW 7628 Windfresh White.
Let's see how the two differ!
City Loft Vs Egret White
With an LRV of 70, the two colors share the most similarities when it comes to reflectivity.
This pastel has deep red-pink undertones and exhibits a sense of welcomeness.
It's extremely creamy in texture and you can best pair this one with browns and taupes.
Check out more on Egret White now!
Since digital screens can be deceiving, I highly suggest you get some real samples of these two colors from Samplize. Buy here!
City Loft Vs Windfresh White
Comparatively darker, this paint color has an LRV of 69. You can absolutely use this paint color in your living environment to exhibit a crisp texture.
This color shares extreme similarities with City Loft – so either of these three colors, you can prefer to choose any.
To see how these look in your home, get some large rectangular samples and try on your walls with different lighting sources.
Where to Use City Loft in Your Home?
Daniela shares this beautiful and welcoming living room setup with SW City Loft over at her site DanielaPpluviati.com
City Loft is a great option to be used in your home. And I'll confess that I end up recommending this paint color to a lot of my clients.
Especially for homes with styles rooted in Scandinavian, Modern Farmhouse, French Country, and Modern Bohemian – this is absolutely good to go!
So, don't hold back from incorporating CL in your home – whether it's the hallways or the kids' rooms.
City Loft in Living Rooms
City Loft is a great option for the common rooms such as dining, living, and family rooms. To make the best use of the color, make sure to pair it with neutral upholstery and brown or blue accents.
This color is bound to add a cozy touch to your spaces! So, don't hold back from incorporating white sheer curtains, grey upholstery, and some taupe or blue accents through rugs and throw pillows.
Furthermore, if you have a fireplace in these common spaces, make sure to either choose taupe-hued granite or exposed brick to add a refined look.
Using in Kitchens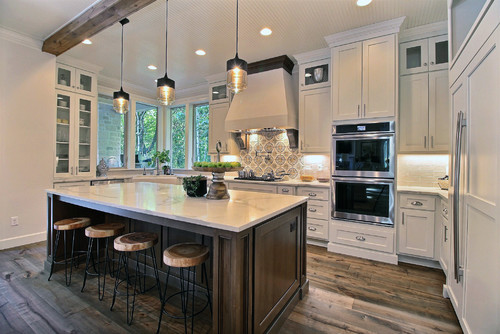 As we all know, the kitchen is one of the most loved spaces in our house.
So, you can either choose a monochromatic kitchen with shades of City Loft!
Remember to paint the cabinets in this neutral color or the backdrop walls.
Furthermore, choose chrome-finish pull handles to create a contrast!
City Loft in Bedrooms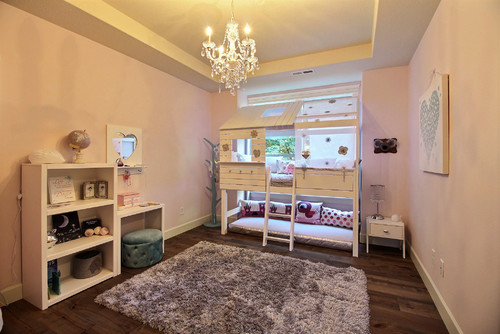 Bedrooms deserve to be calm and soothing!
And City Loft makes a great option in the bedrooms.
If you prefer to paint an accent wall, I recommend choosing the taupe or blue on the bed headboard wall.
You can even paint all the walls in this specific paint color!
And let the upholstery be pretty neutral taupes, blues, blues, or greys.
Using on Exteriors
Sherwin Williams City Loft is a great wall paint color for exteriors as it tends to look even lighter when used on these walls.
You can pair it with darker browns and greys in the trims, moldings, and door and window frames or do vice versa.
You Should Order Samples of City Loft
Let's face it, good paint isn't cheap.
While painting is a relatively inexpensive, good bang-for-your-buck project, picking colors can be hard. You don't want to buy a whole can of something until you know for sure.
So together with the info here, you can literally "see" what this color will look like in your home before you commit.
Getting a peel-and-stick sample from Samplize is the best thing since paint rollers!
If you don't know yet, you can order a 9″ x 14.75″ sample with the real paint color on it.
Stick it on your wall multiple times and in multiple places to find out exactly if the color is for you.
So, how do you want to use this color in your home? If you're not sure, do review some more Greige colors like this from Sherwin-Williams.
Now that you're armed with the lowdown on this one – are you ready to get to painting some rooms in City Loft?
As always, let me know any questions or thoughts by leaving a comment below!