Sherwin Williams Peppercorn is a dark gray tone sharing high similarities with classic charcoal.
It looks almost black but is actually a very dark shade of gray. Surprisingly, this dark neutral is not associated with any undertones!
When implemented in perfect amounts, this gray can exhibit as a great accent for your room interiors.
Let's check it out in all it's wonder!
Sherwin Williams Peppercorn SW 7624 Details and Specifications
This shade of gray is highly popular among homeowners around the world.
Used mostly in high-end residential and custom-designed homes, they tend to add the 'luxurious' factor to any space.
Their minimalistic characteristics make them the number one option to be used in contrast to brighter and lighter hues.
Inclined more towards the cooler side of the scale, this peppercorn shade is also bold and daring!
You might want to think twice before specifying this color – yes, keep a note of that!
But before we jump on to the tips and tricks, let's discuss a few characteristics of the timeless color.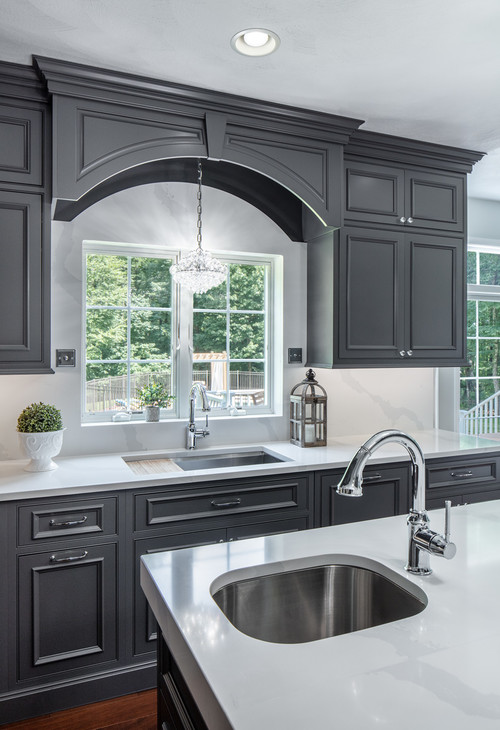 Peppercorn Light Characteristics
Due to this darker tone, the LRV (Light Reflectance Value) is only 10. Not surprising, right?
Designers around the world often tend to ignore this value – but I highly suggest you consider it.
This is especially true when the LRV of a paint color leans to one end of the scale. You want to know based on what your light sources are and how big of space you're painting, among others!
Remember, the higher the LRV value of your paint, the more light it will tend to reflect – thus making your rooms brighter and spacious.
Speaking of understanding the details of the colors, they have RGB values associated with each.
It's more to help the manufacturers differentiate but you can use them too when comparing colors you might be considering for your project.
It is surprising to know that for the color Peppercorn – the Red, Green and Blue values are all 88. It is this combination that makes up a color of course.
Let's look at a few noteworthy examples of how crisply the color has been used.
Lizzy from LizzyDesignsBlog Shows of the interior of an entrance door embellished in elegant Peppercorn
Here, you can see how Cheri from Cheri Quite Contrary used it in her bedroom. Contrasting white elements is oh so nice!
The Effects of Light on Peppercorn
If you start applying Peppercorn on the wall, it will give you a smooth and seamless elegant look.
As a matter of fact, Peppercorn is highly used on exteriors due to the crispness in its finish. Most of the Farmhouse Style and Pole Barn Homes are known to specify this majestic shade.
If you want to see how Peppercorn will look in your unique environment, I highly suggest ordering a peel-and-stick paint sample from Samplize here!
The Light Reflectance Value of 10 proves how minimized this color has to be used, especially in areas with inadequate lighting – as your space might look dull without ample amount of indirect lighting.
And you don't want that!
So, be careful when painting your walls with Peppercorn and only go for it if there is ample space and natural lighting falling in to show off this color.
Bottom line: sufficient light will make it look a much softer and brighter tone.
Isn't it exciting how lighting can play an absolutely important role in changing the hue of your wall paint?
Peppercorn vs Similar Colors
It is very likely that you may confuse this hue with its surrounding shades.
And that's completely normal!
To make it easier for you, I have compiled a few similar shades and their potential characteristics that set them apart – or maybe integrates them as well.

Peppercorn vs Tricorn Black
When looking at the full color swatch, Peppercorn is the color lighter than Tricorn Black with the latter basically the darkest.
Well, they do look different on these swatches. But the main challenge is to define them on your real-time walls.
As I mentioned, lighting does play a major role in your interior spaces.
And here is the biggest example of all – Insufficient lighting may result in your peppercorn looking like Tricorn Black!
Diving deep into the details, Peppercorn is much lighter and brighter with a more gray and softer appearance.
Grab a sample stick-on square of Tricorn Black here to see how the color will look in your space.
Less light will tend to make Peppercorn look more like Tricorn Black – since it's another dark neutral with underlying blue-purple undertones.
From the comparison above, imagine if one of your rooms portrayed this dark of a color. A bit too much, right?
SW Peppercorn vs BM Kendall Charcoal
I really love both of these colors, from the two leading manufacturers.
They both fall under an almost carbon color depending on how you look at them; natural, deep, and strong without looking black.
You can see that Peppercorn is slightly darker but both are considered a dark gray.
What you get with Benjamin Moore "KC" is a slightly warmer version, which in most cases is going to give your space a tad bit of coziness. Check out my full review here!
SW Peppercorn vs BM Almost Black
It's also very common to become confused between Peppercorn and Benjamin Moore's "Almost Black (2120-30) due to their LRV values and similar cool undertones.
I have been asked many times about how to differentiate the two, and frankly, it has been a difficult question as it's hard to distinguish both.
Of course, side-by-side on a screen, you can see enough of a difference between the two. Get each on a wall…good luck!
The one major characteristic is that Almost Black slightly exhibits a lighter blue tone than Peppercorn. (I find this same thing when comparing with Behr Cracked Pepper – another very similar color).
Yes, they both have inclination towards cooler shades but Almost Black is definitely less of a neutral than Peppercorn.
Get a stick-on sample square of Almost Black to test in your home.
Another one worth comparing is Sherwin-Williams Iron Ore (see this one reviewed here) vs Peppercorn. And if you want to check out another
Peppercorn Coordinating Colors
So far if you are liking it and thinking of using this shade, it would absolutely be a bold move to do that.
However, from the Color Specialist and Interior Designer point of view, I highly recommend being careful around choosing your color palette that involves Peppercorn.
If you are going for a cooler side of the palette, specify Peppercorn as the accent.
I would definitely recommend:
Windfresh White (SW 7628)
Willow Tree (SW 7741)
Nebulous White (SW 7063)
These color can play the best neutrals and bases.
On the other hand, it is not really a good option to use this shade with warmer hues – it doesn't complement quite as well!
So for example. for an off-white, go with SW's Snowbound cooler paint color vs the warmer Alabaster white many talk about.
How to Use Peppercorn to Beautify your Space?
Using Peppercorn could be a tricky business!
Its chameleon-like feature tends to change with times of the day. If you are really adamant about using it in a small space, here are a few tips for you to consider.
Where to use SW Peppercorn
The best room you can specify a Peppercorn is the north-facing room. A cool form of light enters these rooms which are more subtle and muted.
A darker hue like Peppercorn will tend to show up even better.
Comparatively, in east, west and south-facing rooms, it is always a better idea to use warmer and lighter colors due to direct sunlight bouncing off these walls constantly throughout the day.
Where else to use the Peppercorn?
Using in Kitchens
Kitchens are the heart of our homes. So why not decorate them well?
A perfect blend of darker hue like Peppercorn with the brighter whites is a good way to balance out your space.
Even so, in the photo below you can see the dark personality of Peppercorn and the contrast it can create in instances where there is a shaded light source.
There are multiple ways that this flabbergasting Peppercorn can play in your kitchen – Backsplash, Cabinet finish and Background wall painting.
You could even use this around the island table and let the color steal glances from your guests!
You can see how well this works over at Living Letter Home
Peppercorn in Bedrooms
Desirable Peppercorn used in a bedroom. In this case, over shiplap in a child's nursery.
This pretty bedroom shows how this color can be used as a focal while creating a welcoming aura!
The contrasts are really worth drooling over!
Check out all the photos over at Emily's blog Table and Hearth. It's beyond beautiful.
Peppercorn Living Rooms
What better than using Peppercorn to highlight the fireplace?
Isn't it?
I just love the look of this living room – daring peppercorn challenging the humble warmer tones on the furniture and decoration.
Peppercorn when used the right way – could lead to wonders happening!
Sarah over at Thrify Decor Chic shows how fireplaces can be a great option to specify the Peppercorn Color
Using in Bathrooms
Peppercorn in the Farmhouse Bathroom
Perfect for a rustic style, do you know why I love the look of this bathroom? Because of its coziness and warmth!
The color perfectly adds character to this little bathroom.
See all of what Bre did to her bathroom as she shares on her blog Rooms for Rent Blog. Stunning stuff!
And why not make-over an tired laundry room? Even a small space can work, and if you have white appliances, all the better!
Lisa over at Bundle and Buns pulls this off nicely, making sure to balance the Peppercorn dark gray color with plenty of white.
Peppercorn on Exteriors
Here's a stunning home, repainted with our featured color.
This color is as beautiful outdoors as it is indoors. The clean and crisp feel of the color seems an inspiration for many homeowners.
Contrasting the stark white decorative moldings with the dark-hued peppercorn is probably the best way to creatively use the shade.
Now that you have a detailed idea about this color, are you enthralled to use it in your next design?
So now that you've learned a bit, how creatively would you use this color in your personal space?
Find out more on Sherwin Williams exterior paint colors in my guide here!
You Should Order Samples of Peppercorn
Let's face it, good paint isn't cheap. While painting is a relatively inexpensive, good bang-for-your-buck project, picking colors can be hard. You don't want to buy a whole can of something until you know for sure.
So together with the info here, you can literally "see" what this color will look like in your home before you commit.
Getting a peel-and-stick sample from Samplize is the best thing since paint rollers!
If you don't know yet, you can order a 12″ x 12″ square sample with the real paint color on it. Stick it on your wall multiple times and in multiple places to find out exactly if the color is for you.
Check it out now at Samplize – they literally have hundreds of SW colors you can order and have delivered!