Sometimes, it's the dark colors that brighten up our lives!
Isn't it?
One such instance is Sherwin Williams Iron Ore that is a pure and very rich, dark gray charcoal paint color that continuously proves its sophistication and elegance over and over again!
It is clean and crisp with apparently no undertones at all!
Oozing utmost luxury in a space, Iron ore is a shade lighter than Sherwin Williams Tricorn Black, Caviar, Black Magic, and Inkwell.
If you are looking for a perfect dark gray neutral with charcoal shade, I must say there is no better option than Sherwin Williams Iron Ore.
I absolutely LOVE the look of Iron Ore on walls.
However, it is one of the dark and most daring colors on my list.
Regardless of the glam and luxe, this color has its own baggage of repercussions and conditions.
You simply can't use it ANYWHERE and HOWEVER, you feel like!
But you need not worry.
I have got your back!
I am going to be sharing some major secrets of using Iron Ore in your homes that will definitely make you go "wow"!
So, are you ready?
Let's get started!
Sherwin Williams Iron Ore SW 7069 Details and Specifications
Each color comes with its own theories and schemes!
If you are new here, let me tell you – there are quite some facts and scientific terms that you would want to acquaint yourself with.
It is important to analyze these values and then determine where, when, and how to use these wall paints!
First and foremost, one of the most important terms that I usually see getting ignored is Light Reflectance Values (LRV)!
Every color has an associated Light Reflectance Value!
For Iron Ore, the LRV is 6!
Which is whopping dark!
Remember, the lower the value, the darker the paint color is!
And vice versa!
This is almost a soft black with dark gray undertones – so, most of the light is absorbed by this color, and little is reflected away – thus, leaving the color to be very dark!
Oh, if you want to just try Iron Ore you easily can with a peel-and-stick sample from Samplize. Order some samples now!
Moving ahead, let's discuss the RGB and HEX Values of the color.
Red = 67
Green = 67
Blue = 65
HEX Value = #434341
I am not going to bore you with these scientific details anymore I promise.
Now, let's talk about the practical aspects of this amazing color.
How Does Iron Ore Feel in a Space?
Iron Ore as a focal point makes your space feel elegant and sophisticated
I must say, DARK and DINGY!
Provided if you don't properly use the color!
Long story short, this color has quite some terms and conditions. When used in accurate amounts, it will never disappoint you.
Due to its low reflectivity, the color may seem very dark in a space.
So, if you want to make a space look smaller, Iron Ore could be your best solution.
It is a NO-NO if you already are struggling in a small space! But if you would still like to use it, try to pair it with lighter tones and make it an accent!
BTW, this color is a great option for creating a focal point!
How Does Light Affect the Color?
Blogger Leanna from Life by Leanna paints one wall in Iron Ore to create a perfect contrast
It is true that light highlights the actual saturation and shade of the color!
The more natural or artificial light entering the home – the brighter your space will be (regardless of the LRV of the wall paint)!
For Iron Ore, most of the color is absorbed meanwhile a little is reflected away!
Thus, making your room feel darker and smaller.
So, even if you don't have ample natural light, try to incorporate artificial lighting to balance out the proportion!
This color may seem medium to dark gray with ample natural light and almost blackish in the absence of light.
Can you relate to where to use this in your home yet?
One way to help find out how this color looks in your home is to buy some temporary wall samples and put them up wherever you want to paint. You can get these easily from Samplize.
What are the Coordinating Colors Sherwin Williams Iron Ore?
Sherwin Williams Iron Ore is a soft black color that is definitely not the truest form of black but may have the potential to look one – only under certain lighting conditions.
And well, it's a given that this paint is quite versatile – which is why it's easier to pair it with other coordinating hues.
To name a few, SW Iron Ore will best complement clean as well as creamy whites, all shades of blues, all shades of greens, pinks, mauves, greiges, beiges, grays, and golden yellows.
In terms of metallic accents, I highly recommend that you consider satin or antique brass, copper, oil-rubbed bronze, and even chrome.
Here are the following two color palette suggestions – monochromatic and coordinating (cool and warm)!
Monochromatic Color Palette
The complementary colors for the monochromatic palette are as follows –
SW 7068 Grizzle Gray
SW 7067 Cityscape
SW 7066 Gray Matters
This monochromatic palette is bold and pretty darn dark! So, remember to add soothing off-whites to break the drama and monotony of the palette.
You can best add metallic tints of satin brass or antique copper to go with this palette!
Contrasting Cool Color Palette
The complementary colors for the contrasting palette are as follows (cool) –
SW 7006 Extra White
SW 9148 Smoky Azurite
SW 6798 Iceberg
This cool-toned palette is where you can have a lot of fun – especially pairing the blues with icy whites and soft blacks.
You can choose from a variety of different shades of blues to add a sense of soothe and weight to the room!
Lastly, pick from satin brass or chrome finishes to go!
Contrasting Warm Color Palette
The complementary colors for the contrasting palette are as follows (warm) –
SW 7008 Alabaster
SW 6108 Latte
SW 9132 Acacia Haze
This warm-toned palette is not only very welcoming and joyous but also EARTHY in its forms.
You can best add textures like rattan, wicker, and cane to add the ultimate warm and soothing character to the room.
Don't hold back from styling with matte black fixtures as well.
Color Combinations – Monochromatic
For monochromes, I highly recommend choosing the following paint colors to create a cohesive look!
Ice Cube SW 6252 – see my full review here
Pure White SW 7005 – see my full review here
Colonnade Gray SW 7641 – see my full review here
These colors will promise a bold and authentic look, for sure!
Here are some of great accessories in this color palette to go with Iron Ore:
Color Combinations – Contrasting Hues
However, if you are looking for a touch of pop in your space and not everything too black, gray, and white, I recommend adding shades of yellow, orange, and red to balance the temperature!
Some of them are –
Toile Red SW 0006
Butter Up SW 6681
Copper Wire SW 7707
Remember to use only one of these accents with the above monochromatic palette!
For the trims and moldings, I recommend choosing Sherwin Williams High Reflecting White!
Sherwin Williams Iron Ore Vs. Similar Colors
This is one of the hardest questions.
There are so many colors that look exactly like Iron Ore that I myself get caught up in confusion most of the time.
Even though they look similar, they still could make up to great alternatives.
Sherwin Williams Peppercorn and Sherwin Williams Urbane Bronze are the closest cousins of Iron Ore!
Iron Ore Vs. Peppercorn
A shade lighter than Iron Ore, Peppercorn has an LRV of 10! (See my Peppercorn review here).
With grey undertones, this color could make for a perfect lighter alternative in your home.
Peppercorn is more like a dark-gray shade that hardly looks black unlike the Iron Ore that frequently tends to look Black!
Screens could be deceiving, so I recommend you buy real-time swatches and samples to experience the actual color differences in natural light.
Order a wall-stick sample of Peppercorn here to help you compare colors in your own space.
Iron Ore Vs. Urbane Bronze
Color of the year, Urbane Bronze has a perfect crisp look that every home craves. (See my full guide on Urbane Bronze here!)
With an LRV of 8, this color too is a lighter shade of Iron Ore!
This color has slightly deep green undertones which can be very well visible in ample light!
Regardless of the design style, it is a given that Urban Bronze will never disappoint you.
Order a wall-stick sample of I.O. here to help you compare these colors in your own space.
Coordinating Decor
This soft black is easy to work with! Whether it's the fabrics, materials, or colors, SW Iron Ore is one color that will not disappoint you!
However, the major task is to first finalize the vibe you're aiming at! Do you crave a warm and welcoming feel or crisp and cool?
Depending upon that, you can best choose the coordinating items as well as hues.
From furniture to decorative accessories and materials – I am going to pick the best ones for you that will perfectly vibe with SW Iron Ore.
Here are the links to the flooring that works well with Iron Ore –
Here are the links to the decorative accents that works well with Iron Ore –
Here are the links to the furniture that works well with Iron Ore –
Where to Use Iron Ore in Your Home?
Whether you have a Farmhouse, Contemporary, Modern, or Glam design style, Iron Ore can definitely make up to it at every level.
But are you wondering where to use it?
Well, I can say ANYWHERE!
As far as you pair it opposite lighter shades and materials – there is no harm in using the color.
Let's discuss how to incorporate Iron Ore in your living spaces.
Iron Ore in Living Rooms
SW Iron Ore is a fabulous recommendation for an accent paint color on the focal walls of your living room.
Whether you have wall paneling, built-in shelves, or a focal fireplace wall – this color will never disappoint you!
It's bound to exhibit a modern and contemporary touch in any space. Isn't that amazing?
Also, if you're afraid of the bold black color, this is one soft black to have an eye on!
You must add a satin brass and crystal chandelier for the ultimate luxe and dramatic look!
Iron Ore on Cabinets
View this post on Instagram
This color is a great recommendation for the cabinets as well – especially for the mudrooms.
You can add a sense of depth with this color and further pair it with satin brass pull handles for a "wow" look.
If you pair it with whites, you'll see SW iron Ore come out as a bold black color – but soft indeed.
If there's a black color to compare with, this color will anyway exhibit a soft appearance.
Iron Ore in Kitchens
Shelby from Farmhouse Living styles her Farmhouse style kitchen using Iron Ore on the island cabinets
There have been quite a few times that I have recommended this paint color on the walls of the kitchen.
If you have an open concept, spacious kitchen – why not?
Paint the cabinets in pure white and use grey or white backsplash alongside white marble to neutralize the looks!
For further accents, you can use gold or brushed steel pull handles and black focal lighting!
Iron Ore in Bedrooms
Katie over at Little House of 4 shows off her incredible bedroom makeover
Like I say, bedrooms are the most personal spaces you have!
If you prefer a charcoal type dark gray paint – go for Iron Ore and pair it opposite golds and whites to receive the best appearance!
You can use distressed style white furniture frames or walnut polished furniture!
To create harmony, make sure your upholstery is white or off-white!
Iron Ore on Exteriors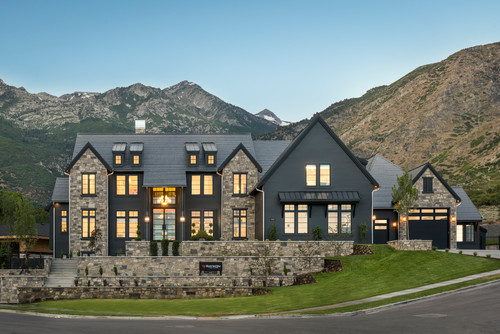 Iron Ore is going to further look lighter in the exterior façade of your home.
Many homeowners up in the north do use the color on their home shiplap walls!
And you too can.
Pair them with white or off-white trims and decorative moldings!
How to Best Sample This Color?
Here's my favorite tip when it comes to testing out a color like Iron Ore – go and order a peel-and-stick sample from Samplize.
These guys figured out a great way to sample colors much more easily. Simply stick it up instead of having to get a small can of actual wet paint.
For a few bucks you get a nice sized square to throw up temporarily anywhere you want to "try" on a paint color and any possible coordinating hues you like. Too cool!
Clean and Sophistication in One
It is timeless so, regardless of the type of stone finish – your makeover projects are going to look FABULOUS!
So, are you excited to paint some Sherwin Williams Iron Ore in your home?
Well, do let me know in the comments below as I would love to hear from you!
FAQs
1. What Is the Undertone of Sherwin Williams Iron Ore?
Sherwin Williams Iron Ore has a deep tinge of green to it – but it's only visible under certain lighting conditions or surrounding landscape criteria.
2. Is SW Iron Ore Black?
SW Iron Ore is definitely a SOFT black paint color. It may also look dark charcoal gray at some points of the day! But it's definitely not too darn black like SW Tricorn Black.
3. Is SW Iron Ore Warm or Cool?
SW Iron Ore has a warm touch to it! The deep warm green undertones make this color a warmer and more welcoming one!