The bold beauty – Sherwin Williams Caviar is a black paint color that is truly the queen of dark colors!
It is beautiful, magnificent, and sophisticated.
But do you know that there are different kinds of blacks?
Well, yes! Even though they all appear similar – they are all different and with varying undertones, bring their own personalities to your decor.
So, if you are looking for a dark shade that is true to its undertones and doesn't really reflect any other paint the one we focus on here is a great option to consider.
This one is a true beauty!
Of course it goes without saying that it is extremely dark – it might even be overwhelming in some conditions.
And that is why you have to be very careful around using blacks in your home.
From challenges to opportunities, it is true that colors like this are timeless and flexible!
So, regardless of the interior design style and the function, black paints can also prove to be one solution for all.
However, at the same time, they require the utmost attention to detail and understanding.
Since it has greater depth and very low reflectivity, it can be tricky when using in weirdly sized rooms and smaller-sized spaces.
But don't worry – in no time, you will be a Caviar expert!
So, let's get on board!
Sherwin Williams Caviar SW 6990 Details and Specifications
Before you pick this bold and fearless paint, there is a definite that you must get acquainted with – mainly, the underlying details, color specifications, and what the color is truly made of.
And these values are what differs a black paint from the other.
So, first and foremost, you must read through the Light Reflectance Values or the LRVs of the paint color.
This value helps in determining how light or dark the paint is. (Remember, the lower the value – the darker the paint is)
Hence, in this case, the LRV of Sherwin Williams Caviar is 3. Only 3!
And that means the color is extremely dark.
Another tip: If you want to easily try out Caviar to see how it will show, you can with a peel-and-stick sample from Samplize. Pick up your samples here!
Secondly, other terms to associate yourself with are the RGB and HEX Values.
Red = 49
Green = 48
Blue = 49
HEX Values = #313031
Now that we are aware of the scientific information – let's get our hands on the practical applications of the paint color.
How Does this Color Feel in a Space?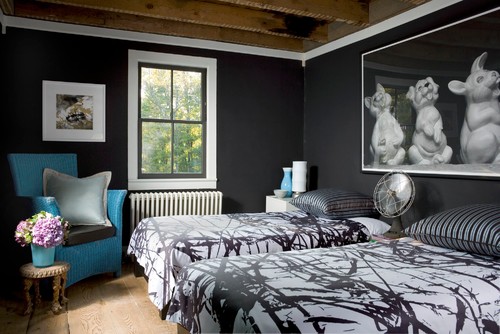 This paint color feels bold, striking, eye-catchy, vivid, and daring when used on the walls.
Symbolic of authenticity, strength, elegance, power, and sophistication – the black paint color adds a sense of daring aura into your home.
Regardless of how sophisticated and rich this color looks – it is bound to make your spaces feel smaller and enclosed by simply pulling the walls inwards.
Nevertheless, one of the major advantages something like SW Caviar offers is that it adds a touch of glamor and royalty to your spaces if used smartly and strategically!
Or else, it might end up creating a suffocated space that no one would like to spend time in. And you wouldn't want that right?
But don't worry! You can even use it in smaller spaces when incorporating it as an accent!
Furthermore, I recommend any and every climate to incorporate this color (that is another reason why I called it 'timeless')
How Does Light Affect the Color?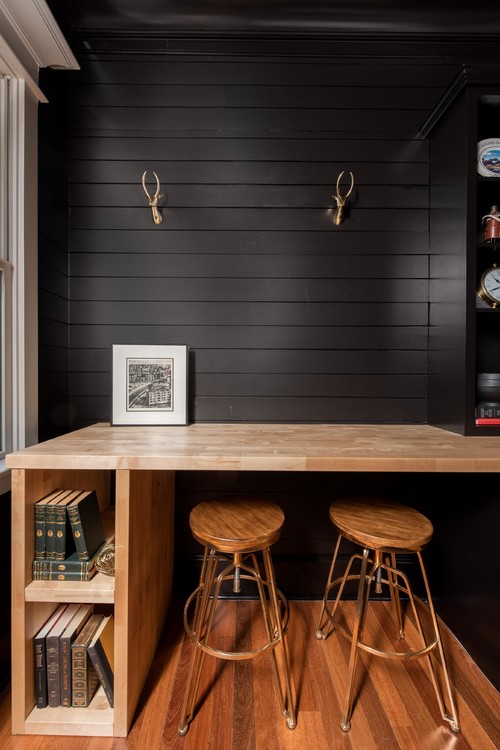 Light somehow doesn't play a major role in this paint color.
Well, the reason is the low reflectivity of the paint. Undoubtedly, if you have ample natural lighting – your room is bound to look slightly larger and lesser suffocating!
And on the other hand, with little to no lighting – expect a dingy and dull space.
But in this case – the color is bound to look darker in every condition and that is why I suggest you understand the scale and size of your room before using this paint.
And just in case if you are not blessed with natural lighting, you can always add touches of artificial lighting in the form of wall sconces, chandeliers, and pendant lights!
If you want to really see how this color will play in your space and with other colors, get some wall samples from Samplize.
What are the Best Coordinating Colors?
Time for some color palette fun!
Incorporating blacks into the color palettes is one of my favorite things to do.
I understand you are wondering how to make the most of SW Caviar in your home, right?
Well, an easy solution – since blacks fit in any time era, you can incorporate it anyhow and everywhere.
Most importantly, these colors should be used as an accent. Mainly, in the window and door frames, furniture frames, and artwork frames.
You can either use it as a contrasting or a monochromatic color palette – depending upon your interior design style!
For a monochromatic theme, consider the following Sherwin Williams paints –
Repose Gray SW 7015 (see more info here!)
Dorian Gray SW 7017
Black Fox SW 7020 (see more about SW Black Fox here)
For a contrasting theme, consider the following Sherwin Williams paints –
Natural Choice SW 7011 (find out more on Natural Choice in my review here)
Rose Colored SW 6303
Billowy Breeze SW 9055
In the case of trims, moldings, and door and window frames – I would recommend using SW Pure White to protrude the true black hue.
Sherwin Williams Caviar Vs Similar Colors
Finding alternatives for black is probably the easiest!
Even though I strongly feel that you shouldn't be looking for similar colors here but let me enlist the two most closely related paints.
One of them is SW 6991 Black Magic and the other is SW 6258 Tricorn Black!
Let's see what differs them all!
Caviar Vs Black Magic
The major difference between the two paints is the undertones!
Clearly, SW Black Magic has deep red undertones that differ from the true black Caviar – although they share the same LRV of 3.
Check out my guide to the SW Black Magic color here!
To learn more about the undertones – I would recommend placing it against the white sheet of paper to determine the true hue.
Try out the looks of these colors in your own home with a some temporary wall samples. You can find them here!
Caviar Vs Tricorn Black
Tricorn Black has an LRV of 3 – similar to that of Caviar and Black Magic.
It is one of the most popular black paint colors that can be perfectly used as accents in your home.
I highly recommend this paint color to my clients who love and enjoy the beauty of rich and dark moods in their homes.
You have to read more about Tricorn Black in my review here.
Order a wall-stick sample of Caviar here to try this color on for size.
Where to Use Caviar in Your Home?
The black beauty – Caviar can be used anywhere in your home as far as the size and perspective are in your favor.
Since it is timeless and flexible, you can incorporate this paint in literally one of the interior design styles – and even Scandinavian design that comprises mostly off-whites and pastels!
But of course, in accents!
So, I would recommend using it in family and living rooms, hallways, bedrooms, bathrooms, kitchens, as well as the exteriors.
Let's discuss how to incorporate this paint color in your home.
Many of these examples will work for other Sherwin-Williams black paints, so just keep that in mind!
Caviar in Living Rooms and Hallways
Caviar makes great accent paint in homes that desire a sleek modern as well as contemporary look.
So, firstly, incorporating this paint in your common spaces as an accent would be an incredible step towards inviting a crisp appearance.
In the living and dining room, you need to first analyze if your space is large enough to accommodate this bold paint.
Once you do, ensure to paint the accent wall in this and pair it with off-white neutrals and bases. Make sure to keep the rest of your surroundings lighter and airier.
In the hallways, I would only recommend this paint as an accent so as to avoid making it look dull and dingy.
In case your hallway is well-lit – don't hold back from using this paint!
Using in Kitchens and Dining Areas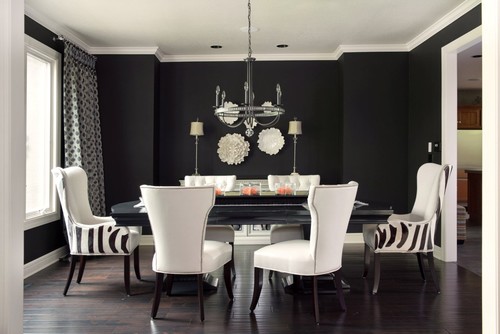 A perfect wow factor!
If your kitchen is spacious and well-lit, make sure to either paint the cabinets in SW Caviar and leave the backdrop wall in creamy base paint or vice versa.
Pair it with brass pull handles and fixtures – and maybe a majestic pendant light over the island table.
Furthermore, add a white marble top and white glossy backsplash tiles to achieve a modern palette.
Lastly, add warmer-toned runners across to further feel welcoming and cozy in your kitchen!
Caviar in Bedrooms
There have been quite some time that I have suggested my clients paint their headboard wall in SW Caviar.
(And of course, after considering the size of the space).
You can pair it with off-whites and grays along with mustard yellows or emerald greens to add a striking effect!
Furthermore, add some fresh indoor plants to feel fresh and wholesome at all times.
Using on Exteriors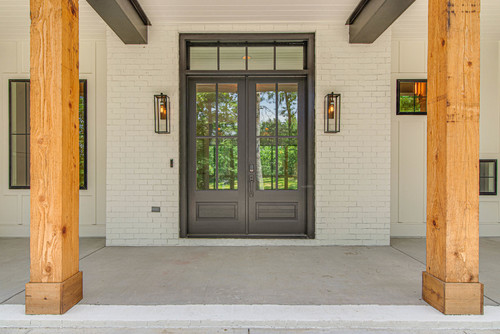 SW Caviar can make a dashing element on the exteriors of your home.
Whether you prefer to paint the walls or the details like door and window frames, trims, and moldings – I can definitely assure the beauty of this paint color in your home.
Use it especially for exterior design styles such as contemporary, mid-century modern, modern, Scandinavian, Victorian, and Craftsman-styled homes.
How to Best Sample This Color?
I need to share my favorite tip for testing out a color like Caviar – go over and order a peel-and-stick sample from Samplize.
These folks are nifty because they figured out a convenient way for us to sample colors way more easily. Just stick up a temporary square sample and forget the small jar of actual wet paint.
For only a few dollars you'll receive a perfect sized square you can stick up temporarily anywhere you want to "try" on a paint color and any possible coordinating hues you like. It's the best!
So, how do you want to use this black paint color in your home? Interiors or Exteriors?
Now that you have all the secrets – are you excited about painting your home in Caviar?
Should there be any questions or thoughts, let us know in the comments below!