Sherwin Williams Black Fox is a perfect black color with extremely rich brown undertones.
Sort of medium black and brown, this color has an extremely elegant touch to it.
With a tinge of warmth, this color promises a cozy and dignified look.
So, if you are not looking for absolute black but still want to attain the beauty and sophistication of it – Black fox could be your solution!
This color has unknown underlying theories and details that you must know before choosing it.
When, where and how to use Black Fox? What should it be paired against? What best complements the color?
Yes, you will have the solutions to them all!
However, remember not to take risks with this color. It could get daunting if you mess it up!
Bold and daring, Black Fox has limits. Yes, I feel sad to say that.
It is not 'free to go' option!
And that is why you need to think and rethink this color.
I am going to spill beans!
Are you excited? Have a look below!
Sherwin Williams Black Fox SW 7020 Details and Specifications
Do you observe that mysterious look behind the color?
Well, yes! The color has a lot to speak to you!
Isn't it interesting how all these colors have their own stories to tell and paint not just walls but our lives as well?
Here comes an important point – before choosing paint, it is crucial to know the basic theories that the color is linked with.
One such important term is LRV or Light Reflectance Value!
For all the newcomers, LRV defines how much light the color reflects (or in short, how light, or dark the color is)!
Well, the LRV of Black Fox is 7!
Woah!
That means the color hardly reflects any light!
It is too dark.
But don't demotivate – you can still use it in your homes!
I mean, that is the sole purpose behind writing this blog, right?
So, before I let out all my recipes, let's first discuss the other associated values.
Red = 79
Green = 72
Blue = 66
HEX Value = #4f4842
By this time, you know Black Fox got a lot for you.
What I like to do is sample Black Fox under different lights where I'm going to use it. I use Samplize stick-on samples. Get some samples now!
You can say – it is either dark grey – soft charcoal/black – or dark brown!
How Does Black Fox Feel in a Space?
Blogger Ayisha from The Pursuit of Handyness remodels her home, showing that Black Fox doesn't look as dark as one would expect.
If your space is not spacious enough – Black Fox will definitely feel congested and dingy!
And that is why I said – this is quite a smart color and you can't afford to just randomly use it!
Due to its low reflectivity, the color appears to be even darker when not exposed to ample light – maybe feels like SW 7048 Urbane Bronze (just so you know UB was declared as the 'Color of the Year' by Sherwin Williams for the year)!
But if you pair it with light and subtle hues – your problem is solved!
However, remember to use it in the right amounts!
Highly recommended for Hollywood Glam Style, this color has absolute magic to it!
The crispness of the color is bound to make your space feel elegant, sophisticated, and timeless!
And also unique!
Since you are not using absolute black or brown – this shade goes much on the exotic side of the scale.
How Does Light Affect the Color?
Designer Carla Aston loves Black Fox to create contrast and accentuate interesting elements in her designs.
Black Fox in north-facing rooms will make your room, even more, darker, and dingier!
So, I highly recommend using this color in rooms with south-facing light or afternoon western light!
Also, make sure to aptly choose the temperature of the light! Too warm might make it look more brown whereas too white can lighten the color.
With natural lighting, the actual color is well protruded out!
If you have a huge space with immense lighting conditions, Black Fox would be a great daring solution!
In a smaller room, you can use Black Fox as an ACCENT wall!
So, you can have the best of BOTH worlds!
I'll have to say again, the absolutely coolest way to check a color like this out in your home is with a wall sample from Samplize.com. Buy yours here.
What are the Coordinating Colors for Sherwin Williams Black Fox?
There are several options for blending this color in a room!
You could either use a monochromatic scheme or a stark contrast to make the most of this color!
For a monochromatic tone, I highly recommend using it only if you have ample space. Since these shades all together will fill up your space!
So, if you are considering this trend, consider using the following Sherwin Williams colors-
SW 7019 Gauntlet Gray
SW 7018 Dovetail
SW 9170 Acier
For trims and moldings, use either SW High Reflectance White or SW Pure White to get the most of Black Fox.
On the other hand, if you are wondering what contrasts would best complement the color, I would recommend pairing up with greens and beiges!
Because it has a warm tinge to it.
SW 7008 Alabaster
SW 6162 Ancient Marble – see my guide here!
SW 6253 Olympus White – see my guide here!
Do you feel confident about using these palettes? I am sure your space will look cohesive!
Sherwin Williams SW 7020 Black Fox Vs. Similar Colors
There are quite a few alternatives for Black Fox.
But I must tell you that there are no two colors alike!
However, if you are looking for options, I have enlisted a few color options that you might want to consider!
Black Fox Vs. SW 7048 Urbane Bronze
2021, the color of the year, Urbane Bronze is highly recommended for Minimalistic and Contemporary styled homes!
With a slight golden-brown touch, this color has deep undertones with an intensive warm touch!
With an LRV of 8, this color is lighter than Urbane Bronze and like other similar colors, it has a crisp and clean touch to it!
To see how these look in your home, get some large square samples and try on your walls with different lighting sources.
Learn more about Urbane Bronze in my article here!
Black Fox Vs. Sealskin
Another alternative to Black Fox, SW Sealskin has rich brown undertones with a slight crispness.
With an LRV of 6, the color has almost similar scaled darkness.
This color is highly recommended but not quite popular in the industry.
Definitely check out my article covering the SW Black collection if you want to consider other similar colors
Try out the looks of these colors in your own home with a some temporary wall samples. You can find them here!
Where to Use Sherwin Williams Black Fox in Homes?
I understand you might be very excited to use this color in your homes. And here I have a few tips on how to use it!
But you have to be very careful while using it in your homes!
After all, you don't want to mess it up!
With a perfect number of bases and accents, you can let this color shine even further!
Long story short, you can use this color ANYWHERE you feel like!
Even the bathrooms and exteriors!
Just Kidding.
Don't use Black Fox in the bathrooms if you don't have enough space!
This color has a perfect luxurious touch to it – so all the mansion and bungalow owners – why not try Black Fox in your homes?
Black Fox in Living Room
You can create bold and daring living areas that bring an authentic touch to the space:
Absolutely yes!
Try to balance the colors by adding subtle off-white bases and accent greens to glorify the look.
Around the fireplace, you could use white marble stone or exposed brick painted in white to create a focal point.
Whereas, add light furnishings and some patterns through throw pillows and armchairs!
Also, I would highly recommend adding floating shelves in case of farmhouse styled homes.
Black Fox in Kitchen
Transitional and Classic, kitchen cabinets embellished in Black Fox define utmost sophistication as seen in the photo below:
I personally love kitchens embellished in this warm black paint color.
If you have an open space plan, this color wouldn't be a bad option.
You can pair it with white countertops, gold or rose-gold tinted pull handles and white glossy backsplash!
Marble and Granite white countertops would best complement your BLACK FOX kitchen.
Black Fox in Bedrooms
Sherwin Williams Black Fox as an accent wall in the bedroom
Bedrooms are the most personalized spaces in your homes.
It demands to be soothing, comfortable, and cozy!
If you are planning to use Black Fox, use white or grey upholstery and white bed frames to balance the look.
Add as an accent, you can use golden or silver tints.
Black Fox in Exteriors
This remodeled home showcases Sherwin Williams Black Fox in trims and moldings
Black Fox in the exteriors is simply WOW!
Pair it with concrete tiles, natural stone, and white door and window frames for a perfect timeless look!
You could also use it either way round.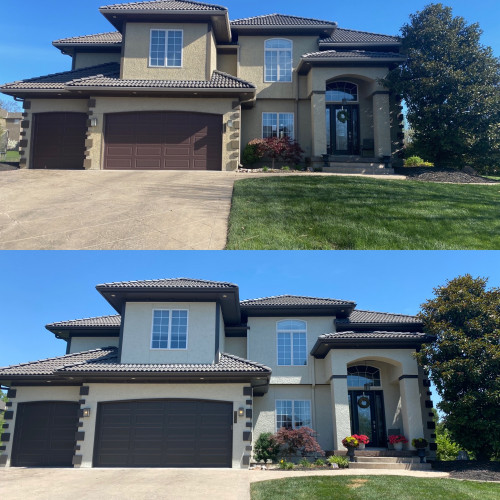 Due to its ultra-bold look, your exteriors will look charismatic! Like I always say, the color seems even lighter when exposed to excessive natural lighting.
How to Best Sample This Color?
I need to share my favorite tip for testing out a color like Black Fox – go over and order a peel-and-stick sample from Samplize.
These folks are nifty because they figured out a convenient way for us to sample colors way more easily. Just stick up a temporary square sample and forget the small jar of actual wet paint.
For only a few dollars you'll receive a perfect sized square you can stick up temporarily anywhere you want to ""try"" on a paint color and any possible coordinating hues you like. It's the best!
Bottom line, this dark color is definitely worth a try! So, are you excited to use this color in your home?
Let us know in the comments below about your experiences with MAJESTIC Black Fox!