If you are planning to specify SW Ancient Marble for your next design project, this article will be extremely helpful for you. I have some exciting color details to share that you would absolutely want to know about.
Excited already? Well, I am too!
When we design a space, and it's time to decide upon a cooler-hued color palette, the first colors that pop to mind are blues and greens.
And it's true, hues in these colors do provide us some pretty cool cool colors!
But what happens is an inevitable dilemma of choosing the perfect cool-colored hue.
Should it be green or blue? And within these, light-toned or dark-toned?
If you're here, you might be narrowing your choice down to a green. Whew, we got that far. And, if you love plants and love elements associated with biophilia and more natural-toned colors, green is possibly the best option for you.
Greens of all tints and shades are soothing, smooth and happen to unintentionally tranquilize your mind.
And when you talk about serenity, the Sherwin-Williams Ancient Marble color is one of the leaders in the game.
The subtleness of the color is highly preached by designers and homeowners around the world, and its easy to why when you look at all the possibilities this color offers.
You'll find this one in: Residential, Cultural, Spas, Hotels, Healthcare and many more applications.
There are various advantages that this color plays to – but before that, let's jump in to some basic color details and specifications.
Sherwin Williams Ancient Marble SW 6162 – Details and Specifications
Painted on a wall with natural light. You can see the effects of light here.
Ancient Marble comes from Sherwin-Williams' 2016 Pura Vida color collection. It has been widely popular ever since.
Falling on the lighter end of the color wheel, the Light Reflectance Value (LRV) of this green is 60. This makes this green especially great for smaller spaces.
If you're not quite sure how this color will work in your home, you should definitely try it on for size by ordering a peel-and-stick sample from Samplize.
Ancient Marble is ideal for smaller apartments and tiny lofts – an amazing space-enhancing trick!
This color holds a hint of green without any blue undertones. Because of this, this paint color can also be counted as a subtle neutral.
Diving further into the details, the RGB and HEX Values are as follows.
R (Red) = 209, G (Green) = 204, B (Blue) = 185
HEX Values = #d1ccb9
Effects of Light on Ancient Marble
Laurel from SoPo Cottage shares her journey with this paint color. The sample on the right is Ancient Marble
Choosing a perfect color for your prized space can be a daunting task.
I highly recommend considering the size of your rooms, the compass directions for sunlight considerations, the size of the windows, and the function of that space.
You wouldn't want to be stuck in a darker-hued room with smaller windows with limited to no sunlight.
Despite that not being an attractive sounding space, we all have at least one spot in the house like this.
Ancient Marble would be fine here but with an LRV of 60, it's right at about the limit. You wouldn't want to go any darker.
Alternatively, a huge room with massive windows and plenty of sunlight gives you various dark-shaded color options to make the space feel cozier and smaller.
This paint color would work well painted in areas like this as well.
Chas over at A Woman's Haven, used Ancient Marble on her living room. It's clearly the best part of the room!
Once you apply Ancient Marble on a wall, you'll see the magic for yourself – the crispness adds what I'd call a bit of a "glam" factor.
But only in the sense of it making it feel like a high-end place like spa resort or natural history museum. We're not talking loud "glam" here.
It is important to know that a color may appear to seem different in the day and night. And the same is the case for Ancient Marble.
Daylight offers brightness and makes your walls painted in this color come alive. At night time, darker light sources make your Ancient Marble walls smoother and darker.
So, remember to use appropriate artificial lighting – wall scones and pendant lighting to further enhance the color and celebrate the beauty it brings.
One way to help find out how this color looks in your home is to buy some temporary wall samples and put them up wherever you want to paint. You can get these easily from Samplize.
Beautiful Ancient Marble on the walls of a Renovated Home – As shared from Heather at Objective: Home.
Ancient Marble Vs. Similar Colors
I understand it might get really confusing when choosing Ancient Marble from its similar-looking counterparts.
However, don't let the guard down!
With the right amount of information and details, you will be able to easily classify the colors and their specifications for your home.
One such sample that I get asked most of the times is the difference between Sherwin Williams Ancient Marble and Simple Stone (SW 9521).
SW Ancient Marble Vs. SW Simple Stone
Wow, these are pretty close right?
Frankly, I too get confused between these two! Their similarity majorly lays in undertones – but you know what makes them different?
The brightness levels!
Simple Stone has an LRV of 57 which is lesser than Ancient Marble that is 60. Even though it doesn't differ much in numbers, but with ample lighting – it really will look different!
I highly recommend you order the color swatches and compare the two colors. You will see the magic for yourself!
To see how these look in your home, get some large square samples and try on your walls with different lighting sources.
SW Ancient Marble Vs. Sedate Gray
Moving on to the next, Sedate Gray (SW 6169) is another competitor in the line.
As the name suggests, Sedate Gray is more inclined towards the neutrals with gray highlights.
Hence, it is a cool neutral!
Even though it highly reflects the green tone, the color somehow seems to look neutral when embellished on walls.
Sharing a similar Light Reflectance Value of 60, you might not have to worry about the particular brightness values. Instead, focus on the functions and uses.
Yes, I understand they look the same and that's why I suggest visiting the nearest Sherwin Williams Store to have a real-time look.
However, there is a singular similarity that both the hues share – utter sophistication and elegance.
To truly experience and compare these colors in real-time be sure to buy some stick-on samples and test them in your home.
What are the Coordinating Colors for SW Ancient Marble?
Now if you plan to use this timeless shade, it is important to understand the colors that best complement it.
All cool neutrals with a warm accent are what we are looking for here.
Whites and Off-whites are the best to go! I highly recommend using Dover White (SW 6385) for trims, Nonchalant White (SW 6161) as a base and Sun-Bleached Ochre (SW 9011) as the accents.
If you want a bold and bespoke look – add darker tones like Eclipse (SW 6166) as an accent to create a monochromatic feel.
Say a big no to other cooler hues like midnight blues and charcoals!
Where Should You Use this Color?
The crispness and smoothness of Ancient Stone give us ample reasons to use this color.
I highly recommend using this shade on all the walls if you plan to use it in a room. It has stylish seamlessness that makes your room classier.
Whitetail (SW 7103) and Dover White (SW 6385) is a great option to be used in the trims and moldings.
It complements well with the Ancient Marble!
This elegant color makes a flexible way through your bedrooms, dining areas, family rooms, kitchens and even hallways!
Don't believe it?
Yes, the variety of applications are simply unimaginable.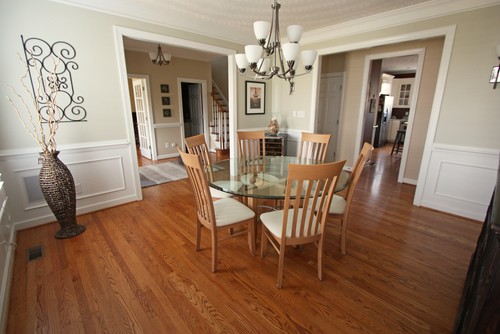 You could paint your indoor doors and even exterior facades with Ancient Marble without any disappointment.
This color has a soothing effect that tends to play a positive role in the interiors of your home.
With a fresh wholesome vibe and utter tranquility, greens have proved to play with humans' minds – in a positive manner, of course!
Little Cottage that Could shows how Ancient Marble on the façade creates a Vintage Look!
Best Way to Try Out This Color?

I have to share one of my favorite tips when testing out colors like Ancient Marble – go and order a peel-and-stick sample from Samplize.

This company has an amazing way to sample colors super conveniently with real paint.

Simply stick up a temporary square sample of it and avoid the whole paint and roller mess (at least until you're ready!).

For a small amount of money you get a giant "sticker" you can place up in the space you're painting. You can also try out coordinating colors as well. It's great!
And the results have always been great – with people more satisfied with their lives, leading a happy and healthy life!
Greens have that magic to it – and you wouldn't know until you see it!