Most of the people reading this blog post are already a big fan of the evergreen and timeless beauty of the black paint color.
And not just for our homes – but also it comes to fashion, design, our cars, etc. – black yet again proves to be one of the most liked colors by everyone.
So, if you are looking for a true black paint color – let me introduce you to the next definition of timelessness and sophistication – Sherwin Williams Black magic.
As compared to SW Tricorn Black and SW Caviar – this paint color slightly feels warmer and more inclined towards the reds.
Hence, being such a dark paint color – it has its own advantages and disadvantages.
SW Black Magic feels bold and crisp in the presence of natural light, as you can see in the shot above.
I am not sure about the disadvantages but there is definitely a given that you have to be very careful around using this daring paint color in your homes.
And don't worry!
I am going to help you figure out how, when, and where to use this paint color.
But before I jump on to the details – let's first discuss about some of the major terminologies linked with each paint color.
In no time – you'll be able to decide if you want to use this paint color or not!
Sherwin Williams Black Magic SW 6991 Details and Specifications
Every color has a unique story to tell.
Even though you see plenty of blues and greens that are claimed to look alike – are somehow different when experimented with for real.
Hence, I highly recommend you deeply study the backlogs and underlying theories of the paint color before using it in your homes.
It is quite a possibility that you are attracted to some color which would make a mess in your home!
So, first and foremost, take a look at the back of the paint swatch to know the LRV or the Light Reflectance Value.
This value helps in determining how light or dark the paint color is.
In this case, SW Black Magic has an LRV of 3 – and that means that this color is way too dark!
Because paint colors can change in different environments, I recommend you also just try Black Magic out at home with a peel-and-stick sample from Samplize. Order some samples now!
Secondly, other terms to associate yourself with are the RGB and HEX Values.
Red = 50
Green = 49
Blue = 50
HEX Values = #323132
Now that we are aware of the scientific information – let's get hands on the practical applications of the paint color.
How Does this Color Feel in a Space?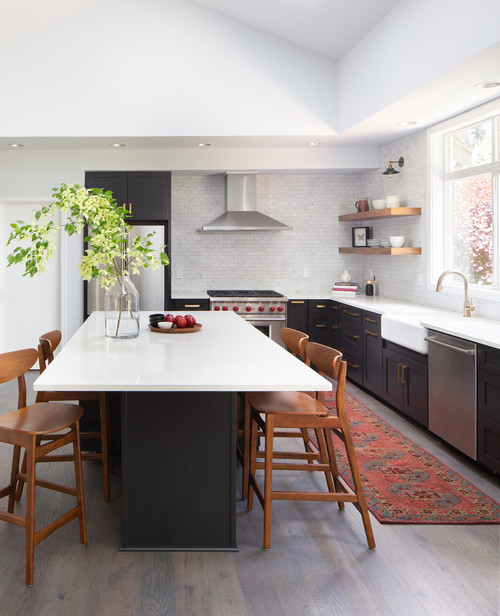 Black Magic when amalgamated with whites create a perfect balanced backdrop
Regardless of how sophisticated and rich this color looks – it is bound to make your spaces feel smaller and enclosed.
Nevertheless, black adds a touch of glamor and royalty to your spaces if used smartly and strategically!
Or else, it might end up creating a suffocated space that no one would like to spend time in.
Secondly, I would highly recommend homes in any climate to incorporate this color as it is simply timeless and has little to do with the climates.
So, if you are struggling with a small and congested space – I wouldn't recommend using this paint color unless you use it in very small amounts.
For example – painting just an accent wall in Black Magic would bring the best of both worlds.
How Does Light Affect the Color?
Have a look at the entry porch door painted in SW Black Magic
Well, light doesn't have a major role to play here!
Unlike other paint colors that tend to change the brightness – this color solely seems black in all the natural conditions – whether there is ample daylight or no daylight!
However, your space is quite likely to feel bigger and brighter in ample lighting conditions. So, here is another piece of advice – use this paint color if you have ample natural light falling in the room. Else, negate it!
The other consideration is the artificial lighting – you have to be careful around the light bulbs you use – since they too create a specific aura in your room.
As I mentioned before, you can try out this color with real paint, (but without the mess) using stick-on samples from Samplize.
What are the Best Coordinating Colors?
Time for some fun!
Incorporating blacks into the color palettes is one of my favorite things to do. I understand you are wondering how to make the most of this paint color in your homes, right?
Well, keep a note – black is a great match and contrast for each and every color!
Whether you are looking to add reds, yellows, blues, greys, or the matter of fact – any color on this planet – it will all look flabbergasting with this paint.
But the only thing you have to consider is the amount you want to use this paint color in.
Let's discuss two major color schemes that you can consider while painting your home – contrasting and monochromatic.
For a monochromatic theme, consider the following paints –
Dorian Gray SW 7017
Dovetail SW 7018
For a contrasting theme, consider the following paints –
Reflection SW 7661
Travertine SW 7722
Golden Gate SW 7679
In the case of trims, moldings, and door and window frames – I would recommend using SW Pure White to protrude the true hue.
Sherwin Williams Black Magic Vs Similar Colors
If you are looking for an alternative for Black Magic – I would recommend the following two paint colors – SW 6990 Caviar and SW 6258 Tricorn Black.
Black Magic Vs Caviar
Sharing the similar LRV's, Caviar looks pretty much like BM.
Unlike its counterpart that has deep red undertones – caviar can be described as a true black paint color with no specific neutrals. Learn more in my SW Caviar guide here.
To investigate the undertones more, I would recommend placing it against the white sheet of paper to determine the true hue.
Order a wall-stick sample of Black Magic here to help you better compare these colors in your own house.
Black Magic Vs Tricorn Black
Tricorn Black has an LRV of 3 – similar to that of BM.
It is one of the most popular paint colors (see my Tricorn Black rundown here) and makes a perfect alternative to black magic. Highly recommend this paint color to my clients who love and enjoy the beauty of black in their homes.
Also, don't forget about buying real-time samples to determine the tonality of the paint in your home's lighting. Pick samples up from here.
Where to Use Black Magic in Homes?
SW Black Magic painted on the cabinets look sleek and modern as illustrated above.
Even though BM is not an easy color to work with – you can still make the most by using it strategically.
For interior design styles like Contemporary, Modern, Scandinavian, Minimalistic, and Mid-Century – this color is definitely a good to go!
So, I would recommend using it in family and living rooms, hallways, bedrooms, bathrooms, kitchens, as well as the exteriors.
Let's discuss how to incorporate these paint colors in your home.
Black Magic in Living Rooms and Hallways
I wouldn't recommend painting all the walls in BM – instead, painting just an accent wall in this color.
If you have a fireplace in your living room – paint the accent wall in this specific color and clad the fireplace surroundings with either white marble or exposed, white-painted bricks.
It is a plus point if you have hardwood floorings – else wall-to-wall carpeting wouldn't be a bad option too.
Using in Kitchens
Have a look at this transitional style kitchen painted in SW Black Magic
If you are dreaming of a luxurious and magnificent kitchen – embellishing it in black would be a remarkable way to attain utmost luxe in the kitchens.
Along with painting your cabinets in BM, make sure to paint the wall in the stark white, white glossy backsplash, and black or white marble countertops with veins.
Moreover, to add an accent – you can use gold-tinted pull drawer handles to add that detail to your kitchen.
Black Magic in Bedrooms and Bathrooms
Black magic perfectly tints with gold framed mirror and stark white panels
I would recommend painting an accent wall or the wall with the headboard in Black Magic paint (BTW I too have this color in my bedroom)!
And I absolutely LOVE it!
This would create a perfect dark and daring atmosphere – and meanwhile, you can always have grey bases and accents to neutralize the looks.
Remember to use lighter-shaded upholstery and gold or rose gold-tinted details.
Using on Exteriors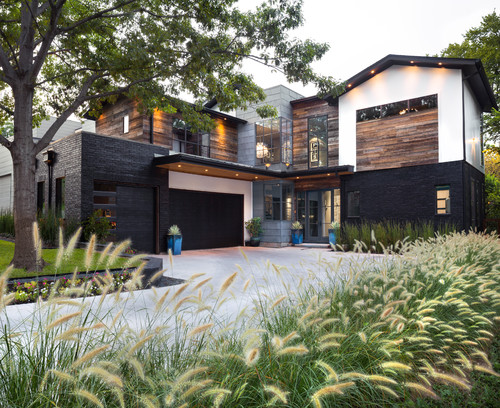 This industrial style modern home exhibits the use of this dark color on your exteriors.
SW Black Magic can be played pretty well on the exteriors of your home. Whether you prefer to paint the walls or the details like door and window frames, trims, and moldings – I can definitely assure the beauty of this paint color in your homes.
Furthermore, you can also add some natural stone as cladding to add character to your home exteriors.
I Recommend Sampling Black Magic!
If you're on the fence and need a bit of convincing, try this color on for size by ordering a peel-and-stick sample from Samplize.
These are my favorite way to test colors in a space and to see how they work with other coordinating colors.
It doesn't cost all that much, and you can temporarily place these handy 12″ x 12″ squares that are true to color around your house. I love them!
So, are you excited about some Black Magic fun? Do let me know your thoughts in the comments below!