Justifying the name of the color, Sherwin Williams Ice Cube is a cool, icy off-white with gray undertones.
It's pure, crisp, and quite clean – and that absolutely lets this color bring refreshing and chilling vibes.
Of course, there is a wide array of cool whites and cool grays on the palette – but you know what makes this color so unique and indifferent?
Well, it's that this paint color offers the best of both worlds.
First and foremost, it makes your space feel larger while also exhibiting that crisp and cool texture.
If you're looking for a paint that feels gray but falls on the very lighter end of the scale without being a white – you can definitely incorporate this.
Apart from that, this color will always offer the advantage of neutrals as well as bases!
However, not so much for the trims and moldings! But for some bold color palettes, you can use this color on your door and window frames.
So, are you looking forward to introducing a tinge of SW Ice Cube in your home?
Well, this color review will help you understand what the color truly is and most importantly if you should splash it in your home or not.
So, let's get started!
Sherwin Williams Ice Cube SW 6252 Details and Specifications
You're quite likely to find a couple of other grays, cool whites, lighter grays, and even true whites and grays.
But do you know what differs between all of them?
Well, the only way to differentiate between those categories is the details and specifications.
Well, most of the homeowners end up ignoring these values – but, I must tell you that you shouldn't!
So, first and foremost, let me introduce you to the concept of Light Reflectance Values or the LRV's that determine how light or dark the paint color is.
You can easily find that value at the back of the Sherwin Williams paint swatch or even the website!
Here, in this case, the LRV of Sherwin Williams Ice Cube is 77.
And that means it is quite lighter in tone – so, you can definitely use it as bases and neutrals.
(Remember, greater the value, lighter the paint)
Secondly, other important associated terms are the RGB and the HEX Values.
Red = 227
Green = 228
Blue = 225
HEX Value = #e3e4e1
Now that is enough with the technical and scientific information, let's get started with the practical aspects of this cool gray Sherwin Williams paint.
How Does This Color Feel in Space?
Sherwin Williams Ice Cube has the potential to make your space feel chilly, crispy, industrial-like, and fresh.
Of course, due to the deep-rooted gray undertones, your space is bound to feel more refreshing and delighted!
I recommend using this paint color as neutral or base!
So, you can paint all the walls in this specific paint color or even pair it with some specific bold tones to create a contrasting match.
Furthermore, keep a note that you can best use this paint in either west or south-facing rooms.
Also, depending upon the functionality of that particular room – since you wouldn't want to feel chilly in the south-facing room when you clearly use the room during late evenings!
I really wouldn't recommend this paint on the north-facing walls as it will somehow add to the cool and crisp feel.
How Does Light Affect the Color?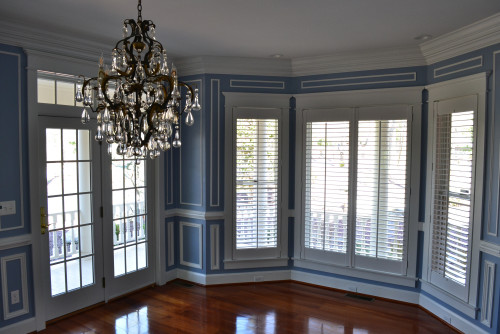 Light or no light – this paint wouldn't be affected a lot!
However, if you still have ample incoming natural light – this paint will truly do wonders!
Firstly, it will make your space look larger and spacious than it already is. And secondly, it will tend to add warmer vibes to contradict the cool undertones.
However, you also have the opportunity to play with artificial light here.
Considering the cool undertones, I recommend using warmer or cooler yellow saturation light!
What are the Best Coordinating Colors?
Now comes one of the best topics to talk about – color palettes and color schemes!
Since you are now planning to use this paint color in your home – I must tell you, choosing a cohesive color palette is important.
(If you don't want your space to look too overwhelmed or dull)
So, you could either amalgamate colors of the same family to create a monochromatic palette or choose a fun-loving contrasting color palette that creates a sense of depth in your space.
For a cool-toned, light paint color like Sherwin Williams Ice Cube, you can best pair it with darker grays, blues, emerald greens, accent yellows, and tan browns.
Talking about materials, you can absolutely use glass, leather, metals, wood, and natural textures like rattan, cane, and wicker!
Firstly, I am going to enlist paint colors to be used for a monochromatic palette.
SW 6253 Olympus White – see my full review here
SW 6254 Lazy Gray
SW 6255 Morning Fog – see my full review here
You can definitely mix and blend all of them through paint colors, decorative accents, and upholstery!
Secondly, I am going to enlist paint colors to be used for a contrasting palette.
SW 6254 Lazy Gray – see my full review here
SW 9128 Green Onyx
SW 9110 Malabar
In the case of ceilings, trims, and moldings – I would recommend using SW Pure White and SW Extra White to further protrude this color!
SW Ice Cube Vs Similar Colors
Finding alternatives is not a very tricky business when it comes to cool grays and cool whites.
There are a couple of examples but you must know that they may still either differ in undertones or reflectivity.
So, the two colors closely related are SW 7083 Nebulous White and SW 7656 Rhinestone.
Let's see how they differ!
Ice Cube Vs Nebulous White
SW Nebulous White is closely related to Ice Cube – but the only difference is the undertones.
The latter will feel more muted and darker – with an LRV of 74.
However, you can still use this paint as a base or even neutrals.
Ice Cube Vs Rhinestone
Undoubtedly, SW Rhinestone will feel more bluish than grays!
It is another soothing paint from the Off-White collection that can be used as a base to make your space feel brighter and spacious.
Check out my full review on SW Rhinestone here.
It has an LRV of 74 – thus good to go!
Where to Use Ice Cube?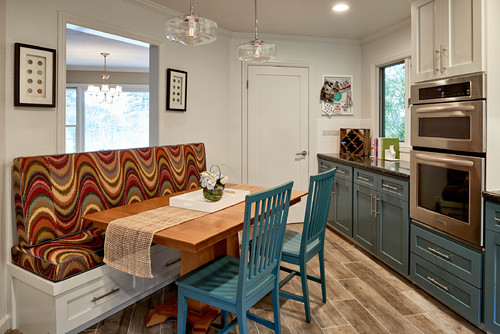 Sherwin Williams Ice Cube is a great statement for homes, home offices, corporate offices, and even cafes and restaurants.
And if you are craving for a style that is cool and crisp – well, something like Industrial, Modern, and Rustic is good to go with this paint.
Let's discuss how to incorporate this paint color in your home!
Ice Cube in Living and Dining Rooms
If you like everything exposed – this cool-toned paint color is quite good to go!
You can pair it with bold paint as an accent – like SW Cyberspace or SW Urbane Bronze.
Furthermore, you can always use matte black metals, metal-framed furniture, and gray or black linen upholstery, and ample walnut-toned wooden textures.
In the end, you can use true white paint on the trims, wall and door frames, and moldings to feel the true gray paint!
Using in Bedrooms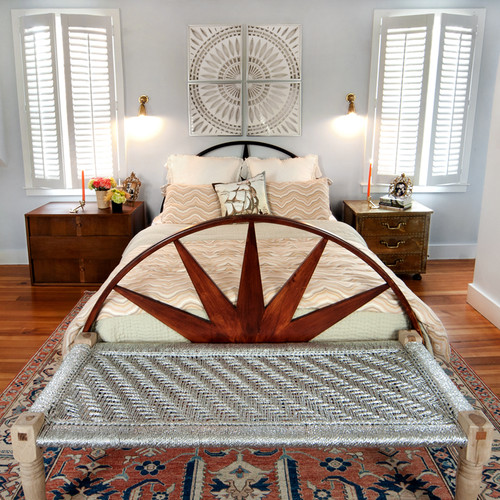 If you really prefer a vibe that is cool and crisp in your bedroom – you can use this color!
Although, I generally recommend a warmer vibe in these personal spaces but you can always play with contrast here!
Choosing cooler paint on the walls might not completely make the room look uninviting. Trust me, there are some tricks involved too.
You can always add wooden laminated tiles or planks to cope up with the vibe. Furthermore, adding warmer white linen upholstery on bed covers, rugs, and curtains is the way through.
Ice Cube in Kitchens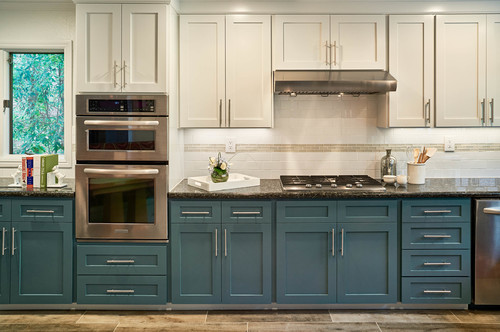 Let your cabinets shine bright in SW Ice Cube.
If you have a large and spacious kitchen – using this paint color is definitely good to go!
On the other hand, you can pair it with a gray backdrop, black or brown granite or marble countertop, and chrome or nickel finish fixtures, drawers, and pull handles!
This color is quite good to go for pine or wooden cabinets as well.
Using on Exteriors
One of the most common – SW Ice Cube can definitely be used on the exteriors!
Even though it will tend to wash out its hue with the amount of existing natural light – it will never disappoint you.
You need to assure pairing it with darker shades to create a cohesive yet attractive exterior color palette.
So, keep in mind to use blues, wooden textures, whites, and darker greys!
But a plus point is that you can use any shade of stone if you are planning to use it!
So, how do you want to use this color in your homes? Interiors or Exteriors?
Now that you've gone on this journey with me – are you excited about painting your home with Ice Cube?
Should there be any questions or thoughts, let us know in the comments below!