Let's face it – a lot of us are scared to use a dark paint color in our homes…
Well, the obvious reason is the daring and dramatic look of the paint could backfire. Then what?
On the flip side of this intimidating conundrum – the charisma and energy that the RIGHT deep color brings can absolutely priceless and timeless.
Sherwin Williams Inkwell can be that right color, and we're going to cover just how it can be!
And since this paint isn't as dark as SW Tricorn Black or SW Caviar – it holds a major advantage in finding that balance between being a bit less dramatic and equally stunning.
This color is a deep and dark blue-black hue that creates a moody atmosphere and an absolute crisp and modern appearance.
It's not a true black and neither a navy or midnight blue – rather, an amalgamation of two. Cool, right?
Don't worry – it's not going to overwhelm or intimidate your space as long as you create a cohesive and complimentary palette!
Wondering how to do that?
Well, this color review will help you in making informed decisions and a flawless palette.
So, let's get started!
Sherwin Williams Inkwell SW 6992 Details and Specifications
This particular tone of blue and black holds quite a few details and specifications.
If you are new here, let me tell you – there are quite some facts and scientific terms that you would want to acquaint yourself with. (Before choosing a paint color for your home)
It's important to analyze these values and then determine where, when, and how to use these paints!
So, first and foremost, one of the most important terms that I usually observe getting ignored is Light Reflectance Values (LRV)!
Every color has an associated Light Reflectance Value!
For Sherwin Williams Inkwell, the LRV is 4!
Which falls on the darker end of the scale – and somehow extremely dark.
Remember, the lesser the value, the darker the paint color is!
Oh, if you want to just try Inkwell so you'll know just how it'll look, you can easily with a peel-and-stick sample from Samplize. Order some samples now!
And vice versa!
Moving ahead, let's discuss the RGB and HEX Values of the color.
Red = 49
Green = 54
Blue = 58
HEX Value = #31363a
Now that I am concluding, I promise not to bore you with these scientific details anymore.
Let's talk about the practical aspects of this popular blue-black paint color.
How Does This Color Feel in Space?
Sherwin Williams Inkwell is bound to make your space feel crisp and modern while bringing the walls closer to create an illusion of a smaller space.
So, if you're looking to add a statement of drama and luxury – this blue-black paint color is a great way to do that.
And since it's not straightforward black – you are also infusing a touch of creativity and distinctiveness to the space.
Moreover, it holds another advantage! Yes, you can simply use this color for any climate without any restrictions.
But don't ignore the utmost beauty and crispness this color brings to your home.
How Does Light Affect the Color?
Light – whether natural or artificial has a major role to play with this paint color.
And since this paint is associated with low reflectivity, you must ensure to allow ample light to seep in.
That will not only create a lively and homely experience but also make your room look inviting, energetic, and well-lit.
Try avoiding this paint in a room that doesn't receive any light – since the room will further feel dark and dingy.
Furthermore, consider using the paint in east, north, west, or south-facing rooms – since it will neither feel too cool nor too warm.
Lastly, you can always play with artificial light in the form of pendant lights and wall sconces to create a desired ambiance in the room.
To truly see what your home's environment and lighting will do here, try out a peel and stick real paint sample. It takes out the guess work!
What are the Best Coordinating Colors?
Creating color palettes can be quite a fun task to do. (I absolutely love it)
So, it's crucial for you to choose the best complementary colors in order to define a palette that looks eye-catchy, refined, and cohesive.
Blue-black, in general, can best complement whites (cooler bases), lighter grays, taupe, mauves, lighter sage greens, and warmer and deep beiges.
And other than that, you have a wide plethora of color opportunities and options to pair with! (You can be as creative as you want)
However, you have to be careful as to what vibe you need in your space for a perfect color combination.
So, I am going to enlist the two most popular color schemes here – monochromatic and contrasting.
Monochromes are generally great for modern and contemporary setbacks.
On the other hand, Eclectic, Mid-Century Modern, and Farmhouse play well with contrasts.
So, here are a few of the colors I would recommend for a monochromatic palette!
On the other hand, here are a few of the colors I would recommend for a contrasting color palette!
For your ceilings, trims, and moldings – SW Extra White or SW Pure White will help protrude a true hue of SW Inkwell.
SW Inkwell Vs Similar Colors
Although you must know that even though these following colors look similar, they might still differ in the undertones or reflectivity!
So, one of the closely related colors is SW 6993 Black of Night and BM 2127-20 Black Ink!
Let's see how all of them differ.
Inkwell Vs Black of Night
Sherwin Williams Black of Night is comparatively a darker tone that exhibits intimidating and daring appearances like many of the SW Black paints.
It has a slight navy blue in it – which can be quite dominating when the room is exposed to excessive natural light.
Secondly, it holds the same LRV of 4 – thus, is equally dark and bold.
You can best pair this dark color with mauve, shades of green, and crisp whites.
Order wall-stick samples of these two colors to help you compare colors in your own space.
Inkwell Vs Black Ink
Benjamin Moore Black Ink is a bold and saturated black paint color with an LRV of 3.73 – making it one of the darkest of them all.
When observed closely, this paint has the dominant gray and blue undertones that can make a great subtle appearance.
Furthermore, you can choose to pair this paint color with tones of light gray, white, pinks, mustard, or taupes.
Do yourself a favor and grab some stick-on samples of these two colors and see what looks best in your home.
Where to Use Inkwell?
Sherwin Williams Inkwell can be used as an accent on the featured walls, kitchen cabinets, exterior walls, door and window frames, and furniture frames.
Especially for interior design styles like Contemporary, Industrial, Scandinavian, modern, and transitional – this color makes a great focal statement.
Let's have a look at where and how to incorporate this paint color in your home.
Inkwell in Living and Dining Rooms
Sherwin Williams Inkwell is a paint color that you would never regret!
Yes, it's dark and daring – but at the same time, it will exhibit a sense of elegance and luxury!
After all, that's what the color black deals with right.
Moreover, in the living and dining room, you can choose to use this paint on the accent wall or built-in shelves (if applicable).
It's best to pair this dark-toned color with shades of beige on the upholstery and adjacent walls.
Lastly, don't forget to introduce a touch of golden metallic tint on the chandelier as well as coffee table frames.
Even macrame is something to look forward to!
Using in Bedrooms
Only if your bedroom receives ample natural light should you use a dark and bold paint color like Sherwin Williams Inkwell.
If yes, try to use this paint on the accent wall – or the headboard wall to add a sense of depth and dimension.
Ensure to add a couple of off-whites, beiges, and even tans through leather finishes on the pillows and accent chairs.
Although, you must not forget the deep blue embedded undertones.
Furthermore, choose crisp whites on the trims and molding, and ample macrame, faux, and fur to create harmony as well as contrast.
Inkwell in Kitchens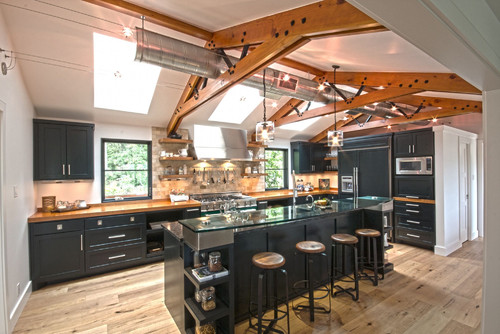 For kitchens, it's best to incorporate SW Inkwell on the lower as well as upper cabinets.
However, it's only recommended if you have a spacious and airy kitchen per se.
Else, the space is bound to feel congested and suffocating.
Secondly, you must add creamy off-whites on the backdrop wall, golden or brass pull handles and drawers, and knobs!
For the backsplash, choose white or off-white that further protrudes the bold Inkwell hue.
Using on Exteriors
Especially for the Craftsman, Ranch-style, Mid-Century Modern, Victorian, and transitional homes, this paint on the exteriors adds a classic, refined, and timeless vibe.
It's best to pair this color with whites on the trims and moldings and shades of gray for natural stone wainscotting.
Furthermore, if you have porches and columns – pick from bold blues or dark sage greens to add character to your home.
Lastly, don't forget to add a touch of interest with the help of bold red or yellow on the focal entryway door.
Great Paint Sample Tip!
Here's my favorite tip when it comes to testing out a color like Inkwell – go and order a peel-and-stick sample from Samplize.
These guys figured out a great way to sample colors much more easily. Simply stick it up instead of having to get a small can of actual wet paint.
For a few bucks you get a nice sized square to throw up temporarily anywhere you want to "try" on a paint color and any possible coordinating hues you like. Too cool!
So, how do you want to use this color in your homes? Interiors or Exteriors?
Now you see, SW Inkwell has much more to offer! And you will never even regret it.
Should there be any questions or thoughts, let us know in the comments below!