One of my absolute favorites, Sherwin Williams Quietude is a beautiful blue-green paint color that truly mimics its name.
It's quiet, gentle, calm, tranquil, peaceful, serene, and soothing!
And most importantly, this color has the potential to spark a sense of joy and relaxation in your space.
With a slight tint of gray undertones in the color, it's bound to exhibit a pastel-like appearance.
Moreover, this particular paint is pretty much a trend, since natural tones like blues and greens are so much a product of serenity
However, let me tell you, this color can play tricky sometimes.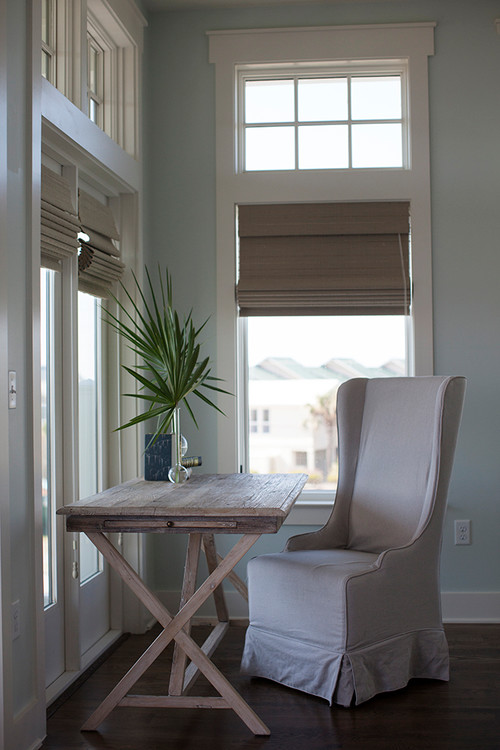 Since it has both blue and green undertones, in certain conditions, it may reflect more towards the greens than blues.
But don't worry – I am going to reveal many more secrets, tips, and tricks to use this color in your home.
Just when you think of soothing pastels and muted tones, Sherwin Williams Quietude is a notable green paint that pops up.
Even though this color truly reflects the hues of nature – it will undoubtedly add calm and relaxing vibes.
So, are you excited to introduce this color in your space?
Well, let's get on board this journey to Quietude!
Sherwin Williams Quietude SW 6212 Details and Specifications
There is a certain characteristic of this color that makes it stand out from the rest of the greens.
Some are olive greens, some are bottle greens, and some are sage greens!
And do you know how to differentiate them all?
Well, it's the concept of color theories, details, and specifications.
Just when you want to choose a paint color for your home, you must read through the underlying values and theories to truly understand the hue.
So, first and foremost, let me introduce you to the concept of Light Reflectance Values or the LRV's that determine how light or dark the paint color is.
You can easily find that value at the back of the Sherwin Williams paint swatch!
Here, in this case, the LRV of Sherwin Williams Quietude is 48.
And that means it falls on the medium end of the scale – well, neither too dark nor too light.
(Lesser the value, darker the paint)
But you must know that even if the color falls on the medium end – it feels totally refreshing and revitalizing at all times.
Because paint colors can change in different environments, I recommend you also just try Quietude out at home with a peel-and-stick sample from Samplize. Order some samples now!
Secondly, other important associated terms are the RGB and the HEX Values.
Red = 173
Green = 187
Blue = 178
HEX Value = #adbbb2
Now that is enough with the technical and scientific information, let's get started with the practical aspects of this green Sherwin Williams paint.
How Does This Color Feel in Space?
Try and see it for yourself – paint a wall in this specific hue and observe the ultimate magic!
Purely symbolizing peace and composure, this color feels too refreshing and natural!
So, in case you reside in a city and somewhere away from the forests, this color will totally bring natural vibes to your home.
Furthermore, even if the color has medium reflectivity, its cool undertones and calm effect are bound to make your space feel larger and airier!
(While exhibiting that character and dynamism)
You can also very seamlessly use this color as an accent in your rooms!
But don't hold back if you also want to paint all the walls in this specific color.
How Does Light Affect the Color?
Light plays a tricky business with this paint color.
So, yes!
With natural light falling on this paint, there is more inclination towards the greens than blues!
In the west and south-facing rooms, this color will slightly incline towards the warmth end of the saturation.
But note that with cooler-toned surroundings, this color can look slightly grayish and green.
Nevertheless, you can always play with artificial light in the form of pendant lights and wall sconces!
Here, you can also use warm whites and warmer yellow to perfectly neutralize the saturation!
Furthermore, keep a note that you use this paint in any of those compass directions.
For instance, it will appear cooler in north-facing rooms and slightly warmer in the south!
But it will never look washed away even if there is ample incoming natural light.
I'll say this again – get some wall samples to try on this color in your own home and confirm if it'll work or if you need to try something else.
What are the Best Coordinating Colors?
Creating color palettes is my favorite.
So, right when you finalize a paint color for your home – you must ensure to carefully pick the best alternatives!
Let me tell you, green paint collections are easier to deal with.
But at the same time, you have to be careful as to what vibe you need in your space for a perfect color combination.
So, I am going to enlist the two most popular color schemes here – monochromatic and contrasting.
You could use any of them depending on the interior design scheme and your personal preference.
In this case, the best colors to go are darker sage greens, burnt oranges, crisp whites, navy blues, and grays.
So, here are a few of the colors I would recommend for a monochromatic palette!
On the other hand, here are a few of the colors I would recommend for a contrasting color palette!
SW 6353 Chivalry Copper
SW 7005 Pure White
SW 7642 Pavestone
For your ceilings, trims, and moldings – SW Extra White or SW Pure White in itself makes a great option!
SW Quietude Vs Similar Colors
Even though this beautiful color doesn't deserve alternatives – I'll still recommend a few!
Two colors that are closely related are SW 7621 Silvermist and BM HC-143 Wythe Blue.
Let's see how they differ.
Quietude Vs Silvermist
Sharing many similarities, SW Silvermist is a soothing green paint color that feels quite delightful and refreshing.
However, the only difference here is the undertones!
The latter exposes a slightly lesser green touch than the former.
With an LRV of 47, this color too falls on the medium end of the reflectivity scale.
Order a wall-stick sample of Quietude here to help you better compare these colors in your own house.
Quietude Vs Wythe Blue
Both are equally refreshing and quiet – however, Benjamin Moore Wythe Blue feels cooler and more inclined towards blues and greens.
This paint color has an LRV of 48.69 – and it still makes your space feel spacious and calmer!
Also, don't forget about buying real-time samples to determine the tonality of the paint in your home's lighting. Pick samples up from here.
Where to Use Quietude?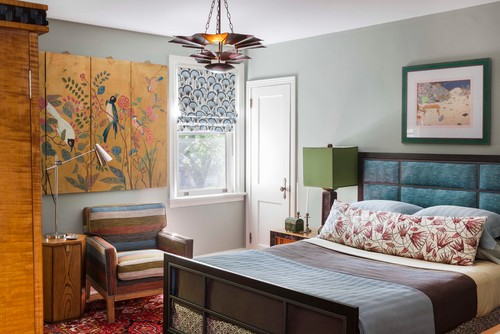 Sherwin Williams Quietude is a recommendation for every space in your home.
And why not? Since this color has such a calming and relaxing vibe!
So, whether it is the kitchen cabinets, the living room accent wall, home office, or the staircase hallway – you can absolutely use this paint!
Especially for the interior design styles such as Scandinavian, Modern, Contemporary, Transitional, Farmhouse, Coastal, and Caribbean, this color would be good to go!
Let's see where and how to incorporate it in your home.
Quietude in Living and Dining Rooms
Definitely yes!
You can use this paint color on the accent walls or even paint all the walls in this specific color.
You can pair it with wooden textures, off-white linen upholstery, white sheer curtains, and focal throw pillows and blankets.
In case you want to give your home a lush and rich appeal – rather try wooden paneling!
Lastly, for the lighting fixtures, try a matte black finish or something in gold or nickel!
Using in Bedrooms and Bathrooms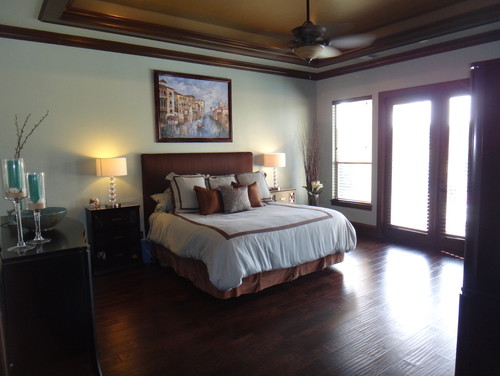 I would never say no here!
Bedrooms and bathrooms are some of the best spaces for this tranquilizing paint.
You can definitely choose SW Quietude as an accent to your bed headboards.
Furthermore, you can also add rattan and cane furniture in contrast to this beautiful pastel.
In your bathrooms, feel tranquilized and relaxed with this pretty green color on board.
Use white marble countertop and patterned white tiles in amalgamation with white or wooden vanity!
In the end, don't forget to place a couple of indoor plants for a refreshing vibe.
Quietude in Kitchens
Quite chic and vibrant!
Well, trust me, your kitchen cabinets deserve a color like quietude!
It adds a refreshing vibe while making your kitchen look spacious.
You can even choose vice versa and paint the cabinets in white and the walls in SW Quietude.
Using on Exteriors
Especially for the Coastal, Caribbean, and ranch-style homes, this paint on the exteriors is bound to add an eye-catchy and authentic appeal.
You can play with Spanish interlocking tiles on the roof and crisp white paint for the trims and moldings, door and window frames.
Furthermore, if you have porches and columns – either choose white or gray paint and natural stone wainscotting.
I Recommend Sampling Quietude!
If you're on the fence and need a bit of convincing, try this color on for size by ordering a peel-and-stick sample from Samplize.
These are my favorite way to test colors in a space and to see how they work with other coordinating colors.
It doesn't cost all that much, and you can temporarily place these handy 12″ x 12″ squares that are true to color around your house. I love them!
So, how do you want to use this color in and around your home?
Now that you know quite a bit more – are you excited about painting your home in SW Quietude?
Should there be any questions or thoughts, let us know in the comments below!