There are truly numerous paints that combine some level of blue and green to create a simply soothing color for our living spaces.
Some align towards the aqua blues whereas some go towards the sage greens – however, there are not many quite as unique as SW Silvermist.
This name is a bit deceiving however – it's hard to find any essences of silver in this color!
Rather, Sherwin Williams Silvermist is a subtle and soothing blend of blue and green paint color to form a color so distinctive on its own.
With slightly gray undertones and a feel like a clean and clear Canadian lake, this paint has some beauty to it that you won't find in other colors.
Neither too much green nor too much blue – this paint can be observed as a perfect blend – one that's made in heaven if you ask me.
So, are you looking to incorporate this pretty and calm paint color in your home?
Well, don't hold back!
I absolutely suggest you do that (similar to what I keep suggesting to my clients)!
But before you do, I want to dig deep with you and uncover everything about this using this color to find out if it's the right color for your project.
So, let's get on board the Sherwin Williams journey for this unique blue-green-gray!
Sherwin Williams Silvermist SW 7621 Details and Specifications
Before you pick a paint color – it is necessary that you understand the underlying theories and facts!
And these are the terminologies that truly help in understanding what the color has to offer and how it differs from the rest of the blue greens out there on the swatch!
And this is what I am going to be discussing today.
First and foremost, before we dive deeper into this color, let's understand what the color is truly made of and other similar underlying information that you should know.
Commencing with the Light Reflectance Values or the LRVs helps in determining how light or dark the paint is.
In this case, the LRV of Sherwin Williams Silvermist is 47.
And that makes the color fall on the medium to the deeper end of the scale!
Now if you are wondering where to find this value, well just look at the back of the Sherwin Williams paint Swatch or check out their website.
If you're not quite sure how this color will work in your home, you should definitely try it on for size by ordering a peel-and-stick sample from Samplize.
Secondly, other important associated terminologies are the RGB and HEX Values that further tell us what the color is made of.
Red = 176
Green = 184
Blue = 178
HEX Value = #b0b8b2
Now that we have talked about the technical and scientific information, let's get started with the practical aspects of this popular green-blue-gray Sherwin Williams paint.
How Does this Color Feel in a Space?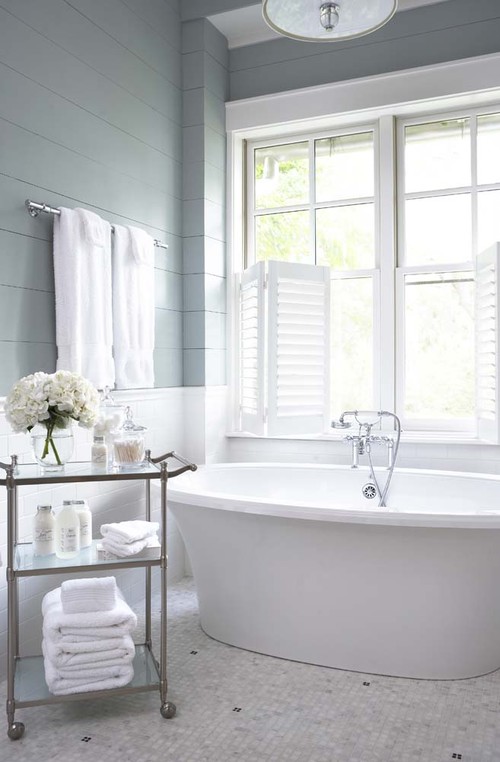 Undoubtedly, Sherwin Williams Silvermist makes you feel like you are around the beaches of Mexico!
Its popular blue, green, and gray feel make your space look refreshing, airy, bright, and at the same time, Coastal-like.
Furthermore, I recommend mainly the warmer and tropical climates to incorporate this color!
However, keep a note – this same paint will appear different in the north, south, east, and west-facing rooms.
So, in general – I recommend using this paint in either of the directions! (A plus point)
(But try avoiding in the north-facing rooms, in general)
Even though it is quite a cool-toned paint – you can always pair it with subtle warmer or true hues such as beiges and grays to feel balanced.
Furthermore, you can also incorporate this paint in mid to larger-sized rooms since it has medium reflectivity, comparatively.
How Does Light Affect the Color?
Light – whether natural or artificial has tons of roles to play here.
With the warmth of the south and west-facing light – this color is quite likely to appear warmer blue-green with a tinge of sunshine yellow!
On the other hand, in the north and east-facing rooms – this color is bound to appear slightly cooler (but not very icy due to subtle green undertones as well)!
In case there isn't much lighting – you can always add artificial lighting through pendants and chandeliers!
Don't forget to look at the bulb sizes and the color saturation!
I recommend warm whites or cooler yellows to pair with this paint!
Accent warm yellows wouldn't be a bad option too.
One way to help find out how this color looks in your home is to buy some temporary wall samples and put them up wherever you want to paint. You can get these easily from Samplize.
What are the Best Coordinating Colors?
Now that we have analyzed what the color offers, its various faces, its light reflectance values, how it truly feels, and the effects of light, let's first look at what best suits the paint color.
This step could be challenging in some cases and that is why I recommended truly understanding the paint color.
You can either choose a monochromatic or a contrasting color palette in this case – depending on the interior design style and your preference.
Since it is a cool-toned color, I believe you can best pair it with off-whites, blacks, charcoal blues, darker and steely grays, reds and rusts, yellows, and cool and crisp whites.
Well, here are a few of the colors I would recommend for a monochromatic palette!
SW 7057 Silver Strand (see my full review of SW Silver Strand)
SW 7058 Magnetic Gray
SW 7060 Attitude Gray
On the other hand, here are a few of the colors I would recommend for a contrasting color palette!
SW 6252 Ice Cube (see my full review here)
SW 7674 Peppercorn (see my full review here)
SW 6303 Rose Colored
For your ceilings, trims, and moldings – I would recommend using SW Pure White to further achieve a creamier look or else if you want a crisp look, choose SW High Reflectance White.
SW Silvermist Vs Similar Colors
There are quite a few similar alternatives that you could consider!
However, always remember that all of them might either differ in undertones or reflectivity!
So, to name a few, you can consider SW 7058 Magnetic Gray and SW 6212 Quietude!
Silvermist Vs Magnetic Gray
Unlike SW Silvermist, the latter is majorly inclined towards the greens than the blues.
So, the whole beauty of Silvermist being a blend of gray-green-blue is being compromised here.
Although with deep green and gray undertones, this color feels equally soothing and calm to the eyes!
With a similar LRV of 46, this paint falls on the medium end of the scale.
To see how these look in your home, get some large peel and stick samples and try on your walls with different lighting sources.
Silvermist Vs Quietude
On the other hand, SW Quietude feels more inclined towards the greens!
It is a refreshing minty green paint color that can play a subtle alternative – however, don't confuse the difference in beauty for both the colors.
With an LRV of 48, it can be used in smaller to medium-sized rooms!
To truly experience and compare these colors in real-time be sure to buy some stick-on samples and test them in your home.
Where to Use Silvermist?
SW Silvermist can be used anywhere in your homes as well as offices!
This popular blue-green-gray paint color aligns majorly with the traditional, farmhouse, coastal, Caribbean, Floridian, transitional, and modern interior design styles!
Let's see where and how to incorporate this beautiful timeless paint in your homes.
Silvermist in Living and Dining Rooms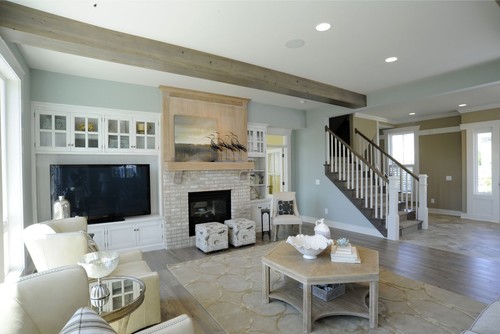 Absolutely yes!
And especially for the Caribbean and Coastal interior design styles – this color is great to go!
You can pair it with black or even white metallic lighting fixtures and smooth off-white linen or cotton upholstery.
Further, you can pair it with walnut teak floors, wooden, metal, or glass furniture, and tones of blues, grays, and white on your curtains, rugs, pillows, and artwork!
You can even play with patterns here.
In the case of a fireplace, you can clad it with white exposed bricks or something ultra-luxurious and modern like granite and marble!
Using in Bedrooms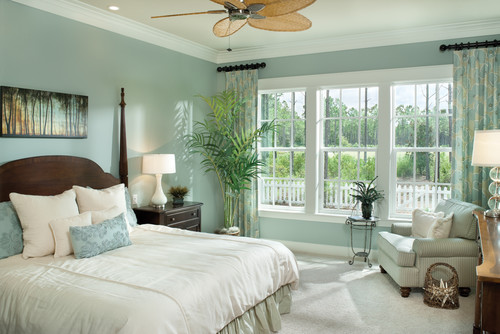 It is time that you paint all the walls in SW Silvermist – since it is so beautiful and calm.
Furthermore, you can also pair it with crisp white trims, moldings, and door and window frames.
I recommend you avoid the tones of gold and brass – and rather choose matte black and chrome here in the case of frames and lighting fixtures.
In case you are remodeling or refurbishing your home, you can choose hardwood engineered floors and even vinyl planks when on a budget!
Silvermist in Kitchens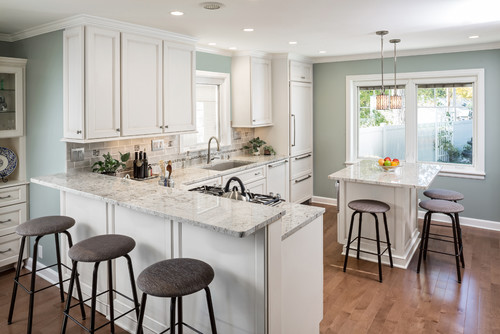 If you tend to spend most of your time in the kitchens and meanwhile, looking for a cooler and calmer green-blue-gray touch – then this is probably one of the best paints to opt for!
You can paint the cabinetry systems in this color and let the backdrop wall be pure white or vice versa!
Furthermore, you can also pair it with black or chrome pull handles and fixtures!
In the case of backsplash and countertop – try to choose everything white.
Using on Exteriors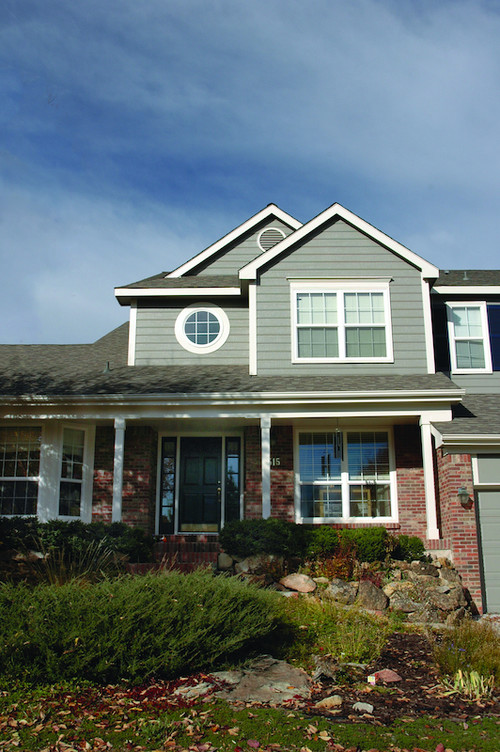 A great option for Coastal, Caribbean, Transitional, Contemporary, and Floridian homes, this color is absolutely recommended for exterior walls and shiplaps.
If you are planning to use SW Silvermist on the exterior façade, it will tend to appear much lighter than it already is!
(Of course, due to excessive natural light)
You can also pair it with black, white, or off-white shaded doors, and windows, trims, and moldings!
Also, you can do the other way round, by using pure whites on the decorative moldings!
Best Way to Try Out This Color?
I have to share one of my favorite tips when testing out colors like Silvermist – go and order a peel-and-stick sample from Samplize.
This company has an amazing way to sample colors super conveniently with real paint.
Simply stick up a temporary square sample of it and avoid the whole paint and roller mess (at least until you're ready!).
For a small amount of money you get a giant "sticker" you can place up in the space you're painting. You can also try out coordinating colors as well. It's great!
By the way, for more amazing colors like this one, see my list of popular SW Gray colors including some of my favorites.
You can also learn more about sage green in my full color guide here!
Now that you have all the secrets – are you excited about painting your home in Silvermist?
Should there be any questions or thoughts, let me know in the comments below as I would love to hear from you!