In literature, the word sage is defined as a profoundly wise person who has cultivated a wide array of experience, judgment, and wisdom in their life.
Equally defined – the color sage green is also deep-rooted in the world of peace, wisdom, growth, and a calm mindset.
If you look for and locate this color on the color wheel – you will find it somewhere between the yellows and blues!
And in case you're wondering about the composition of this soothing color – well, it's simply an amalgamation of citron and slate tones.
In our physical worlds, sage is a gray-green hue that shares a resemblance with dried sage leaves.
It symbolizes a sense of calmness, purity, nature, growth, renewal, prosperity, freshness, and progress!
And ever since the deadly pandemic hit the world – this hue from nature has further propagated in the home decor industry.
More and more homeowners are applying a fresh coat of this paint on their walls and furniture and choosing other sage green textures and other elements to bring the above defining qualities into your life and work spaces!
And since this color is an absolute product of timelessness – you can incorporate it creatively in Modern, Mid-Century Modern, Scandinavian, Transitional, Modern Farmhouse, Traditional interior design styles and contemporary spaces.
Even many modern wedding themes are also incorporating this hue as a dominant one in decorations.
I'll tell you this is one color choice you'll not regret using. It just won't let you!
So, are you excited to inject a touch of the color sage in your home and your life – whether as paint or limitless accessories?
I am way too excited to share tons more on sage below!
Let's get started!
Sage: The Color that Brings Peace and Serenity
Before we move ahead with what this color has to offer, let's first discuss the basic specifications and details of the sage color category!
Remember, every category is associated with certain underlying theories and facts that make it equally unique and distinctive!
After all, there is something that differs the sage from asparagus, fern greens, and olive greens.
And if you really like the feel of sage greens, trust me – there is a wide array of opportunities coming your way.
Whether it's the undertones or the certain RGB values that describe what the color is composed of, here are certain terminologies to look upon!
Also note, light reflectance values can differ for each typology and face!
Pantone Code= 5787 C
Cyan= 12%
Magenta= 31%
Yellow= 0%
Black= 2%
Red= 27%
Green= 26%
Blue= 54%
HEX Code= #BCB88A
Undoubtedly, this particular shade of sage is a color that will play with your mind in the most remarkable way!
And after all, the proportions are what helps in differing from shade to shade and tone to tone!
These above-mentioned percentages will help you in the classification of the color and how it is truly made!
The Multiple Faces of Sage – Natural and Organic
Every color is associated with various faces – depending upon the variance in the undertones, proportion of mixes, and reflectivity.
Further elaborating, these faces can be categorized as the tints, tones, and shades of that particular color.
Like I already mentioned about the variety, you must know that sage is associated with three major faces or color varieties.
Further diving into the details let's discuss some very common color terms here!
'Tones' are basically the results formed by adding gray to a sage paint color!
The result is a more muted and soothing shade – well, something more like gray-greens!
'Tints' on the other hand are the amalgamation of white with a sage paint color.
The result is something like light sage!
Whereas 'Shades' are the results formed by adding some black to sage paint color.
The result is quite dark – something like olive greens!
Further discussing these details and faces – the color sage is best known for three major tones as follows.
Dark Sea Green
A beautiful tone of sage green, this is equally refreshing and bright!
So, in case you don't like the feel of sage that has deep yellow undertones – right here is a tone for you!
With deep refreshing green undertones, you're quite likely to feel calm and relaxed.
I recommend using this color on your accent walls.
Pale Golden Rod
The deep green and yellow undertones in this face are bound to exhibit a warm and cozy environment!
You can best pair it with shades of purple and browns!
But don't forget – this color will always make you feel relaxed and laid-back.
Light Khaki
Reflecting natural and organic vibes – this particular tone of sage green is a perfect blend of green and golden yellow.
It perfectly pairs with shades of white, blue, and even purple.
Further, if you pair this color with indoor plants – it will exhibit a pure botanical vibe.
Similar Colors
Now that we have discussed the three notable faces of this sage – let's get talking with the similar colors that are closely related to it.
So, the first of them is Asparagus!
This is a notable sage color with slightly reflective undertones. Perfectly mimicking the natural shade of sage leaves, you must use this color to embrace nature.
On the other hand, Shadow is a similar color to Sage.
It is dark, organic, and quite moody! In fact, any darker it would be inching toward a forest green.
Next in the line is the color Spring Green that is light, comforting, and quite soothing! It's an upbeat yet still soft sage.
You can best pair it with whites to further feel light and bright.
Lastly, olive green is a subtle tone that has deep golden and yellow undertones.
It varies in reflectivity so you can always use this color with bold paints like blues and blacks.
Coordinating Colors
Choosing coordinating or complementary colors for this specific category is one of the most intriguing.
So, here I am going to spill some Sage beans – are you excited to know what they are?
Well, regardless of the different faces of sage – all muted colors that will definitely complement are purples, golden, blues, off-whites, and taupes.
Furthermore, you can always add wooden textures and various metal tints!
In terms of accent, these tones in themselves play a great role.
Where the Color Sage Comes from in our World
The Deeper Meanings of Sage
According to your own experience, you may love or dislike sage, which is named from a culinary herb that can either evoke a warm feeling or one of repugnance.
We all know that 'Sage' means deeply wise and refers to someone who is revered for their knowledge, judgment, and expertise across many subjects.
So it goes without saying that the hue itself is a symbol of wisdom.
In addition to conveying the quality of someone's depth of knowledge and experience, sage is also tied greatly to serenity and development.
Further, as a big symbol of ecology and nature, pale versions of sage are also associated with growth.
Think of sage as making you feel rested. I think we'd all agree the color brings upon a peaceful and relaxing aura. Just as nature impacts one's state of mind.
It's no wonder, as it's primary color green parent represents nature, freshness, and balance. It definitely mirrors the symbolisms associated with green.
A Toxic Background
The sage green hue, which resembles dried sage leaves, has a lengthy history.
Since antiquity, green pigments have been used to create art and decorate architecture.
It wasn't initially easy to produce sage-green pigment for use in painting, though.
Green pigments, in fact, have a reputation for being among the most toxic colors in history.
There are also some theories that the death of Napoleon Bonaparte was related to the green color dubbed Scheele's Green, which contained the deadly chemical arsenic.
Apparently, the lethal color had been employed for painting Bonaparte's bedroom, which may have contributed to the revolutionary's death in 1821.
Sage Green Worldwide
Sage green is a peaceful and serene color that will bring everything outside in.
It's made a comeback in the interiors sector recently, with Pinterest reporting a 105 percent rise in searches for 'sage green' interiors.
In pop culture, the use of the sage color and name has been employed in a video game, 'Valorant', where the character named "Sage" hails from China and possesses healing skills to heal her team members, substantiating again that sage green is a calm and serene color.
Many corporate logo have sage green in them. It's especially true across eco-friendly or Earth conscious brands.
Using Sage In Home Décor
The color sage is known for utmost purity, soothe, and tranquility.
It proves to be a great color in the home decor industry – over the color psychology reasons as well.
Due to its utmost soothing character, this color plays a great role everywhere in the home – kitchen, living and dining room, kid's room, nursery, bedrooms, bathrooms, and exteriors.
So, firstly, I would highly recommend this paint (whether light or dark) on the accent walls, your accent furniture pieces, and could even be on your focal accessories such as throw pillows and vases or urns!
You can either use little or a lot of this color on the walls!
However, if your space is quite large and grandeur – you might be able to use darker sages on all the walls too.
If you're looking for real-time examples from the famous paint manufacturers – I am going to enlist two examples from Sherwin Williams and Benjamin Moore!
Recycled Glass by Sherwin Williams and Saybrook Sage by Benjamin Moore are notable examples.
However, know that there may be some notable differences here as well.
For instance, Sherwin Williams Recycled Glass feels delightful and organic!
Check out my full guide to learn all about SW's Recycled Glass paint color. You can also see more SW neutral greens here.
On the other hand, Benjamin Moore Saybrook Sage is a deep shade of green paint color with ultimate soothing vibes.
(Don't worry – you can paint all the walls in this color if your interior design and style allows)
I also like Sage Gray from Behr, to move even deeper!
Sage on Walls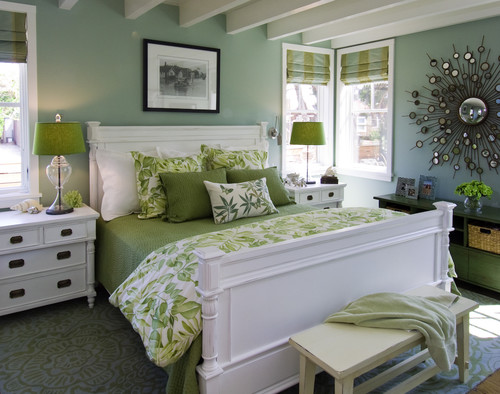 Why not?
This color is pretty, delightful, and absolutely a must in homes that crave a natural and organic vibe!
Well, trust me that you will never regret using this color in your home – regardless of any decor element (whether it is the accented green walls, focal furniture, or accessories).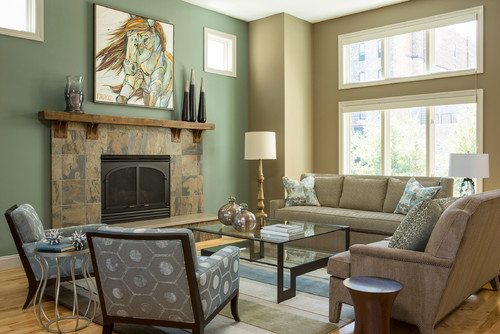 You can even pair this color with various shades of beiges and browns on the adjacent walls as well. It makes for such a perfect backdrop when you want a little bit a nature indoors.
For instance, have a look at the traditional living room here – isn't it simply gorgeous?
However, regardless of the palette, sage green on accent walls in themselves looks quite flabbergasting and phenomenal.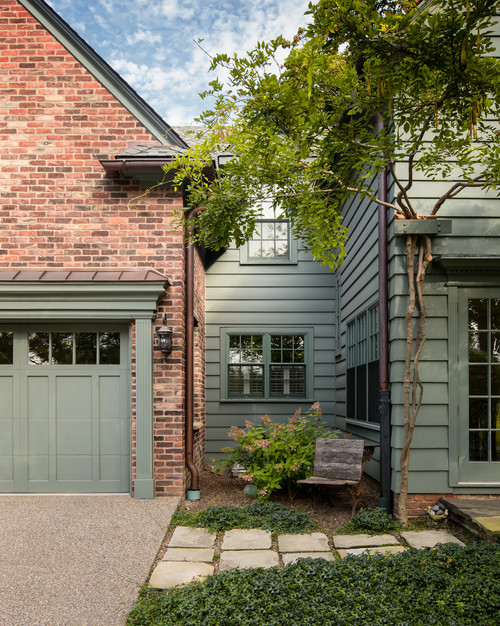 Even the exterior walls can beautifully flaunt off this sage color!
Sage on Furniture – Timeless, Soft, and Pleasant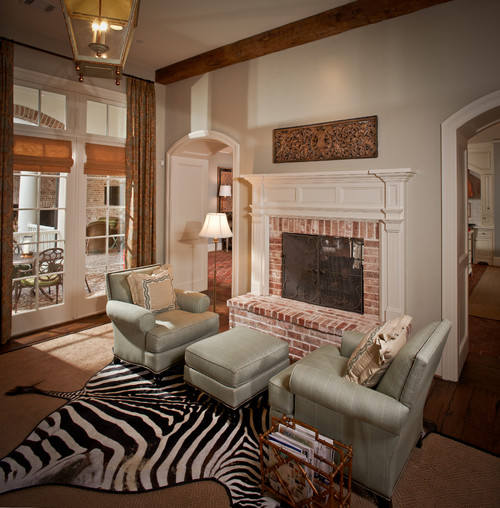 If you don't particularly want sage greens walls – why not try their tints and shades on the furniture?
Whether you plan to paint your furniture frame in this particular tone or choose a fabric that has dominant sage – you will never regret this color.
Always remember that sage greens pair extravagantly with wooden textures – so, don't hold back from paneling on the walls, wooden floors, and wooden rustic furniture as well.
Sage on Consoles – Dramatic Yet Lively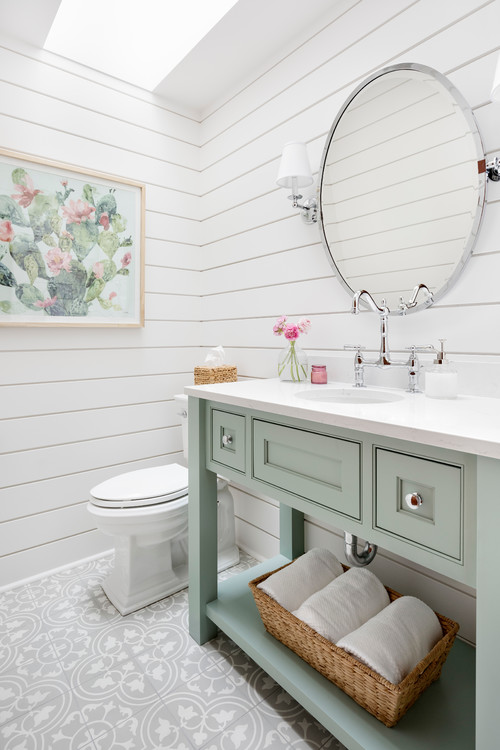 Another way to introduce sage in your home is by painting the console tables in this specific color.
You can also paint the built-in shelves and cabinetry systems in your living rooms, bathrooms, and home offices in this specific color!
So, it's time that you create a focal effect in your space with this color on your focal furniture.
Sage in Kitchens and Bathrooms
Something that is quite unique and distinctive – yet at the same time, very popular and stylish!
More and more homeowners are opting for this particular shade in their neutral kitchen themes – and especially in the cabinets and drawers.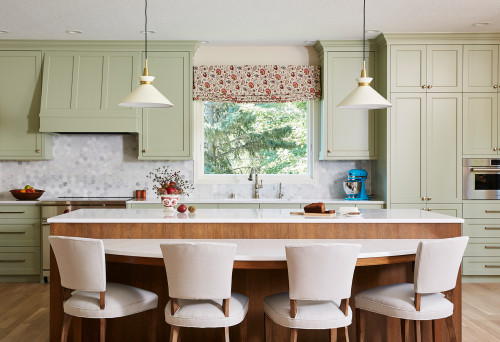 Here is an example of another sage beauty in the kitchens.
If painting the cabinets is too overwhelming – then try using this tone on the backsplash, rugs, or accent wall.
Sage on Accessories – Details That Matter
It's time to have an eye for detail in your home.
Sometimes, you can best make use of this color through accessories – curtains, rugs, and throw pillows.
Let's check out some of these pieces that would make a lovely sage accent in your home. An inviting hand if you will, versus a pop of color.
Beautiful and vintage, this piece of a rug is bound to take you a long, long way!
And not only the sage, but if you want an amalgamation of certain other warmer hues – you must use this rug.
It will definitely play timeless and authentic in making your homes look fresh and bright.
A very dark tone indeed, it's time that you add character and details to your couch by decorating with this bold and daring sage green throw pillow like this one.
It will add a refreshing yet cozy vibe to your living rooms and or support the look of a restful bedroom.
This floral artwork in a muted sage green will add great monochromatic importance to your room.
So, don't hold back and get on board with this beautiful and authentic piece of art.
Summing it Up
Sage green is the color of the present and future!
It's a timeless color and profound – along with bringing coziness and comfort.
And you know what's the best part – unlike, say an emerald green color, this green has various cool and warm tones – so you can achieve either of the moods in your home.
So, are you excited to incorporate a touch of sage into your home?
I would love to know how best you incorporate this color in your home! Do let me know your experiences in the comments below!