When it comes to greens, there is no stepping back!
Greens are symbolic of Mother Nature and the incorporation of such hues leads to a calming and soothing experience.
And that is why I keep telling my clients to introduce greens in their homes – whether in the form of indoor plants, or in this case, the paint color.
Sherwin Williams Recycled Glass is a perfect mid-toned green paint color that is bound to add freshness and tranquility to your living environment.
It is a true green color – think of bright fig-trees and healthy, leafy plants and let that sink in!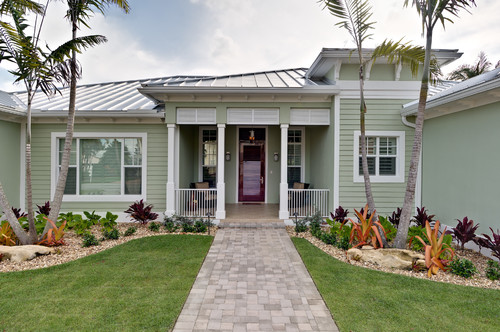 However, since it is not a pastel, you'll want to use this paint color with care. You simply can't use it anywhere and everywhere.
There are a few repercussions and restrictions involved but don't worry – I have got your backs!
If you are planning to use Sherwin Williams Recycled Glass in your homes – I have some perfect recommendations and suggestions for you!
I will guide you on how, where, and when to use this timeless paint color.
But before I spill all the beans, let's first talk about the details and specifications of the paint color.
Sherwin Williams Recycled Glass SW 7747 Details and Specifications
Before you ever choose a paint color, always remember to consider the underlying theories involved.
Color specification may seem easy but let me tell you – it's not!
You have to be considerate around analyzing the paint color and then applying it on walls!
So, first and foremost, always consider the Light Reflectance Values or LRV's of the paint color. It helps you in determining how dark or light the paint color is!
And depending on this information is a derivative of where exactly you should use the paint in your homes – north-facing, south-facing, or no natural light!
So, the LRV of Recycled Glass is 51.
That means it is a mid-toned shade – neither too-dark nor too-light!
Most often, it's best to sample a paint color in your home to confirm it's going to work how you expect. You can do this easily using Samplize. Grab one now for Recycled Glass!
Other associated terms include the RGB and HEX Values!
Red = 189
Green = 192
Blue = 160
HEX Value = #bdc0a0
Now, that we have discussed the color specifications and details, let's talk about the practical aspects and how the color feels in a space.
How Does Recycled Glass Feel in a Space?
Rob's Painting Service makes this green look spectacular.
Absolute serene!
Recycled Glass feels so refreshing and wholesome when applied to the walls of your room.
Due to its mid-toned reflectivity, this paint color appears to be a little overwhelming if used on all of the walls of your rooms. So, just the tints and accents of it are a great way to have the best of both worlds.
Irrespective of the climate – I will recommend this paint color for all the states, however, In the colder regions – you can blend in some beiges with it to balance the cool and warm!
Green walls add a characteristic charm to your rooms while adding a sense of depth to it! You are going to feel in nature when surrounded by green walls.
How Does Light Affect the Color?
50% of the light received by the paint color is reflected away whereas, the next 50% is easily absorbed.
Hence, in ample natural light – Recycled glass appears to be much lighter than it already is – something like SW Lacewing.
On the other hand, due to the absence of natural light – the paint color appears darker! So, you see – light has a major role to play in here.
And that is why, I would recommend placing the paint swatches in different light conditions in your room to determine how the color will actually behave.
You can also play with artificial lighting and determine conditions such as warm-yellow, warm-white, and whites.
Again, I really recommend you try out some wall samples because colors will look different in every location.
What are the Coordinating Colors for Sherwin Williams Recycled Glass?
As I already mentioned – think twice before painting all the walls of your room in Recycled Glass.
Too-much green is also not good (well, too much of anything is not good, generally)!
So, just in case if you are planning to use recycled glass in your homes, I have a few recommendations for you!
Let's first see what colors you should use for a monochromatic scheme (Monochromes are generally great for neutrals and pastels, so be careful around using colors in this scheme).
Gratifying Green SW 6435
Bonsai Tint SW 6436
Haven SW 6437
You can mix and merge them all in the form of finishes, furnishes, and wall paints to create a perfect green haven!
On the other hand, for a contrasting theme, I would recommend blending greys, off-whites, and lighter green shades!
Check out the following recommended paint colors:
March Wind SW 7668
Pearly White SW 7009
Rosemary SW 6187 – see my full color guide on this one!
In the case of trims and moldings, I would recommend using SW Alabaster!
Sherwin Williams Recycled Glass Vs. Similar Colors
Even though there are no two colors exactly same – you could still aim for similar-looking ones.
Depending on the alternative you want to choose, it could either be warm or cool-toned.
Two of the colors closely related to SW Recycled Glass are Baize Green SW 6429 and Valleyview SW 9673.
Recycled Glass Vs. Baize Green
With an LRV of 59, Baize Green sets a perfect lighter tone alternative. It is a true green that looks much lighter and brighter in specific conditions.
However, to examine the exact differences, I would highly recommend buying real-time swatches and paint samples to determine the exact differences.
Find out what works best in your home's environment and lighting by putting up some temporary samples and observe – Get some wall samples from Samplize.
Recycled Glass Vs. Valleyview
With an LRV of 58, this paint color is a much deeper green with comparatively a more cooler feel!
It is a light-toned green paint, so it makes a great alternative to Recycled glass if you're looking for options that are lighter and you want to make your room look spacious and still, natural!
In the end, if you plan to use valley view, keep a note that this paint color is only for 'Interior Use'!
Order a wall-stick sample of Recycled Glass here to help you compare these colors in your own space.
Where to Use Sherwin Williams Recycled Glass in Homes?
I would personally not fill up all the walls in green – rather use it as an accent in various areas of the home!
For modern, minimalist, and contemporary interior design styles – this paint color has a long way to go!
You can absolutely use it in the hallways, living rooms, bedrooms, bathrooms, kitchens, exteriors, as well as your stairways!
Let's see where and how you could use this paint color in your homes!
Recycled Glass in Laundry Rooms, Mudrooms and Entryways
Julie from Less Than Perfect Life of Bliss perked up her laundry room without it being too loud. Perfect!
Greens make perfect tranquilizers in homes.
So, if you are looking for a cool-toned living room and you're residing in a warmer climate – you could use this shade as an accent and pair it with greys, whites, and greiges!
Recycled glass in entry hallways and staircases is a good option too! Although, BEWARE and not use this paint color on all the walls.
Simply, choose specific focal points and also incorporate niches and cutouts!
Using in Bedrooms
Why not?
I always say no to brighter colors – but here – green in a bedroom is a good way to go!
However, if you want a cozy-looking bedroom – green may not be the best choice. (In that case, beiges are good)!
If you do plan to use Recycled Glass in there, try to blend it with whites, off-whites, and sometimes even blacks!
I would actually use this paint color in toddler's rooms and nurseries!
Recycled Glass in Bathrooms
Maggie from Better Together paints her bathroom walls in SW Recycled Glass
I recommend this quite a lot!
Bathrooms are supposed to be relaxing – so use Recycled Glass in your bathroom and pair it with lighter shades of green through shower curtains and white backsplash tiles and flooring.
To add a touch of nature – you could also add succulents and plants in there!
Recycled Glass in Kitchens
Green kitchens have been a trend in the past years.
So, if you want to incorporate greens in your kitchen – try painting it on the cabinets and let the walls and backsplash tile be white.
You can use silver pull handles and some majestic piece of chandelier to further refine the look!
Using on Exteriors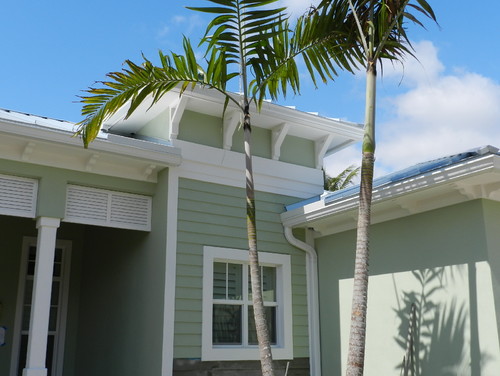 Definitely, a YES-YES!
I have especially seen this shade on the exterior walls – down in southern states!
For a cheerful and Caribbean style look, definitely use recycled glass on the exteriors!
Pair it with grey or white trims and moldings! Whereas, on the roof, use grey tiles to give a cohesive look.
My Favorite Way to Sample Colors
I can't say enough about how easy it is to use a peel-and-stick paint sample to give a color like Recycled Glass a try. The absolute best way is to order a sample from Samplize.
You can check it out right on your wall and move it around. Also, try it along with a another couple of colors to test pairing possibilities.
This is WAY easier than having to open up little cans of paint and rolling/brushing on. Forget the mess and use these helpful temporary sample squares to test location, lighting options, etc.
So, don't shy away from greens! Let them flow easily in your space and make the most of them by implementation in smaller amounts! If you are going to use Recycled Green in your homes, do let us know your experiences in the comments below!