Greens are emerging to be one of the rising star color collections in the interior design industry.
And I'm not talking about some generic greens here – rather a specific category that's absolutely mind-blowing and stunning.
Yes, the sage greens are not stark and bright like generic greens.
They're the perfect neutrals reigning in the industry at the moment. And believe it or not – slowly and steadily, one color that's emerging to the utmost is darker sage green.
And SW Rosemary is one such example.
Sherwin Williams Rosemary is a darker-toned sage green paint color with a major hint of gray as the undertone.
This color is bold and dramatic, and at the same time, calm, cool, and soothing.
Ok, so here's the best part:
It tends to have such a unique and beautiful character that imparts supreme timelessness and eccentricity to any space.
However, you also have to be a bit careful with this paint color.
Sometimes, it might not meet your expectations – so that's why you have to carefully pick the complementary color scheme, similar colors, materials, and textures.
Don't worry!
I've got you covered. Let's dig deep into what this color has to offer you.
Sherwin Williams Pewter Green SW 6187 Details and Specifications
This sage green color is definitely something to study and analyze in detail.
There is a certain characteristic of this color that makes it stand out from the rest of the greens.
And do you know what that is?
Well, it is the concept of color theories, details, and specifications.
Just when you want to choose a paint color for your home, you must read through the underlying values and theories to truly understand the hue.
So, first and foremost, let's cover the concept of Light Reflectance Values or the LRVs that determine how light or dark the paint color is.
You can easily find that value at the back of the Sherwin Williams paint swatch!
Here, in this case, the LRV of Sherwin Williams Rosemary is 14.
And that means it falls on the darker end of the scale – not a green-black either!
(The lesser the value, the darker the paint)
If you're not quite sure how this color will work in your home, you should definitely try it on for size by ordering a peel-and-stick sample from Samplize.
Secondly, other important associated terms are the RGB and the HEX Values.
Red = 100
Green = 105
Blue = 92
HEX Value = #64695c
Now that is enough with the technical and scientific information, let's get started with the practical aspects of this dark green Sherwin Williams paint.
How Does This Color Feel in a Space?
Sherwin Williams Rosemary is a beautiful dark and cool sage green paint color that feels quite refined, crisp, modern and elegant. This in contrast to a lighter and warmer sage green like "Sage" from SW.
Moreover, this color symbolizes a sense of balance, growth, restfulness, tranquility, and calmness.
When used in space, this color feels quite sophisticated and contemporary-like.
In case you have a large space that is awkwardly sized or extremely huge – this color can help bring the walls closer to create an illusion of a smaller space.
About saturation – this color can feel cool and that's why you would have to play slightly smart.
How Does Light Affect the Color?
If you plan to use SW Rosemary in your rooms – you must ensure to allow ample natural light to penetrate.
This will not only brighten the space but also showcase the true beauty of this cool sage green paint color.
Furthermore, the compass directions have a lot to say here!
In the north-facing rooms, it can appear quite cool and grayish. On the other hand, in the west-facing rooms, the paint will feel equally warm and creamy.
Secondly, before you choose this paint color for your home, I highly recommend you examine the swatch in various lighting conditions.
That will help you define the true hue, saturation, and depth of the paint color.
Lastly, you can always make use of artificial lighting to create a desired aura.
Again, I really recommend you try out some wall samples because colors will look different in every location.
What are the Best Coordinating Colors?
Creating color palettes can be quite a fun task to do.
So, it's crucial for you to choose the best complementary colors in order to define a palette that looks flawless and fabulous.
This particular green is not very easy to deal with. Since it's dark and bold – you wouldn't want it to overwhelm your space.
Hence, SW Rosemary will best pair with crisp or creamy whites, tans, darker beiges, browns, bronze, mustard, taupe, and lighter grays.
So, I am going to enlist the two most popular color schemes here – monochromatic and contrasting.
Monochromes are generally great for modern and contemporary setbacks. On the other hand, Eclectic and Farmhouse play well with contrasts.
You could use any of them depending on the interior design scheme and your personal preference.
So, here are a few of the colors I would recommend for a monochromatic palette!
On the other hand, here are a few of the colors I would recommend for a contrasting color palette!
For your ceilings, trims, and moldings – SW Extra White or SW Pure White can be used to protrude the true beauty of SW Rosemary!
SW Rosemary Vs Similar Colors
SW Rosemary is such a beautiful dark green that it doesn't deserve any alternatives.
However, if we compare – the two colors closely related are SW 6208 Pewter Green and BM 1581 Milestone Gray.
Let's see how they differ.
Rosemary Vs Pewter Green
SW Pewter Green is a beautiful dark sage green paint color that looks fabulous on the cabinets.
With an LRV of 12, this color is comparatively darker and deeper.
Somehow, this color feels more crisp and cool as compared to the former paint color.
I cover this color in-depth here!
Order a wall-stick sample of Rosemary here to help you better compare these colors in your own house.
Rosemary Vs Sharkskin
BM Sharkskin is a warm and earthy sage green paint color with deep brown undertones.
There are quite some considerable differences between these two colors. And the major is the undertones itself!
With an LRV of 16.17 – this color is almost equally dark and deep – and it appears just like charcoal gray.
Also, don't forget about buying real-time samples to determine the tonality of the paint in your home's lighting. Pick samples up from here.
Where to Use Rosemary?
SW Rosemary can make a very beautiful statement on the cabinets, built-in shelves, and furniture frames.
At the same time, it looks equally great on the walls of your bedroom, living room, and bathroom.
So, let's see how best to infuse creativity into your space with the help of this dark sage green paint color.
Rosemary in Living and Dining Rooms
View this post on Instagram
In the living and dining rooms, this color is bound to look flabbergasting on the focal or accent walls.
Avoid using it on all the walls since that can exhibit a dark and dingy feel.
So, ensure to add a complementary creamy white on the adjacent walls to further help this green paint color protrude.
For the furniture fabrics, I highly recommend you choose beige or off-white to create a calming palette.
At the same time, choose ample wooden textures on the floating shelves, furniture frames, and wall paneling.
Just in the case of a fireplace, you must choose off-white plaster moldings for luxe and cohesive look.
Marble is a big no-no!
Using in Bedrooms
You can absolutely use this paint color on the focal wall of your bedroom.
Try blending this color with off-whites, beiges, and shades of taupe or brown as the secondary accent.
The furniture could either be wood (for a rustic appeal) or brushed or polished brass (for a rich look).
For the bedding, you must choose white, off-white, or gray for the base and mustard or burnt orange for accents on the throw pillows.
You can even choose a rattan, cane, or bamboo material for the headboard!
Rosemary in Kitchens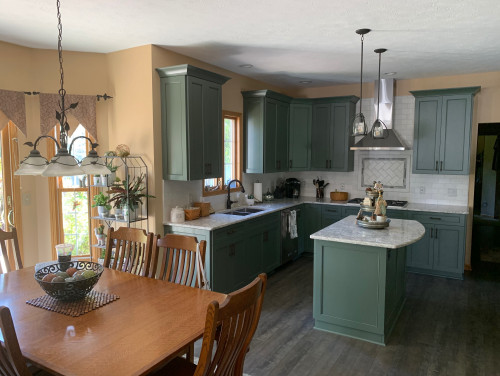 SW Rosemary is an ideal paint color for the kitchen cabinets. Yes! This is one of the most popular green paint colors for the cabinets.
You can use a clean white paint color for the backdrop, white backsplash tiles, and a white marble countertop.
Don't hold back from using brushed brass or rich gold on the knobs and pull handles for a touch of luxe and opulence.
And lastly, for organizing your cups and dishes – make use of wooden floating shelves that will complete your palette.
Using on Exteriors
Especially for the Coastal, Caribbean, transitional, and ranch-style homes, this paint on the exteriors is bound to add an earthy and organic appeal.
You can play with gray Spanish interlocking tiles on the roof and crisp white paint for the trims and moldings, door and window frames.
Furthermore, if you have porches and columns – either choose white paint or natural stone wainscotting.
If you don't plan to use this color on the major facade – try incorporating it on the entryway door, shutters, and window frames and let the wall be light gray or white.
To complement SW Rosemary on the walls, you can choose a light gray paint or mustard for the entryway door.
Best Way to Try Out This Color?
I have to share one of my favorite tips when testing out colors like Rosemary – go and order a peel-and-stick sample from Samplize.
This company has an amazing way to sample colors super conveniently with real paint.
Simply stick up a temporary square sample of it and avoid the whole paint and roller mess (at least until you're ready!).
For a small amount of money you get a giant "sticker" you can place up in the space you're painting. You can also try out coordinating colors as well. It's great!
So, how do you want to use this color in your homes? Interiors or Exteriors?
Now that you know quite a bit more – are you excited about painting your home in SW Rosemary or perhaps other green colors from Sherwin-Williams?
Should there be any questions or thoughts, let us know in the comments below!