Since the pandemic, it seems most people on the planet have become more health and wellness-oriented!
Realizing the fact that our health and well-being are one of the most important aspects, the interior design industry also follows suit.
And there was no better time to announce the color of the year from one of the most popular paint manufacturing companies, Sherwin-Williams.
Their Color of the Year 2022 focuses on connecting people and nature, and creating an utmost rejuvenating, relaxing, and refreshing ambiance in our homes.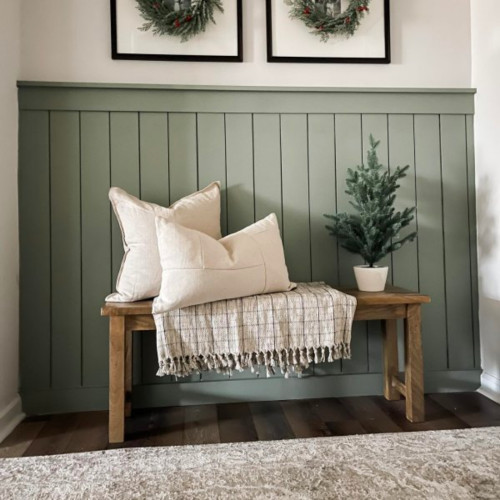 Embracing the color of nature, Sherwin-Williams Evergreen Fog is a medium-toned gray-green paint color that falls in the same category as the sage greens.
This color brings a sense of hope and joy to the year with homeowners and designers thinking outside the box to create something organic and appealing.
This paint is a cool green color with hidden gray undertones. It's not a mainstream green that's stark and pricky to the eye.
Yes, rather a subtle and calm green to always play a great backdrop in your home.
So, today – I can't wait to express my thoughts on this beautiful and magical gray-green paint color.
Are you excited too?
Well, let's get started.
Sherwin-Williams Evergreen Fog SW 9130 Details and Specifications
There is a certain characteristic of this color that makes it stand out from the rest of the greens.
One of the majors is the gray undertones and secondly, what the pretty color is composed of!
Don't worry – I have got you all covered.
Just when you want to choose a paint color for your home, you must read through the underlying values and theories to truly understand the hue.
So, first and foremost, let me introduce you to the concept of Light Reflectance Values or the LRVs that determine how light or dark the paint color is.
You can easily find that value at the back of the Sherwin Williams paint swatch!
Here, in this case, the LRV of Sherwin Williams Evergreen Fog is 30.
And that means it falls on the darker to medium end of the scale. (Not too dark but somehow looks like it would play a great medium-toned gray-green paint)
(The lesser the value, the darker the paint)
But you must know that even if the color falls on the medium to darker end – it feels totally light and refreshing at all times.
Another tip: If you want to easily try out Evergreen Fog to see how it will show, you can with a peel-and-stick sample from Samplize. Pick up your samples here!
Secondly, other important associated terms are the RGB and the HEX Values.
Red = 149
Green = 151
Blue = 138
HEX Value = #95978a
Now that is enough with the technical and scientific information, let's get started with the practical aspects of this cool gray-green Sherwin Williams paint.
How Does This Color Feel in a Space?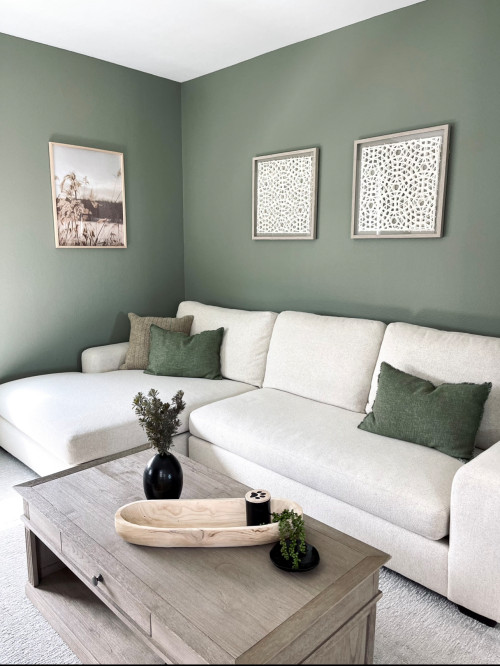 Sherwin Williams Evergreen Fog is bound to make your space feel bold, calm, earthy, organic, natural, closer to nature, and rejuvenating.
It's not a light paint color to create an illusion of a larger space.
And this is something you must take into account even if this color is cool and natural!
You can use this color to add depth, boldness, and drama to your room – with a touch of nature. (You see, you get the best of both worlds)
Secondly, this color is bound to bring the walls closer and make your room appear cozier! So, if you're dealing with a humongous-sized space, this color could be something to look forward to!
How Does Light Affect the Color?
Natural light plays a notable role here!
Remember, the more light you give to this color, the more enhanced, refreshing, and airy it will appear.
Furthermore, you must also know that this color doesn't necessarily alter its appearances in different lighting conditions and compass directions.
Just a little play of undertones is what you'll observe!
For instance, in the north-facing rooms, this color will incline to the cool blues and grays (very minor).
On the other hand, in the south or west-facing rooms, this color will lean towards a warm yellow and creamy touch.
If you want to really see how this color will play in your space and with other colors, get some wall samples from Samplize.
What are the Best Coordinating Colors?
Creating color palettes can be quite a fun task to do. This is something that I love to do for my Online Interior Design and Color Consultation business!
So, it's crucial for you to choose the best complementary colors in order to define a palette that looks 'in-place'!
Gray-greens are quite specific! And that's why, you too have to be slightly specific when pairing with such hues.
So, I am going to enlist the two most popular color schemes here – monochromatic and contrasting.
Monochromes are generally great for modern and contemporary setbacks. On the other hand, Eclectic and Farmhouse play well with contrasts.
You could use any of them depending on the interior design scheme and your personal preference.
So, in this case, the best colors to go are lighter sage greens, burnt oranges, crisp whites, tones of lemon yellow, beiges, browns, taupes, and lighter grays.
So, here are a few of the colors I would recommend for a monochromatic palette!
On the other hand, here are a few of the colors I would recommend for a contrasting color palette!
For your ceilings, trims, and moldings – SW Extra White or SW Pure White in itself makes a great option!
SW Evergreen Fog Vs Similar Colors
SW Evergreen Fog doesn't deserve alternatives.
It's so beautiful and timeless that there is no other grayish-green that can provide the exact similar vibe.
However, if we compare – the two colors closely related are SW 9129 Jade Dragon and BM 2139-40 Heather Gray.
Let's see how they differ.
Evergreen Fog Vs Jade Dragon
These two colors have considerable differences.
The former color has a blend of green and gray whereas the latter reflects a deep green undertone.
With an LRV of 30, these two green paint colors are equally dark and deep.
Get stick-on sample sheets of these colors to test in your home.
Evergreen Fog Vs Heather Gray
BM Heather Gray is a cool-toned gray green paint with minimal warmth and a touch of olive.
It has sage undertones with an LRV of 34.77 that makes this color comparatively lighter.
You can best pair this color with bronze, lighter sage greens, and lighter grays.
They might look very similar on the screen, but the biggest secret is to order samples of the color and then assess the brightness and tones in the environment you're painting in. Pick up peel-and-stick samples now from Samplize!
Where to Use Evergreen Fog?
SW Evergreen Fog is a beautiful gray-green paint that can make a wonderful statement in any room of your home. (Only if you have an admiration for it)
Whether it's the kitchen cabinets, bedroom walls, exterior walls, or doors and windows – the cool sage green paint color will prove to be quite fundamental!
Especially for the interior design styles such as Scandinavian, Modern, Contemporary, Transitional, Farmhouse, Coastal, and Caribbean, this color would be good to go!
Let's see where and how to incorporate it into your home.
Evergreen Fog in Living and Dining Rooms
View this post on Instagram
Only if you have a liking, try this color on the walls of the common spaces like the living and dining room.
You can consider painting the accent wall in this color and further pairing it with creamy whites on the adjacent wall.
For the furniture, I highly recommend choosing a tan leather couch with beige or off-white accent chairs and black accents on the frames.
Don't forget to decorate with pampas grass and style it on the corners of your living room.
Lastly, in the case of built-in shelves, don't hold back from rustic wooden textures and also ample faux fur on the rugs, throw pillows, and throw blankets.
Using in Bedrooms
There have been a couple of times that I have recommended this paint color for the bedrooms.
Not only will it calm and soothe you but also give a sense of depth and character to the walls.
You can choose a creamy color for the ceiling, trims, and moldings and ample indoor plants to go.
For the bed and nightstands, choose wooden textures!
Lastly, be as creative as you want on the bedding! Choose terracotta-hued sheets, mustard floral imprints, or even gray geometrics – the choice is yours.
Evergreen Fog in Kitchens
One of the best places to use SW Evergreen Fog is on the kitchen cabinets.
You can choose a true white paint for the backdrop and either matte black or satin brass on the knobs and pull handles. (Depending upon the interior design style)
Pick white backsplash tiles and white marble countertops to play seamless and soothing. (don't forget, you can also play with peel-and-stick wallpapers here)
Lastly, lay out a tan or ivory-toned runner to complete the look.
Using on Exteriors
View this post on Instagram
Especially for the Coastal, Caribbean, and ranch-style homes, this paint on the exteriors is bound to add an eye-catchy appeal.
You can play with gray slate tiles on the roof and crisp white paint for the trims and moldings, door and window frames.
Or choose vice versa and pick this color for the entryway doors and shutters and clean white for the exterior wall.
Additionally, if you have porches and columns – either choose white paint or natural stone wainscotting.
What's the Best Way to Sample This Color?
So now my favorite tip when it comes to testing out a versatile color like Evergreen Fog – go and order a peel-and-stick sample from Samplize.
They've created an awesome way to sample colors with real paint, but no mess. Simply stick on your paint sample instead of having to get a test can of actual wet paint.
For only a few dollars you get a good sized square to throw up temporarily anywhere you want to ""try"" on your color, other similar colors, and any possible coordinating hues you like. It's great!
So, how do you want to use this color in your home? Interiors or Exteriors?
Now that you're well-versed in what makes it so good – are you ready to incorporate Evergreen Fog in your next painting project?
Should there be any questions or thoughts, let us know in the comments below!