There are times when you're looking for a gray that is graceful and equally plays amazingly with your bachelor's pad!
Yes, more like a masculine and strong hue – Benjamin Moore Chelsea Gray is a gray paint color that feels crisp and has a slightly metallic touch.
So, if you're looking for something not too dark and yet quite bold and daring – this color is quite good to go!
And trust me, it will never disappoint you no matter your gender or stage in life.
This color shares tremendous similarities with Sherwin Williams Urbane Bronze – which was named the color of the year 2021!
If you love that mysterious color – you would love this too!
Also since it's a very famous color, you'll find a few inspirations around.
However, to make it easier for you, here I am going to spill all the beans in this color review.
When you're done, you should know pretty well if you should or shouldn't use this color in your home. Or if yes, where and how to best incorporate it!
So, are you excited to incorporate a tinge of Chelsea Gray in your living space?
Let's get started!
Benjamin Moore Chelsea Gray HC-168 Details and Specifications
Before I spill all the design beans, it is necessary that you come across the basics of this beautiful and majestic paint color.
Remember, a color has various faces (tones, tints, and shades) that may only be understood once you analyze the swatch in various lighting conditions.
And that is when you need to understand these terminologies that define a paint color and sets it apart from other various hues.
So, first and foremost, let me introduce you to the concept of Light Reflectance Values or the LRV's that determine how light or dark the paint color is.
You can easily find that value at the end of your Benjamin Moore paint swatch or even the website!
Here, in this case, the LRV of Benjamin Moore Chelsea Gray is 22.16.
And that means it falls on the darker to medium end of the scale – hence, quite bold, daring, and deep!
(Remember, lesser the value, darker the paint – on a scale of 1-100)
Most often, it's best to sample a paint color in your home to confirm it's going to work how you expect. You can do this easily using Samplize. Grab one now for Chelsea Gray!
Secondly, other important associated terms are the RGB and the HEX Values.
Red = 134
Green = 132
Blue = 124
HEX Value = #86847c
Now that is enough with the technical and scientific information, let's get started with the practical aspects of this gray Benjamin Moore paint.
How Does This Color Feel in Space?
Benjamin Moore Chelsea Gray feels absolutely dark, moody, daring, bold, and authentic!
There is no doubt you would love the feel of this color on your walls!
And since this color has very low reflectivity, it's bound to reflect little light – thus, making your space feel smaller!
However, you must not confuse the two terms!
Making your space feel smaller can be achieved with utmost creativity. But if you don't understand the color, it might also result in a dingy-looking space.
(And that's why it's important to understand the hue)
You can either paint all the walls in this color or even choose it as an accent – whether on the furniture frame or door and window frames!
How Does Light Affect the Color?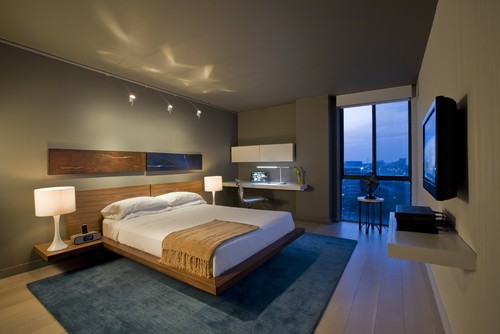 Light always has a major role to play here!
So, in the case of ample natural light – this color is bound to feel lighter and enhanced.
On the other hand, in the case of no natural light – this color will absolutely feel dark, dingy, and enclosed.
So, remember to be cautious when using this paint.
Furthermore, you can always add artificial lighting in the form of wall sconces, chandeliers, and pendant lights for desired aura.
I recommend choosing warmer whites or even warmer yellows too!
Again, I really recommend you try out some wall samples because colors will look different in every location.
What are the Best Coordinating Colors?
Now here is a secret – it's easier to deal with this metallic gray paint.
So, analyze this color scheme and the whole idea of pairing colors!
Remember to note the saturation and reflectivity values of all the complementary colors.
So, you can best pair this hue with true whites, wooden textures, yellows, taupes, greiges, beiges, blues, pinks, and the list goes on and on.
Yes! Grays are comparatively easier to deal with.
You can either choose from a monochromatic or a contrasting color palette – depending upon the interior design style and your preference.
So, here are a few of the colors I would recommend for a monochromatic palette!
On the other hand, here are a few of the colors I would recommend for a contrasting color palette!
CSP-565 Indigo Go
HC-36 Hepplewhite Ivory
For your ceilings, trims, and moldings – you can use BM Chantilly Lace as it is a true white paint and will further protrude the original adjacent hue.
BM Chelsea Gray Vs Similar Colors
There are quite a few similar-looking options with this gray paint color!
However, know that there may be some differences – whether in the form of undertones or reflectivity!
But no two colors can exactly be the same.
So, regardless of that – the two colors closely related are 703 Catalina Blue and 689 Rhine River.
Let's see how they differ.
Chelsea Gray Vs Attitude Gray
Undertones are one of the major differences here!
With an LRV of 20, this gray color has deep green undertones, unlike Chelsea Gray that has a slightly brownish touch!
It's absolutely stunning and timeless – and you can pair it with a similar palette to the former paint.
Find out what works best in your home's environment and lighting by putting up some temporary samples and observe – Get sample sheets from Samplize.
Chelsea Gray Vs Dolphin
Sharing ample undertone similarities, Benjamin Moore Dolphin has equivalent brown undertones.
With an LRV of 22.52 – this color feels absolutely bold and daring.
Mustard yellow and blue is a great color to pair with Dolphin!
Order a wall-stick sample of Chelsea Gray here to help you compare these colors in your own space.
Where to Use Chelsea Gray?
Benjamin Moore Chelsea Gray can absolutely be used anywhere in your home – whether it is the hallways, entryway doors, living and dining rooms, bedrooms, and kitchens!
You can use it on the accessories and even focal furniture pieces and accent walls.
It can also be used on door and window frames and even exterior doors.
Especially for the interior design styles such as Modern, Contemporary, Minimalist, and Scandinavian – this gray color is quite good to go!
Let's see where and how to incorporate it in your home.
Chelsea Gray in Living and Dining Rooms
Why not?
You can absolutely use this paint on the accent walls or even paint all the walls in this color – if the size of your space allows.
Try pairing it with wooden textures in the form of flooring, beams, built-in cabinetry, furniture, and door and window frames and a couple of linen or cotton upholstery.
In the case of wall molding and paneling – you should pair this color with crisp whites!
For lighting – don't hold back from using brass or nickel finish on the chandelier, wall sconce, and pendant lighting.
Using in Bedrooms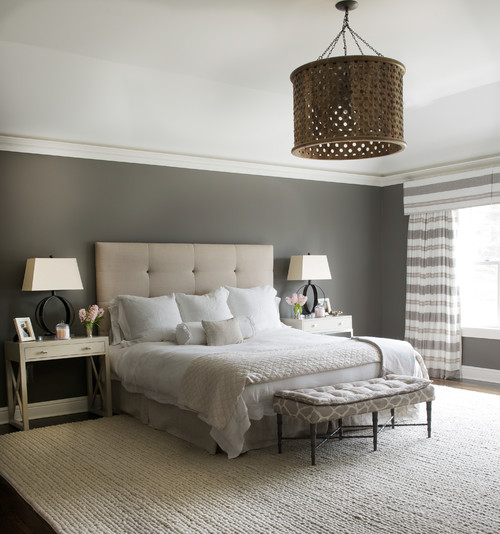 This is a great color to be used in the bedrooms – if you desire a moody and bachelor feel!
Since this color is quite timeless – you can pair it with any color to create a desired mood. Adding blues and greens will exhibit a cool and calm environment whereas the monochromatic tones will create a modern and minimalist appeal!
Furthermore, you can always use white sheer curtains and linen or cotton upholstery on the bed covers.
Don't forget, you can even use velvet and suede upholstery on the bed frame.
Chelsea Gray in Kitchens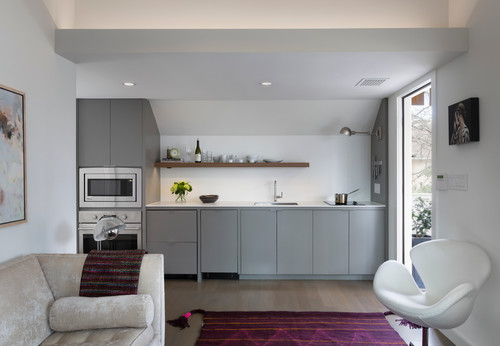 Definitely a recommendation!
Gray kitchens are absolutely modern and timeless – and with this bold tone on the cabinets, your kitchen is bound to feel crisp and refined.
So, definitely give it a try – and pair it with creamy whites, white veined marble countertop, and white or yellow backsplash tiles to create a beautiful backdrop.
You can even create contrast and use the whites on upper cabinets!
In the case of pendant lights, use nickel instead!
Using on Exteriors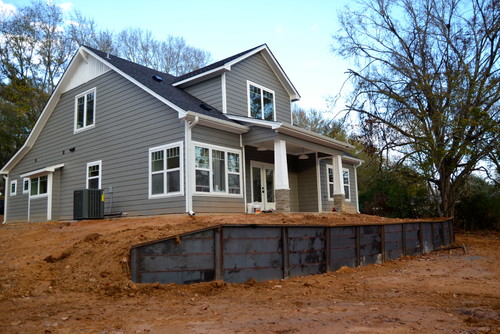 Whether you have a Ranch-style, Coastal, Cape-Cod, Mid-Century Modern or Modern, this paint on the exteriors is bound to add a stunning touch.
You can either add blacks and whites or even a tinge of contrasting black as an accent or go vice versa for the trims, moldings, and door and window frames.
Have a look at the Craftsman bungalow – it plays totally flawless.
In the case of columns on the patio and porch – you can use natural stone wainscotting to add an intricately detailed character to this facade!
My Favorite Way to Sample Colors
I can't say enough about how easy it is to use a peel-and-stick paint sample to give a color like Chelsea Gray a try. The absolute best way is to order a sample from Samplize.
You can check it out right on your wall and move it around. Also, try it along with a another couple of colors to test pairing possibilities.
This is WAY easier than having to open up little cans of paint and rolling/brushing on. Forget the mess and use these helpful temporary sample squares to test location, lighting options, etc.
So, how do you want to use this color in your homes? Interiors or Exteriors?
Now that you know quite a bit more – are you excited about painting your home in Chelsea Gray?
Should there be any questions or thoughts, let us know in the comments below!