This particular white paint color is one of my absolute favorites!
And do you know why? Well, the list is truly endless.
This popular off-white paint defines a major sense of timelessness and versatility in any and every corner of your home.
Not only is it elegant and classy but it can also make your space feel flawless in these more grand design styles.
This is the ultimate off-white color you simply can't go wrong with – if you're confused about picking that perfect warm off-white, this should be your default!
So, what is all the fuss about? And why is this paint making headlines?
Well, Benjamin Moore White Dove is a creamy off-white paint color that is a must when creating a smooth surface on your trims, ceilings, and moldings.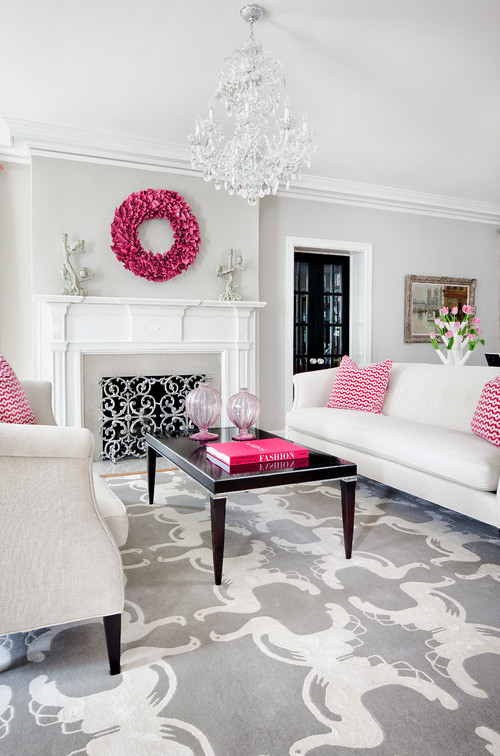 And, if you have doubts about the color looking slightly yellow – well, let me tell you that it doesn't!
It has a touch of gray to it that can negate the "yellow" undertone and make this off-white paint look neutral.
And since this color is neither too-white – it will always play the best of both worlds.
Let's dive in now on all the best tips, color dupes (if you must) and fun coordinating colors!
Benjamin Moore White Dove OC-17 Details and Specifications
You must be thinking how this not just be another boring white, like other million whites out there.
Well, I'll tell you…
This is not some generic white paint color to discuss
Color theory and specifications are quite distinctive from color to color and category to the category!
So we're going to get into how this off-white differs from all of the other notable ones.
When choosing any paint color – you must understand the underlying theories and facts that are related to each you're considering.
And that will truly help you understand what that specific color is composed of.
The first characteristic I look at is the Light Reflectance Values or the LRV to tell me exactly how light or dark the paint color is really is.
Here, in this case, the LRV of Benjamin Moore White Dove is 83.16.
And that means it falls on the lighter end of the scale – so that means it can more easily be used as a base or and neutral.
(Remember, the greater the value, the lighter the paint – on a scale of 1-100)
Secondly, other important associated terms are the RGB and the HEX Values.
Red = 237
Green = 235
Blue = 226
Another tip: If you want to easily try out White Dove to see how it will show, you can with a peel-and-stick sample from Samplize. Pick up your samples here!
HEX Value = #EDEBE2
Ok, moving on to the really fun stuff!
How Does This Color Feel in a Space?
Benjamin Moore White Dove can make your space feel absolutely warm, cozy, and delightful.
It has a classic touch that can exhibit an airy, light, and lustrous feel to it.
And when painting an entire wall in this paint color – you can definitely expect a sense of welcomeness in your home.
Plus, since this color has a high reflectance value – it can further make your space feel light and airy!
Apart from this, I highly recommend incorporating this color in colder regions to feel blissful and peaceful at all times.
Another thing to note is that this color wouldn't even look too washed off when exposed to natural daylight!
How Does Light Affect the Color?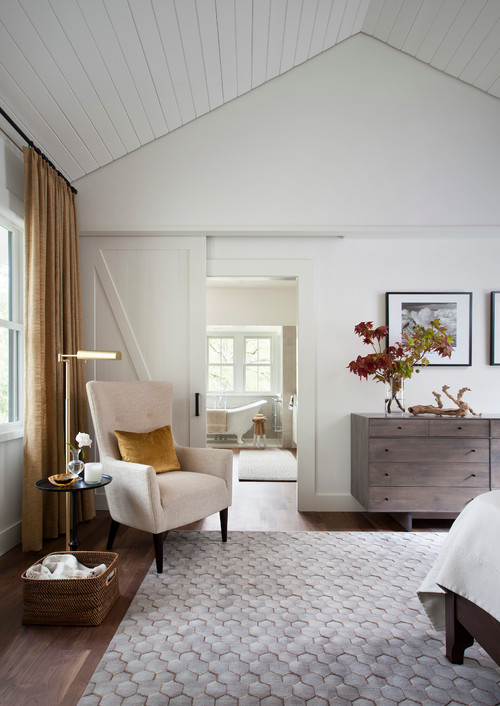 Light can play some role here!
Depending upon the compass directions and the size of a space, this color can showcase the various appearances.
For instance, in the north-facing rooms, this color can feel crisp and slightly grayish! (Yes, keep a note of this undertone)
Secondly, in the west and south-facing rooms, this color may look like a true white since the incoming natural light has the potential to wash off the undertones.
The similar Dove Wing from BM won't wash out as much with its slightly more depth, by the way.
Other than that, you always have the opportunity to play with artificial lighting!
You can mix and match the warm white and cool white lighting based on the task activities and ambiance.
I'll have to say again, the absolutely coolest way to check a color like this out in your home is with a wall sample from Samplize. Buy yours here.
What are the Best Coordinating Colors?
It's important that you pair Benjamin Moore White Dove cohesively to truly feel the beauty of this color.
And that is why you have to be careful when choosing complementary color schemes!
After all, who doesn't like the feel of a well complementary palette, right?
So, analyze this color scheme and the whole idea of pairing colors!
You can best pair this off-white hue with true whites (in the case of trims etc), blues, mauves, black, grays, taupes, and greiges for a monochromatic touch!
You can also incorporate any of the metallic tints as accents here – like nickel, gold, or chrome! I would even prefer a touch of wooden textures here and there!
Furthermore, you can either choose from a monochromatic or a contrasting color palette – depending upon the interior design style and your preference.
So, here are a few of the colors I would recommend for a monochromatic palette!
CC-520 Florentine Plaster
CC-530 Brandon Beige
CC-540 Stampede
On the other hand, here are a few of the colors I would recommend for a contrasting color palette!
CC-578 Hemp Seed
CC-518 Escarpment
CC-818 Early Morning
For your ceilings, trims, and moldings – you can use BM Chantilly Lace as it is a true white paint and will further protrude the original adjacent hue.
BM White Dove Vs Similar Colors
Looking for similar colors can be equally challenging!
However, there might be a slight alteration in the undertones or the reflectivity in the similar colors.
So, what is it that makes you want to replace BM White Dove?
Is it the undertones or the reflectivity?
Well, in either of the cases, let me tell you – it's difficult to find something exactly the same.
So, here are the two colors closely related to White Dove: OC-60 Icicle and SW 7008 Alabaster.
Let's see how they differ.
White Dove Vs Icicle
Benjamin Moore Icicle is a soft and muted off-white color with deep gray or green undertones.
With an LRV of 82.04 – this color is quite light and airy.
If used in the north-facing rooms, this color can majorly look green.
Order a stick-on sample of Icicle here to help you compare these colors in your own living spaces.
White Dove Vs Alabaster
Sherwin Williams Alabaster is a warm-toned white that feels absolutely cozy and comfortable – I do a thorough review here!
With an LRV of 82, this color will feel creamy, light, and airy.
Yes – you can absolutely use it in the modern farmhouse, contemporary, and modern interior design styles.
Try out the looks of these colors in your own home with a some temporary wall samples. You can find them here!
Where to Use White Dove?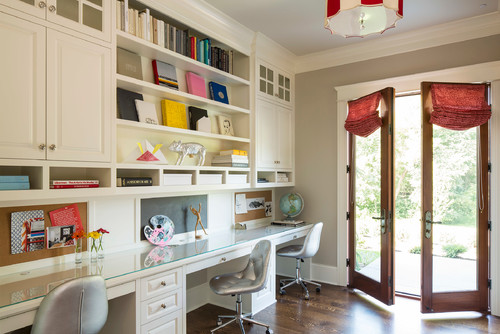 Benjamin Moore White Dove is a warm-toned white that will absolutely make a wonderful statement in any corner of your home.
Whether it's the kitchen cabinets, living and dining room walls, exterior walls, or the furniture frame – this color is definitely to have an eye on.
Let's see where and how to incorporate it in your home.
White Dove in Living and Dining Rooms
View this post on Instagram
In the living and dining rooms, this color can be used on all the walls! Else, you have the opportunity to pair it with an accent like midnight blues, bronze, or charcoal gray.
Choose a crisp white paint for the ceilings, trims, and moldings.
Furthermore, to add a sense of contrast and visual texture – ensure to play with various hues, material textures, fabrics, and patterns to bring a sense of liveliness.
If you have existing wooden floors, it's definitely a plus point.
And lastly, do ensure to add a darker-toned contrast with the help of throw pillows or artwork in the space.
Using in Bedrooms
View this post on Instagram
In the bedrooms, I would highly prefer a paint color like BM White Dove.
It is versatile and can play magic in any space!
You must remember to pair it with hardwood floors, ample glass, and metallic tints such as satin brass and polished chrome.
If you want to create a McGee style studio – choose this color on the walls!
White Dove in Kitchens
View this post on Instagram
Your kitchen is calling out for a paint color like BM White Dove!
You must use it on the cabinets to exhibit a lively, warm, and welcoming vibe.
Furthermore, you must pair it with shades of wooden textures on the floating shelves and lighting fixtures.
To create a striking appeal, don't hold back from incorporating this paint color on the upper cabinets whereas dark blue, sage green, or gray on the lower.
Using on Exteriors
View this post on Instagram
Whether you have a Craftsman, Ranch-style, Victorian, Mid-Century Modern, Contemporary, or Modern style, this off-white paint will never disappoint you!
You can either add blacks and darker grays or even a tinge of wooden-themed textures as an accent or go vice versa for the trims, moldings, and door and window frames.
In the case of columns on the patio and porch – you can use natural stone wainscotting to add an authentic detailed character to this facade!
Add a tone of mustard, minty green, or mauve on the entryway door to create a stark of liveliness and joy.
What's the Best Way to Sample This Color?
So now my favorite tip when it comes to testing out a versatile color like White Dove – go and order a peel-and-stick sample from Samplize.
They've created an awesome way to sample colors with real paint, but no mess. Simply stick on your paint sample instead of having to get a test can of actual wet paint.
For only a few dollars you get a good sized square to throw up temporarily anywhere you want to ""try"" on your color, other similar colors, and any possible coordinating hues you like. It's great!
So, how do you want to use this color in and around your home?
BM White Dove is sure to get you excited either way!