Warm and creamy, Benjamin Moore Dove Wing is a beautiful off-white neutral that feels absolutely delightful and tender!
Whenever the question of warm neutral arises – don't hold back from considering this soothing paint.
This timeless, classic, and elegant color can be used anywhere and everywhere in your home.
So, regardless of your style and space – you can incorporate this time irrelevant beauty!
If you wonder what actually makes this color so mesmerizing – well, let me tell you, it has a way of helping your space calm down and making any style feel absolutely warm and cozy!
So, in the colder regions of northern states and Canada, you can consider choosing this paint for a warmer vibe!
This lighter-toned paint realistically feels like a feathery dove you would love to hold and embrace.
And the best part is – that you can pair it very beautifully with wooden textures, wall-to-wall carpeting, as well as hardwood floors.
Yes! This paint is quite versatile and flexible to use.
So, are you ready to incorporate a tinge of Benjamin Moore dove wing in your home?
I am sure you are bound to feel light and airy!
So, without a delay – let's get started with this fluffy color on board.
Benjamin Moore Dove Wing 960 Details and Specifications
Color theory and specifications are quite unique from color to color and category to category.
After all, there is something that differs this particular off-white from all of the others, right?
So, when choosing a paint color – you must understand the underlying theories and facts that are related to each one of them.
And that will truly help you understand what that specific color is composed of.
So, first and foremost, let me introduce you to the concept of Light Reflectance Values or the LRV's that determine how light or dark the paint color is.
You can easily find that value at the end of your Benjamin Moore paint swatch or even the website!
Here, in this case, the LRV of the Benjamin Moore Dove Wing is 79.2.
And that means it falls on the lighter end of the scale – so it's clearly a recommendation for bases and neutrals!
(Remember, Greater the value, lighter the paint – on a scale of 1-100)
Another tip: If you want to easily try out Dove Wing to see how it will show, you can with a peel-and-stick sample from Samplize. Pick up your samples here!
Secondly, other important associated terms are the RGB and the HEX Values.
Red = 233
Green = 230
Blue = 219
HEX Value = #e9e6db
Since we have discussed the technical and scientific information, let's get started with the practical aspects of this creamy off-white Benjamin Moore paint.
How Does This Color Feel in Space?
Undoubtedly, Benjamin Moore Dove Wing feels like the realistic wings of a dove (lol)!
It feels soft and cozy – and extremely calm and humble.
But jokes apart – just how feathery this color feels is directly proportional to how warm and cozy it appears.
Furthermore, this color is bound to make your space feel larger, airier, and spacious.
With high light reflectivity, the walls tend to push away from each other – creating a perfect illusion.
Thus, a great solution to small city apartments and lofts as well!
How Does Light Affect the Color?
Direct natural light has the potential to make a space feel lighter and brighter!
And that's why this is one aspect you should always consider when choosing a paint color.
So, if your room receives ample natural light – you can use this paint to further feel light and airy!
However, note that the deep warm undertones are expected to get washed away.
So, in terms of compass directions, I would recommend this paint in any direction – whether north, south, east, or west.
However, it may appear differently in the south-facing rooms as well as north-facing rooms.
It can feel very warm in the former and muted in the latter.
Other than that, you always have the opportunity to play with artificial lighting!
I'll have to say again, the absolutely coolest way to check a color like this out in your home is with a wall sample from Samplize.com. Buy yours here.
What are the Best Coordinating Colors?
It's important that you pair Benjamin Moore Dove Wing with commendable neutrals and cool-toned opposites to feel the true hue of this color. Example: Pale Oak from BM (which is on the same paint strip).
And that is why you have to be careful when choosing complementary color schemes!
After all, who doesn't like the feel of a well complementary and well-balanced palette, right?
So, analyze this color scheme and the whole idea of pairing colors!
You can best pair this off-white hue with true whites (in the case of trims and moldings etc), blues, mauves, mustards, black, grays, taupes, and even bronze, browns, and greiges!
You can also incorporate any of the metallic tints as accents here – like nickel, brass, gold, or chrome!
Furthermore, you can either choose from a monochromatic or a contrasting color palette – depending upon the interior design style and your preference.
So, here are a few of the colors I would recommend for a monochromatic palette!
AF-435 Spa
1517 Mosaic Tile
515 Baby Turtle
On the other hand, here are a few of the colors I would recommend for a contrasting color palette!
For your ceilings, trims, and moldings – you can use BM Simply White or BM Chantilly Lace as it is a true white paint and will further protrude the original adjacent hue.
BM Dove Wing Vs Similar Colors
Looking for similar colors can be equally challenging! As there might be a slight alteration in the undertones or the reflectivity.
Well, in either of the cases, let me tell you – it's difficult to find something exactly the same.
So, here are the two colors closely related to Dove Wing are PM-20 China White and SW 7627 White Heron.
Let's see how they differ.
Dove Wing Vs China White
Almost looking exactly the same, Benjamin Moore Dove Wing shares quite a few similarities with China White.
With an LRV of 77.95 – this color feels quite airy and light! Also, the slight pink undertones in China White is what lets the color stand out from the rest.
You can best pair it with browns, greiges, and grays!
Order a stick-on sample of China White here to help you compare these colors in your own living spaces.
One other I've reviewed that is quite similar is BM Soft Chamois.
Dove Wing Vs White Heron
Another beautiful paint from the off-white collection, Sherwin Williams White Heron is quite similar!
This paint has an LRV of 76 – thus, equally lighter and airier!
You can also detect slightly pink undertones in this color.
Try out the looks of these colors in your own home with a some temporary wall samples. You can find them here!
Where to Use Dove Wing?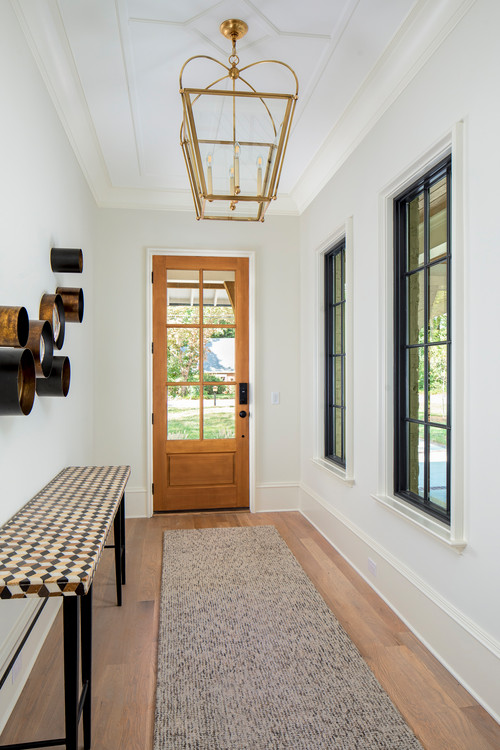 Benjamin Moore Dove Wing is a must-use paint in the home if you crave a warmer appeal.
Whether you have a traditional style or transitional, modern, contemporary, farmhouse, and bohemian – this color is quite good to go!
Let's see where and how to incorporate it in your home.
Dove Wing in Living and Dining Rooms
This creamy off-white paint color is undoubtedly a great recommendation for common spaces such as the living and dining rooms.
You can choose to go for an all-white theme and pair it with monochromatic wooden textures only.
Otherwise, choose contrasting hues like mauves, purples, blues, and warmer grays to splash some color.
In the case of metal accents, you can choose matte black, chrome, nickel, gold, and brass.
For furniture, you can add linens (of course), cotton, faux, leather, flannel, and even velvet!
Using in Bedrooms
This color is a must recommend in the bedrooms – since it closely relates to soothing and warmer vibes.
And further, if you want to make your space seem larger, you can absolutely incorporate this paint!
Apart from that, try pairing this color with matte black, gold, and brass finishes in the form of a fandelier, wall sconces, and table lamps.
In the bedrooms, try blending materials like velvet, wooden, and cotton on the upholstery.
Dove Wing in Kitchens
Trust me, there's something absolutely magical about white kitchens.
Not only do they look light and bright but also tend to exhibit a warmer appeal.
You can choose wooden textured floating shelves, hexagonal glossy white backsplash tiles, and golden, matte black, or nickel pull handles for drawers.
You can also infuse color by splashing some hues like beiges and blues on the lower cabinets (darker beiges is a great option)!
Using on Exteriors
Whether you have a Ranch-style, Mid-Century Modern, Contemporary, or Modern style, this warm off-white paint will never disappoint you!
You can either add whites, blacks, and darker grays or even a tinge of wooden-themed textures as an accent or go vice versa for the trims, moldings, and door and window frames.
In the case of columns on the patio and porch – you can use natural stone wainscotting and tile cladding to add a detailed character to this facade!
What's the Best Way to Sample This Color?

So now my favorite tip when it comes to testing out a versatile color like Dove Wing – go and order a peel-and-stick sample from Samplize.

They've created an awesome way to sample colors with real paint, but no mess. Simply stick on your paint sample instead of having to get a test can of actual wet paint.

For only a few dollars you get a good sized square to throw up temporarily anywhere you want to "try" on your color, other similar colors, and any possible coordinating hues you like. It's great!
So, how do you want to use this color in your homes? Interiors or Exteriors?
Now that you have all the secrets – are you excited about painting your home in Dove Wing?
Should there be any questions or thoughts, let us know in the comments below!