Beauty to the utmost, this elegant gray is the absolute answer if you are craving for a dreamy and timeless gray.
With its slight purity and piousness, this paint color proves to be an ideal option in homes that want a neutral cool backdrop.
Benjamin Moore Silver Chain is a perfect cool-toned gray which is neither too dark and nor too light.
I absolutely adore the look and feel this "silver" exhibits in a room!
Trust me – you won't want to ignore it if you're looking for an eye-catching gray (who knew that could be a thing?).
I have had a couple of clients asking me specifically about this color and why not, this paint color is bound to make your spaces look larger and brighter while giving a perfect tinge of crispness as the texture.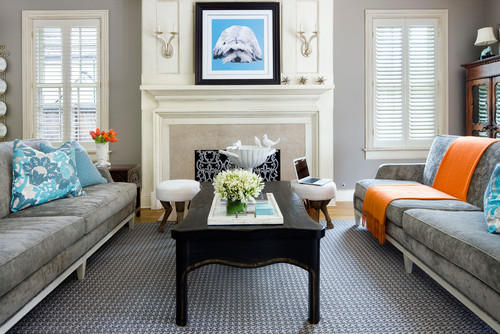 So, if you are planning to paint your home walls in Silver Chain – I will definitely pass on that, however, I am also going to spill a few beans here about how, where, and when to use this paint color in your homes.
Remember, before choosing any paint color – you must acquaint yourself with this information.
Because it may be a possibility that color appears extremely beautiful on the swatches and samples but not really on the walls.
And you simply can't afford that mistake, right?
So, let's get started!
Benjamin Moore Silver Chain 1472 Details and Specifications
Most importantly, understanding the paint color is primary.
But what needs to be understood?
Well, first and foremost – you must acquaint yourself with the Light Reflectance Values or LRV's of the paint color.
Remember, every color is unique!
And two colors are similar.
Hence, LRV helps in determining how light or dark the paint color is.
And based on that information we can derive where to use it in your home – whether in a room full of natural light and windows or a room with hardly any light!
So, the LRV of Silver Chain is 57.46!
Making it a mid-toned paint color – it is neither too dark and nor too light.
Secondly, other information to note is the RGB and HEX Values.
Red = 199
Green = 199
Blue = 194
HEX Value = #c7c7c2
If you want to see how Silver Chain will look in your unique environment, I highly suggest ordering a peel-and-stick paint sample from Samplize here!
Now that we have all the technical information, let's get our hands-on practical applications of the paint color and how it may feel in a space.
How Does this Color Feel in a Space?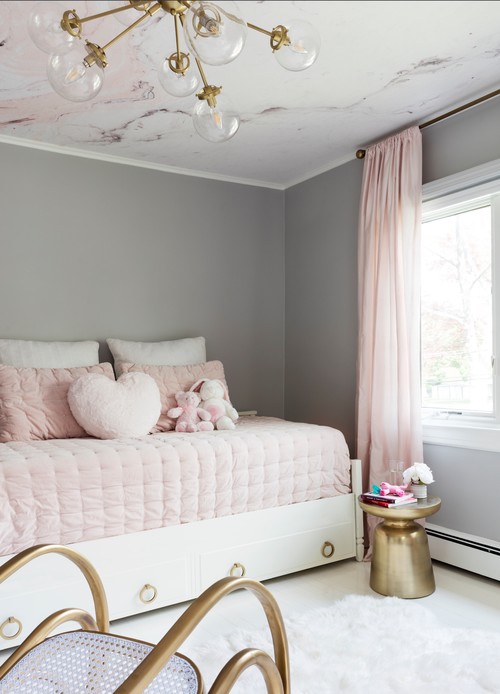 In the above photo you can see the color exhibits a calm experience in the girl's nursery.
Benjamin Moore SC feels absolutely light and bright in a room.
So, if you want to make your space look cool-toned and bright – I would recommend this paint color. Also, if you are residing in any of the warmer southern states – trust me, this color is going to give a perfect cool feel as soon as you enter the home!
It is also important to know that each color is associated with a feeling – for example, this cool gray feels perfectly calm and tranquilizing in a space.
You can use this paint color if your room is mid-sized.
For very small spaces – I would recommend painting the walls in paint colors with an LRV greater than 75!
How Does Light Affect the Color?
You can see in the photo that a good presence of light makes SC look light and bright.
Light always has a major role to play on the paints and colors!
Light is what brightens up the tone of the shade and exhibits the true hidden hue behind it.
Hence, it is important to understand the tone and use it wisely in the rooms.
For example, I would highly recommend using this paint color on the west-facing or south-facing walls!
Secondly, artificial lighting too does matter. Depending on the saturation of the light, whether warm-white, warm-yellow, or yellow – the aura of your room will alter.
Want to see what Silver Chain looks like in your own living space? Pick up a wall sample now from Samplize!
What are the Coordinating Colors for Benjamin Moore Silver Chain?
Now that you are on the way to choosing this color for your homes, it is important to determine its best possible coordinating colors.
But what are coordinating colors?
Well, coordinating colors could be accents and bases that you pair up your neutral with, or vice versa.
There are two ways to create a scheme here – monochromatic or contrasting!
Depending on your design style, you choose one of them!
So, for a contrasting scheme, here are a few recommended options.
Oxford Gray 2128-40
Black Beauty 2128-10
Silver Cloud 2129-70
On the other hand, in the case of a monochromatic scheme, choose the following paint colors,
Gray Huskie 1473
Cape May Cobblestone 1474
Graystone 1475
This is for the perfect modern-minimal look that you want.
Also, do remember to paint your ceilings in BM Decorator's White to feel the actual hue of Silver Chain on your walls.
Benjamin Moore Silver Chain Vs Similar Colors
There is always a want for alternatives, right?
And that is absolutely fine. Even though I told you that no two colors are exactly the same – I can still recommend some very interesting examples that would kind of look similar.
The difference may lay in the brightness and undertones of the paint color.
So, the two most similar paint colors are BM Stonington Gray HC-170 and BM Metro Gray 1459.
Silver Chain Vs Stonington Gray
A tone lighter, Stonington Gray has an LRV of 59.75!
This gray is absolutely crisp and modern and can be used in homes with contemporary styles.
However, this gray may give a bold appearance when observed in natural light.
To help determine the true hue of a paint the color, place a swatch of it against a blank white sheet of paper. You'll see if it tends towards cool or warm! Even BM Metropolitan, which is a true gray will show as more cool-toned when doing this.
See how these colors compare real time with stick-on wall samples from Samplize.
Silver Chain Vs Metro Gray
Metro Gray is another timeless gray with deep cool undertones. It is slightly lighter than Silver Chain and slightly darker than Stonington Gray.
Metro Gray has an LRV of 58.9!
I also can't help but mention BM's most popular gray, the warmer undertoned Revere Pewter gray paint. If you like gray, but want a more relaxed feel in your living space then it's worth checking out.
So, it is absolutely a recommended option to use in homes if you like a true gray hue. It is also a possibility that the two might appear the same in some conditions.
Buy some wall samples of each of these colors to easily compare them right in your home.
Where to Use Silver Chain in Your Home?
Doesn't BM look absolute pure in home interiors?
Absolutely Anywhere – from hallways to living and family rooms to bedrooms, bathrooms, kitchens, and even the exteriors.
SC would be highly appreciated in homes that have a transitional, contemporary, modern, Scandinavian, and Modern Farmhouse interior design styles.
But do not use this color if you have golden oak cabinets all the way as it is likely to disrupt the balance of the saturation in your home.
Let's see how we can incorporate this paint color in various parts of the home.
Silver Chain in Living Room and Hallways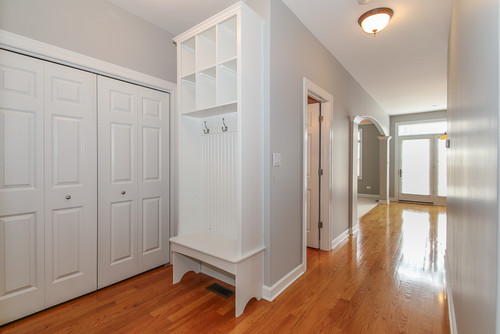 This hue looks brighter in this well-lit hallway as shown above.
Try to pair this color with clean whites, some contrasting blues, blacks, and if you want to add a tinge of warmth – add yellow through decorative accents.
But for real, if you are looking for a cozy living room – this paint color might not be your answer.
You can pair it with white sheer curtains and lush walnut-stained hardwoods to create a perfect cohesive look.
You can also paint the accent wall in a darker gray paint color if your space allows.
Using in Bedrooms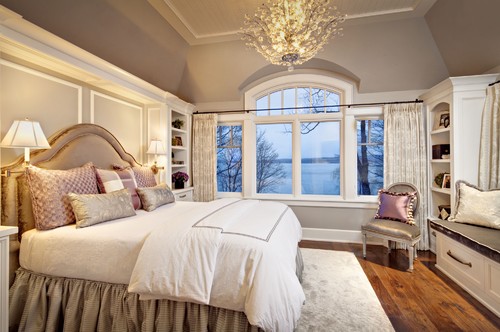 See it working in a Transitional style bedroom.
Why not? Yes! You can use Silver chain in the bedrooms.
But first, ask yourself what kind of mood you want to create. Is it warm and cozy or cool and formal?
Grays are always a great option because they make you feel relaxed and calmed down after a long, hard working day!
You can use some nice sleek or distressed nightstands, coffee table, and headboards to make a great pair.
If you want to use a slightly darker gray that's warm and cozy check out BM Silver Satin. It's another good one!
Silver Chain in Kitchens
Kitchens would look much lighter and brighter in Silver Chain.
Yes! It will so you can use this paint color as far as you pair it with the best opposites. For example, with silver chain, I would recommend using white cabinets, silver pull handles and fixtures, and white backsplash tiles. The countertop marble could go darker!
The look would totally be priceless.
Using in Bathrooms
(Emily from Name5things reveals BM Silver Chain in her home)
I have recommended many of my clients to use grays in bathrooms because they make your bathroom feel refresh and much spacious.
For a tinge of excitement, you can add patterned tiles that also create a perfect contrast and accent in your bathroom.
Moreover, don't forget to add some plants in there.
Silver Chain on Exteriors
This awesome gray is going to look much lighter when used on the exterior walls.
You can either use stark white or deep black on your trims and molding along with door and window frames.
I highly recommend this one for modern and minimalist home exteriors.
An Easy Way to Sample This Color!
Instead of picking up a small can, or worse, an entire gallon can, to ""test"" out Silver Chain, you can order a peel-and-stick sample of it from Samplize.
The company is genius – they provide a 12″ x 12″ stick-on square you can put up anywhere in your home to try out a paint color.
For a few bucks, it's definitely worth the small investment so you can see what the color will do in YOUR unique space, with your own lights and shadows.
So, do you think you will use this one in your homes? Where do you want to use it? Do let me know in the comments below about your experiences and Benjamin Moore Silver Chain stories.