If you're always confused about picking the best blue or green for your home and always ponder upon the tones of blue-green, this is one paint color to definitely stop at!
Unlike SW Clary Sage and SW Ancient Marble, this particular shade of blue-green is cool, rejuvenating, calm, and extremely relaxing.
Yes, instead of the brown or yellow undertones, this particular sage green paint color has a dominant play of blue, green, or gray.
So, what exactly does SW Halcyon Green have to offer?
Well, this paint color is cool and calm with deep blue and green undertones.
View this post on Instagram
It plays a big-time chameleon – and that's why this paint color deserves a detailed review.
Wait, did I just scare you by calling this color a chameleon?
Well, don't worry – I am going to exactly reveal the how bouts and whereabouts of this paint color.
By the end of this color review, you'll know what colors to pair this blue-green color with, LRVs, undertones, color palette, similar colors, and much more.
So, are you excited? Well, it's time to gear up and dive in deeper into what SW Halcyon Green has to offer!
Sherwin Williams Halcyon Green SW 6213 Details and Specifications
This is one of the most unique cool sage green paint colors ever.
Unlike the others, this color category has a perfect blend of blue and green – in equal amounts to create a sense of balance, harmony, and symphony.
In the end, it's all about the undertones that matter.
Just when you want to choose a paint color for your home (especially if it's a chameleon), you must read through the underlying values and theories to truly understand the hue.
So, first and foremost, let me introduce you to the concept of Light Reflectance Values or the LRVs that determine how light or dark the paint color is.
You can easily find that value at the back of the Sherwin Williams paint card!
Here, in this case, the LRV of Sherwin Williams Halcyon Green is 39.
And that means it falls on the medium and darker end of the scale – not too dark nor too light.
(The lesser the value, the darker the paint, on a scale of 0-100)
Secondly, other important associated terms are the RGB and the HEX Values.
Red = 155
Green = 170
Blue = 162
If you want to see how Halcyon Green will look in your unique environment, I highly suggest ordering a peel-and-stick paint sample from Samplize here!
HEX Value = #9baaa2
Now that is enough with the technical and scientific information, let's get started with the practical aspects of this cool sage green Sherwin Williams paint.
How Does This Color Feel in a Space?
View this post on Instagram

Sherwin Williams Halcyon Green is bound to make your space feel cool, calm, rejuvenated, relaxed, and laid-back.
With a deep cool undertone, this color also has the potential to make your space look larger than it may already be.
Especially for warmer regions in the south, I recommend incorporating this color to relax your mind.
You can also use this color in kids' rooms and home offices as well.
Try to use more and more of this paint color in the larger and medium-sized rooms whereas avoid the color in smaller spaces or rooms with lesser natural light.
That might also end up making the paint color look dull and flat (And not so refreshing).
How Does Light Affect the Color?
View this post on Instagram
Like I said, SW Halcyon Green can be quite difficult to work with. Of course, due to the confusing undertones and the unexpected effect of natural light on these paint colors.
Especially with this color, it can tend to appear different in different compass directions.
For instance, in the north-facing rooms, SW Halcyon Green can primarily look bluish but with a tinge of green.
Whereas in the south-facing rooms, this paint color can look dominantly green with a very soft and creamy texture.
Let's not ignore the west and east directions since they equally hold major importance here.
Using this paint color in the west direction is ideal, only because it will appear warmer during the afternoons.
Meanwhile, if you tend to use the room throughout the day, avoid the color in east-facing as it may come out cold and crisp.
Like I said, the best way to see this color in action before you paint is to buy some paint samples you can easily stick on your wall. It'll definitely give you some clarity if you're unsure!
What are the Best Coordinating Colors?
This can be quite a fun task! Well, something that I absolutely love.
Creating color palettes primarily depends upon your style, design scheme, color palette, and personal preference.
Not just restricted to a specific category but SW Halcyon Green can easily work with lighter grays, off-whites, creams, midnight blues, terracotta, beige, blush, and darker sage greens.
In terms of metallic accents, you can pick satin brass, antique brass, matte black, polished chrome, and oil-rubbed bronze.
For fabrics, choose linen, leather, and suede in beige, white, cream, deep blue, and gray. You can even play with natural materials like rattan, wicker, cane, and wooden textures.
So, I am going to enlist the two most popular color schemes here – monochromatic and contrasting (warm and cool).
Monochromes are generally great for modern and contemporary setbacks. On the other hand, Eclectic and Farmhouse play well with contrasts.
So, here are a few of the colors I would recommend for a monochromatic palette!
SW 6214 Underseas
SW 6215 Rocky River
SW 6216 Jasper
Here are a few of the colors I would recommend for a contrasting palette! (cool)
SW 7006 Extra White
SW 7668 March Wind
SW 9178 In The Navy
Here are a few of the colors I would recommend for a contrasting palette! (warm)
For your ceilings, trims, and moldings – SW Extra White or SW Pure White in itself makes a great option!
SW Halcyon Green Vs Similar Colors
SW Halcyon Green might have some alternatives.
Some with varying undertones and some with varying reflectivity values.
So, if we compare – the two colors closely related are SW 9133 Jasper Stone and BM 1573 Castle Walls.
Let's see how they differ.
Halcyon Green Vs Jasper Stone
Sherwin Williams Halcyon Green and Jasper Stone share the similarities of undertones but not the reflectivity values.
The latter paint color has an LRV of 32, making the paint color feel quite dark and dramatic at all times.
SW Jasper Stone can feel quite flat in a room with little natural light – so, beware and always determine the local conditions of a space before using the paint color.
Get a stick-on sample square of Jasper Stone to test in your home.
Halcyon Green Vs Castle Walls
BM Castle Walls is slightly more neutral as compared to BM Halcyon Green. Yes, this color has more gray to it!
With an LRV of 40.45 – this color feels much lighter and airier as compared to the former paint color.
This color also has the potential to feel gray in some lighting conditions. (Especially in the north-facing rooms)
Other similar colors include SW Quietude, and for a little more brightness, SW Waterscape.
They might look very similar on the screen, but the biggest secret is to order samples of the color and then assess the brightness and tones in the environment you're painting in. Pick up peel-and-stick samples now from Samplize!
Where to Use Halcyon Green?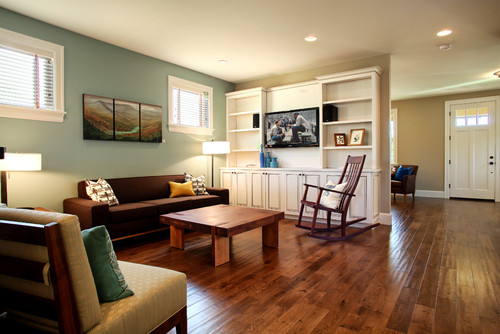 Sherwin Williams Halcyon Green is a cool-toned sage green paint color that can be used in any corner of your home.
Whether it is the kitchen cabinets, exterior and interior walls, furniture frame, dining room, kids' room, and nursery – it plays natural and breezy everywhere.
Let's see where and how to incorporate this paint into your home.
Halcyon Green in Living and Dining Rooms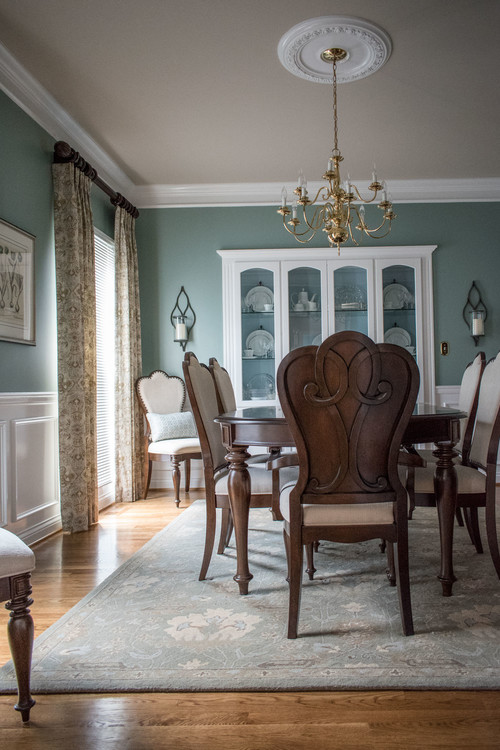 Sherwin Williams Halcyon Green is a paint color to be used on all the walls of your living and dining room.
You must pair this color with SW Pure White on the ceiling, trims, moldings, wainscotting, and window frames.
To add a sharp contrast, add wooden textures on the furniture frames and decorative accessories.
Lastly, you can always style with metallic textures like satin brass, polished chrome, antique brass, and matte black on the hardware and pull handles.
On the floors, choose mahogany, oak, or ebony!
Using in Bedrooms
Especially for kids' bedrooms, this paint color is much recommended!
You can paint all the walls in this color and further pair it with SW Pure White on the ceiling, wainscotting, and moldings.
For the bedframe, choose lighter beige for a softer look or even black wrought iron frame for a rustic and industrial look.
However, be careful that there's ample natural light entering since that will further rejuvenate the vibe of this color.
Halcyon Green in Kitchens
View this post on Instagram
Sherwin Williams Halcyon Green is a great sage green color suggestion for the kitchen cabinets.
Especially on the lower cabinets, this color will play a flawless role when paired with SW Pure White on the upper cabinets.
For the hardware, choose satin brass, matte black, and polished chrome.
If you want to create a unique look, you can add white tiles in an intriguing pattern like herringbone or subway.
Using on Exteriors
Especially for the Coastal, Caribbean, transitional, traditional, and ranch-style homes, this paint on the exteriors is bound to add a statement of style.
You can play with gray Spanish interlocking tiles on the roof and crisp white paint for the trims and moldings, door and window frames. Or choose vice versa.
Furthermore, if you have porches and columns – either choose white paint or natural stone wainscotting (in a warmer tone).
In case you want to add an eye-catchy statement – add deep blue, rust, black, or mustard on the entryway doors and shutters.
An Easy Way to Sample This Color!
Instead of picking up a small can, or worse, an entire gallon can, to ""test"" out Halcyon Green, you can order a peel-and-stick sample of it from Samplize.v
The company is genius – they provide a 12″" x 12″" stick-on square you can put up anywhere in your home to try out a paint color.
For a few bucks, it's definitely worth the small investment so you can see what the color will do in YOUR unique space, with your own lights and shadows.
So, how do you want to use this color in your homes? Interiors or Exteriors?
Now that you have all the secrets – are you excited about painting your home in Halcyon Green?
Should there be any questions or thoughts, let us know in the comments below!