There are some hues that truly amaze us in every possible way.
Whether it's about creating a soothing or bold atmosphere, or simply defining a character for those bare walls!
Today, I am going to get you acquainted with a purely blissful paint color – Behr Reflecting Pool.
This is definitely not a true paint color – rather, it's an amalgamation of portions of blue, green, and gray.
It falls on the cool end of the scale – exhibiting quite some chilly vibes.
It's neither too dark to overwhelm your space unexpectedly. So, what makes this color so enchanting and must-try?
Well, the sole fact is that it feels absolutely composed and peaceful.
Interior design styles like coastal and Caribbean simply adore such paint colors.
They tend to make the space look airy and spacious – and that's why it makes a wonderful option in these scenarios.
And since the paint has deep hidden gray, blue, and green undertones – it further adds excitement and enthusiasm.
So, beware to see different faces of this paint at different times of the day in different rooms.
Well, if that was confusing for you – in short, this color is quite tricky to play with.
But you can always achieve the best out of it when pairing it with other hues and materials.
Don't worry – I am going to spill all the beans.
So, stay back and relaxed!
Behr Reflecting Pool 720E-1 Details and Specifications
There's something so magical about this paint color that you simply can't ignore!
Before you choose a paint color for your home, you must analyze the underlying theories and facts.
And truly, this is one of the most important aspects that you need to consider!
After all, there is a list of tremendous tones of cool grays with either blue undertones or green.
Similarly, some greens have blue undertones and gray whereas some blues have green and gray undertones.
So, first and foremost, let me introduce you to the concept of Light Reflectance Values or the LRV's that determine how light or dark the paint color is.
You can easily find that value on the Behr website.
Here, in this case, the LRV of the Behr Reflecting Pool is 73.
And that means it falls on the lighter end of the scale.
(Remember, greater the value, lighter the paint – on a scale of 1-100)
Also, just in case if you wonder where to find the Behr decks – well, simply visit your nearest Home Depot store!
Secondly, other important associated terms are the RGB and the HEX Values.
Red = 220
Green = 223
Blue = 220
HEX Value = #dcdfdc
Since we have discussed the technical and scientific information, let's get started with the practical aspects of this soothing Behr paint.
How Does This Color Feel in a Space?
Behr Reflecting Pool truly exhibits a sense of a vast pool with calm and still water.
It makes a soothing and peaceful backdrop – whereas touching upon adjectives like feminine and fragile.
Undeniably, this color will make your room look airy and spacious – and you don't want to give a second thought to it.
However, depending upon the compass directions and the view of the outdoors can your undertones alter.
But most importantly, this color is a true charm.
It will release stress-free vibes and make you want to come back home again and again.
How Does Light Affect the Color?
Light – especially natural – will play tons and tons of roles here. It will further make your room look lighter, brighter, and airier.
However, it will appear different in different compass directions. For instance, the north-facing rooms receive cool gray natural light – which means that this paint will further look cool and crisp.
Whereas in the south or west-facing rooms where the natural light received is slightly yellowish and warm – the paint color will appear green or blue!
You see – you really have to be very thoughtful when picking that perfect paint color for the home.
You also need to take into consideration the function of your room and at what time you plan to use it.
If for some reason, you're restricted to using a particular paint, you can always make use of artificial lighting to create a dreamy atmosphere.
What are the Best Coordinating Colors?
Choosing a well-balanced and well complementary color scheme is necessary.
You simply can't pair any random hue with the other. And moreover, if you have a great command of the color wheel, it's like a cherry on the top.
Hence, from crisp and creamy whites, lighter mauves, coral pinks, lighter beiges, to darker grays – this particular gray-blue-green paint will play flawlessly with all of the above-mentioned shades.
However, you must remember to be very careful when pairing them – so as to avoid making a mess!
Also, if you are planning to introduce material and metallic accents through floating shelves, chandelier, artwork frames, and furniture frames – remember to add tinges of matte black, chrome, or brushed brass.
Discussing further, you have the option to choose from either a monochromatic or contrasting color palette!
Here are a few of the colors I would recommend for a monochromatic color palette!
720E-2 Light French Gray
720E-3 Rocky Mountain Sky
720F-4 Stone Fence
Here are a few of the colors I would recommend for a contrasting color palette!
For your ceilings, trims, and moldings – you can use Behr Ultra Pure White as it is a true white paint and will further protrude the original adjacent hue.
Behr Reflecting Pool Vs Similar Colors
You can find a wide array of similar-looking options here!
The gray with deep blue or green undertones are what they all have.
So, the two closely related colors are SW 6238 Icicle and BM 2132-70 Mineral Ice.
Let's see how all of them differ.
Reflecting Pool Vs Icicle
The two significantly have major differences!
Even though the former has deep bluish-gray undertones – the latter showcases deep blue undertones.
With an LRV of 73 – the two share similar LRVs.
You can check out SW Icicle in detail here!
Reflecting Pool Vs Mineral Ice
Benjamin Moore Mineral Ice shares tremendous similarities with Reflecting Pool.
They're both soothing grays with deep blue undertones.
With an LRV of 74.79 – this color is the lightest of them all.
You can best share it with deep grays and whites – with tons of matte black metals and glass.
Where to Use Reflecting Pool?
Behr Reflecting Pool can be incorporated in every inch of your home!
Whether it's the bathroom, kitchen, bedroom or even living room – you must go ahead and think of this color as a go-to.
However, not to forget the chill vibes this color exhibits.
You can use this color in the coastal, Caribbean, contemporary, and even modern-styled homes.
So, let's see where and how to incorporate this color into your home.
Reflecting Pool in Living and Dining Rooms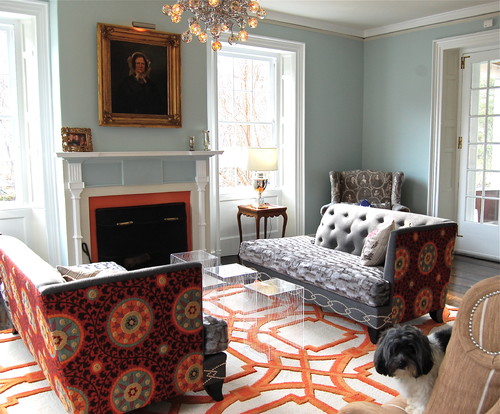 Especially your coastal living rooms deserve a refreshing paint like Behr Reflecting Pool.
Since this gray feels quite light and cool – you can further pair it with light blue accent chairs and white or off-white throw pillows.
Moreover, on all these fabrics – you can even choose interesting patterns like polka dots and geometric linings.
In a living room with little natural light – this color purely feels deep blue.
Adding grays on the accent wouldn't be a bad option either.
Using in Bedrooms
This cool-toned hue can really feel very cool and crisp in the bedroom – and that's why you must be very careful.
Unless you crave that specific vibe – you must be cautious with this paint color – and especially in the north-facing bedroom.
However, if you plan to – try pairing this color with ample off-whites and deep blues in the form of fabrics and upholstery.
Add jute, seagrass, and rattan on your rugs, window blinds, and even basket accessories.
Lastly, make sure to add brass as your accent metal in such a soothing backdrop for a little eclectic touch.
Reflecting Pool in Kitchens
You can either choose to paint the cabinets in this color or even the backdrop wall.
For a perfect coastal kitchen – try adding crisp whites, chrome pull handles and drawers, and ample floating wooden shelves.
To add a creative touch – you can even choose some fancy geometric blue backsplash tiles and white marble countertop.
Using on Exteriors
This color is restricted to Coastal and Caribbean homes – or even contemporary and modern exterior design style.
You can either add bold grays, blacks, or even a tinge of white to complete the exterior palette.
In the case of columns on the patio and porch – you can use natural stone wainscotting to add an authentic detailed character to this facade!
So, how do you plan to use this color in your home?
Kitchen cabinets or focal console tables? Living room or bedrooms?
Well, trust me! You would never regret using this color in your home.
Should there be any questions or thoughts, let me know your thoughts in the comments below!