Looking for a pastel creamy base for your home? Well, don't look any further!
Sherwin Williams White Duck may be just the answer to your search. It is a neutral and pastel paint color that is extremely warm and creamy and might incline towards a greige when observed closely.
White Duck is a light-toned paint color that can absolutely make a great option as a neutral or a base – however, not much like an accent!
This color is so warm and pure that it automatically brings the cozy charm to any space – undoubtedly.
Timeless and Elegant, WD defines an utmost beauty in the patio above.
I absolutely LOVE this paint color and have often recommended my clients to incorporate it. Whether it is a living room, dining room, or the home exteriors – this timeless paint color has never ever failed!
It is spotless and charming more than you think! So, if you are looking to know more about this paint color – sit back and relax.
I am going to reveal a few secrets, how's, where's, and when's about this paint color that will definitely help you figure out if you really want to use this color in your homes or not!
In about a few minutes from now – you'll be an expert!
Sherwin Williams White Duck SW 7010 Details and Specifications
Before you start choosing paint colors for your homes, it is important to read through some of the underlying facts and theories behind the paint color.
Each color has a story to tell – and let me tell you, that story is absolutely UNIQUE!
And this is what you are expected to unveil.
But don't worry – I am going to let out all the secrets that White Duck has to offer.
Starting with one of the most important – Light Reflectance Values or LRV's.
This value helps in determining how light or dark the paint color is (which later helps us in deciding where to use the paint color).
Yes, it is all interconnected!
So, the LRV of White Duck is 74.
Which means it's a pretty light-toned paint color and can be used as a potential base and a neutral in almost any-sized room.
Secondly, consider the RGB and HEX Values of the paint color,
Red = 229
Green = 223
Blue = 210
HEX Value = #e5dfd2
Want to try this color out without having to paint your wall? Use some nifty peel-and-stick samples: Pick one up now from Samplize!
Let's read on to learn more about the practical aspects of the paint color.
How Does this Color Feel in a Space?
WD looks timeless in the iconic bathroom setting above.
Sherwin Williams White Duck exhibits a pure, light, and airy feel in a space.
It makes your walls look warmer due to the underlying paint saturation which therefore makes your space feel warm and cozy.
Secondly, due to the high reflectivity offered by the paint color – it tends to make your space look larger and brighter.
I would highly recommend this paint color in colder regions and states that crave a feeling of warmth in their homes.
So, if you are stuck with a small space or if you live in a city apartment – this paint color will definitely solve out your issues and make your space look enlightened and lively all over again.
How Does Light Affect the Color?
In the photo above, artificial lighting makes SW White Duck look brighter in a transitional style bathroom.
Natural as well as artificial lighting has some role to play here.
However, due to the light-tone, this color tends to look lighter under all the circumstances – whether there is the absence of ample light or vice versa.
I would recommend using this paint color in all the north-facing or east-facing rooms as it is going to add that slightest tinge of warmth due to lack of light.
Moreover, you could also consider artificial lighting such as warm-whites and yellows to further create a desired aura in the space.
As I already mentioned, do yourself a favor and get some wall samples to test out this color and any others. The stick-on kind are a no-brainer from Samplize, and will give you some answers ahead of time. Get yours now!
What are the Best Coordinating Colors?
Now comes one of the best topics to talk about – color palettes and schemes.
You can only find the true charm of the color if you place it opposite the best complementary colors.
Long story short, creating an eye-catchy color palette is primary. You could either choose from a monochromatic or a contrasting color scheme – depending on the interior design style and your personal color preference.
However, in this case, opting for a contrasting scheme would be the best option since it is a pastel paint color.
Here is a list of colors for a contrasting scheme:
SW 7043 Worldly Gray
SW 6218 Tradewind
SW 6221 Moody Blue
On the other hand, for a monochromatic scheme – refer the following paint colors!
SW 7031 Mega Greige
SW 7032 Warm Stone
SW 7034 Status Bronze
Choose monochromatic if you have a modern, or a minimalistic approach towards interior design.
Sherwin Williams White Duck Vs Similar Colors
Looking for alternatives is necessary if you are not completely satisfied with a paint color. Hence, here I am going to mention the two Sherwin Williams paint colors that shares the most similarities with WD.
Regardless of the tints, textures, and shades – these colors can be claimed to look alike in specific natural conditions.
White Duck Vs Oyster White
Oyster White is a neutral paint color that is comparatively a little darker than White Duck while offering almost the same features.
You could use it as a base and a neutral but however, in specific conditions – this paint color appears cool and crisp.
This pastel inclines more towards the red so you can absolutely use it in any corner of your homes and especially in the east-west facing rooms.
To truly experience and compare these colors in real-time be sure to buy some stick-on samples and test them in your home.
White Duck Vs Natural Choice
Natural Choice is a true off-white pastel with an LRV of 73 parking itself in the pastel and neutral collections.
This paint color makes a great alternative and can be used in almost any corner of your home as far as you pair it with the best opposites.
Or else, place them against the white sheet of paper to understand the undertones of the paint color.
Also, don't forget about buying real-time samples to determine the tonality of the paint in your home's lighting. Pick samples up from here.
Where to Use White Duck in Your Home?
SW White Duck makes an excellent option for the home exteriors as well as interiors
WD makes a great option as bases and neutrals, but the truth is – you can also use it as an accent in a dark and daring room.
I often end up recommending this paint color in homes of all kinds – whether it is a sleek and crisp style like modern, minimalist, contemporary, and Scandinavian, or a maximalist like Bohemian, Country, and Farmhouse.
So, regardless of the design style – you could freely use it in your homes.
Let's discuss how and where to use this paint color in your homes.
White Duck in Living Rooms and Hallways
Whether you have a traditional or a transitional styled living room – using WD is a plus point.
If you have walnut hardwood floors and a majestic fireplace in your living room – you can incorporate this paint color on the focal wall and let the cabinets be either in golden oak or stark white.
You can also choose wooden furniture with light beige upholstery and white sheer curtains to further facilitate the look.
Using in Kitchens
Kitchens are the heart of every home. So, if your kitchen is small and congested – you can use White Duck to make it look larger and spacious.
Secondly, you could either paint the cabinets in this paint color and pair it with wooden pull handles and shag runners to add an extra touch of comfort.
White Duck in Bedrooms and Bathrooms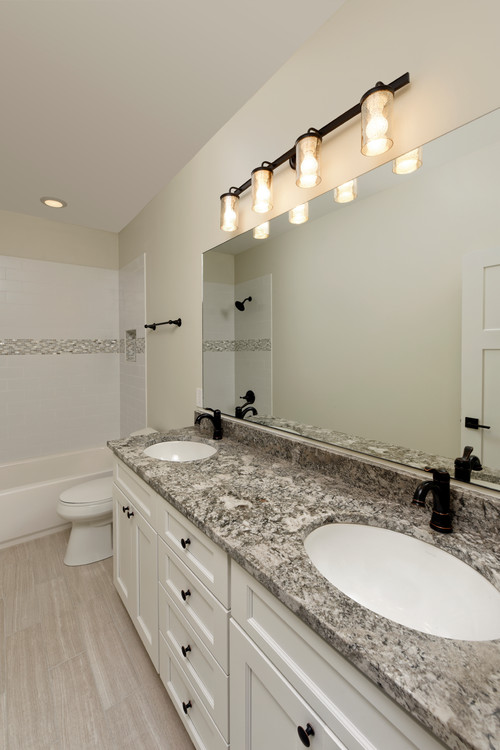 SW White Duck makes the bathroom look larger and brighter
I would definitely say you go for it!
Just make sure to balance the appearances by blending in some wooden textures through the nightstands and bed cases.
Choose lighter upholstery to further brighten the feel of your space. Moreover, in the case of a headboard, choose wooden frames to create a cohesive look.
Using in Exteriors
Brooke and Henry from Plank and Pillow reveal the use of SW White Duck on their home exteriors
It is quite likely for you to spot a home with this color on its exteriors as you drive through a suburban neighborhood.
White Duck on the exterior walls is a very popular option amongst the homeowners these days.
You can best pair it with dark brown or beige shades and use it for trims, moldings, and door and window frames.
My Favorite Way to Sample Colors
I can't say enough about how easy it is to use a peel-and-stick paint sample to give a color like Oyster Bay a try.
The absolute best way is to order a sample from Samplize.
You can check it out right on your wall and move it around.
Also, try it along with a another couple of colors to test pairing possibilities.
This is WAY easier than having to open up little cans of paint and rolling/brushing on.
Forget the mess and use these helpful temporary sample squares to test location, lighting options, etc.
Now that you know so much about SW White Duck – are you excited to introduce it in your home? Do let me know your thoughts in the comments below!