Symbolic of beautiful sandstone on exotic mansions and Floridian Ranch stucco homes, Benjamin Moore Manchester Tan is all about warmth, coziness, and timelessness.
It is a warm beige neutral paint color that shows as quite muted with a toned down feel.
Often resembling golden color, this tone is more subtle and balanced that is neither too overwhelming nor too crisp.
It is fairly a popular color – so, it's quite likely you'll see this paint getting used in traditional or transitional-styled homes.
Furthermore, it falls on the lighter end of the scale to make your home feel breezy and refreshed!
Also, note that the color has quite a characteristic identity – so if you have a bare wall and wondering what to do with it – well, simply paint it Manchester Tan.
So, are you looking for an opportunity to use this paint in your home?
Trust me – you wouldn't regret it!
I am going to spill some beans that will help you discover more about this intriguing paint color.
Moreover, I will be discussing the undertones, reflectivity values, and pros and cons that make this color so unique and exciting!
So, are you excited?
Let's get on board with this lush, beautiful paint!
Benjamin Moore Manchester Tan HC-81 Details and Specifications
How often do you choose a paint color for your home without looking into the technical details and specifications?
Quite a lot, right?
Well, before we jump on to the color palettes and schemes, let's first discuss the practical aspects and specifications of this beautiful paint color.
Remember, it is crucial to first understand the color in order to use it in your home.
Every paint color has a story to tell – and that may differ from one another.
Similarly, no two colors are exactly the same, even though they tend to appear 'similar'!
First and foremost, it is important to understand the concept of Light Reflectance Values or the LRV's that help in determining how light or dark the paint color is.
In this case, the LRV of Manchester Tan is 64.41.
And that means the paint falls on the lighter end of the scale – as the greater the value, the lighter the paint.
Also if you are wondering where to find this value, well, simply look towards the end of your paint swatch.
Or you can even contact the manufacturer or have a look through their website!
Because paint colors can change in different environments, I recommend you also just try Manchester Tan out at home with a peel-and-stick sample from Samplize. Order some samples now!
Secondly, other important associated terminologies are the RGB and HEX Values that further tell us what the color is made of.
Red = 219
Green = 210
Blue = 188
HEX Value = #dbd2bc
Now that we have discussed enough about the technical and scientific information, let's get started with the practical aspects of this warm beige Benjamin Moore paint.
How Does this Color Feel in a Space?
Benjamin Moore Manchester Tan is bound to feel warm, cozy, and quite characteristic when used in the home.
It wouldn't look too washed out and nor would it look too bold.
So, perfectly giving you ample advantages here!
With slightly yellow undertones, this color has the magic to make your home look quite refined and clean!
Since it has a warmer texture, the color ends up releasing warmer vibes to the interiors of your home – hence, making you feel cozy and enclosed, especially in the colder regions.
(Highly recommended – Northern States)
Moreover, I recommend using this paint in homes that are not too small.
Smaller or medium-sized rooms are good to go!
How Does Light Affect the Color?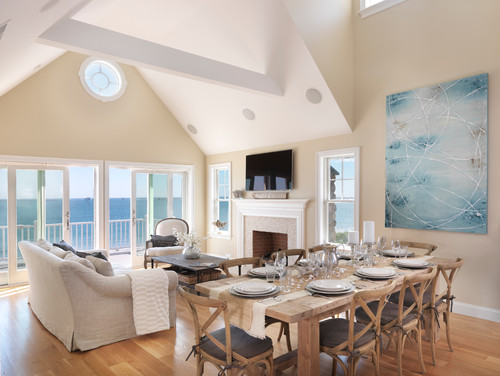 As I always say, light has a major role to play in the paint colors.
It tends to make a space look quite lighter and enhanced – similarly, no light will make that same space look dull and boring!
So, before you pick a paint, just look around and observe the incoming natural light in your space – whether it is too little or too much – your color solely depends on this criteria.
In this case, use only if your space is receiving ample natural light.
Else, incorporate only on a single wall – as the 'accent' and pair it with off-whites!
Furthermore, I recommend using this color on the north and south-facing walls to create a balanced environment.
You can also add desirable artificial lighting in the form of pendant lights and chandeliers to further create the desired mood.
I'll say this again – get some wall samples to try on this color in your own home and confirm if it'll work or if you need to try something else.
Best Manchester Tan Coordinating Colors?
Since you are now aware of the technical information, let's get acquainted with the aesthetical part of these colors.
So, here comes the most awaited – color palettes and color schemes!
Are you excited about it?
Well, you can either choose a contrasting or a monochromatic color palette – depending upon the interior design style!
Manchester Tan Color Combinations – Monochromatic vs Contrasting
Well, here are a few of the colors I would recommend for a monochromatic palette!
952 Cayman Islands
1054 Sherwood Tan
1055 Algonquin Trail
On the other hand, here are a few of the colors I would recommend for a contrasting color palette!
2124-30 Deep Silver
CC-40 Cloud White
2106-60 Soft Sand
For your ceilings, trims, and moldings – I would recommend using BM Simply White to further achieve a creamier look or else if you want a crisp look, choose BM Chantilly Lace.
These would go wonderfully with any similar Manchester Tan coordinating colors mentioned above.
BM Manchester Tan Vs Similar Colors
There are quite a few similar-looking options here!
However, you need to remember that no colors are exactly the same – and they all differ in some way!
However, I am going to list down two options that are hereby closely related!
One of them is OC-11 Clay Beige and the second one is 955 Berber White.
Let's see how the three of them differ.
Manchester Tan Vs Clay Beige
The major difference here is the undertones!
BM Manchester Tan has deep yellow undertones while the other clearly has pink-brown undertones.
The latter being more bold and deep – you must use it as an accent in your home.
With an LRV of 62.87, this color too falls on the lighter end of the scale.
Order a wall-stick sample of Manchester Tan here to help you better compare these colors in your own house.
Manchester Tan Vs Berber White
With an LRV of 64.41, this paint color is the lightest of them all!
It has deep warm undertones to make your space feel cozy and unconditionally welcomed all the time.
The major difference is not the undertones here – since, yellow can deeply be observed in certain lighting conditions!
Also, don't forget about buying real-time samples to determine the tonality of the paint in your home's lighting. Pick samples up from here.
Where to Use Manchester Tan?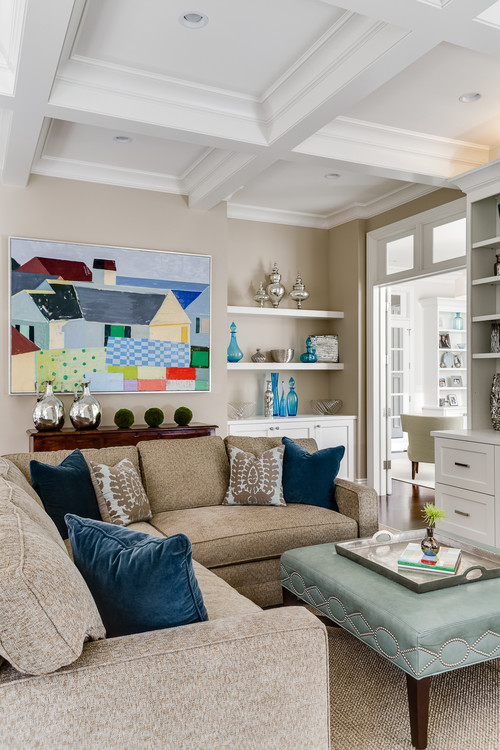 BM Manchester Tan makes a stunning appeal in both the private as well as common areas of your space.
Especially for the interior design styles such as traditional, transitional, French-country, Modern Bohemian, and Modern Farmhouse – this color is a plus point!
Let's see how and where to specifically use this paint in your space.
Manchester Tan in Living and Dining Rooms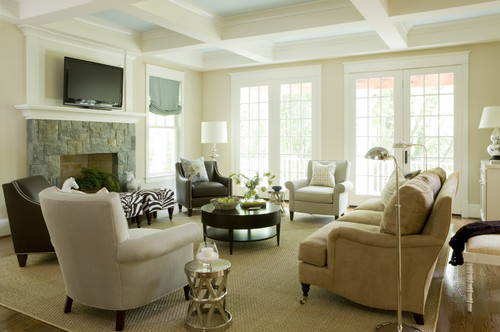 Absolutely yes!
Especially if you have that particular design style, you should definitely use this color.
You can best pair it with creamy whites, taupes, lighter browns, and even blues in some cases.
This color goes amazingly well with the traditional furniture, white sheer curtains, hardwood floors and cabinetries, glass shelves, and neutral linen upholstery.
In the case of a fireplace, choose a natural stone to clad the surroundings.
Using in Bedrooms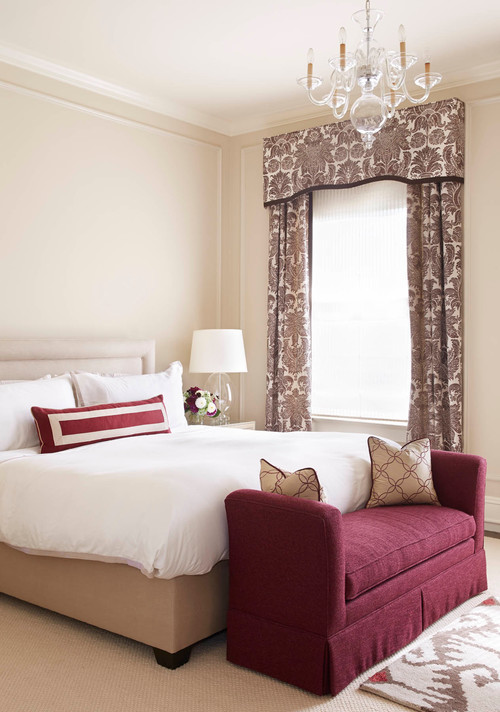 A bedroom would be a great place to use this tone of beige!
You can best pair it with white linen upholstery, and some accents like taupes and even greens!
If you plan to choose metal frame furniture – it would be a great match!
Furthermore, you should also not forget using walnut-toned wooden textures in various forms – whether décor or structural changes!
Manchester Tan in Kitchens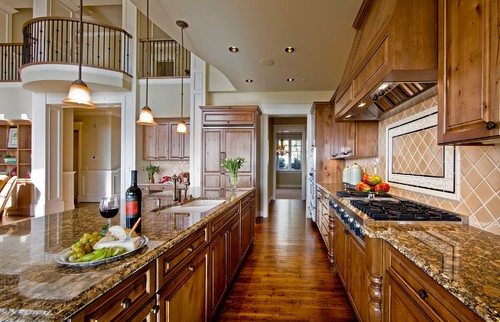 Lighter and subtle kitchens are the best – and especially when it comes to tones of beiges and tans!
You can choose the transitional style and paint the cabinets in this color and let the backdrop wall be pure white.
Furthermore, you can add a white veined marble countertop, brushed nickel pull drawer handles, and industrial-style pendant lightings.
You can even play with contrasts in the form of darker beige lower cabinets!
Using on Exteriors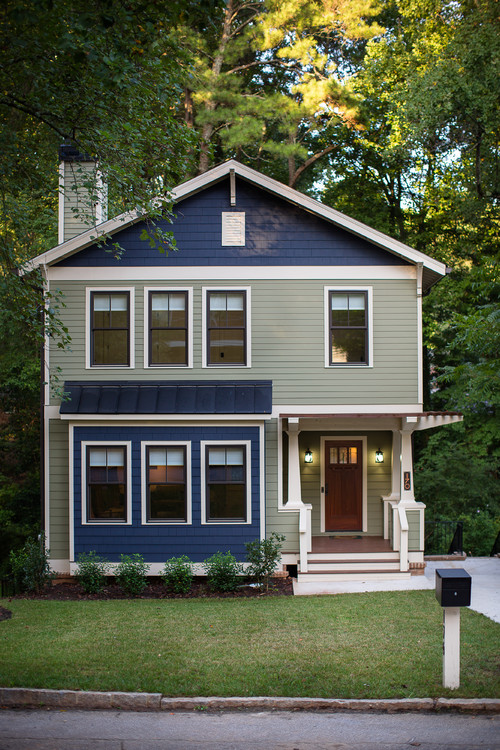 I would recommend this color in Traditional, Transitional, Country, and Farmhouse style homes – hence, if you have one of those styles, do use it for your homes!
You can definitely pair it with either soothing off-whites, charcoal blacks, and organic browns on the trims, moldings, and door and window frames.
Or you can even choose the vice-versa!
So, how do you want to use this color in your homes? Interiors or Exteriors?
I Recommend Sampling Manchester Tan!
If you're on the fence and need a bit of convincing, try this color on for size by ordering a peel-and-stick sample from Samplize.
These are my favorite way to test colors in a space and to see how they work with other coordinating colors.
It doesn't cost all that much, and you can temporarily place these handy 12″ x 12″ squares that are true to color around your house. I love them!
Now that you have all the secrets – are you excited about painting your home in Manchester Tan?
Should there be any questions or thoughts, let us know in the comments below!