Who doesn't like whites and off-whites?
They are the most timeless and beautiful colors that make a perfect backdrop in almost every home!
This versatile paint color is bound to add colors to your home. So, are you ready to paint your home in this beautiful color?
Well, I am definitely going to recommend you this paint color.
Benjamin Moore Navajo White is a beautiful, warm off-white paint color that has a slightly creamy texture to it.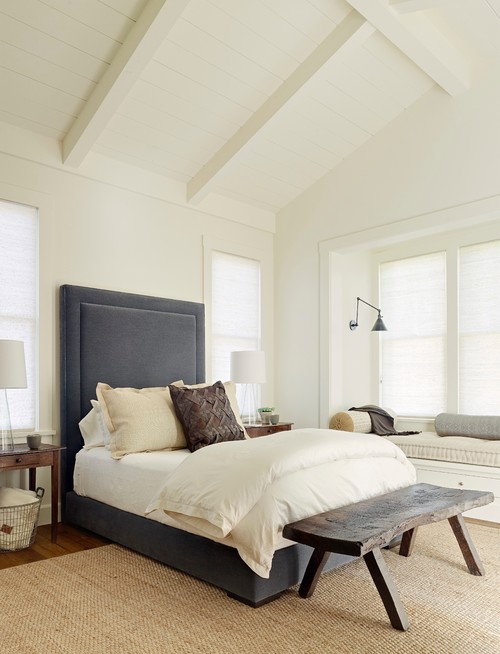 The dreamy bedroom above highlights the timeless BM Navajo White.
I absolutely LOVE this paint color and I do recommend this paint color to all my clients who are aiming for a warm feel in their homes.
But be careful about when, where, and how you plan to use this paint color.
Don't worry – I'll help you!
N.W. is a great option for neutrals and bases in your home. So, if you are planning to use it – I would highly recommend you go ahead with it.
It's totally a pure and satisfiable paint color which will definitely add that missing charm to your home's decor.
Long story short, you can use this paint color ANYWHERE in your home as far as you understand the basic theories behind it.
Benjamin Moore Navajo White OC-95 Details and Specifications
If you are a newcomer here, let me tell you – there are tons of scientific details associated with a paint color.
Every color is unique and there are no two colors that are exactly the same. They either differ in undertones, brightness, or textures!
So, before you plan to choose a paint color for your homes – consider the values associated that will help you analyze where to use the paint color.
First and foremost, the LRV of Navajo White is 79.88 which means it is a light-toned paint color.
(LRV helps you determine how dark or light the paint color is in light)
Hence, most of the natural light received by this paint color will be reflected away!
Now, if you want to try out Navajo White on your walls ahead of time, you can easily with a peel-and-stick square from Samplize. Give them a try now!
Secondly, you need to consider the RGB and HEX Values of the paint color that are as follows.
Red = 238
Green = 231
Blue = 213
HEX Value = #eee7d5
Let's now discuss the practical aspects and usability of the paint color.
How Does Navajo White Feel in a Space?
NW creates such a welcoming and refreshing look.
Due to its high reflectivity, this paint color reflects most of the incoming natural light to make your space feel bigger and brighter.
That is what the beauty of Navajo White is.
Its creamy warmth will add a touch of warmth while being a perfect solution to your small-sized homes.
So, your rooms are bound to look airier when painted in BM Navajo White.
I would highly recommend using this paint color in homes that are situated in cold northern areas so this paint color can contribute towards making your home warmer.
Other way, this paint color will anyway make your homes look cheerful and energetic – all day long!
How Does Light Affect the Color?
The wall painted in NW looks utterly bright in ample natural light.
I must say – light has a major role to play in here, just as with most colors from the Benjamin Moore beige collection.
I would highly recommend painting this color in north-facing rooms especially so the warmth of this paint color can very nicely tranquilize with the cool and gray natural light.
Due to high reflectivity, this paint color appears too bright sometimes which also looks washed off in some situations – so, make sure to choose appropriate artificial lighting in the room.
In the case of south-facing rooms, this color may appear too yellow or golden.
So, assure the aura that you want to create.
Again, I really recommend you try out some wall samples to see how this looks in your home.
What are the Coordinating Colors for Benjamin Moore Navajo White?
Now that you're planning to choose this paint color in your home, you need to make sure that you pair it opposite the best paints to further beautify this paint color.
With Navajo white – I would highly recommend you choose a contrasting color scheme rather than a monochromatic one!
Here are some great colors that you should consider pairing up with:
Silver Fox 2108-50
Sierra Spruce 2108-20
Lacey Pearl 2108-70
Since the paint color is warm, the best to-go hues would be browns, beiges, and greiges (in some cases).
Overall for the trims and ceilings – choose Benjamin Moore Decorator's White or White Dove to further refine the color palette.
Benjamin Moore Navajo White Vs. Similar Colors
This off-white paint color could have various perfect alternatives. Even though I doubt you might need one (of course, because of the beauty of Navajo White)!
But still, just in case, if you are looking for an alternate – I would recommend Benjamin Moore Linen White 912, Benjamin Moore 939 Royal Silk and Benjamin Moore Spanish White.
Navajo White Vs. Royal Silk
This elegant off-white paint color could be your perfect alternative to Navajo White. With an LRV of 79.68, the brightness of the paint color is most closer to the former paint color.
A creamy texture, this paint color can feel quite bright in your home if not used with darker counterparts to balance the overall appearances.
Order a wall-stick sample of Navajo White here to help you compare colors in your own space.
Navajo White Vs. Spanish White
The off-white paint color, Spanish White is all set to make your home glamorous and beautiful. With an LRV of 77.68, this paint color is comparatively slightly darker than Navajo White.
I personally LOVE the look and feel of Navajo White, so for me – nothing is more preferable.
However, I would still recommend you buy real-time paint swatches and samples to determine the actual differences between all the colors, so you know the exact differences.
(Remember – every color is unique!)
See how these colors compare real time with stick-on wall samples from Samplize.
Where to Use Navajo White in Your Home?
Don't hold back from using this paint color as you can ABSOLUTELY use it anywhere.
The biggest advantage is that the color is a perfect neutral for your palette – so you can use it even in the laundry rooms.
Talking about interior design styles, you can use this paint color for traditional, transitional, bohemian, mid-century modern, glam, and Scandinavian styles.
This paint color also makes a good match for hardwood floors – just in case if you have them – it is a big plus point.
Let's now see where and how to incorporate this paint color in your decor.
Navajo White in Formal Areas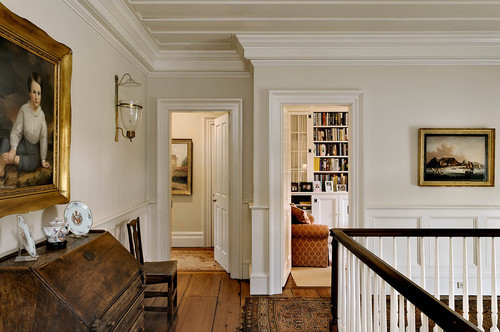 Have a look at BM Navajo White on the walls and Decorator's White on trims in the above photo. Wow!
Pair it with a nice and solid wooden credenza and neutral fabrics and upholstery.
This color can be used as a perfect neutral backdrop to warm accent beiges, taupes, and browns.
Meanwhile, if you want to paint this color on all the walls – try to add accents and patterns through pillows, curtains, and rugs to create a contrast in your rooms.
Around the fireplace, try to use exposed brick or simply black or brown stone.
In Kitchens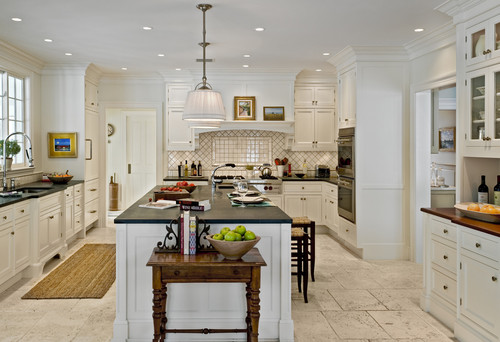 Definitely a YES-YES!
If you have a small-sized kitchen – you could use this paint color on walls or cabinets to give a touch of brightness.
For the backsplash – go for something light and white and the same for window treatments.
I also would recommend using brushed steel pull handles and fixtures to create a sense of accent in the kitchen.
In Bedrooms
This color is timeless and light enough to get you all relaxed after a long hard-working day.
Whatever your design style preference is, from farmhouse to contemporary – you can definitely use this paint color.
So, definitely a YES-YES if you ask me!
Pair this color with an accent beige and brown on the walls or simply stark white nightstands and headboard.
I once recommended a bed with black metal rods – that too would look amazing with this paint color.
Navajo White in Bathrooms and Laundry Rooms
Peyton from PeytonBryan.com shows an updated laundry area with this attractive white front and center.
The bathroom, laundry area or mudroom are other spaces I would recommend using Navajo White. You can use white or brown peel and stick tiles and place some plants for a refreshing look.
Make sure to paint the ceilings, and door and window frames in stark white here!
Using on Exteriors
I see a lot of homes in southern states that prefer BM Navajo White on their exterior siding and porches.
So, YES – you can definitely use it as far as you know that is going to further look brighter and lighter due to the presence of excessive natural light.
Try pairing it with stark white roofs, trims, and decorative moldings and natural grey stone.
How to Best Sample This Color?
I need to share my favorite tip for testing out a color like BM Navajo White – go over and order a peel-and-stick sample from Samplize.
These folks are nifty because they figured out a convenient way for us to sample colors way more easily. Just stick up a temporary square sample and forget the small jar of actual wet paint.
For only a few dollars you'll receive a perfect sized square you can stick up temporarily anywhere you want to ""try"" on a paint color and any possible coordinating hues you like. It's the best!"
So are you excited to incorporate BM Navajo White in your home?
If you want, check out Sherwin-Williams' version of Navajo White – it's a touch darker but has the same yellow undertones.
Yes – it is absolutely beautiful, and your home really deserves a timeless paint color like this.
Let me know your experiences and reviews in the comments below as I would love to hear from you!