Grays have two sides – one of them is the cold and daring whereas the other is the cozy, comfortable and warm one.
Apart from what your favorite is, and what you'd like in your home – let me introduce you to a popular SW warm gray paint color – Sherwin Williams Knitting Needles.
One of the notable from SWs' Timeless Paint Collection – this color proves to be at ease from all perspectives.
It is quiet and calm – and the underlying warmth falls somewhere on the medium end of the scale.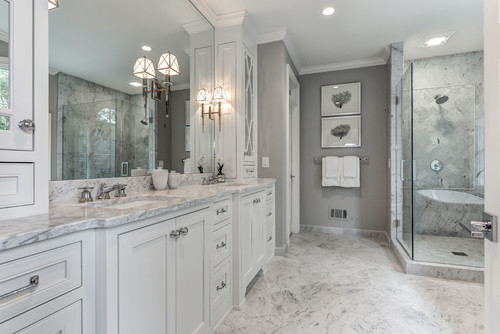 Furthermore, this gray is so popular that you might very easily find inspiration here and there!
Whether it is the cabinetries or the exterior stucco walls – the grays are and will always be in trend!
So, are you looking to use this wonderful warm gray in your home?
I think you definitely must!
But before that – get yourself acquainted with all the where's, how's, and when's about this paint!
Don't worry!
Here, in this article – I am going to elaborate on some facts that will help you make informed decisions.
So, let's get started!
Sherwin Williams Knitting Needles SW 7672 Details and Specifications
Before you pick a paint color – it is a must that you research the underlying theories, details, and specifications of that particular paint color.
And since I always say – every color is unique, there is something that differs from all of them!
And it surely is the specifications.
To make it easier for you, here are a few important terminologies that you must remember to consider.
Firstly, look at the back of your paint swatches to determine the Light Reflectance Values or the LRV's of the paint color.
This value helps in determining how light or dark the paint color is.
So, the LRV of Sherwin Williams Knitting Needles is 53.
And that means it falls on the mid side of the scale – hence neither too dark nor light!
Because paint colors can change in different environments, I recommend you also just try Knitting Needles out at home with a peel-and-stick sample from Samplize. Order some samples now!
Secondly, other important associated terminologies are the RGB and HEX Values that further tell us how the color is made.
Red = 195
Green = 193
Blue = 188
HEX Value = #c3c1bc
Since now that we have discussed the technical and scientific information, let's get started with the practical aspects of this warm gray Sherwin Williams paint.
How Does this Color Feel in a Space?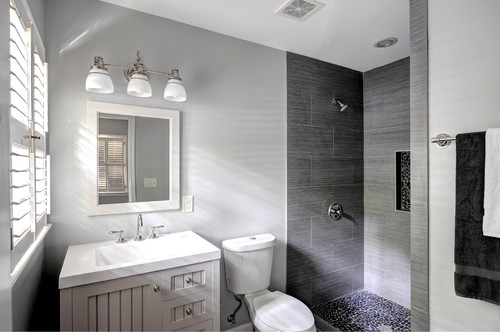 Now that we know that this gray holds warmer undertones – it is a given that the color feels absolutely warm, cozy, weighted down, and modern when used on the walls.
And since the reflectivity is medium, you are bound to feel balanced in that space.
Furthermore, when talking about climates, I recommend colder and northern states to accommodate this paint in their home.
It will neutralize the warmth with the cool incoming rays.
And specifically for the north and south-facing rooms – this color proves to be bliss!
On the other hand, for the east and the west-facing rooms, this color may feel too overwhelming!
How Does Light Affect the Color?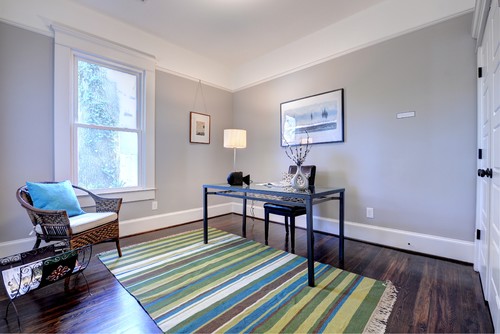 Light always has some role to play on the paint color!
Here, in this case, the warm gray is bound to feel lighter and calmer when used in a space with excessive natural or artificial light!
However, from personal experience – I recommend that you plan to use it in a space with a sufficient amount of 'natural' light!
Also, try avoiding the use of warm yellow or yellow lighting with this paint!
(Larger windows and natural light is a good pair to go with this paint)
I'll say this again – get some wall samples to try on this color in your own home and confirm if it'll work or if you need to try something else.
What are the Best Coordinating Colors?
Sherwin Williams Knitting Needles has some great friends on the color palettes!
It is not a very difficult color to work with.
However, you need to be cautious regarding your space looking too warm or unevenly uncomfortable with this paint.
So, remember to pair it with paints like cool and crisp whites, lighter blues, lighter browns and beiges, and lighter mustard yellows for a perfectly balanced look.
First and foremost, you could either choose from a contrasting or a monochromatic color palette – depending upon your interior design style and personal preference!
So, check out these few colors I would recommend for a monochromatic palette!
SW 7667 Zircon – see my full review here!
SW 7668 March Wind
SW 7670 Gray Shingle
On the other hand, here are a few of the colors I would recommend for a contrasting color palette!
SW 7561 Lemon Meringue
SW 9177 Salty Dog
SW 7008 Alabaster (see my full review here)
You can use SW Extra White or SW High Reflectance White on the ceilings and trims as well!
SW Knitting Needles Vs Similar Colors
Sherwin Williams has curated quite a few warm grays for the homeowners to have ample choices from.
To name a few, the two most similar-looking color options are SW 0055 Light French Gray and SW 7649 Silverplate.
Knitting Needles Vs Light French Gray
Comparatively deeper and bolder in appearance, SW Light French Gray has an LRV of 53 – sharing similarities!
This is another warm gray – hence, proving to be a perfect alternative!
You can pair it with blues and crisper whites to create a balanced look.
To learn more, check out my full review on Light French Gray here.
Order a wall-stick sample of Knitting Needles here to help you better compare these colors in your own house.
Knitting Needles Vs Silverplate
With slightly green undertones, SW Silverplate is another true gray paint that feels utmost modern and sleek in your home.
With a similar LRV of 53 – this paint color can definitely be used as an alternative if you don't want too much of the underlying warmth.
You can learn even more about SW Grays in my favorites list here!
Also, don't forget about buying real-time samples to determine the tonality of the paint in your home's lighting. Pick samples up from here.
Where to Use Knitting Needles?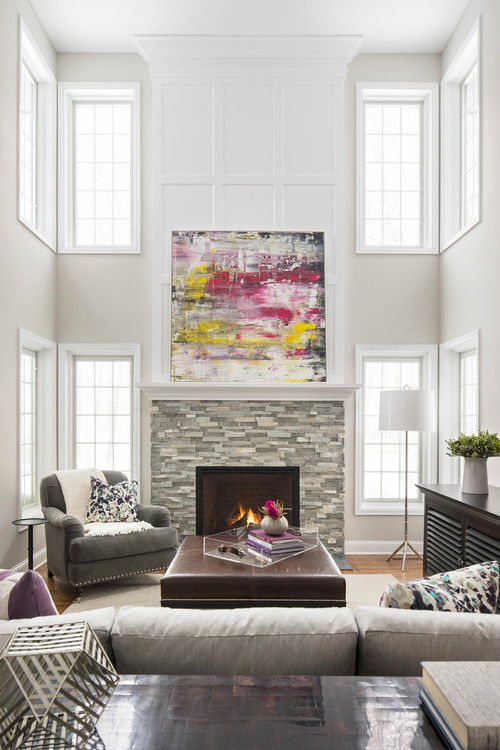 Photo by Martha O'Hara Interiors –
v
ia Houzz
SW Knitting Needles can be used absolutely anywhere and everywhere in your home.
Whether it is the hallways, bedrooms, living and dining room, formal rooms, kitchen, or the exteriors – this color will prove a great statement!
You can either paint all the walls in this color or simply use a bold contrast in the form of accent walls (due to medium reflectivity)!
Let's see where and how to incorporate this warm gray paint color in your home.
Knitting Needles in Living and Dining Rooms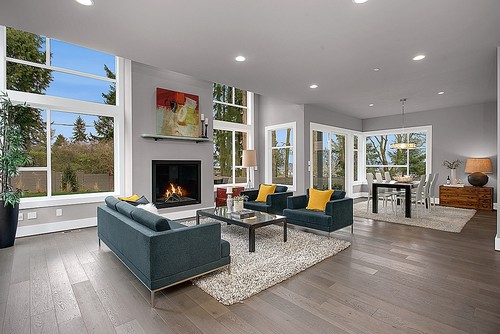 You can absolutely use SW Knitting Needles in the common living and dining spaces – whether painting all the walls or simply using it as an accent!
Pair it with crisper whites, deeper blues, and lighter grays to create a stark contrast in the room (for a contrasting palette).
You can also use wooden textures and lighter beiges in the form of furniture upholstery and rugs or the curtains and accessories!
Don't forget to place a majestic piece of the matte black chandelier to create a focal point!
Using in Bedroom and Bathrooms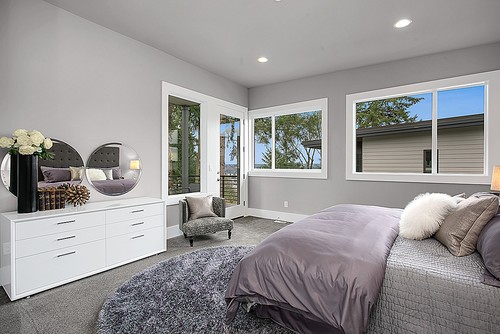 If you prefer to choose a bold accent wall – make sure to pair this color with creamy or crisp whites on the other decorative items!
Don't feel shy from lighter-toned wooden textures as they too make good for traditional and transitional backdrops!
Else for a minimalist backdrop – use metals and glass for a refreshing vibe.
Knitting Needles in Kitchens
View this post on Instagram
Are you a fan of gray kitchens too?
Even though they are not quite trendy – you can absolutely use them in larger kitchens to feel lighter and brighter!
Or else even in the open concept kitchens!
Try pairing with chrome-finish fixtures and pull handles to create a seamless look!
Also, another great way to enlighten this kitchen – use a darker blue-gray paint on the lower cabinets (something like SW Salty Dog)!
Using on Exteriors
Especially for Mid-Century Modern, Contemporary, and Modern, Craftsman styles, this color is a great option for your exterior walls.
You can either pair it with white or dark gray accents through trims, moldings, and door and window frames.
You can also use lighter gray or beige natural stone wainscotting for the patio columns and surroundings!
So, how do you want to use this color in your homes? Interiors or Exteriors?
I Recommend Sampling Knitting Needles!
If you're on the fence and need a bit of convincing, try this color on for size by ordering a peel-and-stick sample from Samplize.
These are my favorite way to test colors in a space and to see how they work with other coordinating colors.
It doesn't cost all that much, and you can temporarily place these handy 12″ x 12″ squares that are true to color around your house. I love them!
Now that you have all the secrets – are you excited about painting your home in Knitting Needles?
Should there be any questions or thoughts, let me know in the comments below!