Sherwin Williams Alpaca is definitely a confusing color.
I constantly get questions like – Is it Grey? Is it Beige? Or is it Greige?
I know you have those questions in your mind too!
And if you observe the paint swatch 241, as you go darker – it seems to be inclined towards browns!
Isn't it?
A color has never confused me as much as SW Alpaca!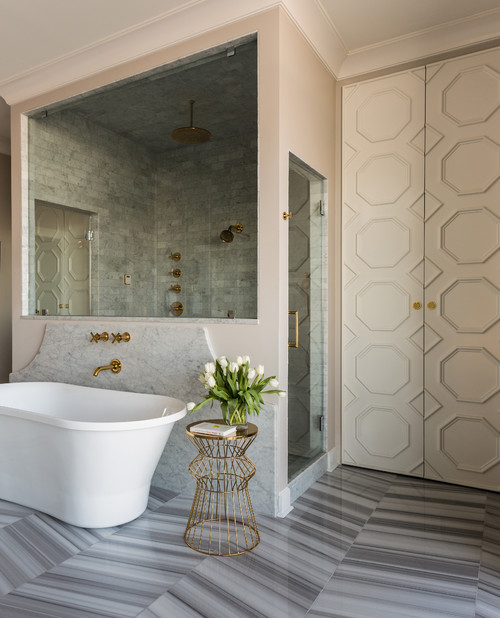 So, what is the true Alpaca characteristic?
Well, Sherwin Williams Alpaca is a warm grey (warmer than you think) which can appear to look like grey and beige in several natural conditions, but altogether binds to exhibit a 'greige' appearance.
It is clearly a neutral with slightly purple and red undertones which makes it a warm color.
But to be honest, if you weigh down the color – it inclines more towards grey and taupe!
So, due to these complex under theories that Alpaca holds – it is extremely important to know its specifications and details that will help you make informed decisions.
But before that, I recommend buying real-time paint swatches and samples to know more about what the color looks like and has to offer – in daylight and nighttime!
Sherwin Williams Alpaca SW 7022 Details and Specifications
How do you know what color theories are necessary to know before choosing a final paint?
First and foremost, Light Reflectance Values (LRV) are paramount!
This value helps you in deciding where and how to use this color.
So, the LRV of Alpaca is 57.
Which makes it comparatively, a lighter-toned neutral color.
Remember, the greater the light reflectance value – the lighter and subtle the shade is.
What I like to do is sample Alpaca under different lights where I'm going to use it. I use Samplize stick-on samples. Get some samples now!
Hence, you can use this color in your small apartments and spaces where you are struggling with space issues.
Other important associated color values are –
Red = 204
Green = 197
Blue = 189
HEX Value = #ccc5bd
Now that you know, Alpaca has a lot to offer you – let's discuss more about how, where, and when to use this color!
I assure in no time – you'll be an Alpaca expert!!
So, are you excited?
Take a look!
How Does Alpaca Feel in a Space?
Timeless Alpaca exhibits a sophisticated and subtle look in the home interiors
With its smooth and crisp texture, Alpaca promises to bring a delightful touch to your homes.
I personally would use this color in monochromes, but you can also think the other way round.
It is light and timeless – but at the same time looks kind of old.
Do you get that point?
This color basically has a more traditional touch to it – so all the young homeowners and first-time homebuyers – maybe this is not an energetic and crafty option for you!
But it all also depends on your personal preferences! Right?
Go for it – if you love it anyway!
And since the color falls on the warmer end of the scale – it is bound to make your space feel warm, comfortable, and cozy.
Is that what you're looking for?
How Does Light Affect the Color?
Natural light on Alpaca walls make the space look brighter and spacious.
Sherwin Williams Alpaca has a great effect on light.
As we already discussed, it has a higher LRV value which makes the color more reflective!
So, your space is bound to look brighter and spacious in Alpaca.
Due to high reflectivity, the color may appear grey and beige depending on the type of light falling on the wall.
For the north-facing rooms, your walls are likely to look gray. Whereas, for the south-facing walls – Alpaca might appear beige and taupe.
So, I would highly recommend using this color in common areas like living, family rooms and hallways.
If your space doesn't have enough light – try to avoid using Alpaca.
Not just because of LRV but the kind-of dark look that the color sometimes exhibits!
As I mentioned before, you can try out this color with real paint, (but without the mess) using stick-on samples from Samplize.
What are the Coordinating Colors for Sherwin Williams Alpaca?
Sherwin Williams Alpaca best complements the whites and greys to create a seamless look
I understand the confusion regarding what other colors would best go with Alpaca.
Of course, you don't want to mess it all up right!!
So, I have a few suggestions regarding tips and tricks of what would be the best suitable colors to go with!
I am personally a more monochromatic person – so just in case if you like that too – choose the following ones to pair up against Alpaca.
You could choose Alpaca on the walls, meanwhile the rest of the following in furniture and other finishes.
SW 7023 Requisite Gray
SW 7024 Functional Gray
SW 9168 Elephant Ear
If you blend all these – the results will be flabbergasting.
On the other hand, if you like a touch of pop and shades and contrasts, these colors will best complement Alpaca!
SW 6004 Mink
SW 7013 Ivory Lace
Long story short, either darker taupes or lighter pastels would best complement the color.
Try to avoid poppy colors like reds and blues as it will definitely result in a blunder!
If you are wondering what the best color should be on your trims – I recommend using Sherwin Williams Pure White in that case.
Sherwin Williams Alpaca Vs. Similar Colors
Who doesn't like alternatives right?
Even if you are totally satisfied with Alpaca, there are a few more options you could consider.
I have been asked this question quite a few times and so, the colors I recommend are-
Alpaca Vs. SW 6071 Popular Gray
Sharing quite some similarities, SW Popular Gray has deep pink undertones with quite a light-toned background.
With an LRV of 61, this color is comparatively a lighter option to be used – just in case – alpaca suffocates you!
Also, it is warm with a crisp grey texture!
Another very famous alternative is SW Agreeable Gray! This color has been used by many homeowners and builders, which makes it a more popular alternative to Alpaca.
If you want to test the subtle differences in your house, get some wall samples of each here.
Alpaca Vs. SW 7029 Agreeable Gray
Slightly lighter, LRV of this popular tone is 60.
Most commonly used in transitional and farmhouse styled homes, agreeable gray has a fine touch to it which will make your spaces too light and lively.
Also, because of its timelessness, you need not worry about re-doing your home every few years. Consider it a low-stress choice!
For more info on AG, see my full review here.
Test these colors side-by-side to see the differences in "real life" INSIDE your home, with some wall-stick samples. Order here!
Where to Use Sherwin Williams Alpaca in Homes?
Looking through some of the examples, Alpaca can be used anywhere in your home, so there aren't any hard and fast rules.
Hallways, living rooms, family rooms, kitchens, bedrooms – you name it, and you can have it!
But of course, here comes the challenge of how to use this color.
So, I am going to spill a few more tips here!
Alpaca in Living Rooms
If you are looking for a warm and cozy space, Alpaca living rooms are to go for.
Just pair Alpaca with creamy white throw pillows, soft fabricated couches (could be cloth or leather) and wooden textured accents to create an overall seamless look.
A plus point here – if you have installed hardwood floorings, Alpaca is definitely going to look great with it!
And so will the wall-to-wall carpeting!
Alpaca in Kitchens
Sherwin Williams Alpaca on Kitchen walls can contrast nicely with white cabinets making the kitchen appear bright despite a dark floor option.
I personally wouldn't recommend Alpaca in kitchens unless your entire home design theme revolves around it.
But just in case, if you do – use either white or off-white (maybe SW alabaster) tinted cabinets in this case.
Avoid golden oak while trying to incorporate more subtle hues to balance the overall appearances.
Hardware could be brushed or matte black!
Alpaca in Bedrooms
Like I say – bedrooms are your personal choices depending on the lifestyle and personality.
It should be soothing.
So, if you use Alpaca, you could use pastels for trims, black or wooden textured bed frame and side tables!
White finishes too wouldn't look abrupt.
Alpaca on Exteriors
I am not sure if that is a wise decision to make – but the color is definitely going to look even warmer in the outdoors.
Also, you need to keep in mind the kind and color of stones, roof tiles, wainscoting and trims or moldings.
With black slate, off-white moldings, and natural stone or travertine stones – Alpaca would absolutely look sparkling.
How to Best Sample This Color?
I need to share my favorite tip for testing out a color like Alpaca – go over and order a peel-and-stick sample from Samplize.
These folks are nifty because they figured out a convenient way for us to sample colors way more easily. Just stick up a temporary square sample and forget the small jar of actual wet paint.
For only a few dollars you'll receive a perfect sized square you can stick up temporarily anywhere you want to ""try"" on a paint color and any possible coordinating hues you like. It's the best!
So, how do you feel about using Alpaca in your homes? Feel free to compare some other SW Griege colors like this to see what else is possible.
Are you confident enough or do you still have questions? Don't worry – we got your back! Do let us know in the comments below about your doubts or experiences as we are excited to hear from you!