I never understood why the color category "blues" is associated with sadness when blue paint can make a room feel incredibly tranquil and soothing.
I mean, it's a popular choice for nurseries for a reason!
However, if you want to go blue in other rooms around the house, you might want to give it some inviting warmth.
But hold up a minute.
Isn't blue inherently a cool color?
The whole color temperature thing can be quite confusing. Yet, it's possible to find and use warm blue paint colors to spruce up your environment.
In this post, you'll find 15 relaxing blues to check out and use in your next home updating project!
Choosing the Best Warm Blue Paint Colors
Blue is known to be on the cool spectrum. That's why it can sound a bit counterintuitive when we say "warm blue" paint.
Let me explain.
It all comes down to undertones and the placement on the color wheel.
When a color is closer to red, it's considered warm.
For blues, violet is as close as it gets to red. So, colors like ultramarine can seem warmer simply because they have a larger portion of violet.
Similarly, blues with yellow components look warm compared to intense blues like cobalt.
However, they can also seem more green than blue.
Remember: blue + yellow = green!
If you feel stuck deciding how "warm" a paint is, compare its chip to a primary blue one. The difference should be stark.
This helped when we reviewed the top blue paints from Sherwin-Williams recently.
Why bother with warm blues?
Well, besides being trendy, they can complement your white accents. In a north-facing room, warmer schemes can also reflect your natural light nicely.
Leaving all the technical jargon behind, let's take a look at some of the most common blue paint colors on the warm spectrum:
1. North Star
North Star SW 6246 is a very pale shade of blue by Sherwin-Williams that's not in-your-face kind of warm. Instead, it reflects the warmness of the atmosphere around it.
For this reason, I like using it in dressing rooms with a lot of natural sunlight.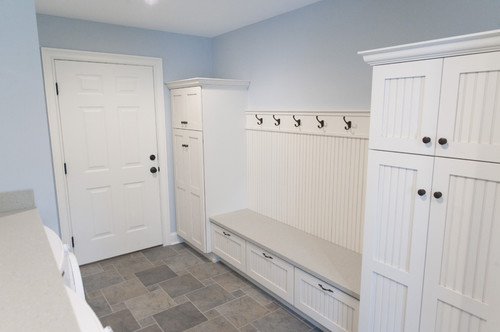 With tan tiles or linoleum floors, you can boost the warmness in walls and make your white trims pop.
To skip full-on-white accents, I'd recommend Alabaster SW 7008. The yellow in it matches the North Star's light reflection.
2. Morning Lake
If gray's aren't your cup of tea, you might be interested in a warm light blue with yellow undertones in Morning Lake 7004-21 by Valspar.
It's a subdued color, and many people will have trouble pairing it without the room looking bleak in the end.
Here's the secret.
To pull off this wall color in a bedroom, I'd go for a color pop in warm pinks, green, brick red, and a trace of gold.
3. Boothbay Gray
Personally, I find Benjamin Moore's Boothbay Gray HC-165 kind of neutral. It can seem cooler or warmer depending on its surroundings.
View this post on Instagram
However, you'll have to put some effort into picking the perfect warm blue color palette. Remember that a bedroom's pecking order starts with its bedding and paint!
In other words:
Get some tan pillows, warm brown curtains, beige carpet with rich red undertones, and a few gold accents here and there.
4. Clear Vista
What I love most about Clear Vista PPU13-11 by Behr is its subtle yellow undertone that radiates warmness.
Check this: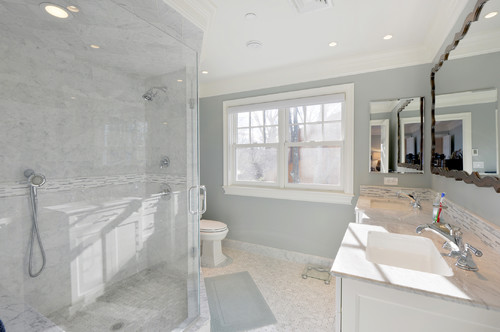 It might be what you need to balance a pale beige bathroom with a cooler hallway without clashing!
To make the bathroom pop, you can go for vivid yellow accents in the soap dispenser and sink accessories. You can also add a patterned bright towel to catch the eyes.
5. Bucolic Blue
Another warm blue paint by Behr is the Bucolic Blue BXC-28. It's close to the Clear Vista, but it has a stronger red undertone.
If you have a bathroom that gets a lot of natural light and you want to maintain a rustic vibe with dark brown accents, this is the paint for you!
However, to keep things fresh, I'd keep the floors light and add a warm white in the trims and accents.
All in all, it's a great paint to have in your warm blue color palette.
6. Wythe Blue
Taking the yellow undertones up a notch, let's check out the Wythe Blue HC-143 by Benjamin Moore.
After all, nothing says farmhouse than an inviting mix of yellows, blues, and whites!
View this post on Instagram
Whenever I see interior walls painted with the Wythe Blue, I always get citrusy vibes. That's why it works well in laundry rooms.
Don't forget to match this fresh summertime energy with your accents and decor for maximum impact.
See our full review of this BM color here!
7. Stone Blue
If you want a vintage warmth in your dining room, you can let Stone Blue No.86 by Farrow and Ball do the talking.
It reflects the warm natural light in a way that makes you feel like you're underwater, especially if you pair it with golden brown furniture and hardwood floors.
Here's a tip:
If you want to go for darker accents, I'd recommend a dark and rich purple with a lot of red undertones to keep the room warm.
In fact, for a darker blue from F&B check out the neutral blue Hague Blue!
8. Taliesin Blue
One of my favorite warm blue paint colors for living room walls is the Taliesin Blue DEC798 paint by Dunn Edwards.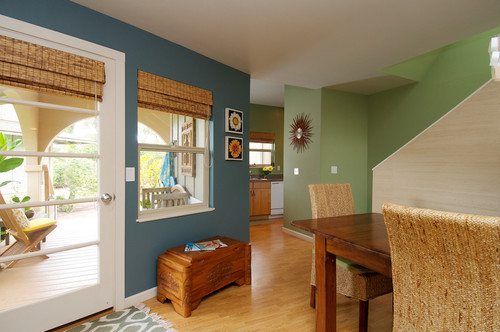 When you pair it with greens, yellows, and neutral tans, you get a very welcoming and bubbly atmosphere.
Don't lose focus, though.
Texture matters just as much as color. So, try out straw, wood, and cotton combos to keep the earthy vibes.
For other options, see our list of blue paints for living room walls!
9. Ultra Marine Blue
The Ultra Marine Blue No.W29 by Farrow and Ball has violet undertones that give it a bit of depth.
View this post on Instagram
While you definitely could use this blue paint for walls, I like keeping it limited to an accent or two per room.
Here's why:
If you use it on a door or side furniture, It can easily add a touch of warmth to an otherwise minimalistic scheme.
10. Grape Haze
The Grape Haze PPG1168-6 by PPG Paints is a welcoming color suitable for bedrooms with warm white bedding schemes.
I get that it might seem like a cool blue at first sight, but it's actually warmer than many true blues.
Why is that so?
Well, it has rich plum undertones, and as we've covered, plums and purples are as close to red as most blues can get.
11. Stiffkey Blue
A dramatic blue and a rich yellow undertone mix together to give us this dazzling Stiffkey Blue No.281 by Farrow and Ball.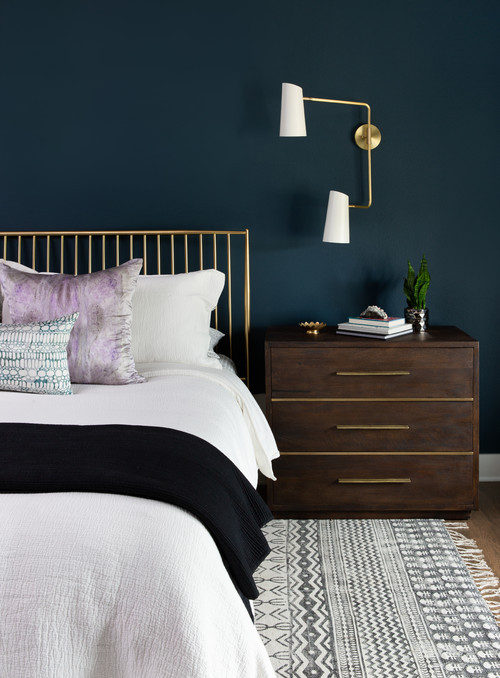 It's almost reminiscent of Hague Blue but warmer and more inviting. That's why I like using it in bedrooms with a rustic vibe.
Here's a fun fact:
Stiffkey is pronounced as "stoo-key" as it's named after a beach in Norfolk with a similar blue scene!
12. Charcoal Blue
The Charcoal Blue SW 2739 by Sherwin-Williams is an intense shade with hints of red and purple.
To keep the room from looking too cold and soft, I'd recommend limiting the blue for accents between warm white walls.
However, if you want to use it as the main wall color, make sure to keep your lighting warm-toned. I'd also use a lot of reds and yellows in the furniture.
Like so:
13. Chinaberry
Like Grape Haze, Chinaberry builds up on indigo undertones to create a balance between warm and cold blues.
It can be tough getting a warm bedroom out of this rich blue color, but it all comes down to how you pair it.
Here's how it goes:
Use colorful bedding in pinks and yellows. When you need to subdue things, use a beige with red undertones.
14. Quixotic Plum
If you're feeling bold, the Quixotic Plum SW 6265 by Sherwin-Williams might be edge enough for you, with heavy red undertones and a creamy finish.
I'd pair it with an earthy warm blue color palette of warm whites, tans, and a hint of brick red to subdue the darkness of the walls. Maybe a splash of pinks here and there to keep things fresh.
Think about it.
The Quixotic Plum is just the right way between blue and purple to get this color scheme to work.
15. Shadow
Going overboard with the plum darkness, you might be interested in Benjamin Moore's Shadow 2117-30 paint.
It's a mysterious and rich mix of purples, blues, and reds, making an ideal backdrop for dark accents in velvety red and black.
View this post on Instagram
Here's the kicker:
It's a bit too dark, and some people might find it off the blue scheme. Nevertheless, it's still a valid warm option for your renovation!
Final Thoughts
You don't have to settle for cooler schemes just to use blue paint.
With a bit of careful pairing, you can pull off warm blue paint colors, from light gray-like shaded to dark plum.
All you need to do is look for blue with yellow or red undertones!