Today, life can leave a person feeling overwhelmed and anxious.
Your home shouldn't add to the anxiety.
It's what I think about every time I renovate a home.
Like the one with peach walls in the living room and a master bedroom painted in an ugly electric blue—ceiling included (I have pictures).
There wasn't one room without some weird color scheme.
I needed a room where I could feel calm and serene.
If that's you, don't stop until you get to the end of this article.
Lately, I'm drawn to deliciously deep paint colors, so it's no surprise that Farrow and Ball Hague Blue caught my eye.
Taking its name from colored woodwork created by the Dutch, this rich, dark neutral blue works in any room either as an accent or an all-over color.
Its green undertones permit it to reside just as comfortably on the outside of your home as it does inside.
Gray undertones help keep the color rich.
I'm going to show you how to use the color blue to make your home feel grounded and tranquil.
Read on and explore the moody magic of Hague Blue.
Hague Blue No.30 Details and Specifications
From a technical perspective, this color has an LRV of 7, making it almost appear charcoal.
You can't have a conversation about paint color without giving a mention to LRV— Light Reflectance Value.
LRV measures the percentage of light a painted surface reflects or absorbs.
In a nutshell, true black paint (0%) absorbs all light, while pure white reflects 100% of the light in a room.
I'll talk a bit more about LRV in the discussion on lighting.
For now, just tuck those three letters away for future reference.
When you're shopping for paint, you should also make a note of two other technical aspects of your favorite color(s): RGB and the paint's Hex code.
Here are the values for Hague Blue:
RGB:
Red = 63
Green = 78
Blue = 88
The Hex code = #2c3437.
You can use the Hex code to request a stick-on paint sample from Samplize.
How Does This Color Feel in a Space?
What I love about this dark neutral is its versatility.
Dark colors don't always work seamlessly with a wide range of color schemes.
This one does!
If you're looking for a color that makes your home feel dramatic, glamorous, and playful—this is it.
And what's got me hooked is that I can use it for drama in a bedroom and cover every wall with it.
Or I can elevate the mood in a living room by using it on a feature wall.
Painting a single beam, or an accent piece in a deep blue like this one creates a fun vibe.
On the exterior of a home, Hague Blue says, "Aren't I elegant?"
I've often shied away from colors in the blue hue family because I don't like their chameleon-like tendencies.
And it's precisely what I like about this blue!
You'll see why next.
How Does Light Affect the Color?
I promised to share a few tips on using LRV to pick paint colors.
I always keep my promises, so here's what I know about how LRV works with Hague Blue.
The way any color looks on your walls depends on the natural light in your home.
Too much natural light washes the color out, while not enough light can make a color appear much darker than expected.
Have you ever noticed how white walls can look yellow in the evening when your warm-toned lights are on?
Or the way dark blue walls look almost black at certain times of the day?
No, your eyes aren't playing tricks on you—light affects your perception of color.
View this post on Instagram
If you paint your north-facing bedroom a deep neutral blue, the soft, warm light will make the blue look quite dark.
If the room gets south-facing light—which is more intense—a color like Hague Blue will appear brighter.
Not the look I'm going for with a dark blue.
In west and east-facing rooms, you have more dramatic light changes.
I think that's where the versatility of this paint color steps things up in a big way.
Changing light, in this case, isn't a negative.
Instead, it can give this blue a whole new dimension.
The green undertones add freshness and a tinge of color in an east-facing room.
The green undertones come out to play in a room with lots of sunlight.
The subtle nuances of this paint color can make it appear a deeper blue when it doesn't receive much natural light.
Thank you, gray undertones!
Since early 2020, many of us have learned to embrace spending more time at home.
If you're like me, you prefer more light in a room during the day.
In the evening, you turn down the volume.
Because it adapts so well to changes in light, a deep neutral blue easily transitions with the natural rhythms of the day.
You might even notice a positive change in your sleeping patterns if you use it in a bedroom.
A rich blue like my new favorite (I think I say this about many colors these days), paired with a soft gray sets the stage for calming and restorative space.
Even in the smallest of rooms.
What are the Best Coordinating Colors for Hague Blue?
While you can use this neutral as an all-over paint color, I think you would regret not pairing it with some stunning coordinating colors.
Here are a few ideas.
Monochromatic Color Palette
Hague Blue
Borrowed Light
Skylight
All White
With our deep blue as the base, a light illuminating blue (Borrowed Light) and a light blue gray (Skylight) refine the palette.
I might transform my home office by painting walls and built-ins in the deepest color, Borrowed Light on the ceiling, and the light blue gray on doors.
A light-colored hardwood flooring and dark, traditional furniture could complete a cozy, more serious look.
Farrow & Ball's All White makes an excellent color for trim.
Dark Color Palette with a Bright Accent
Hague Blue
St. Giles Blue
Blackened
All White
To avoid a bland mood, you'll always add a splash of color when using dark blues and grays.
You can do it with paint by adding a vivid blue to your dark palette.
St. Giles Blue comes with a bit of history⸺it's inspired by the blue in the hall at St. Giles house in Wimborne, St. Giles.
Use St. Giles Blue on a feature wall and paint a few signature furniture pieces with Hague Blue, or reverse things and use the darker color on the walls.
You will get a lighter mood when using the bright blue on walls.
Temper the light mood with a splash of Farrow & Ball's classic, soft Off-Black on an accent piece.
Wrap things up with Blackened⸺a cool white with a touch of gray⸺on the ceiling and trim.
Tip: I suggest using the Full Gloss finish on trim.
Traditional Color Palette
Hague Blue
Ammonite
Cornforth White
Old White
Our neutral blue brings the drama, and Ammonite, with its understated gray, brings the relaxed mood to this palette.
The mid-tone gray, Cornforth White fits in as another calming element.
Don't go too dark with flooring, but I do think hardwood works better than marble or natural stone.
When choosing trim colors for a palette like this one, be careful.
A bright white trim will kill the contrast between the walls and woodwork.
Try Old White instead⸺it's a soft, gray green⸺you'll see the green come out in a north-facing room, while in a well lit space, the color looks like a classic gray.
F&B Hague Blue Vs Similar Colors
Sometimes, it's tempting to lump all dark blues or grays together and ignore their subtle differences.
At first glance, I did that with these three shades of deep blue, but as you'll see, every color has unique traits even when they look nearly identical.
Hague Blue vs Sherwin-Williams Dark Night
Our star color shares two traits with the Sherwin-Williams color.
They're both bold and they both have green undertones.
Although the undertones in Dark Night are a bit deeper green.
With an LRV of 4, Dark Night is also a tad closer to black.
Hague Blue is the richer shade and has more depth, but if you're looking for a near match, you could get away with Dark Night, which we reviewed here.
Hague Blue vs Dunn-Edwards Slate Wall
Slate Wall's LRV of 8 makes it a slightly lighter shade of deep blue than the color we're featuring.
I detect more green undertones when I put Slate Wall next to Hague Blue, and it's just enough to make my eye think it's looking at a gray rather than a dark blue.
If I had to choose a comparable color, I would go with Dark Night over Slate Wall simply because it's a closer match.
Where to Use Hague Blue?
I've already mentioned that I love the versatility of this paint color.
You can use it anywhere in your home where you want to make a bold statement.
I found a few examples for you!
In Traditional Kitchens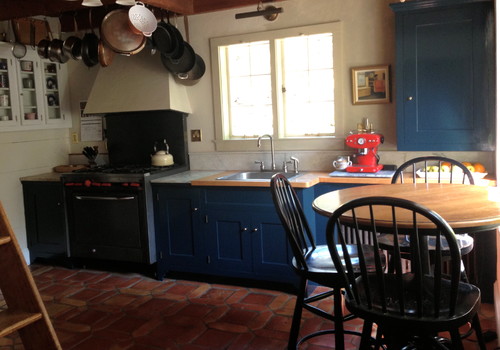 I love the depth Hague Blue adds in this cabinetry make-over.
Notice the bright white trim on the glass cabinets next to the stove⸺it adds interest but it's not a glaring difference.
I don't usually prefer stone flooring with this color, but here, it works!
Hague Blue in Living Rooms
I appreciate the depth Hague Blue adds to this contemporary living room..
The designer chose a clean white for doors and trim with a slightly creamier white on the ceiling.
The deep blue takes center stage with no distractions.
Tasteful touches of gray and interesting textures add to the chill mood.
I don't usually prefer carpet, but it works in this design, and I do love the white.
In Bathrooms
View this post on Instagram
Everything about this space is sleek and minimalist (and I love it).
This is a perfect example of how Hague Blue works in a small space with zero natural light.
The light textured tile creates light, along with overhead fixtures.
The dark flooring keeps the bold blue in check.I could spend hours here with a good book.
I appreciate the attention to detail, especially in the molding and trim.
What do you think about the oak beam and cottage-style accent pieces?
I'd say this designer did a fantastic job of pulling everything together to create a cohesive look.
Using on Exteriors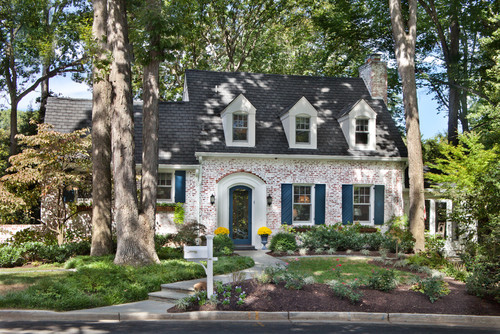 Can you say "curb appeal?"
There's no way you could drive past this home without stopping for a second look.
I like the contrast between the red brick, creamy white trim, and the deep blue door and shutters.
The finish is Farrow & Ball Exterior Eggshell.
Could Farrow & Ball Hague Blue Be Your New Love?
Feel free to check this one with a wall sample from Samplize – Get here! This is my favorite way to "try out" a color with any mess but with real paint.
Every week I stumble upon a new favorite neutral paint color.
Want to add drama, elegance, and interest to your home? I urge you to consider Farrow & Ball's Hague Blue.
This neutral color works in any room with any style.
It's a calming, restorative deep blue that you simply can't resist!