Green is one of those colors that never seems to go out of style.
However, too much green can overwhelm the rest of your decor.
Go too dark and your green gets lost in the background.
Pick a shade that's too brash, and it creates too much energy.
Don't let choosing the right shade intimidate you.
You can't go wrong with Farrow & Ball's Green Smoke.
It's a dusty, green blue, sure to enhance any space in your home – inside and out.
Join me as I share tips on using a paint color just as popular with late 19th century interior designers as it is with today's home decor enthusiasts.
You'll see why this paint color with its calming deepness is utterly irresistible.
View this post on Instagram
F&B Green Smoke No.47 Details and Specifications
Before we get to the fun stuff, I want to mention one of the technical aspects of choosing paint colors – Light Reflectance Value – LRV for short.
I've noticed a lot of home decorators tend to ignore the term, but you really can't afford to do that.
It's all about light and how different paint colors react to the light (or lack of) in a room.
On the LRV scale, which runs from 0% (true black) to 100%(pure white), Green Smoke sits right around 19.
We recently reviewed another Farrow & Ball color – Hague Blue – with an LRV of 7.
Paints with LRV of 5-15 are considered dark.
Hague Blue looks almost charcoal.
Green Smoke, with its LRV of 19 is a medium dark color.
While a dark paint absorbs more light than it reflects, a medium dark color will reflect some light.
However, you need to consider the room's direction and focus on creating balanced lighting.
I'll share some tips on lighting next.
Two other technical aspects of paint colors are RGB (Red, Green, Blue) and HEX.
Unless you're a paint specialist, you won't use the RGB values when selecting paints.
But…
You will want to have the numbers handy to give to the person mixing your color.
RGB values help your paint mixologist match colors between brands.
The HEX code is helpful when you find a shade you love but can't match it to a specific paint color name.
Here are the RGB values for Green Smoke:
RGB: 113; 123; 112
And the HEX code: #717B70
How Does this Color Feel in a Space?
View this post on Instagram
If you've walked through a lush garden, a forest, or even the home of a person who loves being surrounded by plants, you've been touched by nature's magic.
I say magic because spending time in nature is healing – to the body and the mind.
That's what psychologists say anyway, and I believe them.
When you choose a color like Farrow & Ball Green Smoke, you can bring that sense of rest and tranquility into your home.
Who doesn't need more of that today?
The Victorians favored brighter greens, but the warm muted green featured here was popular in color palettes during the unruly Art Nouveau period.
If you feel inspired by nature like interior designers from a few centuries ago, it's a color you should consider.
Green Smoke will transform any space in your home.
Used on the exterior, it can make your home look comfortable and lived-in – a place people want to visit.
Inside, this deep green fits effortlessly into both traditional and contemporary design schemes.
Elegance and serenity.
It kind of reminds me of Audrey Hepburn and her classic little black dress and rope pearls.
How Does Light Affect the Color?
As I mentioned earlier, Green Smoke is a muted green.
It has blue/gray undertones.
Depending on the lighting, this paint color can appear more blue.
It may also appear more pea green.
In a room with an abundance of natural light, you'll notice the green/blue.
If you use it in a space with lower lighting, the green/gray will come through.
Regardless, you can use it in most lighting situations as long as you strive for balance.
Take care when using Green Smoke (or any green for that matter) in a north-facing room.
The cooler light present in north-facing rooms tends to wash out many green and blue paint colors, which creates a cold mood.
Since we're working here with one of the most warm neutral paint colors, you could pair it with another warm neutral that has a touch of warm yellow pigment, like F&B Wimborne White.
View this post on Instagram
What about a Southern-facing room?
Southern light brings out warm undertones in a paint color.
Since Green Smoke is a medium dark color, you shouldn't have any problems using it in a room illuminated with warm light.
East and West-facing rooms tend to be the most challenging when selecting paint colors.
That's because of the changing light throughout the day.
A warm green/blue paint color may look richer and deeper in the warmer afternoon light.
In the early morning, you may notice more of the green/gray undertones.
You can work with changing light by using blinds and artificial lighting to balance things out.
Always test paint colors in your home.
Sometimes a color will surprise you once you get it on the wall.
The simplest tool I've found is Samplize peel and stick paint samples.
You can create the same effect as rolling a strip of paint on the wall without the mess.
What are the Best Coordinating Colors for Green Smoke
The beauty of using a deep green neutral is that the color works perfectly alongside just one other color.
But…
The darker greens can liven up a room like nothing else, so why not allow a few other colors to join the party?
Here are a few palettes I find intriguing.
Contrasting Color Palette
Green Smoke
Incarnadine
Pink Ground
The deep red of Incarnadine paired with the deep blue green Green Smoke makes a striking statement.
The wispy Pink Ground (yes, I said pink!) adds softness to an otherwise, bold color palette.
Use Incarnadine and Pink Ground as accent colors.
Perhaps red on a door, green on a feature wall, and the pink shade on the remaining walls.
For trim, I'd go (again) with the soft, creamy warmth of Wimborne White.
Traditional Color Palette
Green Smoke
Tunsgate Green
Hound Lemon
Drawing Room Blue
Cook's Blue
The deep green/blue base provided by Green Smoke is the perfect backdrop for the greens, yellows, and blues found in this palette.
I can see Green Smoke on a feature wall followed by Hound Lemon on three walls.
The other colors offer muted splashes of color in accent pieces, fabrics, and wall art.
I like Farrow & Ball Blackened or All White for trim.
Farmhouse Color Palette
Green Smoke
Green Ground
Purbeck Stone
Wevet
The neutral grays (Purbeck Stone and Wevet) make the base for this palette.
Here, I would use our blue/green neutral color as a bold accent, rather than an all-over color.
I'm a huge fan of hardwood flooring in any room, and for this palette, I suggest sticking with a light wood.
All White works well for trim as an extra serving of barely-there warm white.
F&B Green Smoke Vs Similar Colors
When I play with paint colors I like to find a few similar, but not identical shades to use as a comparison.
This time, I couldn't resist two Benjamin Moore colors.
Here's what I found:
Green Smoke vs. Benjamin Moore Enchanted Forest
With an LRV of approximately 16, Enchanted Forest appears ever so lighter than our paint.
It also has a slight gray undertone.
If you're looking for more of an army green, this paint color could work well.
Green Smoke is a smokier, richer green.
Green Smoke vs. Benjamin Moore Caldwell Green
Caldwell Green is also barely darker than our color.
The darker shade and the lower LRV (14.67) means it absorbs more light as well.
If I wanted a paint with strong blue undertones, I might go with Caldwell Green.
I still place my vote for the Farrow & Ball color because I'm drawn to the smokier, more muted color.
Where to Use Green Smoke in Your Home?
It's rare to find a neutral paint color that works in literally every space in a home, but Green Smoke does just that.
Here's some inspiration!
Using in a Transitional Kitchen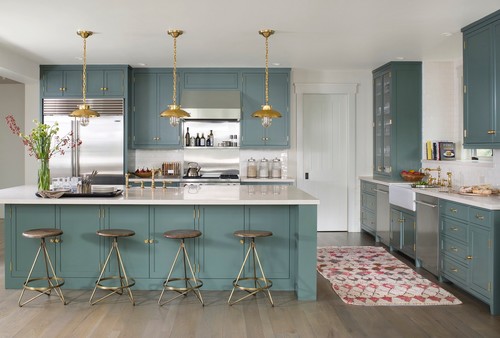 I love how Green Smoke plays the leading role in this transitional-style kitchen.
The wood flooring is just dark enough without drowning out the depth in our neutral color.
Modern Kitchen
View this post on Instagram
I could not resist including another kitchen in this review.
It takes moxy to pull off a floor like this one, but the designer did a fantastic job.
Notice how well the grays and blues work with our smoky green.
Using in a Victorian Bathroom
View this post on Instagram
If you're curious how Smoke Green might have looked in a 19th Century Victorian bathroom, you'll enjoy this modern take on a vintage look.
It's an understated, but elegant look.
Contemporary Kid's Bedroom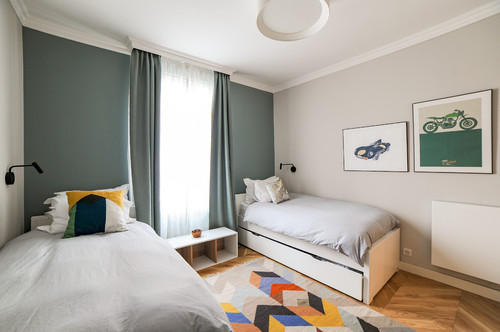 Who said deep green and gray is only for adults?
I don't know too many kids who wouldn't want to spend time in this space.
Our green doesn't only star as a wall color, but it's featured in the window treatments, accent pillows, and wall art.
Using in Hallways
View this post on Instagram
Nothing says "welcome" like a deep green paint color in a hallway.
You just know the other rooms will feel healing and tranquil.
Exteriors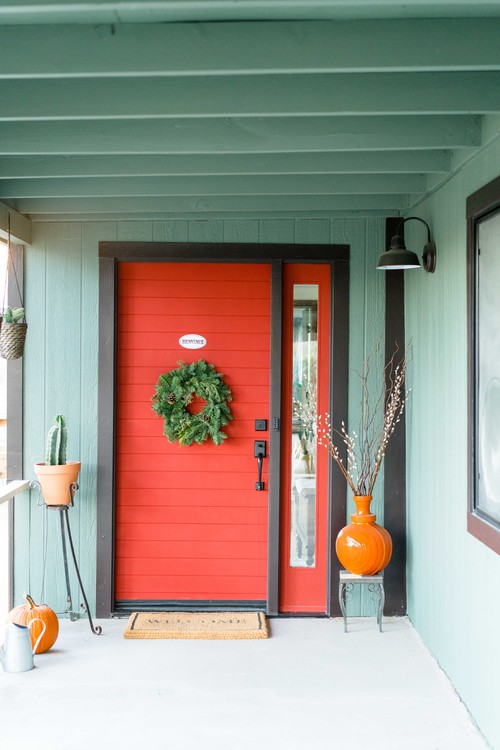 If you want to make a fashionable first impression, paint the house all over with Green Smoke.
Then add a bold red front door.
I don't usually enjoy a home that's heavy on exterior green paint, but this time, it works!
This is a great example of how a deep green morphs into something different in natural light.
Let the Magic of Farrow and Ball Green Smoke Transform Your Home
Deep green interiors and exteriors are just as popular today as they were over a hundred years ago.
As far as medium dark neutral paint colors go, there's no wrong way to incorporate the elegance and warmth of Farrow & Ball Green Smoke in your home.
If you're hoping to set a more calming and serene mood in your home, this beautiful shade of blue/green is one to consider.